Alternative or Advanced?
As I was interviewing Ty and Charlene Bollinger (co-creators of The Truth About Cancer, the Truth About Vaccines and many docu-series) for the upcoming Parent Empowerment Summit, they reminded me that allopathic medicine, based on chemistry or pharmaceutical "science," is relatively new, to compare to the thousands of years food, plants, acupuncture, and massage have been around.
Words are powerful and influence a culture. What if, as Ty and Charlene suggested, we call these practices "advanced" instead of "alternative?"
From Sickness to Fitness:
Diagnosed with skin cancer at 15, I underwent surgeries every 6 months, until I bought my first juicer at 18 and started to detox. I had received lots of vaccinations and grew up on antibiotics, which are quite toxic, even linked to cancer. Nutrition and cleanses worked great for me and I stopped seeing the surgeon.
Below, you'll find what has worked for me, my family and my clients, not as "alternatives" but as "primary means of staying healthy."
Here are 5 Alternative Practices that Have Proven to be Successful:
Nutrition and Detox.
The first priority is hydration. Most people do not drink enough water. I just met a group who thought that drinking coffee, beer, and whiskey could replace water. It's NOT the case! Drink enough water so that your urine is of a pale-yellow color. How much to drink depends on the season, the temperature and your activity. Physical as well as mental activities require LOTS of water!
Healthy nutrition is not difficult. You eat what's closest to nature, which will resonate with your body. A variety of organic vegetables should be the main component of a healthy meal. Add organic fruits, especially berries. If you eat meat, pasture-raised animals (beef, bison, venison, elk, lamb, and poultry) should be chosen as well as wild-caught fish. High-quality oils (from olives, coconuts, avocados, and nuts) are most important; they will allow oxygen to penetrate into your cells, unlike commercial oils which clog the cell receptors.
If you have not done so yet, eliminate all artificial and refined sugars and beware of cereals (especially wheat), and dairy products.
If you don't know whether you are sensitive to a food or not, don't consume it for 3 weeks, then eat it again and notice your reaction. If you react, you have a choice:
Consume it and react.
Abstain, avoid inflammation and help your body stay healthy.
Manage Your Emotions.
Without emotions, life would be quite dull. However, too strong emotions impact our overall enjoyment of life and can ruin our health. What can be done when emotions take over?
I've been in the holistic healing field for over 40 years and one technique stands out: Meridian-Based Energy Therapies, aka EFT-Emotional Freedom Techniques, aka the Tapping Techniques, or my own cocktail, F.R.E.E.D.O.M. (Freedom and Release of Emotional and Energetic Disturbances Or Mental blocks).
The techniques consist of tapping on acupuncture points with the tips of one's fingers while focusing on the emotion or the dilemma. Whether you are dealing with anger, road rage, jealousy, grief, sadness, frustration, cravings, fear or anxiety, nothing brings relief as fast and as easily as these techniques.
Unfortunately, this field has been trivialized by false advertisement. Don't be fooled. It's simple, it's easy and it works. However, it has many levels, depending on the situation you are facing. Any beginner will get quite a bit of relief. If you are dealing with deep trauma or a convoluted challenge, I suggest you find a well-trained therapist.
You can read more about F.R.E.E.D.O.M. on my website or contact me to get a free book and get started.
Mental Fitness.
Is your mind controlling you or are you its master? Are you living consciously or following the track you have been programmed to follow? What does it mean to THINK? Thinking is the process of asking questions and getting answers. Where do the answers come from? Your parents? Your teachers? The media? Higher Awareness?
If your mind is running circles in your head, stop and concentrate! Concentrate on what? A dentist friend of mine gives his patients a simple card with the multiplication table. Worried? Spend 5 minutes doing multiplications!
When I was going through my divorce, I got quite stressed when I received letters from the opposite side's attorney. I found a game for mental fitness on the internet: Lumosity.com. I spent 20-30 minutes doing exercises for mental fitness, such as speed, memory, problem-solving, attention and flexibility. Calm and focus would follow.
Mental Fitness also makes the Placebo Effect work in your favor.
Relaxation and Imagery.
Dr. Rossman, my mentor in imagery, said that if he only had one technique to use in his medical practice, it would be relaxation. It is during relaxation that the body repairs itself. There are different ways to relax and hundreds of free music/guided meditations on YouTube.
Aside from the F.R.E.E.D.O.M. Techniques for a quick calming effect, my favorite modality is InterActive Guided Imagery. I know that whatever is afflicting my clients, they know about it: when it started, where it started, why it started and especially what to do about it. As a guide, I help them bring this amazing subconscious wisdom to the conscious mind, so they can act upon it.
Quantum Field.
Prayer, intention, mindfulness… These belong in the quantum field and are being scientifically studied and proven to work.
Other Useful Modalities that Work:
There are many "advanced therapies" worth investigating:
Essential oils and aromatherapy.
Self-massage with a fragrant and healthy oil can help start the day or de-stress at night.
Music and color therapies.
I use homeopathic support in my practice. There are many preparations available in health food stores nowadays.
Bach Flowers.
For musculoskeletal pain, check Pete Egoscue's book Pain-Free. I take it with me wherever I go.
CranioSacral Therapies, for physical pain and somato-emotional release (SER).
NATURE! Forests, beaches, and lakes.
Be well and never give up!
Do you know of any alternative practices that were not mentioned above? Please share them with us in the comments section below!
– Danielle
---
---
How did this article make you feel? Leave your comments for Danielle below. Please share this if you liked it. Thank you!
---
---
* Please See Our Disclaimer Below *
---
---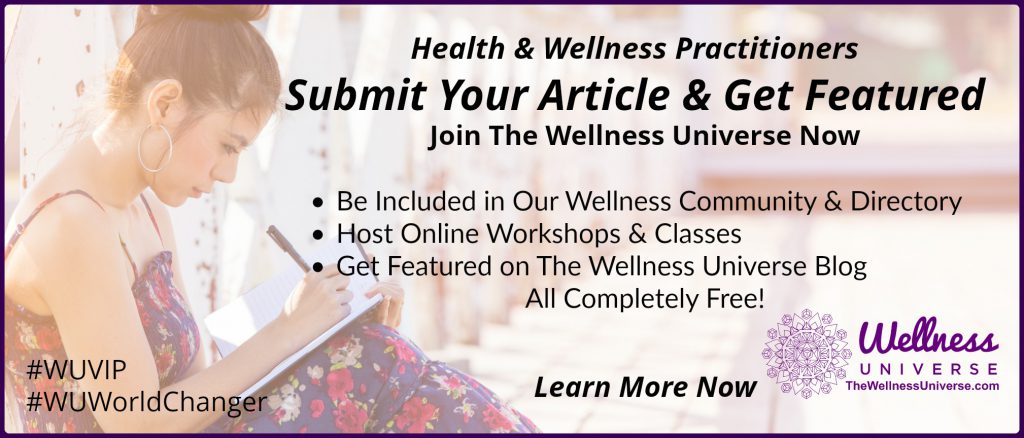 ---
---
Find great products and services for your well-being from members of The Wellness Universe!