I got some great news this past December. I'm going to be a grandmother! My daughter lives in Dublin, Ireland, one of the most gender-equal countries in the world. Ireland has a provision in its constitution, unlike the United States, which prohibits discrimination based on sex, giving women all the constitutional rights that men have. My daughter will get 26 weeks off for family leave, including two weeks prior to the baby's due date. All medical expenses for mom and baby are paid for. I'm so happy for her and my grandchild and I'm sad for what women in America are forced to endure.
Did you know . . .
188 countries have paid maternal leave. The United States does not.
The U.S. is 65th in wage equality (of 142 countries).
The U.S. is the 10th most dangerous country to be a woman.
168 countries have a constitutional provision prohibiting sex-based discrimination. The United States does not.
I think as Americans we've come to think the way we live and govern is a gold standard, when in fact, in many cases it is quite the opposite.
Most Americans believe women and men have equal constitutional rights in the U.S. They are mistaken. The only constitutional right women have is the right to vote. And for that reason, we have been working to pass the Equal Rights Amendment (ERA) since 1923—almost 100 years!
While much progress has been made over the past century, without a constitutional amendment that prohibits sex-based discrimination, women do not have the same rights and legal framework as men, and therefore are forced to depend upon a patchwork of laws that can be sidelined with every new legislator in office.
The data is clear
When women do well, when barriers come down, the world, the nation, and the state do better. Women legislators legislate more and bring more money back to their districts than male legislators. Women physicians have better outcomes than male physicians and women senior managers/CEOs deliver a greater return for their companies.
States that have ratified both state and the federal ERA, fare much better. Poverty rates are lower. These states are more likely to have family leave, fewer women killed by men, more female legislators, and greater prosperity.
Globally, peace accords last longer and are more adhered to when women are at the peace table. Climate change is greatly impacted for the better when women are part of the process.
I say it often, we must pay more attention. How it goes for women, goes the state, the country, and the world. After all, women are half of every nation, religion, race, and ethnic group. When women lead, negotiate, and legislate, we all do better.
Sojourner Truth, born into slavery in the late 1790s, had a son taken from her and sold. She would become the first black woman to sue a white man and win and become a leading abolitionist and woman's rights activist; she said, "If women want any rights more than they's got, why don't they just take them."
Almost 200 years later, The Dalai Lama said, "The world will be saved by the western woman."
I couldn't agree more,
First, we must save ourselves
For so many of us that have been social justice advocates for decades, we have come to learn that the same mindset that created our greatest challenges will never solve them. What is needed is a change of heart and soul-based solutions that transform us in the making.
People in the United States are struggling and suffering due to inequality. It is our spirit that is being called forth to bring us together, to care for one another, and to act out of love instead of fear, prejudice, and hate.
When we do that, we will transform our perspectives, our world views, and our behaviors. As I concluded my book, Call Me A Woman: On Our Way to Equality and Peace, I was certain then, as I am certain now, that "For peace and a healthy sustainable planet, we need each person to be strong, to be healthy, to be free. To be equal."
Imagine everyone on the planet taking a great big pause, focusing on their heart, silencing the mind, and listening. The solutions lie there. The heart is always ready and available when we pause, listen, and then act. We'd have a whole new world in less than a year.
No one gets to see the road ahead. However, it becomes clearer with each step when those steps originate from the heart, from appreciation, care, and compassion. These wonderful heart feelings, heal our bodies and heal the world—one heart-filled feeling, step, and action at a time.
Connect with Laurie on The Wellness Universe.
---
All information, content, and material is for informational purposes only and is not intended to serve as a substitute for the consultation, diagnosis, and/or medical treatment of a qualified physician or healthcare provider. The information supplied through or on this page, or by any representative or agent of The Wellness Universe, is for informational purposes only and does not constitute medical, legal, or other professional advice. Health-related information provided through this website is not a substitute for medical advice and should not be used to diagnose or treat health problems or to prescribe any medical devices or other remedies. The Wellness Universe reserves the right to remove, edit, move or close any content item for any reason, including, but not limited to, comments that are in violation of the laws and regulations formed pursuant to the Federal Food, Drug, and Cosmetic Act. None of the posts and articles on The Wellness Universe page may be reprinted without express written permission.
---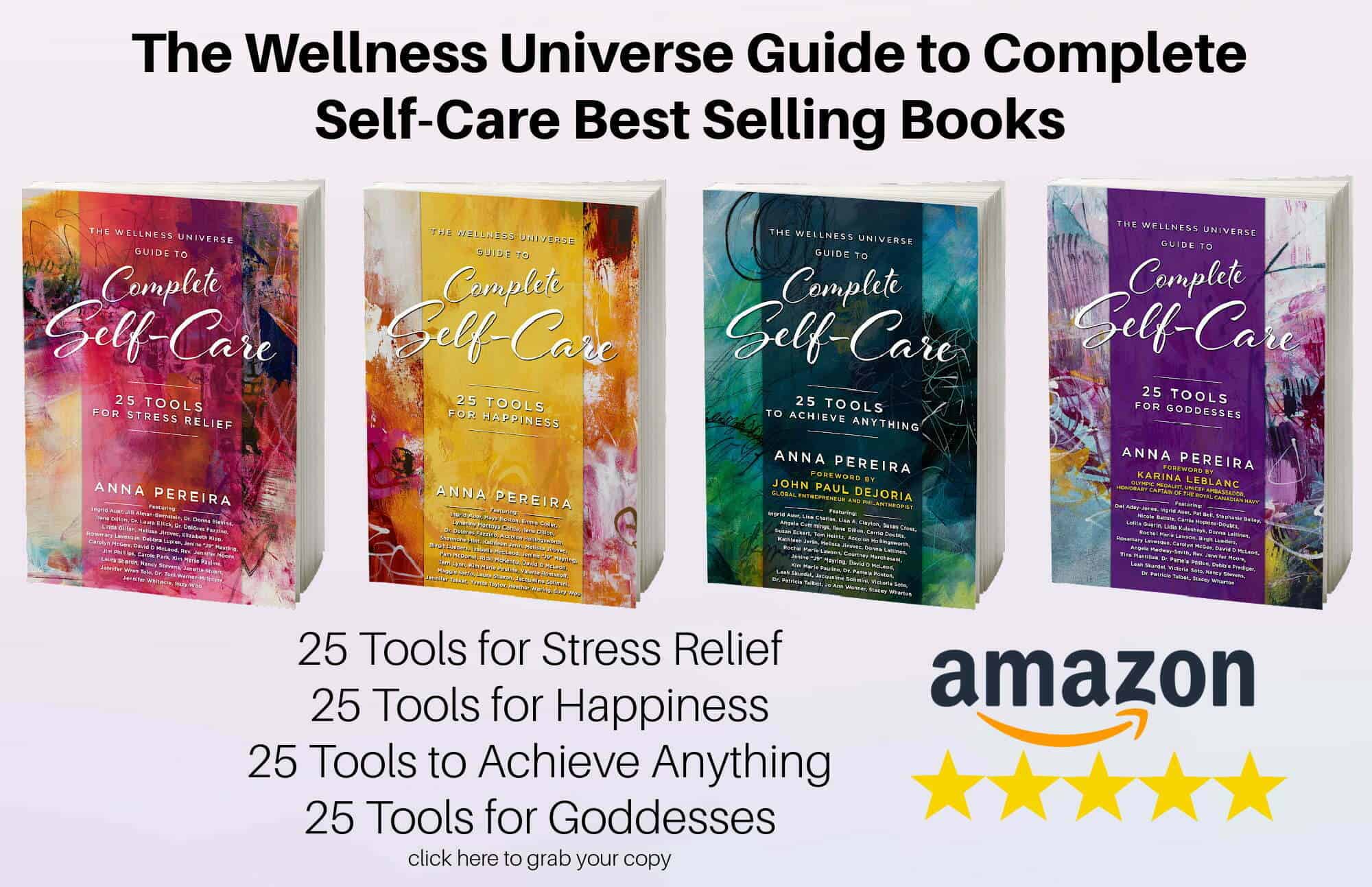 With over 250 independent reviews see how our self-care books are helping thousands of people around the world. Digital and paperback books are available now.
---
Self-development, self-care, and inspirational classes and sessions by Wellness Universe World Changer instructors who support your total well-being.
Visit The Wellness Universe Lounge today!
---
The Wellness Universe is here to serve your best well-being. If you are experiencing anxiety, grief, overwhelm, guilt, anger, or seeking ways to cope and get help for stress, relationships, parenting, or any other issue during this challenging time, we have wonderful resources for you to connect with. Our WU Best Help members are offering reduced rates, sliding scale payment options, and even pro-bono sessions.
WU Best Help
Laurie Levin refers to herself as a Transformation Coach. She helps others transform and master their own wellbeing. She specializes in emotional and physical well-being including healthy nutrition and lifestyle habits, healthy weight loss and the HeartMath® stress reduction techniques.