I am . . .
Honest with myself and honest with others.
A listener. I listen more than I speak.
 Selective with my words and actions, responding positively to life's events, people, and challenges, no matter what.
Grounded, balanced, and calm.
Empathic with a desire to share and serve.
Open and approachable. I welcome feedback from others.
Aware of my weaknesses and working to improve.
Living with passion and purpose.
Confident I will succeed.
Do these attributes describe you? Would others agree?
Is there one or more of these attributes where you feel less capable, less skillful? Do you enjoy being around people who personify them?
The great news is we can all be that person—authentic, great listener, empathic, caring and sharing, calm and balanced, approachable, passionate, and confident.
Soul consciousness connects us with our perfect selves. The doorway is our heart. Let's open it!
Rumi, the Persian poet, put it this way: "The heart knows the way. Run in that direction."
As you access your heart's intelligence, you have an immediate connection to soul consciousness, that perfect version of yourself that opts out of suffering and into living life passionately, peacefully, and purposefully.
Hardships are inevitable. It's the suffering that is optional. Our ego will have us blame, judge, and have unrealistic expectations of ourselves and others. We go from feeling lack, to fear, to doubt throughout the day. This brings chaos, confusion, and suffering to ourselves and those we care about most.
Soul consciousness brings us home. We feel an immediate grounding, balance, and a sense of peace, no matter what is going on around us. We're strengthened with every breath, kind word, and action we take. Our energy is now sourced from our heart's desires (rather than head-brain fears) and our soul's guidance. Its healing energy creates healing words and thoughts.
That's powerful. That's life-changing.
As you move from ego-based responses coming from lack, fear, and doubt to soul consciousness, you find you seek the opportunity in the hardship. You see the lesson in the heartbreak. You feel strengthened by defeat. Hardships become gifts becoming opportunities for growth and change.
Soul consciousness elevates the individual and everyone they come in contact with. It transforms each encounter into meaningful moments that add value to our lives and to those around us. Life becomes an extraordinary adventure as we create it, moment by moment. No longer living at the effect of life, circumstances, and events, we grow stronger and more confident as we create outcomes sourced from heart energy and soul consciousness.
Our flaws become our best friends. How many times in life have you wanted to hide your flaws, deny them, or beat yourself up for having them? How much energy, time, and money have you spent in that pursuit? I hope you can see what a misappropriation of energy, time, and money this is. So instead of seeing flaws as a bad thing (ego-based thinking), soul consciousness guides us to uncover, befriend, and strengthen them. That is the path that brings us out of the struggle, away from suffering, and into the light-filled with new possibilities, opportunities, and our full potential.
From ego to soul consciousness you become the cause of your life. You're back in the driver's seat aiming your life toward your passion and purpose. As you step on the gas, you step into your power and deliver, day after day, year after year.
Rumi also said, "Only from the heart can you touch the sky."
It's a matter of consciousness. A new consciousness for a new day and a transformed life. Are you ready?
Connect with Laurie on The Wellness Universe.
---
All information, content, and material are for informational purposes only and are not intended to serve as a substitute for the consultation, diagnosis, and/or medical treatment of a qualified physician or healthcare provider. The information supplied through or on this page, or by any representative or agent of The Wellness Universe, is for informational purposes only and does not constitute medical, legal, or other professional advice. Health-related information provided through this website is not a substitute for medical advice and should not be used to diagnose or treat health problems or to prescribe any medical devices or other remedies. The Wellness Universe reserves the right to remove, edit, move or close any content item for any reason, including, but not limited to, comments that are in violation of the laws and regulations formed pursuant to the Federal Food, Drug, and Cosmetic Act. None of the posts and articles on The Wellness Universe page may be reprinted without express written permission.
---
The Wellness Universe presents Integrative Healing Expert Leader, Rosemary Levesque. She is a Licensed Spiritual Healer, Reiki Master Teacher, Certified Vibrational Sound Master Teacher, and Medicinal Aromatherapist, who will be guiding you through the Optimal Healing 12-month program that will help you to enjoy health and wellbeing through the integration of natural and alternative methods, modalities, and resources.
Register today prior to the LIVE launch:  https://bit.ly/OptimalHealingCourse
---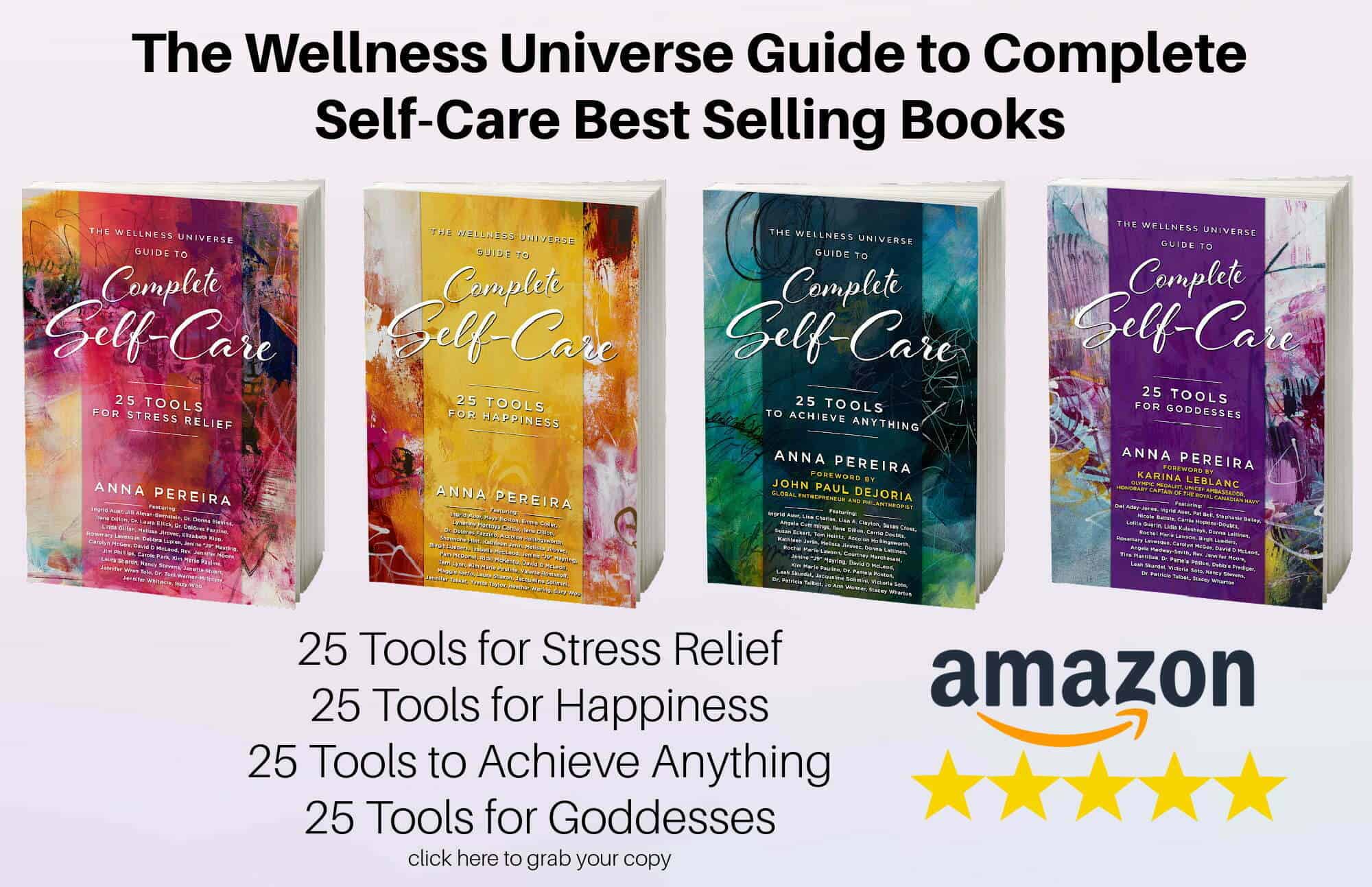 With over 250 independent reviews see how our self-care books are helping thousands of people around the world. Digital and paperback books are available now.
---
Self-development, self-care, and inspirational classes and sessions by Wellness Universe World Changer instructors who support your total well-being.
 Visit The Wellness Universe Lounge today!
---
The Wellness Universe is here to serve your best well-being. If you are experiencing anxiety, grief, overwhelm, guilt, anger, or seeking ways to cope and get help for stress, relationships, parenting, or any other issue during this challenging time, we have wonderful resources for you to connect with. Our WU Best Help members are offering reduced rates, sliding scale payment options, and even pro-bono sessions. WU Best Help
Laurie Levin refers to herself as a Transformation Coach. She helps others transform and master their own wellbeing. She specializes in emotional and physical well-being including healthy nutrition and lifestyle habits, healthy weight loss and the HeartMath® stress reduction techniques.