What is Chakradance™?
Essentially, it is a multi-modality healing movement practice, whose goal is to fully embody your soul.
Chakradance™ uses chakras and Jungian psychology as the knowledge base for this healing journey. It is a fusion of ancient wisdom and modern music. This practice is often called the sister to yoga or rhythm for your soul.
Deepak Chopra tried Chakradance™ and his response about it was, "fascinating insights – a wonderful experience."
Chakradance™ is different from other dance practices as it is a healing, spiritual experience. It is not just dancing, but more than that. The movement involved is a way to fully connect your mind and body so you can travel into the depths of your soul.
What generally happens in a Chakradance™ class or workshop?
We Begin with a Guided Meditation:
This allows the participants to leave their stress, anxiety, and worries behind. To begin to focus on the here and now, open their minds, and prepare for the healing experience again. It is also used to start opening up the energy systems and the chakras involved.
We introduce ourselves and information is shared about Chakradance™. This includes information on the chakras and the dance or dances involved.
Music is specifically written for this modality. It is music that has incredible therapeutic healing and is composed with the intention of healing the physical body, allowing the freeing of emotions, promoting an individual to enter into altered states of consciousness, and allowing the soul to heal itself.
The musical vibrations included in this specific music is vibrationally attuned to the seven chakras.
Conscious Movement (Dancing):
When we do Chakradance™ we use eye masks and it is done in a darkened room.
Why?
Since it is a healing journey that involves soul work we need the participant to focus inward. When we remove the outward stimulus of sight, focus on the movement, breath, and music, we start the beautiful journey inwards.
We begin with a warm up to start to open up the energy centres and get the body prepared for movement. It is also usually followed by an activation dance of all the seven main chakras. After all the chakras are activated, then we go into the dance of the specific chakra we are working on at that time.
It is important to understand that we need to honour our body during this process. Listen to its wisdom and what it needs. If an individual feels the desire to stop moving or if they wish to sit or lie down during the dance portion, it is highly encouraged. The dance is a wonderful part of this modality, but a participant can still get much out of this journey without using movement.
We use dance because it is an ancient healing art form that weaves all aspects of the human existence together. For Chakradance™, dance symbolizes the rhythm of the universe, divine play, the eternal dance of life. The Indigenous people of North America say that when they are dancing, each step is a prayer to the universe.
The dance used in this recognized modality is actually a form of meditation. It is a moving meditation that is transformational in nature.
While you are dancing you are relaxed and the music is opening your mind, body, and soul. The facilitator takes you on a journey with their voice. It is a shamanic journey where you go into a waking dream. You are taken inward, and you may see images and gain insights during your experience.
After the dance, each individual creates their own mandala. Carl Jung saw mandalas as a means of self-expression for our inner self. The mandala creation is a therapeutic process. The shapes, colours, and the designs a person uses is a reflection of their innermost self at that specific moment in time.
The created mandala represents all the feelings, emotions, and issues an individual is facing. Seeing the mandala and meditating on it helps the individual to physically see what is going on inside them, it anchors our consciousness to the physical world and provides intuitive guidance. The mandala holds the energy and is a symbol of our own dance energy.
After the creation of our own personal mandala, we have the opportunity to share our experience and what our mandala means to the whole group. Talking about the experience and sharing our insights is very healing for ourselves. It also provides additional insight to each individual.
The class/workshop ends with a guided meditation to ground, centre, integrate the experience, and to prepare the participant to leave so they can have a safe journey when they leave the sacred space.
Chakradance™ is always done in sacred space. It is held in a sacred circle that represents the circle of life. It is here where we begin to heal ourselves and transcend our everyday reality. It is in this circle that we find our true authentic self.
So, you see, Chakradance™ encompasses the human experience and provides insights into ourselves, the collective consciousness, and others while we journey.
You leave the experience with your chakras opened, balanced, and aligned. You are given wonderful information to use in your everyday life so although it is a spiritual experience, you can transfer the knowledge to use in your real life.
– Samaria
If you are interested in this beautiful practice and would like to find out more, please go to our website Samaria's Mystical Group.
---
---
How did this article make you feel? Leave your comments for Samaria below. Please share this if you liked it. Thank you!
---
---
* Please See Our Disclaimer Below *
---
---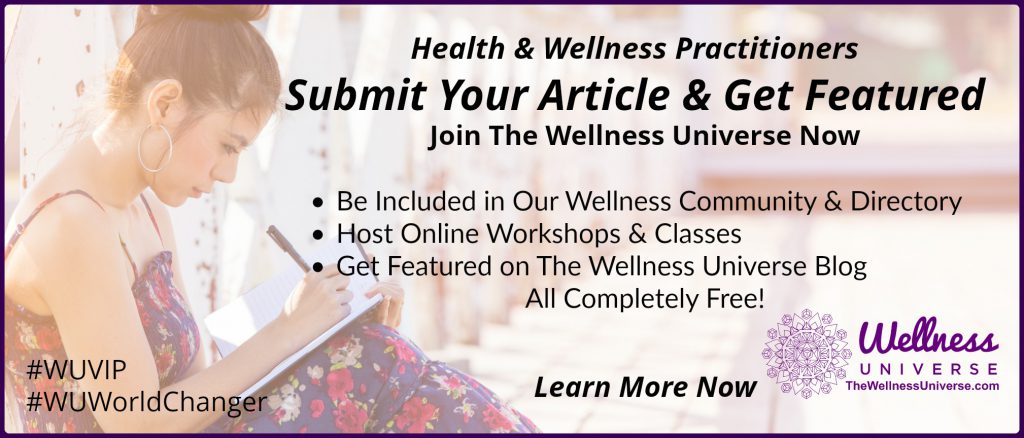 ---
---
Find great products and services for your well-being from members of The Wellness Universe!