It has such a nice ring to it, happily ever after. Don't you think?
As kids, we loved it when the storybook concluded with those three little words. As we grew up, our books ended that way less and less.
So, did we stop believing it?
Over the years, I have made many commitments in my life–to my family, my career, social justice, my health, the companies I worked for, my clients, and to earn both undergraduate and graduate degrees.
Why not to happiness, I now wonder. Why did I not make a conscious commitment to my happiness? After all, isn't that why we're here? Isn't that why we strive for the things we do in our life, to be happy?
Happiness, I believe, is something we all desire like optimal health. I think most people would choose happiness and health over frustration, overwhelm, and disease. Yet our culture would have us believe that happiness is something to achieve or obtain; something external like a soulmate, a bigger house, a promotion, a degree, a new car, or a boat. I'll be happy when I have ________, fill in the blank.
We just might be looking in all the wrong places.
When we live in alignment with our design as human beings, fuel our bodies with healthy foods, have healthy emotions and live a healthy lifestyle, we can optimize our health. Nature, including animals (which includes us) and plants, are in abundance, providing all we and they need to thrive—healthy and happy.
Are you aware you breathe over 20,000 times per day and your heart beats about 100,000 times per day? Yet, how many of those breaths and heartbeats are you aware of?
Perhaps happiness is the same, always present for those who are present to it.
You might think of it as a curtain and just beyond the curtain is your happiness. With the slightest of effort, voila!
We're designed for happiness with our caring hearts like we are designed to move, hear, think, taste, smell, touch, and see. Many might say, well you can't be happy every day. Life is tough.
Climate change, wars, and unimaginable acts occur every day. These things are happening because we have lost our connection to that which truly makes us happy. It's not power. It's not controlling others or amassing huge bank accounts.
Happiness, first and foremost, is our connection to our light force—our heart, which keeps us connected to the light force of the universe and vice versa. That connection turns back the curtain no matter what is going on in our lives.
It's not always easy of course because life gets tough. However, it is quite simple. Here's a HeartMath® technique you can use to bring ease and quiet the internal noise so that you can get your bearings and remember that your heart knows the way, no matter what is going on around you.
Inner-Ease™ Technique
1. When you are feeling stressed, acknowledge your feelings.
2. Take a short time-out to do Heart-Focused Breathing. Heart-Focused Breathing is simply shifting your attention to your heart and then breathing in and out of your heart for a few breaths; a little slower and a little deeper than normal.
3. Imagine with each breath that you are drawing in a feeling of inner ease.
4. When the stressful feelings have calmed, affirm with a heartfelt commitment that you want to anchor and maintain a state of ease throughout your projects, challenges, and daily interactions.
Now that you have created inner ease, you can pause and recommit yourself to happiness. Your responses, choices, and decisions will reflect your heart's intelligence, which will always guide you toward happiness, rather than to fear and ego-based responses and choices.
As you recommit to your happiness each day, you will source the inner light force that keeps your path clear and connected to the light force of the universe that is always there to protect you and give you what you desire. In that connection, lies your happiness and your greatest potential.
You've heard it before, "As Above, So Below."
Within a universe designed for us, and staying true to that design, we can manifest all that we want and need. It comes with our commitment, without blame or shame. This keeps the connection between our true selves and the universe growing stronger.
And that's how we can truly live happily ever after.
Connect with Laurie today!
---
All information, content, and material are for informational purposes only and are not intended to serve as a substitute for the consultation, diagnosis, and/or medical treatment of a qualified physician or healthcare provider. The information supplied through or on this page, or by any representative or agent of The Wellness Universe, is for informational purposes only and does not constitute medical, legal, or other professional advice. Health-related information provided through this website is not a substitute for medical advice and should not be used to diagnose or treat health problems or to prescribe any medical devices or other remedies. The Wellness Universe reserves the right to remove, edit, move or close any content item for any reason, including, but not limited to, comments that are in violation of the laws and regulations formed pursuant to the Federal Food, Drug, and Cosmetic Act. None of the posts and articles on The Wellness Universe page may be reprinted without express written permission.
---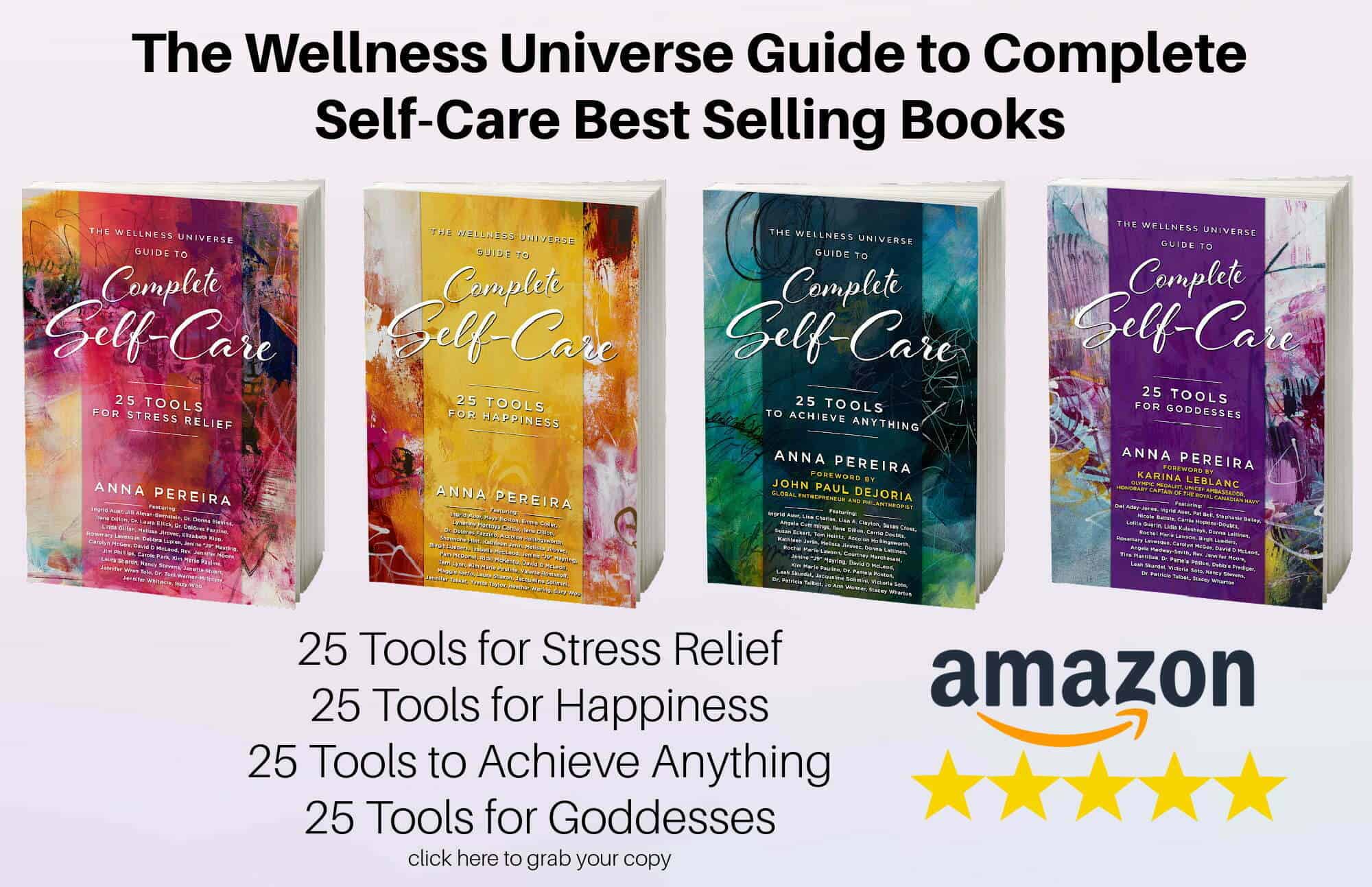 With over 250 independent reviews see how our self-care books are helping thousands of people around the world. Digital and paperback books are available now.
---
Self-development, self-care, and inspirational classes and sessions by Wellness Universe World Changer instructors who support your total well-being.
Visit The Wellness Universe Lounge today!
---
The Wellness Universe is here to serve your best well-being. If you are experiencing anxiety, grief, overwhelm, guilt, anger, or seeking ways to cope and get help for stress, relationships, parenting, or any other issue during this challenging time, we have wonderful resources for you to connect with. Our WU Best Help members are offering reduced rates, sliding scale payment options, and even pro-bono sessions.
WU Best Help
Laurie Levin refers to herself as a Transformation Coach. She helps others transform and master their own wellbeing. She specializes in emotional and physical well-being including healthy nutrition and lifestyle habits, healthy weight loss and the HeartMath® stress reduction techniques.