Holiday Grief is Real. Since we usually celebrate holidays and special days with those we love, there are a lot of memories made around those times. It\'s only natural to think of past celebrations and remember the things our departed loved ones did or said. There\'s no time limit on grief. It can strike at any time whether it\'s been a year or less or 20 years or more since your loved one crossed to spirit. Sending you much love and a few tried and true suggestions that I\'ve used over the years to soften the holidays and make those special days more comfortable.
1. Remember, the dread of the day is usually worse than the actual event. Having a plan and knowing what you\'re going to be doing helps to ease the pressure of a looming holiday. The plan doesn\'t have to be an elaborate one. If you have a simple outline of the day it will lend a bit of structure, so you don\'t find yourself hanging and wondering what to do next.
2. Set aside a time to honor your loved one with a small token of thought or a deed. It can be done in a private setting or together within a group. Some of the things I\'ve done are mentioning them in prayer, lighting a candle in their honor or displaying their photo, talking about a ritual that we shared, or telling a story about them.
3. If you\'re particularly stressed, breaking away from traditions of the past (just for today) may help. If you usually have Easter dinner at your house, change it up a little by asking someone else to host the event at a different location, or try hosting brunch instead.
4. The empty chair can be the elephant in the room. I\'ve asked other family members to honor the departed loved one by sitting in the empty chair. It seemed to ease the tension in the room and at the same time served as a remembrance of the departed. If you\'d rather no one sit in the chair, it should be so stated to prevent misunderstandings.
5. Sometimes just being able to talk to someone about your special person is exactly what you need. I love it when someone tells a funny story about my loved one. I particularly enjoy the tales I haven\'t heard before, but the old stories are great, too. What matters is that the memory of that person is being revived and the love and closeness of the family unit or friend group are being strengthened.
6. Do something nice for yourself, exercise, have a massage, take a walk, enjoy a few minutes of quiet time, write in your journal, enjoy a bubble bath, listen to some good music, or take a drive.
While nothing can take away the pain we feel when we lose someone we love, it helps to plan for holidays and special days by taking a few steps to ensure that you have the best possible experience of that day.
Best wishes for a Blessed holiday ❤
Connect with Sandy today!
---
All information, content, and material are for informational purposes only and is not intended to serve as a substitute for the consultation, diagnosis, and/or medical treatment of a qualified physician or healthcare provider. The information supplied through or on this page, or by any representative or agent of The Wellness Universe, is for informational purposes only and does not constitute medical, legal, or other professional advice. Health-related information provided through this website is not a substitute for medical advice and should not be used to diagnose or treat health problems or to prescribe any medical devices or other remedies. The Wellness Universe reserves the right to remove, edit, move or close any content item for any reason, including, but not limited to, comments that are in violation of the laws and regulations formed pursuant to the Federal Food, Drug, and Cosmetic Act. None of the posts and articles on The Wellness Universe page may be reprinted without express written permission.
---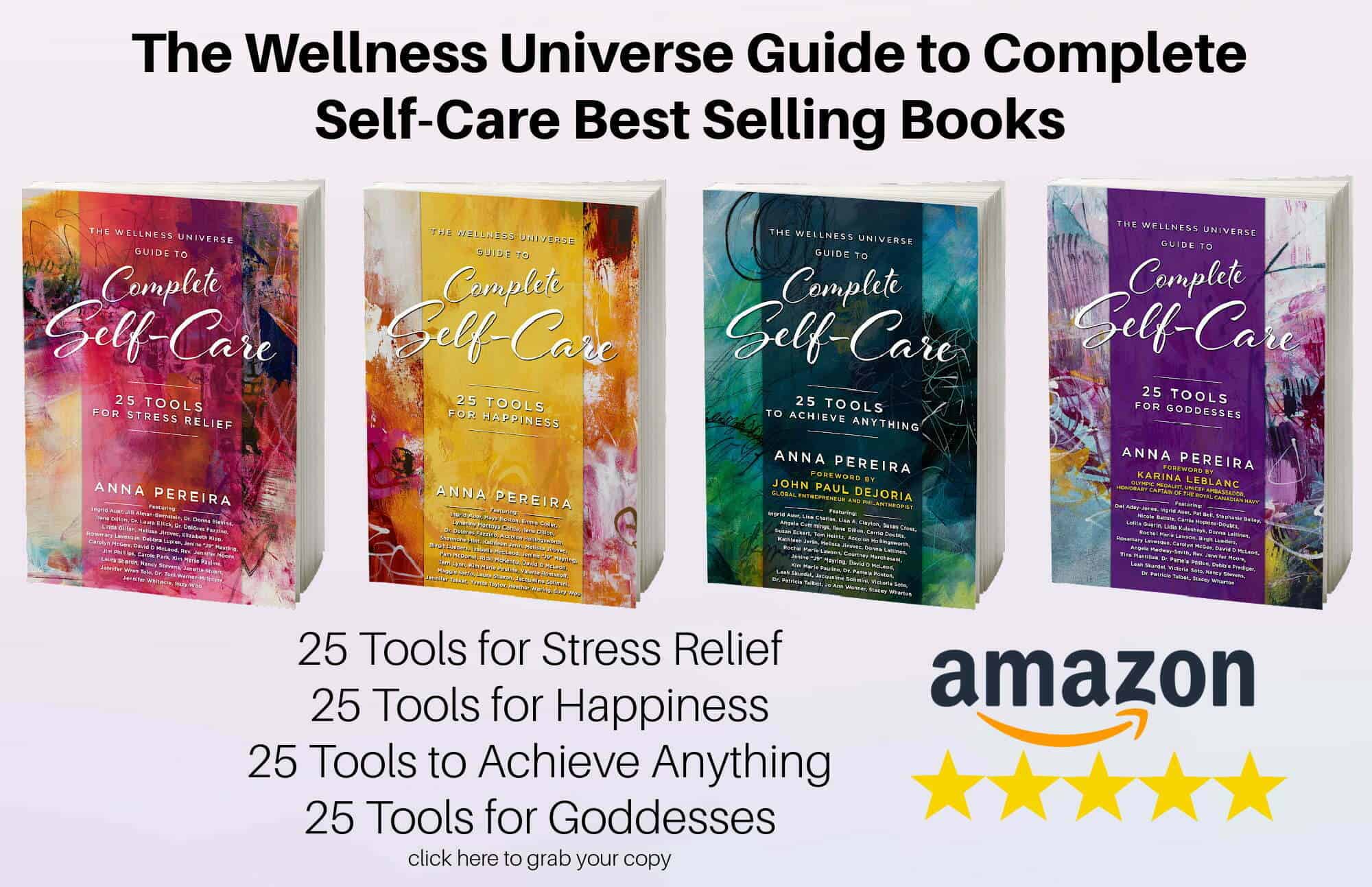 With over 250 independent reviews see how our self-care books are helping thousands of people around the world. Digital and paperback books are available now.
---
Self-development, self-care, and inspirational classes and sessions by Wellness Universe World Changer instructors who support your total well-being.
Visit The Wellness Universe Lounge today!
---
The Wellness Universe is here to serve your best well-being. If you are experiencing anxiety, grief, overwhelm, guilt, anger, or seeking ways to cope and get help for stress, relationships, parenting, or any other issue during this challenging time, we have wonderful resources for you to connect with. Our WU Best Help members are offering reduced rates, sliding scale payment options, and even pro-bono sessions.
WU Best Help
Sandy holds a BA in Academic Psychology from The University of Tennessee. She is a certified Usui Reiki Master/Teacher and is an affiliate member of the International Center for Reiki Training. She is also a certified Lightarian Reiki Master an Ordained Minister, and a member of The Wellness Universe, She offers both distant and in-person Reiki sessions and teaches all three levels of Usui Reiki. She also channels Lightarian Reiki attunements for Usui and Karuna Reiki Masters.