June is a great month start a new yoga practice, make a commitment to deepen your current practice, or even just enjoy yoga with a friend.
Why? Because June is the month that boasts International Yoga Day!
What is the International Day of Yoga?
The International Day of Yoga celebrates yoga which originated in India. Yoga is now one of the world's most popular practices for health and well-being.
In September 2014, India's Prime Minister proposed the establishment of an International Day of Yoga to promote international peace and cooperation. His request was granted by the United Nations General Assembly in December 2014 in an effort to highlight the benefits of yoga for physical well-being and for world peace.
On June 21st, 2015, the first International Day of Yoga was celebrated worldwide. The session in New Delhi alone, lead to a new Guinness Record for the largest yoga lesson, consisting of nearly 36,000 participants.
On the International Day of Yoga, you may find that your local studio will offer a free class for that day or a discourse on yoga.
No matter where you are, there is sure to be a yoga studio celebrating International Yoga Day. Yoga is about uniting. Those who practice yoga like to feel united in celebrating on this day, even in the furthest reaches of the world.
Yoga is the journey of the self, through the self, to the self. – The Bhagavad Gita
What to do on this International Day of Yoga:
Look for free yoga classes or discourses in your community.
Take an online yoga class from home.
Introduce a friend to yoga.
Learn a new style of yoga or learn to meditate or be guided into bliss by listening to an online Yoga Nidra session.
Watch a movie about yoga. I can highly recommend: Breath of the Gods, The Origins of Yoga and Enlighten Up!
Sign up for a yoga retreat or better yet, a deep dive into a yoga teacher training. Whether or not you ever wish to teach yoga, you will learn some valuable life skills.
The International Day of Yoga Logo —
Personally, this logo sums up the best parts of yoga for me. Such as:
Folding of both hands in the logo symbolizes yoga, the union, which reflects the joining of Individual Consciousness with that of Universal Consciousness.
The brown leaves symbolize the earth element.
The green leaves symbolize nature.
Blue symbolizes the water element.
Brightness symbolizes the fire element.
Sun symbolizes the source of energy and inspiration.
The logo reflects harmony and peace for humanity, which is the essence of Yoga.
So, check with your yoga studio to see how they are celebrating the International Day of Yoga and get in on the harmony and union!
– Anna
---
---
How did this article make you feel? Leave your comments for Anna below. Please share this if you liked it. Thank you!
---
---
* Please See Our Disclaimer Below *
---
---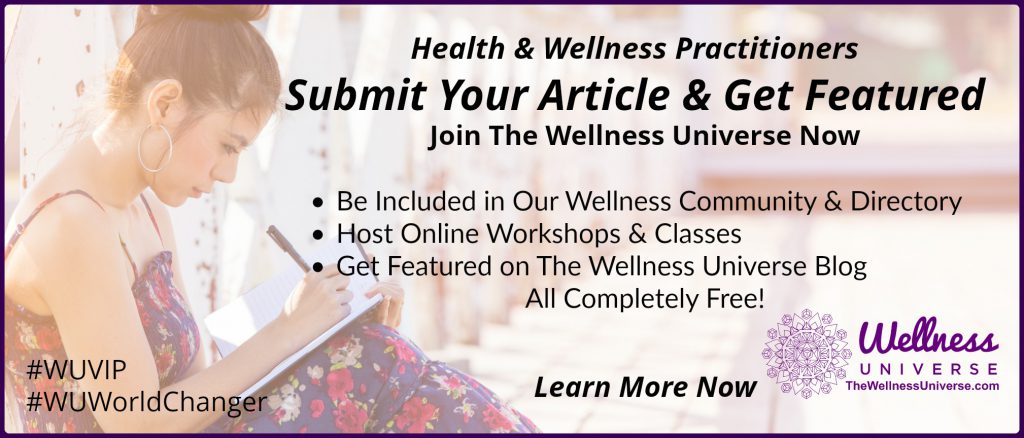 ---
---
Find great products and services for your well-being from members of The Wellness Universe!