Deepen your self-care practice by enhancing your body awareness. Self-care often looks to me like staying in air conditioning on a hot day. Today, I tuned in and heard my body wisdom whispering, "Go outside and get grounded!" Surprising to me, self-care looked like pulling weeds in the garden in 97-degree heat. My body then told me when it was time to go inside and cool off.
When has your body wisdom pulled you out of superficial comfort on the sofa to deepen your self-care through activity?
When has your body wisdom informed you it's time to rest and recover?
In her Wellness For All newsletter, Anna Pereira reminds us that self-care is an investment in our future productivity and happiness. Down time is not self-indulgence but necessary time for building resilience, recovery, and repair. A wholistic view of achievement includes a well-rested mind to avoid burnout.
In the newsletter, Anna encouraged readers to regularly take three-minute self-care breaks to rest your mind and make space for recovery. The Wellness For All newsletter is filled with research on the benefits of self-care and self-care tools. You can read the Wellness For All newsletter for five recommended self-care practices that get results in three minutes.
Here are an additional six of my favorite three-minute time-outs to rest your mind and exercise your imagination. Which of your favorite time-outs can you add to the rest and recovery list?
Bring your awareness from head to heart. Imagine you are breathing through your heart as if you have a nose in the center of your chest. Breathe into the count of four and breathe out to the count of eight.
Stand up and ground your energy. Imagine you have tree roots growing out of your feet into the earth. Breathe earth energy back up through your feet, legs, torso, out the top of your head and around the outside like the canopy of a tree.
Walk outside and listen to the sounds of nature, birds, insects, and the wind in the trees.
Notice the colors, shapes, textures, shadows, and objects around you. Notice what catches your attention. Notice the one who is noticing.
Pick up a book and open it randomly to a page. Read a few sentences and reflect on the message there for you in the moment.
Get up and dance, stretch, and allow your body to move while your mind observes without judgment.
When we practice Jazz Living, we allow our body wisdom to lead and find our own unique rhythm.
Try new self-care practices through improvisational Jazz Living.
Find your body RHYTHM. Be kind to your body. Attend to your body needs for sleep, simple food, exercise. Feel the flow of emotion moving through your body.
RECONNECT to your inner wisdom. Give yourself space to just BE.
Listen for your GROOVE. Listen to your inner wisdom. What do you need? Movement, stillness, creativity, self-nourishment?
Share your VOICE. Sing, call a friend, write a letter, journal your emotions, express your creativity.
COLLABORATE. Be with others. Share your creativity in a group. Join a choir or a class.
I invite you to tune in to your body wisdom. What does your body inspire you to do today when you listen deeply? Underneath the layer of must-have donuts and ice cream. Underneath the autopilot Netflix binge-watching response. What is your unique body rhythm?
Maybe your body is calling for rest and recovery. Time to get off the hamster wheel. Slow down to the speed of life.
Maybe it's time to rethink self-care. You are worthy and deserving of this tender, loving care.
You're invited to join Emissary of Joy, Janette Stuart, and me for Self-Care Isn't Selfish.
High Vibration Living: Leaders Bridging Inner & Outer Peace
LIVE Wednesday, September 27, 9:30-10:30amET / 6:30-7:30amPT
Self Care Isn't Selfish
with Emissary of Joy, Janette Stuart
https://bit.ly/HighVibrationLiving
Hope you can join us live or catch the recording at your convenience.
Your body is calling you to find a deeper rhythm of wellbeing. Your unique rhythm of wellbeing. Are you listening?
I would love to connect. Please reach out through my WU profile.
Have a wellness-filled day!
Leah
Resource
Wellness For All newsletter, Anna Pereira, Founder of The Wellness Universe, August 19, 2023 https://www.linkedin.com/pulse/wellness-all-power-rest-recovery-key-success-anna-pereira/
---
All information, content, and material are for informational purposes only and are not intended to serve as a substitute for the consultation, diagnosis, and/or medical treatment of a qualified physician or healthcare provider. The information supplied through or on this page, or by any representative or agent of The Wellness Universe, is for informational purposes only and does not constitute medical, legal, or other professional advice. Health-related information provided through this website is not a substitute for medical advice and should not be used to diagnose or treat health problems or to prescribe any medical devices or other remedies. The Wellness Universe reserves the right to remove, edit, move, or close any content item for any reason, including, but not limited to, comments that are in violation of the laws and regulations formed pursuant to the Federal Food, Drug, and Cosmetic Act. None of the posts and articles on The Wellness Universe page may be reprinted without express written permission.
---
The Wellness Universe welcomes Linda Dieffenbach, Healing Arts Practitioner & Coach, in partnership with Wellness for All programming for her 12-session course, "Your Transformational Healing Journey: Heal Your Chakras. Heal Your Life."
Catch the recorded session(s) and be sure to join the next LIVE class!
Register today https://bit.ly/HealYourChakraswLindaD
---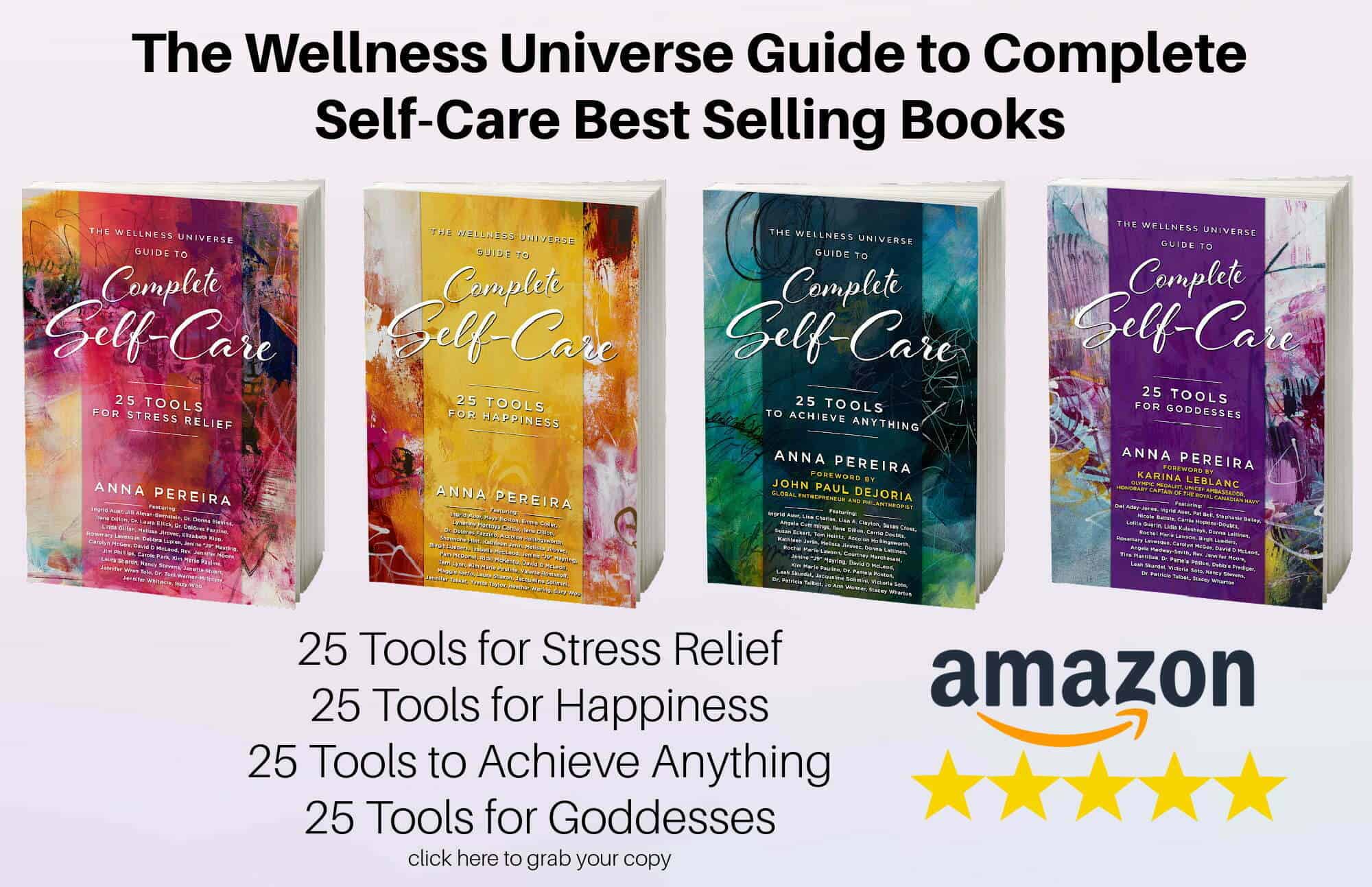 With over 250 independent reviews see how our self-care books are helping thousands of people around the world. Digital and paperback books are available now.
---

Connect to the people that help you live your best life: The Wellness Universe
Leah Skurdal guides people to up-level their stress resilience to improve relationships. Leah shares intuitive insights in private Energy Healing to address the roots of disharmony. As an inspirational speaker and published author, Leah offers lively classes, experiential workshops, and keynotes.