Life can be hard.
As a friend recently described it to me, it is a fight. Fortunately, I received some killer advice in my early 20's that has made the fight a bit easier.
Want to know what it is?
Nothing is forever.
A diamond might be forever, but life sure isn't.
I'm not just talking about life itself. I'm talking about all the aspects OF life. Good or bad. Jobs. Friendships. Love. Marriages. Business. Family. Pets. Your health. Your plants. That sale of a book on your Audible waitlist. Life is constantly ebbing and flowing, always changing. As are YOU. Furthermore, just as you are growing and changing, so is everyone else.
Think of the world as a spinning globe carrying four billion people who are each juggling multiple spinning plates, and possibly spinning in circles themselves while juggling, especially if they are Type A or caretakers for others.
That vision can be a shock if you haven't really thought about it before. It can be either incredibly stressful or incredibly freeing when you first start to think about life like that.
I was having an informational job interview with a mentor early in my career when he passed along this bit of key advice that impacted the way I viewed the world going forward.
I must have been asking a lot of questions and going through the pros and cons list of my next career move with him when he stopped me at one point, and simply said, "Whatever decisions you make in life, just remember that nothing is forever."
I remember being stopped in my tracks, quite stunned. He was trying to reassure me, give me some peace of mind so that I learned not to stress too much over the decision itself but I was in my early 20's, naively thinking I had more control over my outcomes in life than I actually did.
And while I did not immediately have a sense of peace about this, over the years, I learned he was quite right.
The ultimate lesson was when my father passed away from complications of diabetes when I was 26. He was very protective of me and the glue of our Italian-Irish-American family. It was a big shock when he started to quickly deteriorate and then was suddenly gone. The silence of the phone not ringing at the time he always called was deafening. The absence of going over to his house every Sunday for dinner was a huge void. Those spinning plates dropped and crashed all around me. Nothing is forever.
Even in situations when things are going well, the plates can drop, in a good way. I was working at my dream job after college when I got the call from the MBA/MSF Admissions Director, letting me know I was accepted into my first-choice full-time program. I had to break the news to my wonderfully supportive boss at the time, who was, of course, pleased for me but also said, 'Well this is bittersweet." This time I was the one in control of the plates and was purposely crashing some of them in order to make room for bigger, better plates. Nothing is forever.
The goal in life is to find a happy medium and try to enjoy the process of learning how to juggle all of those plates.
Laugh at yourself. Take advantage of opportunities. Push through the fear. Try something new. Tell someone you love them. Afraid you'll look silly? You probably will but who cares? We all love silly, why do you think there are so many new Netflix comedy specials? Afraid you'll mess up? Don't waste your time fretting about it because you WILL mess up. And you'll learn more from the experience than if you had performed perfectly.
As a recovering perfectionist myself, I know how much easier this is said than done. But, as long as you're not intentionally trying to hurt anyone, you'll be ok with whatever decisions you make with whatever information you have at your disposal at the time. The point is to get out of limbo mode and just make the decision. Even if it ends up being the wrong decision, you just make a new decision and change the course. And again. And again. And again, if needed.
The sooner you learn about and get more comfortable about this "nothing is forever" lens of life, the less stress you'll put yourself under.
You'll even come to appreciate that it's meant to inspire you to enjoy the moment or just appreciate the present even through tough times because you know it's going to change anyway. It's actually a bit of a relief to be honest, because even though life is a fight, it becomes a lot easier to manage and you will be able to enjoy it a little more because you won't be over-worrying so much about the future.
Life is too short to play the, "what if" game. Just keep making quick decisions and moving, even failing, forward and enjoying yourself along the way.
Because remember, nothing is forever.
– Kristen
---
---
How did this article make you feel? Leave your comments for Kristen below. Please share this if you liked it. Thank you!
---
---
* Please See Our Disclaimer Below *
---
---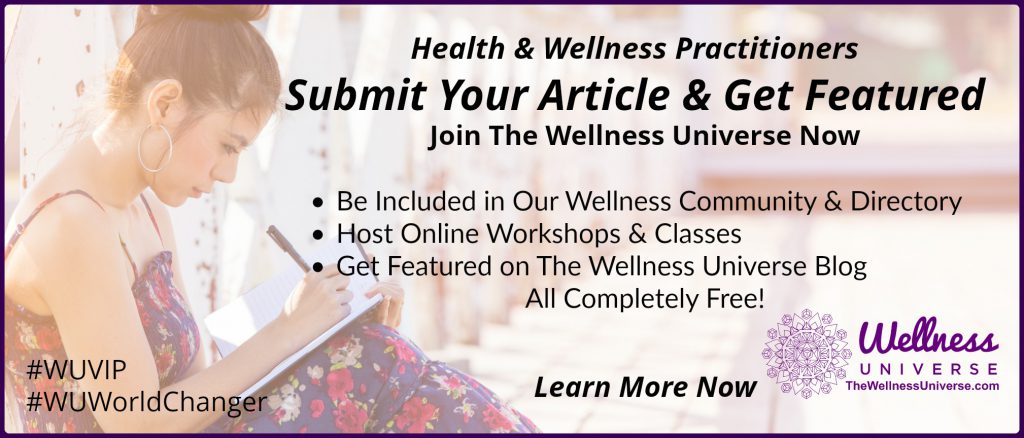 ---
Find great products and services for your well-being from members of The Wellness Universe!