Mental Health Awareness 5 Tools for Better Mental Health Mental Health Awareness Month was first observed in 1949 by the Mental Health America organization and has since grown into a national movement. Observed in May to raise awareness about the importance of mental health and to educate people about mental health issues, The Wellness Universe is supporting wellbeing with a panel of experts and self-care tools. The goal is to promote mental health and well-being, reduce stigma, and encourage people to seek help when needed.
Creativity as a  Mental Health Tool
Expressing creativity has a myriad of benefits.  Here are some ways creativity supports mental wellness. 
Whether you garden, dance, bake, play music, or paint, life is enhanced when you consciously cultivate creativity.  
A recent study in Scientific American Magazine shows that creativity exercises specific neural networks in your brain.  This keeps your mind active, engaged, and sharp.  Hand-eye coordination and memory are boosted when you draw, paint, craft, dance, and play music.
Thinking like an artist broadens your perspective, and seeing things from a higher vantage point is essential for mental wellness.  Creativity boosts joy, lifts your mood, grounds you in the present moment, and places you in a flow state.  This produces a calming effect on your brain and body.
So, find your own brand of self-expression and get creative!
On May 10th, 2023 Jane spoke at The Wellness Universe 5 Tools for Better Mental Health online event to raise awareness and share tools to help with your mental well-being. Five experts from the US and UK spoke and shared tools for self-care in the 90-minute online event. The clip above was Jane's contribution to the conversion.
About Jane: 
Jane Ramsey, a former corporate executive for a global Fortune 500 company, is now a self-proclaimed Creativity Advocate.
She is an author, an avid and accomplished artist, course creator, executive coach, and founder of programs including:
Thriving in Retirement 

Creativity, Imagination, and Innovation 

The Soul Artist Experience
---
All information, content, and material are for informational purposes only and are not intended to serve as a substitute for the consultation, diagnosis, and/or medical treatment of a qualified physician or healthcare provider. The information supplied through or on this page, or by any representative or agent of The Wellness Universe, is for informational purposes only and does not constitute medical, legal, or other professional advice. Health-related information provided through this website is not a substitute for medical advice and should not be used to diagnose or treat health problems or to prescribe any medical devices or other remedies. The Wellness Universe reserves the right to remove, edit, move, or close any content item for any reason, including, but not limited to, comments that are in violation of the laws and regulations formed pursuant to the Federal Food, Drug, and Cosmetic Act. None of the posts and articles on The Wellness Universe page may be reprinted without express written permission.
---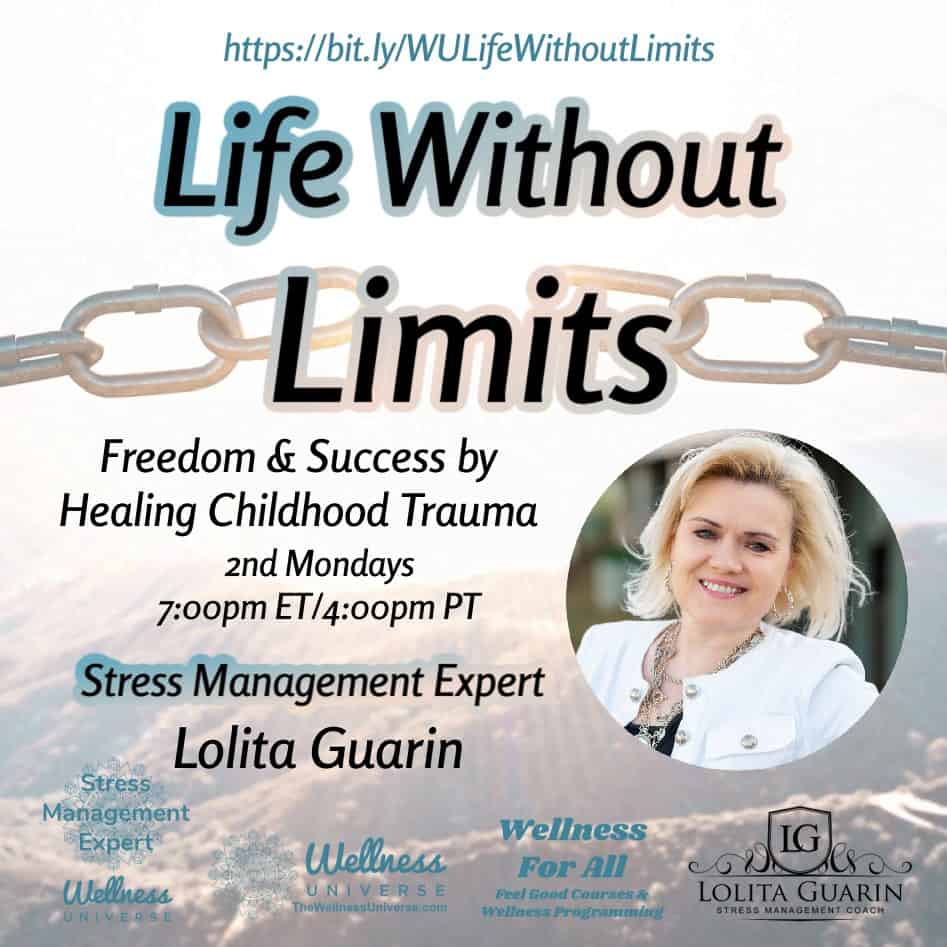 The Wellness Universe welcomes Lolita Guarin, Stress Management Expert, in partnership with Wellness for All programming for Life Without Limits: Freedom & Success by Healing Childhood Trauma. 
Register today prior to the LIVE launch:https://bit.ly/WULifeWithoutLimits
---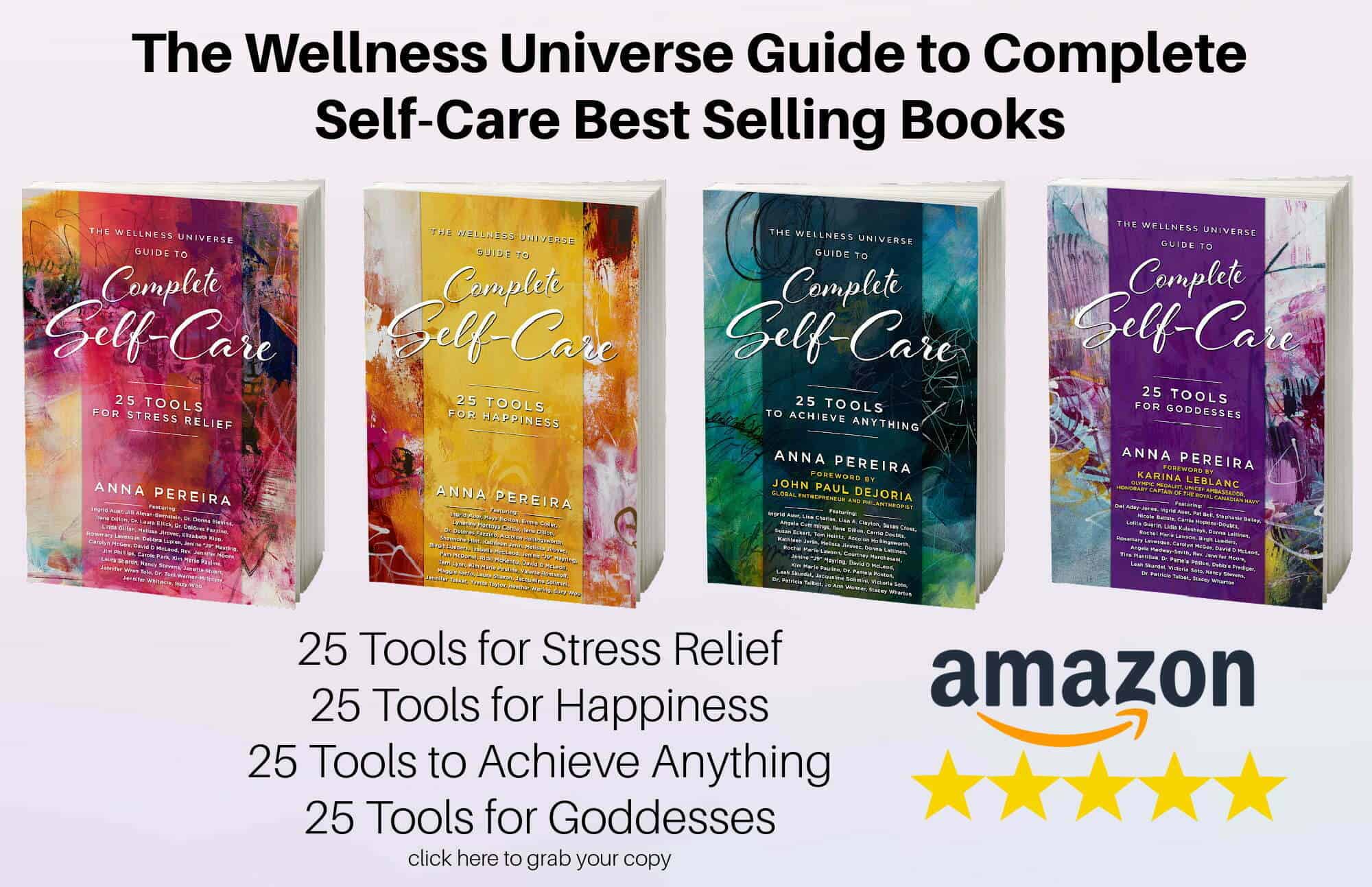 With over 250 independent reviews see how our self-care books are helping thousands of people around the world. Digital and paperback books are available now.
---

Connect to the people that help you live your best life: The Wellness Universe
The Wellness Universe is your resource for health, wellness, well-being, and transformation. We serve and support professionals who make the world a better place and individuals and groups who seek their best life.
A woman owned company; having the vision in 2013, Anna Pereira launched the first directory in 2015 bringing together a community of members making the world a better place to be found by those seeking their best life. The Wellness Universe has grown since then to be a one-stop shop for total wellness support! We are a vetted community, online directory, book publisher, resource center, event producer, content platform, and so much more, supporting whole-health and well-being on a global scale.
The Wellness Universe is a home that connects industry professionals in the health, wellness, and well-being fields to seekers of total well-being. WU provides our WU World-Changer members with peer support, Wellness Universe produced events (live and online), projects, visibility, business mentoring, and community. Through The Wellness Universe our WU World-Changer members serve WU Friends, seekers of health, wellness and transformation, with coaching, workshops, content and more.
The Wellness Universe provides individuals and groups seeking their best lives with access to our members, wellness content, educational resources, and guidance in all areas of wellness to transform visions of how they want to live life into the life they experience.
Through the directory, WU Featured Blog, SoulTreat wellness retreat, Self-Care Books, group well-being programs, and online learning center, The Lounge, The Wellness Universe provides many avenues to support whole health, mind, body, spirit and planet.
Join us today! Wellness Professional or Seeker of Your Best Life