So many women suffer from neck and shoulder pain, and the fallout from the pandemic has made things worse. Between general stress, working from home, and lack of exercise, we are currently in a perfect storm for neck and shoulder pain.
To add to this, if you already have an osteoporosis-related wedge fracture, your upper spine may be stuck in a more curved position (the humpback), which over time can lead to more pronounced neck and shoulder pain.
Start At The Pelvis
Good posture really does start at the pelvis, the kingpin bone of the human body. When your pelvis is in a "neutral" position (hip bones and pubic bones in the same horizontal plane) your lower back can move forward and up, your ribcage can lift up for better breathing, and your neck can lift forward and up, releasing some of the pressure.
If you, like most of us, sit a lot, you're most likely compressing your spine. Think about it… if you tuck your pelvis and flatten out your lower back, and shove your shoulders back and down, you are simply pushing everything downward and inward, which will make your neck and upper body feel even worse.
Just sitting, or laying on your back, and moving your pelvis will help. It can go forward and backward, side to side, and around in circles.
Stop Pushing Your Shoulders Down Your Back
One of the first cues that you hear in most Pilates, Yoga, and Fitness classes is, "Press your shoulders down away from your ears." There are many variations on this cue, but they all say the same thing.
I experience neck pain from arthritis and degeneration of my cervical spine, and I have spoken about this with my neurologist. She agrees that pressing my shoulders down is the worst thing I can do for my neck! My neck needs to lift up and decompress. When I press my shoulders down, the muscles that attach my neck to my shoulders and ribcage strain.
Our shoulders are very mobile and should be, so allow them to move! They are not skeletally attached to each other, or to your ribcage. Think about your arms, collarbones, and shoulder blades moving together, rolling around on your ribcage.
Simple Movements Can Help
Getting some movement in your day is crucial. Stand up every 60-90 minutes, walk around, take some deep breaths, and move your arms, legs, and head around.
Shrug your shoulders and drop them a few times, then roll them forward and backward. Turn your head to look behind you a few times each way, bend your head forward and backward, and then side to side. Do some head circles.
Reach your arms up and around, lifting up as you can tolerate and maybe doing some big arm circles. Lift up out of your pelvis and breathe into your lifted breastbone!
Do Specific Exercises
My belief is that life is too short to keep relying on willpower (or, forcing yourself to do things you hate. These neck & shoulder exercises can be pleasurable, often helping us feel better quickly, and can be done supine (on your back), seated, or standing.
Conscious Breathing – Feel your ribs move to the front, side, and back as you breathe–the abdominals are helping to move your ribs! Now pay attention to your pelvis. Make sure that you are not pushing your lower back onto the floor or chair; your pubic bones should be in the same horizontal line as your hip bones. You may have an arch in your lower back and that's OK, you are supposed to! Basically, feel like you have more weight towards your tailbone and a bit less in your neck and shoulders.
Add Head Nods & Circles – stay in a pain-free range of motion
Move Your Shoulder Blades – forward, backward, up, down, in circles
Move your arms – up, down, forward, backward, and then big arms circles in each direction
I'm teaching several of these exercises in my 6-month donation-based online course, Exercise for Bone Health, Strength, and Mobility. We meet on the 2nd Tuesday of each month, with the next meeting on July 12.
Connect with Lynda on The Wellness Universe.
---
All information, content, and material are for informational purposes only and are not intended to serve as a substitute for the consultation, diagnosis, and/or medical treatment of a qualified physician or healthcare provider. The information supplied through or on this page, or by any representative or agent of The Wellness Universe, is for informational purposes only and does not constitute medical, legal, or other professional advice. Health-related information provided through this website is not a substitute for medical advice and should not be used to diagnose or treat health problems or to prescribe any medical devices or other remedies. The Wellness Universe reserves the right to remove, edit, move or close any content item for any reason, including, but not limited to, comments that are in violation of the laws and regulations formed pursuant to the Federal Food, Drug, and Cosmetic Act. None of the posts and articles on The Wellness Universe page may be reprinted without express written permission.
---
The Wellness Universe presents Janette Stuart our Angelic Practitioner Expert Guide. Monthly, Janette invites you to escape to the Secret Garden of Joy.
The Secret Garden of Joy:
Every first Saturday of the month, come escape to the Secret Garden of Joy for an hour as you leave the world behind, delight your heart, nurture yourself and fill your cup.
Register today prior to the LIVE launch:  https://bit.ly/SecretGardenofJoy
---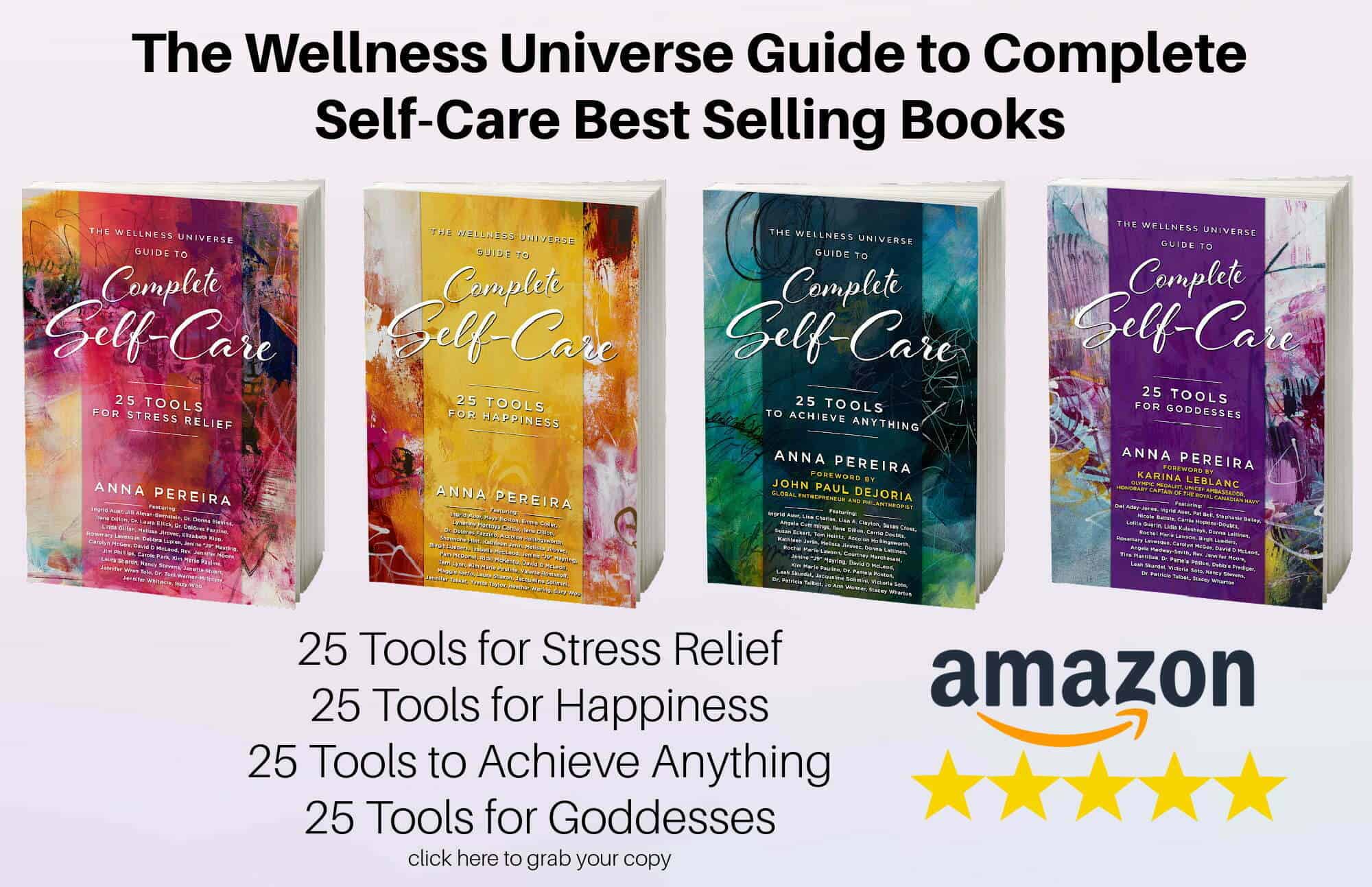 With over 250 independent reviews see how our self-care books are helping thousands of people around the world. Digital and paperback books are available now.
---
Self-development, self-care, and inspirational classes and sessions by Wellness Universe World Changer instructors who support your total well-being.
 Visit The Wellness Universe Lounge today!
---
The Wellness Universe is here to serve your best well-being. If you are experiencing anxiety, grief, overwhelm, guilt, anger, or seeking ways to cope and get help for stress, relationships, parenting, or any other issue during this challenging time, we have wonderful resources for you to connect with. Our WU Best Help members are offering reduced rates, sliding scale payment options, and even pro-bono sessions. WU Best Help
For over 33 years, Lynda Lippin's clients (including Donna Karan, Laurie Anderson, and Joe Walsh) have trusted her to help them get stronger and function better, with less pain. In fact, former Financial Times travel editor Rahul Jacob says that Lynda is the best Pilates teacher and personal trainer he's ever worked with. Currently, Lynda is the CEO of 
Lynda Lippin Pilates
, LLC, where she helps women over 50 increase their bone density, and eliminate chronic pain through her online 
Strong Bones program
, 
Strong Bones classes
, and private sessions. She also serves Pilates Teachers through the 
Pilates Teacher Mastermind®
, a business accelerator and continuing education program.