You've arrived in the middle of your awesome life! 
And with this comes change! You are "well-blended" in maturation that is both embraced and at times unwelcome!
So, how do you navigate all that you already have on your plate, while maintaining and building up your health and emotional abundance, amidst the backdrop of your life?
With up-to-the-minute information and advances in whole-body-centered medicine, there has never been a better time for you to take charge and thrive! You matter.
Use the tips shared below as a go-to guide when seeking solutions and proactive steps as you embrace and continue on in your abundant life.
Here are 10 Health and Wellness Tips for Women in the Middle:
Know your health numbers
Prioritize your health and wellness with as much care for yourself as you give to others. Schedule annual exams and screenings to get your baseline reads and the status of your health today. Tests to be aware of in your 40s and 50s include mammograms, pap smears, skin exam, Dexa bone scan – (late 50s early 60s), cholesterol, blood sugar, thyroid, blood pressure, and colonoscopy (50). All results provide the foundation for your current health status and to detect any other factors to be aware of.
Be constant and consistent with exercise!
Bringing in physical movement is key to aging with ease while supporting and maintaining muscle and bone strength. Include weights for a total body workout to keep your bones healthy and strong at least two days a week. Move into something you enjoy doing. It isn't what activity you do but that you do so with enjoyable consistency!
Adopt and eat nutrient-rich whole foods daily
Continue to enjoy your favorite foods and look for ways to gradually include and eat more nutrient-dense foods every day.  While you may have heard and read this over and over, eating nutrient-rich foods really matters to your health and vitality as you move into your middle years and beyond. Our bodies need the fuel/fiber, nutrients/vitamins that include fruits, veggies, nuts, lean proteins, whole grains, legumes, and dairy if tolerated.
Sleep
Sleep plays a major role in not only physical but emotional health. Poor quality sleep over long periods of time can increase both anxiety and depression as well as weight gain. According to the National Heart Lung and Blood Institute, sleep is needed to repair the heart and blood vessels. Ongoing sleep deficiency is linked to an increased risk of heart, kidney, high blood pressure, diabetes, and stroke.
Lovingly kick smoking out of your life if you're a tobacco user
If you smoke, lovingly face the facts of the detrimental impact smoking has on your body long-term, with many areas such as lung disease and cancers, and your secondhand smoke on others. Involve yourself with a support and accountability group and with those who want to see you win your health back on track. Find something life-affirming and look forward to new hobbies as a reward!
De-stress yourself
In the midst of coming and going pause and give yourself permission to take care of yourself. Carrying stress from areas including career, relationships, family, personal obligations, etc. does one thing to you, it weakens your body and immune system while creating anxiety and depression. Many physical symptoms find their root cause in stress. Engage in activities that counter stressful times such as yoga or other forms of exercise, meditation, being in nature, saying no to people and additional projects, with care, and even distancing or removing yourself from toxic people or situations.
Practice silence
This follows on the heels of no. 6 – de-stressing. Let's face it, we are inundated with sounds daily. From the moment we wake to bedtime rarely experience true silence. Why seek daily silence? Studies show when intentionally silent – memory is improved and brain growth is stimulated. Being silent also reduces stress, and lowers blood pressure while renewing the body and mind.
Seek spirituality
At the core – being spiritual is connecting to something bigger and greater outside of yourself in the world and universe. Doing so gives your life purpose and meaning laying your core foundation within you. Spirituality offers a gift of peace, greater patience, and a deeper connection to yourself and others all in relationship with each other.
Socialize
As humanity, we are simply meant to be part of the whole! Connecting with others plays a key role in our wellbeing. Building and maintaining social connections is life-affirming and increases both mental and physical health.
Cultivate your personal identity and purpose
When you know your purpose and identity outside of work, relationships, daily obligations, interests, etc., your life has flow and in this, personal prosperity. Benefits of finding your purpose include clarity in doing, a deeper connection to who you are, and the alignment with your values and what matters to you.
What tip(s) listed above have inspired and encouraged you to be friends with your body and give yourself good care? We are all in this together, so send this to another woman in the middle. Sharing is caring!
Did you know you can find help here? From personal to professional well-being, connect with someone who can guide you to a happier, healthier and whole life! Become a WU Friend today!
If you provide support or products that make the world a better place and help humanity live in health, happiness, and wholeness, join us as a WU World-Changer.
– The Wellness Universe
---
All information, content, and material are for informational purposes only and are not intended to serve as a substitute for the consultation, diagnosis, and/or medical treatment of a qualified physician or healthcare provider. The information supplied through or on this page, or by any representative or agent of The Wellness Universe, is for informational purposes only and does not constitute medical, legal, or other professional advice. Health-related information provided through this website is not a substitute for medical advice and should not be used to diagnose or treat health problems or to prescribe any medical devices or other remedies. The Wellness Universe reserves the right to remove, edit, move or close any content item for any reason, including, but not limited to, comments that are in violation of the laws and regulations formed pursuant to the Federal Food, Drug, and Cosmetic Act. None of the posts and articles on The Wellness Universe page may be reprinted without express written permission.
---
The Wellness Universe presents Maggie Sarfo, Personal Growth Expert Leader and Akashic Records Consultant guiding you through The Purpose Evolution Series, a 6-month program that will transform your life.
Catch the recorded session(s) and be sure to join the next LIVE class!
Register today: https://bit.ly/PurposeEvolution
---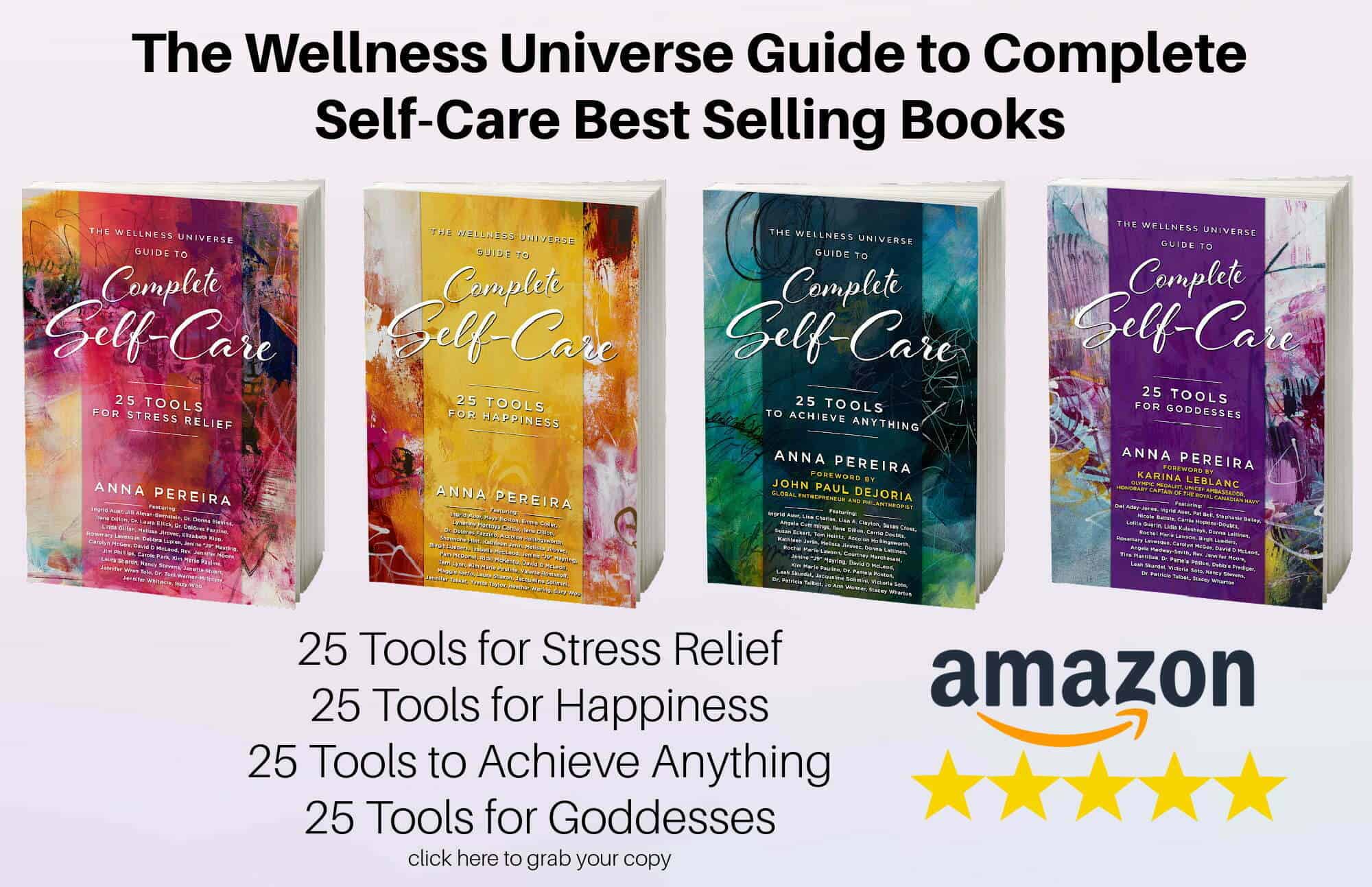 With over 250 independent reviews see how our self-care books are helping thousands of people around the world. Digital and paperback books are available now.
---
Self-development, self-care, and inspirational classes and sessions by Wellness Universe World Changer instructors who support your total well-being.
 Visit The Wellness Universe Lounge today!
---
The Wellness Universe is here to serve your best well-being. If you are experiencing anxiety, grief, overwhelm, guilt, anger, or seeking ways to cope and get help for stress, relationships, parenting, or any other issue during this challenging time, we have wonderful resources for you to connect with. Our WU Best Help members are offering reduced rates, sliding scale payment options, and even pro-bono sessions. WU Best Help
The Wellness Universe is your resource for health, wellness, well-being, and transformation. We serve and support professionals who make the world a better place and individuals and groups who seek their best life.
A woman owned company; having the vision in 2013, Anna Pereira launched the first directory in 2015 bringing together a community of members making the world a better place to be found by those seeking their best life. The Wellness Universe has grown since then to be a one-stop shop for total wellness support! We are a vetted community, online directory, book publisher, resource center, event producer, content platform, and so much more, supporting whole-health and well-being on a global scale.
The Wellness Universe is a home that connects industry professionals in the health, wellness, and well-being fields to seekers of total well-being. WU provides our WU World-Changer members with peer support, Wellness Universe produced events (live and online), projects, visibility, business mentoring, and community. Through The Wellness Universe our WU World-Changer members serve WU Friends, seekers of health, wellness and transformation, with coaching, workshops, content and more.
The Wellness Universe provides individuals and groups seeking their best lives with access to our members, wellness content, educational resources, and guidance in all areas of wellness to transform visions of how they want to live life into the life they experience.
Through the directory, WU Featured Blog, SoulTreat wellness retreat, Self-Care Books, group well-being programs, and online learning center, The Lounge, The Wellness Universe provides many avenues to support whole health, mind, body, spirit and planet.
Join us today! Wellness Professional or Seeker of Your Best Life