Kindness is love made visible.

– Swanepoel Raktivist
Love and kindness blossom when we release self-love and abundance to the world from our hearts!
During this time like no other, the big energies of love and kindness are being called in to lay the groundwork and fill in gaps. Abundant love and kindness lie within each one of us as part of the fabric that connects us. For some, this has yet to be tapped and for others, this is a wellspring.
Good news!
Each of us has the untapped, positive potential for sharing love and kindness no matter how seemingly simple or expansive. All of this contributes to more love and a greater sense of wellbeing, even in the midst of challenge and growth.
Here Are 10 Ways to Share Love and Kindness Today:
Practice Daily Gratitude
Go inward to give outwardly by finding and naming what brings your gratitude and thanksgiving. Start and complete your day with a beautiful dose of gratitude. What you name in thanks, is extended out in abundance.
Smile with Intention
Smile from within to generate a smile on your lovely face. Nothing spreads instant ease, care, and love like a warm smile. So, smile!
Compliments
Share with someone a positive thought you have about them, regarding something they are doing, have done, or that you admire. Complimenting another connects you to them with positive attention and sets them up with positivity for sharing. What you share aloud with them shows thoughtful care, and paying this forward is simply a natural occurrence of goodness given.
Leave A Note
Leave a small handwritten note to someone you love. This can look like a sticky note posted in places like the coffee maker or fridge or dresser! It's a small but mighty way to say I'm thinking about you right now!
Meditate 
Taking intentional time out for yourself in meditation and silence is a gift. Not only is it a gift of self-love, but also one that radiates outwardly as calm and renewed energy. Giving ourselves a loving time to reset and renew covers others in our own calm.
Pray
Sending thoughtful life-affirming requests for others' wellbeing, support, protection, and care shows up in the world as the energy of love. When in prayer and gratitude our positive thought-filled energy spreads harmony and care.
Listen
When we open up all of our senses to fully listen, such is love being spread. Intentional listening without interrupting or filling in what we think needs to be the next sentence is love in motion. Listening fully from the start to finish shows care and support, and in the process, spreads love.
Food Support
Cooking a meal and sharing food is love 101! Food is a universal love language. Food and love go together as a balanced means of intention and action.
Let Another Driver Merge
How many times have you tried to merge into another lane in busy traffic, been ignored, and felt stuck? How good have you felt when you've been given pause to merge into the next lane? Being intentional with care for other drivers gives them the gift to pass along. This is an easy way to begin the journey of learning how to show and extend love.
Volunteer In Your Community
If time allows, sign-up for a one-and-done event, or an ongoing need at a center, clinic, school, or shelter in your community. Volunteering our time and energy invites deeper more intimate connections which in turn fosters greater love and kindness.
Did you know you can find help here? From personal to professional well-being, connect with someone who can guide you to a happier, healthier, and whole life! Become a WU Friend today!
If you provide support or products that make the world a better place and help humanity live in health, happiness, and wholeness, join us as a WU World-Changer.
– The Wellness Universe
*Originally published on September 26, 2020.
---
All information, content, and material are for informational purposes only and are not intended to serve as a substitute for the consultation, diagnosis, and/or medical treatment of a qualified physician or healthcare provider. The information supplied through or on this page, or by any representative or agent of The Wellness Universe, is for informational purposes only and does not constitute medical, legal, or other professional advice. Health-related information provided through this website is not a substitute for medical advice and should not be used to diagnose or treat health problems or to prescribe any medical devices or other remedies. The Wellness Universe reserves the right to remove, edit, move or close any content item for any reason, including, but not limited to, comments that are in violation of the laws and regulations formed pursuant to the Federal Food, Drug, and Cosmetic Act. None of the posts and articles on The Wellness Universe page may be reprinted without express written permission.
---
Filled with self-care tools and resources to uplift you, join us for Resilience for the Holidays, Tools, Tips and Exercises for Well-being to incorporate into your life and serve you well beyond the holiday season.
Join us for this live 90-minute event, Saturday December 10th, 2022, 10am EDT/7am PDT.
Register today: https://bit.ly/ResilienceForTheHolidays
If you can't make it live, you can watch the recorded session so be sure to register today! 
https://bit.ly/ResilienceForTheHolidays
---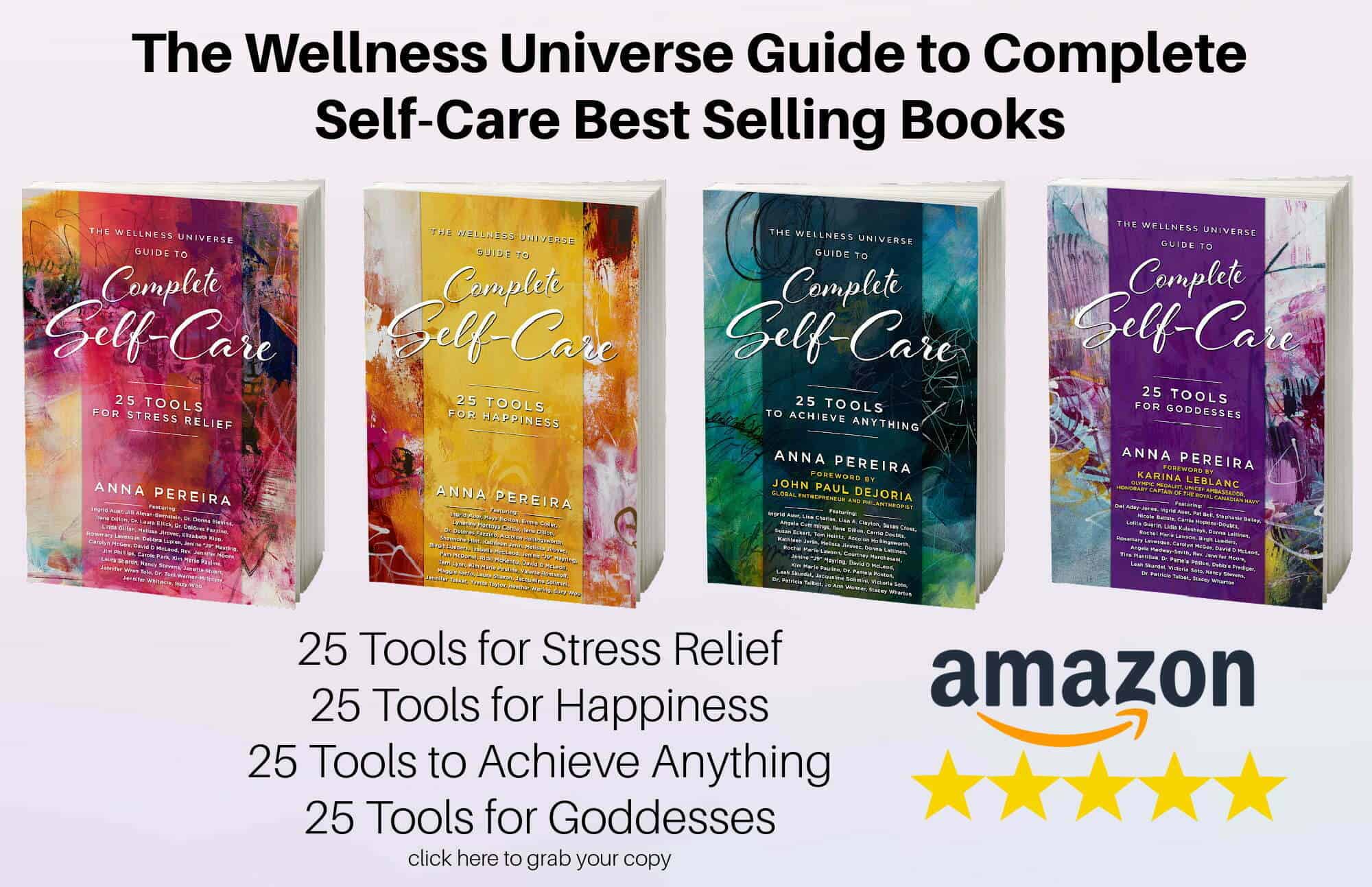 With over 250 independent reviews see how our self-care books are helping thousands of people around the world. Digital and paperback books are available now.
---
 Connect to the people that help you live your best life: The Wellness Universe
The Wellness Universe is your resource for health, wellness, well-being, and transformation. We serve and support professionals who make the world a better place and individuals and groups who seek their best life.
A woman owned company; having the vision in 2013, Anna Pereira launched the first directory in 2015 bringing together a community of members making the world a better place to be found by those seeking their best life. The Wellness Universe has grown since then to be a one-stop shop for total wellness support! We are a vetted community, online directory, book publisher, resource center, event producer, content platform, and so much more, supporting whole-health and well-being on a global scale.
The Wellness Universe is a home that connects industry professionals in the health, wellness, and well-being fields to seekers of total well-being. WU provides our WU World-Changer members with peer support, Wellness Universe produced events (live and online), projects, visibility, business mentoring, and community. Through The Wellness Universe our WU World-Changer members serve WU Friends, seekers of health, wellness and transformation, with coaching, workshops, content and more.
The Wellness Universe provides individuals and groups seeking their best lives with access to our members, wellness content, educational resources, and guidance in all areas of wellness to transform visions of how they want to live life into the life they experience.
Through the directory, WU Featured Blog, SoulTreat wellness retreat, Self-Care Books, group well-being programs, and online learning center, The Lounge, The Wellness Universe provides many avenues to support whole health, mind, body, spirit and planet.
Join us today! Wellness Professional or Seeker of Your Best Life