---
Were you ever asked as a kid or a young adult, "So what are you going to be when you grow up?" Your answer might have been influenced by your favorite tv show, an important person in your life, or something that you felt naturally drawn to.
Your dream from kid to now may be different but reaching for it is just as important. We need to keep our dreams alive, and we can't stop working for them just because they haven't happened yet. If today you're feeling a bit discouraged, overwhelmed, and frustrated, then this is for you.
Because while there's no magic formula for making your dreams a reality, there are ways to create simple patterns and habits that will help you do the work that you need to do in order to achieve your dreams.
Here Are 3 Simple Ways to Achieve Your Dreams
Set Short-Term Goals Based On Your Long-Term Goal
Having the big picture is great because it helps you set that larger goal that's off in the distance and where your future is headed. However sometimes the bigger dreams can feel so far off, and it can be discouraging because the progress feels small – even if it's helping.
Our minds like seeing concrete results and progress. We're visual people, so having a visual "I can see the direct result and difference from reaching my goal in my life" is incredibly powerful.
That's why in order to help you see your own progress and stay motivated, you want to set short-term goals that are achievable and that you can physically notice a specific difference in your life.
Whether that's for your health, your finances, relationships, or your dream impact, you want to create specific details that you want to reach that make up the foundation of your dreams.
The more specific you are, the better you can see your progress, and the more aligned your actions will be – that's how progress is made.
In order to help yourself stay organized, create month-to-month goals and separate them out into different categories so you can check in with what you're doing each day and adjust as needed.
Find Your MOFA
Your MOFA is your big motivating factor that is driving you to reach your dreams and not give up when things get hard or aren't happening the way you want.
The things we spend our time doing are the things that are important to us. If right now, what you need to do feels like a struggle then taking this approach may help your mindset change its perspective.
Sometimes we can get caught up in the "work" it'll take, and it feels like too much, so we stop before we really start. By finding your MOFA, you can change how you see your goal – not as something that'll take a ton of work, but something that gives you these awesome, positive, and much-desired results in your life and the lives of the people around you.
When your dream requires you to grow, change, adapt, build, show up and expand, you will feel some resistance to that change. It can be uncomfortable and put you in situations where growing feels more like a lemon being squeezed into someone's punch bowl.
Your MOFA helps you come back from the pain, drama, and hurt, and dust yourself off to keep going, stronger than you were before.
The best way to find this is to look outside yourself for what reaching your dream will do. Knowing the reason behind WHY you want what you want is a proven tactic in goal setting that will help you grow.
Think of the change that can happen when you are living your dream. What are some of the things that are the most important to you? How does your dream allow you to pursue them? How does your dream inspire, lift up and encourage others? What change does it create for the world and people around you?
Find that reason – or reasons – and put it somewhere you'll see it every single day to remind yourself of what you're working for.
Notice Your Negativity
We've all been there, sitting at our computer or lacing up our shoes ready to take the next step, and then what happens? The negativity starts.
Those tiny small voices and thoughts jump in and start to change the conversation and discourage, distract, and derail us from doing what we need to do to make our dreams a reality.
Give yourself the nicest gift you could ever give it: notice those thoughts and call them out.
Catch it when it says something mean and then forgive it. Forgive yourself for being mean and start a new conversation about yourself and your dreams.
Did you know you can find help here? From personal to professional well-being, connect with someone who can guide you to a happier, healthier, and whole life! Become a WU Friend today!
If you provide support or products that make the world a better place and help humanity live in health, happiness, and wholeness, join us as a WU World-Changer.
– The Wellness Universe
*Adapted from a post published on July 6, 2020.
---
All information, content, and material are for informational purposes only and are not intended to serve as a substitute for the consultation, diagnosis, and/or medical treatment of a qualified physician or healthcare provider. The information supplied through or on this page, or by any representative or agent of The Wellness Universe, is for informational purposes only and does not constitute medical, legal, or other professional advice. Health-related information provided through this website is not a substitute for medical advice and should not be used to diagnose or treat health problems or to prescribe any medical devices or other remedies. The Wellness Universe reserves the right to remove, edit, move or close any content item for any reason, including, but not limited to, comments that are in violation of the laws and regulations formed pursuant to the Federal Food, Drug, and Cosmetic Act. None of the posts and articles on The Wellness Universe page may be reprinted without express written permission.
---
The Wellness Universe presents Success Expert Leader Gael Wood in partnership with Wellness for All programming supporting you to reach your goals in Reach for Your Dreams! Practical and Energetic Practices to Reach Your Goals.
Catch the recorded sessions and be sure to join the next LIVE class! 
Register today: https://bit.ly/WUReachForYourDreams
---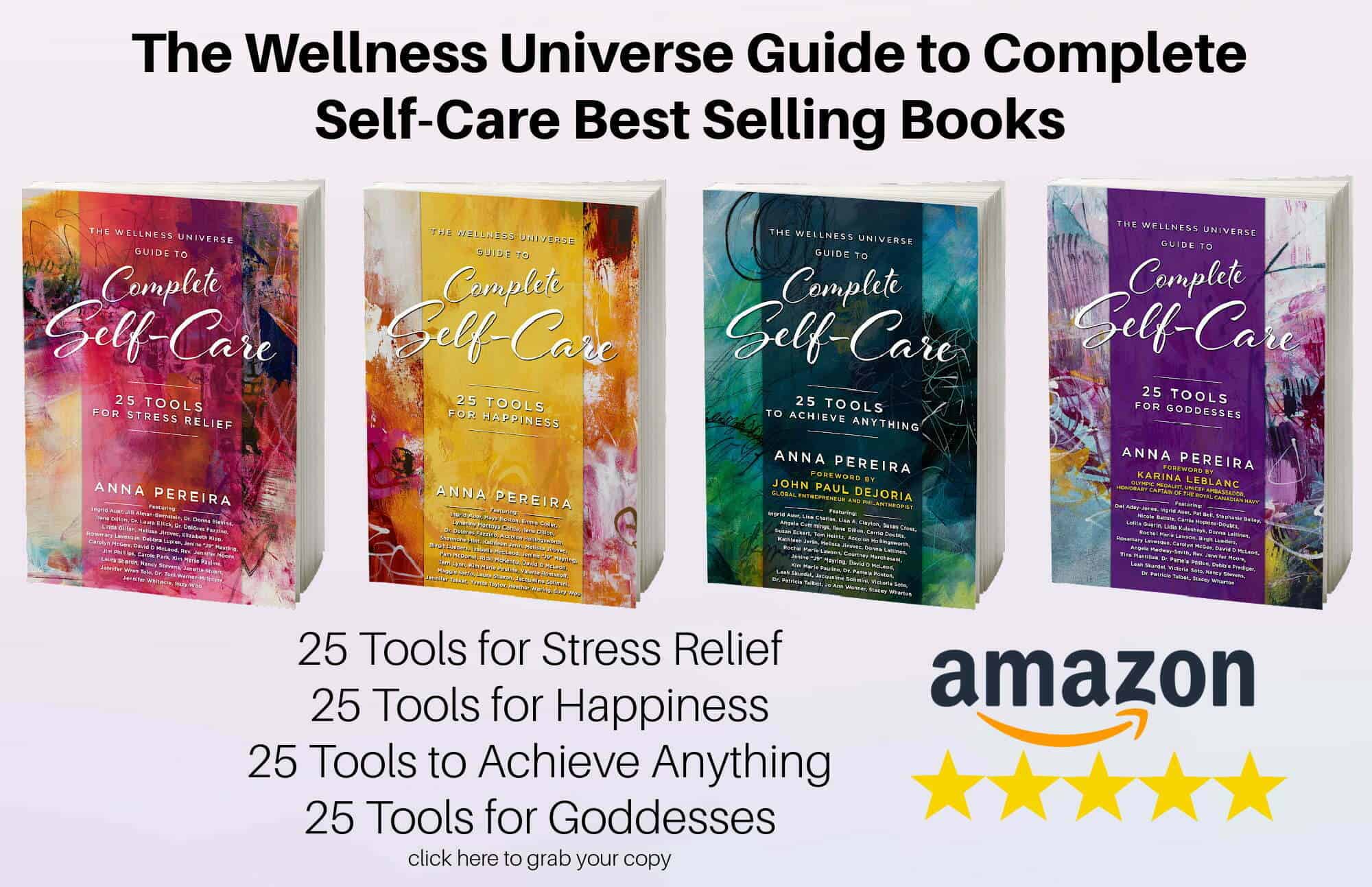 With over 250 independent reviews see how our self-care books are helping thousands of people around the world. Digital and paperback books are available now.
---

 Connect to the people that help you live your best life: The Wellness Universe
The Wellness Universe is your resource for health, wellness, well-being, and transformation. We serve and support professionals who make the world a better place and individuals and groups who seek their best life.
A woman owned company; having the vision in 2013, Anna Pereira launched the first directory in 2015 bringing together a community of members making the world a better place to be found by those seeking their best life. The Wellness Universe has grown since then to be a one-stop shop for total wellness support! We are a vetted community, online directory, book publisher, resource center, event producer, content platform, and so much more, supporting whole-health and well-being on a global scale.
The Wellness Universe is a home that connects industry professionals in the health, wellness, and well-being fields to seekers of total well-being. WU provides our WU World-Changer members with peer support, Wellness Universe produced events (live and online), projects, visibility, business mentoring, and community. Through The Wellness Universe our WU World-Changer members serve WU Friends, seekers of health, wellness and transformation, with coaching, workshops, content and more.
The Wellness Universe provides individuals and groups seeking their best lives with access to our members, wellness content, educational resources, and guidance in all areas of wellness to transform visions of how they want to live life into the life they experience.
Through the directory, WU Featured Blog, SoulTreat wellness retreat, Self-Care Books, group well-being programs, and online learning center, The Lounge, The Wellness Universe provides many avenues to support whole health, mind, body, spirit and planet.
Join us today! Wellness Professional or Seeker of Your Best Life