Stress is one of those things that requires constant vigilance to move out of our systems so we can find a place of peace. Living in a state of stress can cause chronic health problems, loss of sleep, and issues with weight and creates a toxic environment for our minds and bodies to live in. That's why it's important to check in with yourself and emotionally release stress on a regular basis.
Here Are 3 Ways to Emotionally Release Stress:
Quiet Time
Allowing your mind to have a chance to not think about everything that's stressing you out is the nicest gift you could give yourself all year. The best way to emotionally release stress is by taking 5 minutes a day for quiet time; fit it in wherever you can. This means you silence your phone, turn the radio off, peel away from any other screen in your life and simply close your eyes and be still.
In these five minutes, you want to breathe deeply and slowly, in and out of your mouth working to relax your shoulders and loosen your neck and jaw. Focus on your breathing, your quiet time is reserved for you to release any thoughts of problems or stress for that time in space.
The best part about this practice is that you can fit this into your life almost anywhere. If you want, you can take your quiet time in the moments when you feel the most aggravated. When you start to feel your back ache from holding tension or you feel your stomach twisting from stress, that's when you'll want to pause and go to your stress-releasing happy place.
Affirmations
Words have incredible power and the ability to transform the way we think about ourselves and the things that are causing emotional stress in our life. An affirmation is something that you say out loud to reframe how you are viewing the things that cause you stress. We will be faced with many situations that cause us stress and are completely out of our control, so instead of feeling like it's the end of the road, turn it around and talk back to that stress.
An affirmation is something along the lines of, "I am well on my way to a better financial future" or "Every day I am getting healthier and stronger." It can be about anything in your life, whether controllable or not, that is causing you to worry or be upset.
The point of an affirmation is to give your mind a break from living in panic mode about that problem because that will wear you down and make you miserable. There are many things in this world that we cannot control, but we can decide how we react to them and the way we let it affect us. Affirmations give you the choice to release stress and will help you find emotional peace about any situation that has been keeping you up at night.
Laughter
Laughter really is a great medicine and is very helpful in releasing emotional stress. Spending time reading books or watching tv shows or movies that make you laugh will help your mind see things in a new perspective and feel better. Our biology will actually respond in a positive way and changes our mood when we laugh; think of it like taking an emotional bath: the salts, candles and calming music all move you into the direction of a relaxed state.
The reaction our bodies have to laughter is similar to how exercise releases endorphins in the body and causes us to feel happy or more relaxed. When you can fill your world with things that will make you laugh, you will be able to easily release emotional stress and put your mind in a different and much healthier space.
There are numerous ways to make sure that stress isn't running your life, but these 3 are some of our favorites and we encourage you to try them out for the next 30 days and see how you feel. Your emotions will want to carry a lot of stress but it's important to release it, so you don't find yourself stuck in a place of chronic tension. By taking small steps in doing little healthy habits, you can live your life in a place where you'll feel better and in charge of the stress in your life.
Did you know you can find help here? From personal to professional well-being, connect with someone who can guide you to a happier, healthier, and whole life! Become a WU Friend today!
If you provide support or products that make the world a better place and help humanity live in health, happiness, and wholeness, join us as a WU World-Changer.
– The Wellness Universe
*Originally published on February 18, 2020.
---
All information, content, and material are for informational purposes only and are not intended to serve as a substitute for the consultation, diagnosis, and/or medical treatment of a qualified physician or healthcare provider. The information supplied through or on this page, or by any representative or agent of The Wellness Universe, is for informational purposes only and does not constitute medical, legal, or other professional advice. Health-related information provided through this website is not a substitute for medical advice and should not be used to diagnose or treat health problems or to prescribe any medical devices or other remedies. The Wellness Universe reserves the right to remove, edit, move or close any content item for any reason, including, but not limited to, comments that are in violation of the laws and regulations formed pursuant to the Federal Food, Drug, and Cosmetic Act. None of the posts and articles on The Wellness Universe page may be reprinted without express written permission.
---
Welcome to The Soul Artist Experience! The Wellness Universe is happy to announce our partnership in Wellness for All programming with Jane Ramsey Founder of The Soul Artist Experience, Certified Meditation Teacher, Accomplished Author, and Inspired Artist. 
Register today prior to the LIVE launch: https://bit.ly/SoulArtistExperience  
---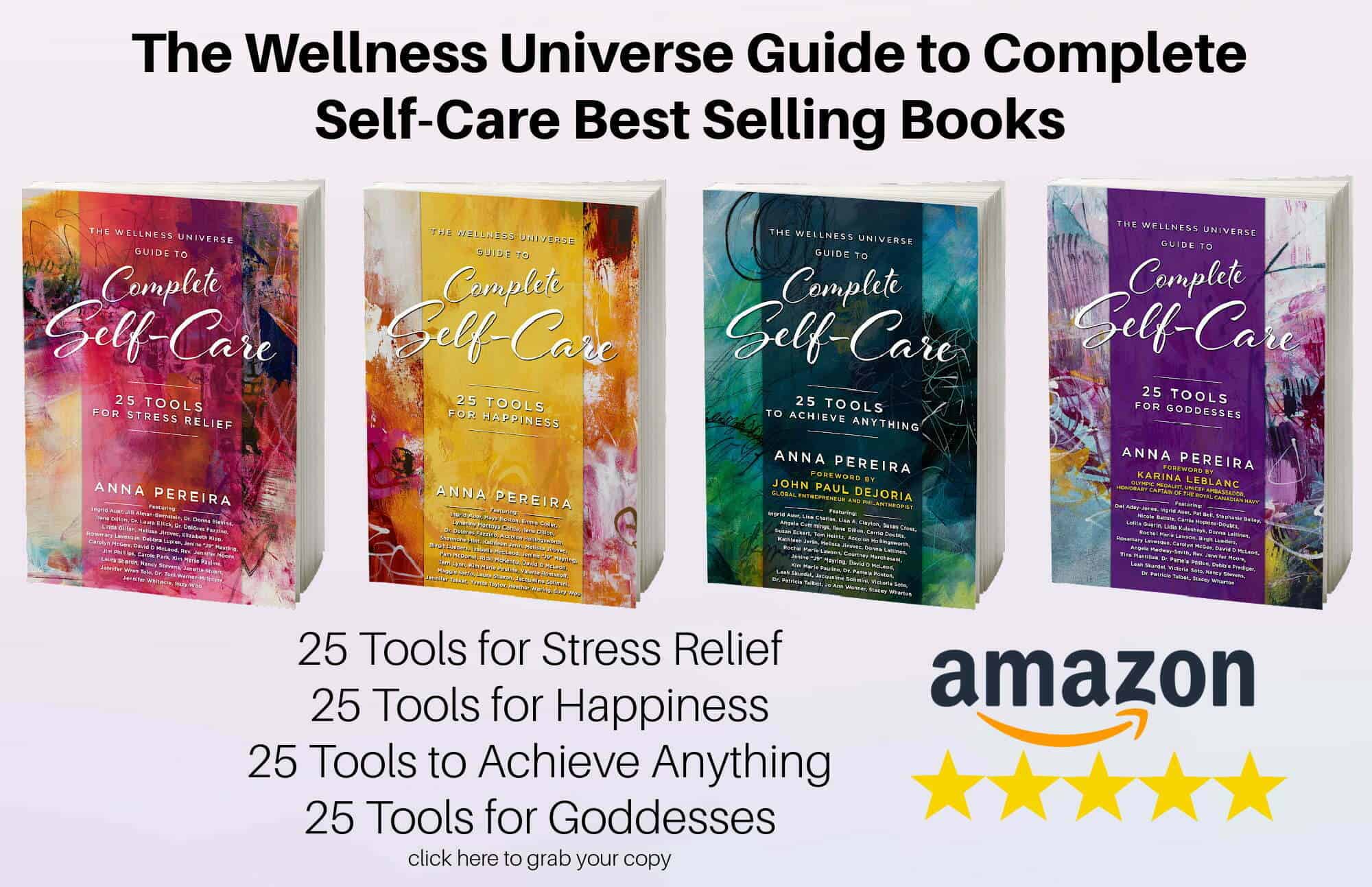 With over 250 independent reviews see how our self-care books are helping thousands of people around the world. Digital and paperback books are available now.
---
Self-development, self-care, and inspirational classes and sessions by Wellness Universe World Changer instructors who support your total well-being.
 Visit The Wellness Universe Lounge today!
---
The Wellness Universe is here to serve your best well-being. If you are experiencing anxiety, grief, overwhelm, guilt, anger, or seeking ways to cope and get help for stress, relationships, parenting, or any other issue during this challenging time, we have wonderful resources for you to connect with. Our WU Best Help members are offering reduced rates, sliding scale payment options, and even pro-bono sessions. WU Best Help
The Wellness Universe is your resource for health, wellness, well-being, and transformation. We serve and support professionals who make the world a better place and individuals and groups who seek their best life.
A woman owned company; having the vision in 2013, Anna Pereira launched the first directory in 2015 bringing together a community of members making the world a better place to be found by those seeking their best life. The Wellness Universe has grown since then to be a one-stop shop for total wellness support! We are a vetted community, online directory, book publisher, resource center, event producer, content platform, and so much more, supporting whole-health and well-being on a global scale.
The Wellness Universe is a home that connects industry professionals in the health, wellness, and well-being fields to seekers of total well-being. WU provides our WU World-Changer members with peer support, Wellness Universe produced events (live and online), projects, visibility, business mentoring, and community. Through The Wellness Universe our WU World-Changer members serve WU Friends, seekers of health, wellness and transformation, with coaching, workshops, content and more.
The Wellness Universe provides individuals and groups seeking their best lives with access to our members, wellness content, educational resources, and guidance in all areas of wellness to transform visions of how they want to live life into the life they experience.
Through the directory, WU Featured Blog, SoulTreat wellness retreat, Self-Care Books, group well-being programs, and online learning center, The Lounge, The Wellness Universe provides many avenues to support whole health, mind, body, spirit and planet.
Join us today! Wellness Professional or Seeker of Your Best Life