August is the 8th month of the year. The number eight on its side symbolizes infinity, abundance, and endless goodness.  ∞ Here's the symbol. Use it or think about it often this month, friend. You may want to draw this symbol and place it near your workspace, desk, kitchen, bathroom, or altar to remind you that August is truly a month of plenty at every turn.
This month the angel affirmations will focus on abundance.
Remember as you consider abundance and plenty that you treat yourself, accordingly, including positive and loving self-talk. Affirmations are a huge part of this positive mindset.
Affirmations can boost our inner dialogue and positively impact our lives and that of others. Affirmations help us live a more abundant life.
What is an affirmation?
It is a short, powerful statement to consciously affect your thoughts positively. We have an estimated 50,000 thoughts a day, and most of them are not pretty. Often, we are very critical of ourselves. We would never dream of talking to another person the way we "speak" to ourselves in our inner dialogue. I invite you to join me each day to recite these angel affirmations to bring more goodness, grace, and nourishment into our lives.
An affirmation only needs to feel about 50% true for it to resonate with you. Affirmations that begin with the words "I am" are incredibly powerful. Whatever follows the "I am" becomes your truth.
Be vigilant with the thoughts you think and say about yourself. You want to select empowering statements that improve the energy vibration of your life. For example, if you say, "I am tired. I am sick. I am broke. I am not worthy. I am stuck," you call more of that low energy toward you.
You can shift those thoughts with affirmations.
This month we'll focus on welcoming the gift of abundance, plenty, bountiful goodness, and grace in our lives, one affirmation for each day in August.
Today, I welcome the gift of bountiful goodness and grace in my life.
Today, I look to nature and realize there are no supply chain issues with the Divine.
Today, I recharge and restore my energy through creativity and things that boost my spirits.
Today, I seek inspiration in my world. What is going right in my life?
Today, I see the world through the lens of abundant love and gratitude.
Today, I tune in to my abundant inner wisdom and guidance. All I need is within.
Today, I take abundantly good care of myself because I am worthy and deserving of such treatment.
Today, I look around in wonder at the beauty and abundance of nature.
Today is a new beginning, a new opportunity for goodness.
Today, I count my many blessings with a heart full of love and gratitude.
Today, I am grateful for a plethora of ideas and inspiration.
Today, I remember how vital fun is in my life.
Today, I celebrate the gift of my life with a heart full of love and gratitude.
Today, I rest and restore my body, mind, and spirit.
Today, I allow and receive the abundance which flows to me constantly.
Today, I am on the lookout for wonder and delight, and it's everywhere when I pay attention.
I embrace stillness and solitude today, if only for a few moments. It's essential to slow down.
Today, I remember peace and calm are just a breath away. Repeat as needed.
Today, I make time for fun.
Today, goodness and grace are my constant companions.
Today, I rejoice.
Today, I lighten up and remember not to take myself so seriously.
Today, I will try something new.
Today, I enjoy the wonder and delight of the heavens.
Today, I enjoy the abundance gift of music as it raises my vibration.
Today, I enjoy the gift of inspiration and opportunity.
Today, I take time to frolic.
Today, I choose to create something which brings me joy.
Today, I choose to celebrate a victory.
Today, I choose to nurture joy in my life.
Today, I make time to do something I adore.
Sneak away to The Secret Garden of Joy each first Saturday through next June as I lead an hour of online discovery, wonder, and delight. We'll leave the world behind as we delight our hearts, nurture ourselves, and fill our cups with this joyous and abundant self-care. Each session will include meditation or angelic attunement to help replenish your body, mind, and spirit. Register 👉 https://bit.ly/SecretGardenofJoy
Thank you for enjoying our monthly angel affirmations. Have you ever wondered what a private 1:1 angel reading would be like for you? Angels are God's messengers and are pure, unconditional love. Their messages are uplifting, inspiring, beautiful, and customized. I'd be honored to provide this service for you to gain clarity and connect to the divine wisdom of the angels. Find out more HERE.
Connect with Janette on The Wellness Universe.
---
All information, content, and material are for informational purposes only and are not intended to serve as a substitute for the consultation, diagnosis, and/or medical treatment of a qualified physician or healthcare provider. The information supplied through or on this page, or by any representative or agent of The Wellness Universe, is for informational purposes only and does not constitute medical, legal, or other professional advice. Health-related information provided through this website is not a substitute for medical advice and should not be used to diagnose or treat health problems or to prescribe any medical devices or other remedies. The Wellness Universe reserves the right to remove, edit, move or close any content item for any reason, including, but not limited to, comments that are in violation of the laws and regulations formed pursuant to the Federal Food, Drug, and Cosmetic Act. None of the posts and articles on The Wellness Universe page may be reprinted without express written permission.
---
The Wellness Universe presents Integrative Healing Expert Leader, Rosemary Levesque. She is a Licensed Spiritual Healer, Reiki Master Teacher, Certified Vibrational Sound Master Teacher, and Medicinal Aromatherapist, who will be guiding you through Optimal Healing 12-month program that will help you to enjoy health and wellbeing through the integration of natural and alternative methods, modalities, and resources. 
Catch the recorded session(s) and be sure to join the next LIVE class! 
Register today:  https://bit.ly/OptimalHealingCourse
---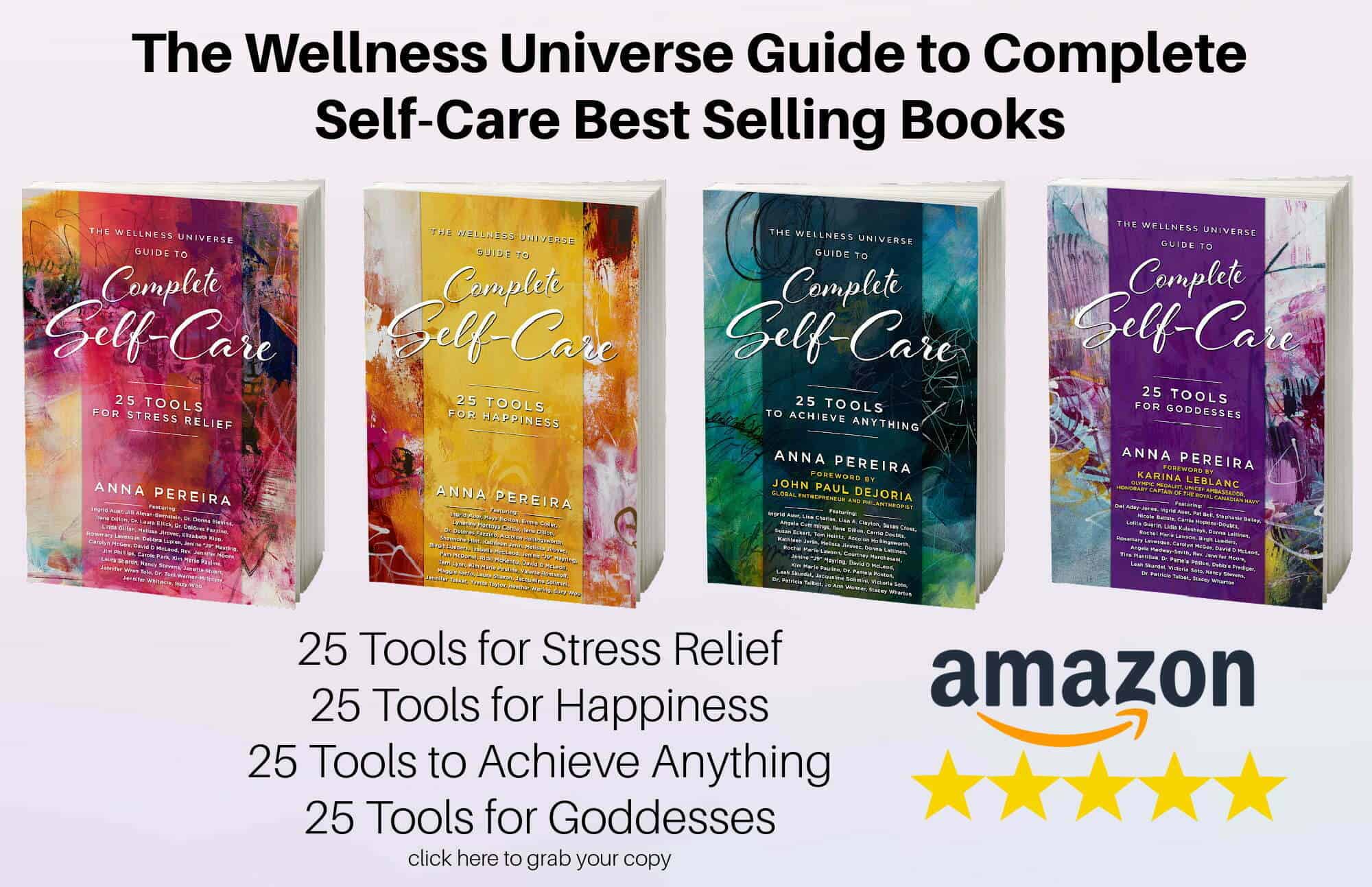 With over 250 independent reviews see how our self-care books are helping thousands of people around the world. Digital and paperback books are available now.
---
Self-development, self-care, and inspirational classes and sessions by Wellness Universe World Changer instructors who support your total well-being.
 Visit The Wellness Universe Lounge today!
---
The Wellness Universe is here to serve your best well-being. If you are experiencing anxiety, grief, overwhelm, guilt, anger, or seeking ways to cope and get help for stress, relationships, parenting, or any other issue during this challenging time, we have wonderful resources for you to connect with. Our WU Best Help members are offering reduced rates, sliding scale payment options, and even pro-bono sessions. WU Best Help
I'm Janette, founder of Angel Angles which exists to spread more love, joy and peace into the world. Angel Angles also shares the Divine beauty which resides within us all. Helping us remember what beautiful, loving, amazing people we are and what a beautiful. loving world we live in.