Welcome to August, the eighth month of the year. Eight is the number signifying abundance. When you turn the number eight on its side, you see the infinity symbol. Think of abundance when you write, see, or type the number eight this month.
Here in the Northern Hemisphere, it is a time of plenty. Sunshine reigns supreme and gardens are overflowing with flowers, fruit, and vegetables of every kind.
This month, the angel affirmations will focus on abundance and bounty to remind us of our many blessings.
Remember as you consider abundance and plenty, that you treat yourself, accordingly, including positive and loving self-talk. Affirmations are a huge part of this positive mindset.
Affirmations can boost our inner dialogue and positively impact our lives and that of others. Affirmations help us live a more abundant life.
What is an affirmation?
It is a short, powerful statement to consciously affect your thoughts positively. We have an estimated 50,000 thoughts a day, and most of them are not pretty. Often, we are very critical of ourselves. We would never dream of talking to another person the way we "speak" to ourselves in our inner dialogue. I invite you to join me each day to recite these angel affirmations to bring more goodness, grace, and nourishment into our lives.
An affirmation only needs to feel about 50% true for it to resonate with you. Affirmations that begin with the words "I am" are incredibly powerful. Whatever follows the "I am" becomes your truth.
Be vigilant with the thoughts you think and say about yourself. You want to select empowering statements that improve the energy vibration of your life. For example, if you say, "I am tired. I am sick. I am broke. I am not worthy. I am stuck," you call more of that low energy toward you.
You can shift those thoughts with affirmations.
This Month's Affirmations
This month we'll focus on welcoming the gifts of abundance, plenty, bountiful goodness, and grace in our lives, one affirmation for each day in August.
Today, I welcome the gift of bountiful goodness into every area of my life.
Today, I enjoy the company of other uplifting people in my life.
Today, I recharge and restore my energy through creativity and things that boost my spirits.
Today, I seek inspiration in my world. What is going right in my life?
Today, I see the world through the lens of abundant love and gratitude.
Today, I take abundantly good care of myself because I am worthy and deserving of such treatment.
Today, I see the world through the lens of abundant love and gratitude.
Today, I look around in wonder at the beauty and abundance of nature.
Each day is a new beginning, a new opportunity for delight.
Today, I count my many blessings with a heart full of love and gratitude.
Today, I am grateful for a plethora of ideas and inspiration.
Today, I remember how important pleasure is in my life.
Today, I rest and restore my body, mind, and spirit.
Today, I celebrate the gift of my life and my many blessings.
Today, I look for goodness and grace during my busy day.
Today, I allow and receive the abundance which flows to me always and in all ways.
I am on the lookout for wonder and delight, and it's everywhere when I pay attention.
I embrace stillness and solitude today, if only for a few moments. It's essential to slow down.
Today, I remember peace and calm are just a breath away. I receive it now.
Today, I rejoice and count my blessings.
Today, goodness and grace are my constant companions.
Today, I make time for fun.
Today, I lighten up and remember not to take myself so seriously.
I am willing to try something new.
Today, I enjoy the wonder and delight of the heavens.
Today, I enjoy the abundant gift of music and feel it raise my vibration.
Today, I choose to create something which brings me joy.
Today, I choose to celebrate a victory.
Today, I choose to nurture joy in my life.
Today, I enjoy the gift of inspiration and opportunity.
I am so grateful for my bountiful blessings
You care for everyone else and now it's time to care for you. Self-care isn't selfish. It is a way to honor the precious gift of your life. We'll gather in a sacred circle to focus on an aspect of self-care to bless body, mind, and spirit for Self-Care Saturday, beginning Sept. 2, 2023. I'd love to have you join us. Register 👉 https://bit.ly/SecretGardenofJoy
Thank you for enjoying our monthly angel affirmations. Have you ever wondered what a private 1:1 angel reading would be like for you? Angels are God's messengers and are pure, unconditional love. Their messages are uplifting, inspiring, beautiful, and customized. I'd be honored to provide this service for you to gain clarity and connect to the divine wisdom of the angels. Find out more HERE.
Connect with Janette on The Wellness Universe.
---
All information, content, and material are for informational purposes only and are not intended to serve as a substitute for the consultation, diagnosis, and/or medical treatment of a qualified physician or healthcare provider. The information supplied through or on this page, or by any representative or agent of The Wellness Universe, is for informational purposes only and does not constitute medical, legal, or other professional advice. Health-related information provided through this website is not a substitute for medical advice and should not be used to diagnose or treat health problems or to prescribe any medical devices or other remedies. The Wellness Universe reserves the right to remove, edit, move, or close any content item for any reason, including, but not limited to, comments that are in violation of the laws and regulations formed pursuant to the Federal Food, Drug, and Cosmetic Act. None of the posts and articles on The Wellness Universe page may be reprinted without express written permission.
---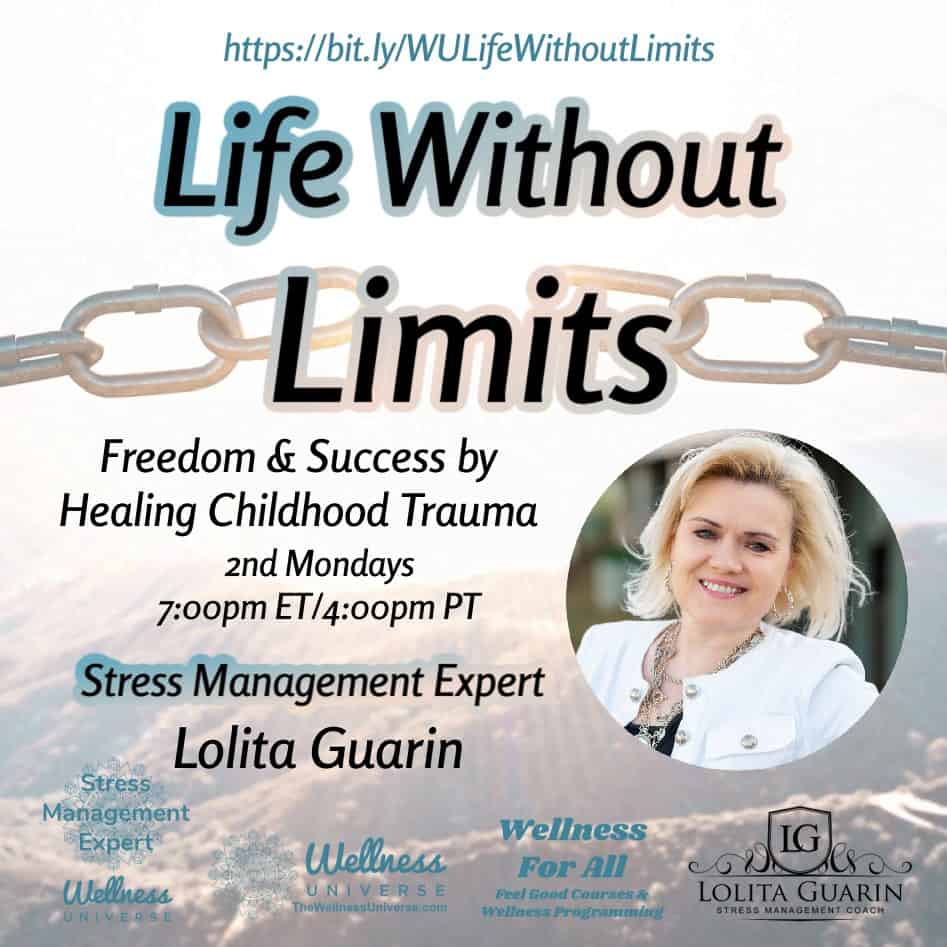 The Wellness Universe welcomes Lolita Guarin, Stress Management Expert, in partnership with Wellness for All programming for: Life Without Limits: Freedom & Success by Healing Childhood Trauma. 
Catch the recorded session(s) and be sure to join the next LIVE class! 
Register today:https://bit.ly/WULifeWithoutLimits
---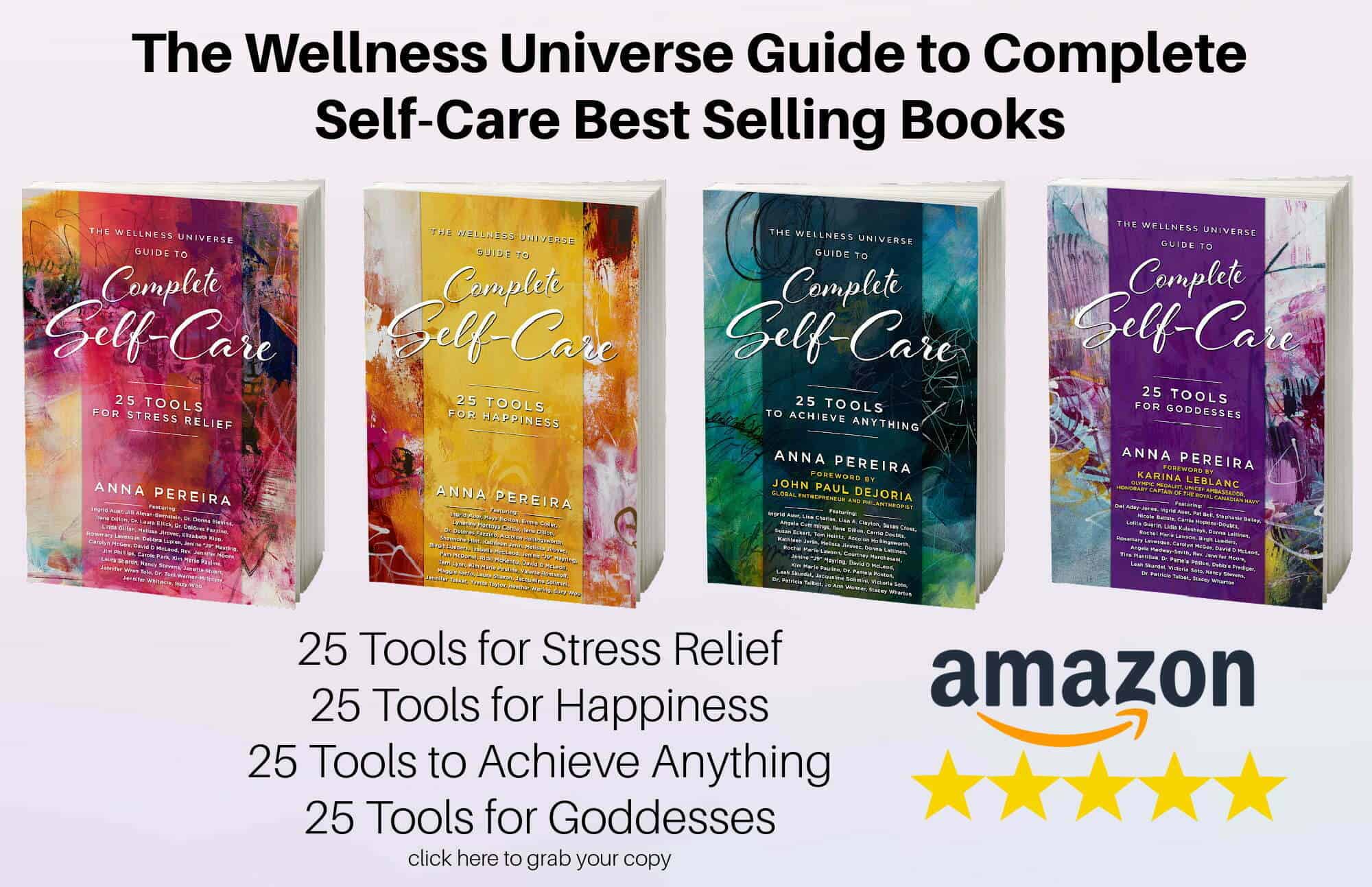 With over 250 independent reviews see how our self-care books are helping thousands of people around the world. Digital and paperback books are available now.
---

Connect to the people that help you live your best life: The Wellness Universe
I'm Janette, founder of Angel Angles which exists to spread more love, joy and peace into the world. Angel Angles also shares the Divine beauty which resides within us all. Helping us remember what beautiful, loving, amazing people we are and what a beautiful. loving world we live in.