We have something exciting to share with you – yesterday was the International Day of Friendship! It was a day to celebrate the beauty of connections, embrace diversity, and build bridges of friendship that span continents. Let's explore the essence of this day and some fantastic ways you can get involved to make a positive impact on a global scale.
The Power of International Day of Friendship
Friendship is like a warm hug that knows no boundaries – it's a language understood by all. The United Nations recognized this universal phenomenon and established the International Day of Friendship in 2011. This special day highlights the significance of friendship in promoting peace, understanding, and unity among people of different cultures and backgrounds.
It's a reminder that regardless of our diverse experiences, we are all part of one big human family. Friendship has the magical ability to dissolve prejudices, dissolve misunderstandings, and unite us in our shared humanity.
How Can You Get Involved?
You might be wondering, "How can I be part of this amazing global celebration?" Well, fret not! We've got some fabulous ideas for you to dive into the spirit of International Day of Friendship.
Reach Out and Reconnect
Start by reaching out to old friends you may have lost touch with over the years. A simple call, message, or heartfelt email can revive cherished memories and reignite those valuable bonds. Trust us, they'll be thrilled to hear from you!
Embrace Cultural Diversity
Expand your horizons by making new friends from different cultural backgrounds. Attending local cultural events, workshops, or gatherings where you can meet people from around the world. Embrace their traditions, share yours, and celebrate the rich tapestry of global diversity.
Be a Digital Pen Pal
In this digital age, making friends from different countries is just a click away. Participate in digital pen pal programs where you can exchange messages, stories, and experiences with individuals across borders. It's a wonderful way to learn about new cultures and forge meaningful connections.
Support Global Initiatives
Show your support for international charities and organizations that work tirelessly to make the world a better place. Volunteer your time, skills, or resources to contribute to their noble causes. Your efforts can create a ripple effect of positivity and change.
Host a Cultural Exchange Event
Bring people together by hosting a cultural exchange event in your community or workplace. Invite friends from diverse backgrounds to share their customs, cuisines, and traditions. It's a delightful way to foster understanding and appreciation of different cultures.
Practice Random Acts of Kindness
Spreading love and kindness can be as simple as a smile or a small act of compassion. Surprise a stranger with a genuine compliment, lend a helping hand to someone in need, or perform random acts of kindness to brighten someone's day.
Engage on Social Media
Harness the power of social media to spread positivity and friendship. Share heartwarming stories, uplifting messages, and inspiring quotes that promote unity and understanding. Together, we can create a virtual community of friendship!
On International Day of Friendship, we come together and celebrate the extraordinary gift of friendship that unites us as global citizens. By reaching out to old friends, embracing cultural diversity, becoming digital pen pals, supporting global initiatives, hosting cultural exchange events, practicing random acts of kindness, and engaging on social media, we can all play a part in making the world a more connected and compassionate place.
So, mark your calendars for next year. Happy International Day of Friendship, dear friends!
References
Supporting International Charities – How You Can Help (Check local charity websites and volunteer opportunities)
---
All information, content, and material are for informational purposes only and are not intended to serve as a substitute for the consultation, diagnosis, and/or medical treatment of a qualified physician or healthcare provider. The information supplied through or on this page, or by any representative or agent of The Wellness Universe, is for informational purposes only and does not constitute medical, legal, or other professional advice. Health-related information provided through this website is not a substitute for medical advice and should not be used to diagnose or treat health problems or to prescribe any medical devices or other remedies. The Wellness Universe reserves the right to remove, edit, move, or close any content item for any reason, including, but not limited to, comments that are in violation of the laws and regulations formed pursuant to the Federal Food, Drug, and Cosmetic Act. None of the posts and articles on The Wellness Universe page may be reprinted without express written permission.
---
The Wellness Universe welcomes you to our Mid-Week Reset Meditation led by Leah Skurdal, Intuitive Wellness Guide.
Our group meditation is live every 1st and 3rd Wednesday. Sign up here: 
https://bit.ly/WUMidWeekMeditation
---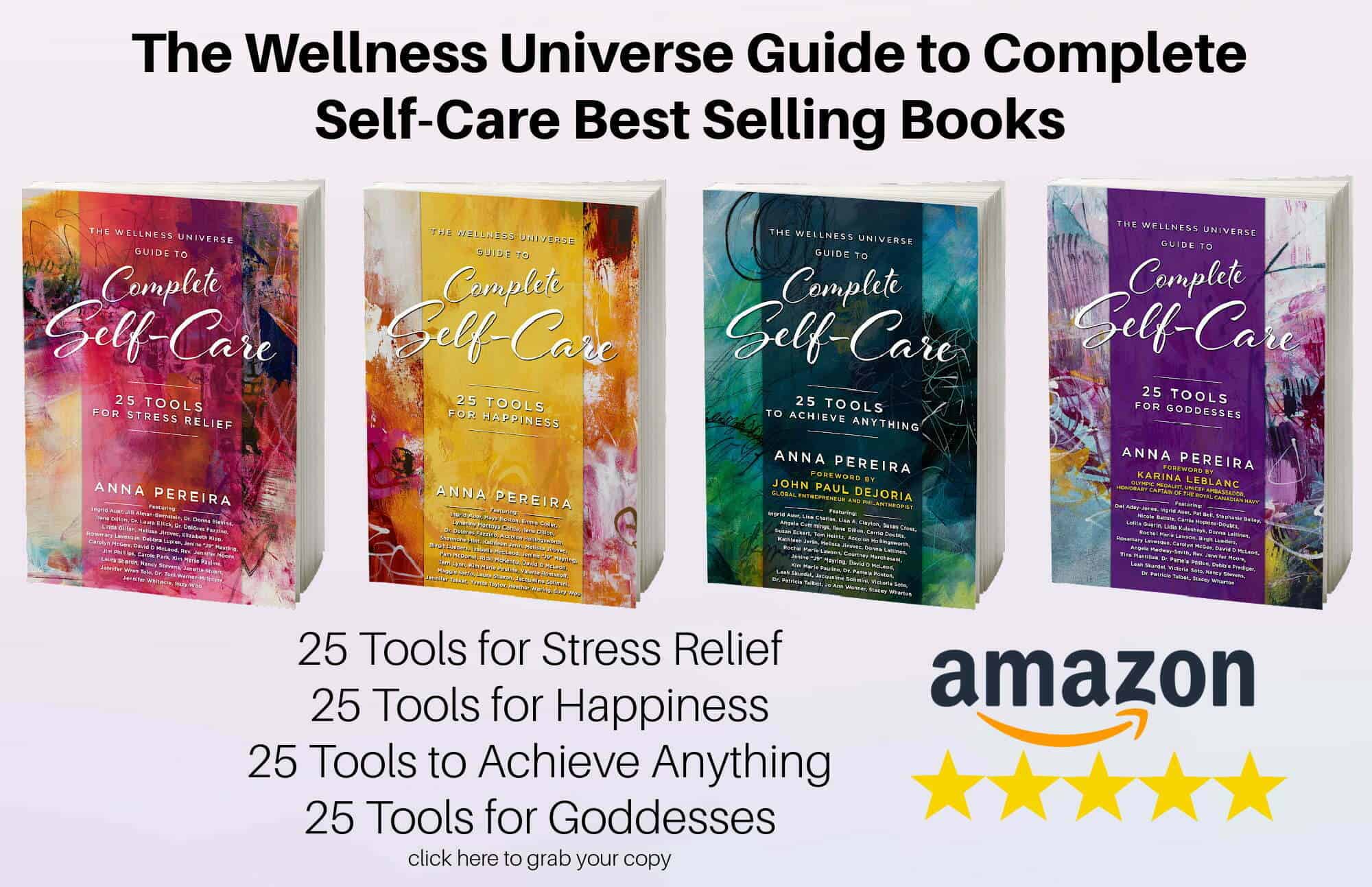 With over 250 independent reviews see how our self-care books are helping thousands of people around the world. Digital and paperback books are available now.
---

Connect to the people that help you live your best life: The Wellness Universe
The Wellness Universe is your resource for health, wellness, well-being, and transformation. We serve and support professionals who make the world a better place and individuals and groups who seek their best life.
A woman owned company; having the vision in 2013, Anna Pereira launched the first directory in 2015 bringing together a community of members making the world a better place to be found by those seeking their best life. The Wellness Universe has grown since then to be a one-stop shop for total wellness support! We are a vetted community, online directory, book publisher, resource center, event producer, content platform, and so much more, supporting whole-health and well-being on a global scale.
The Wellness Universe is a home that connects industry professionals in the health, wellness, and well-being fields to seekers of total well-being. WU provides our WU World-Changer members with peer support, Wellness Universe produced events (live and online), projects, visibility, business mentoring, and community. Through The Wellness Universe our WU World-Changer members serve WU Friends, seekers of health, wellness and transformation, with coaching, workshops, content and more.
The Wellness Universe provides individuals and groups seeking their best lives with access to our members, wellness content, educational resources, and guidance in all areas of wellness to transform visions of how they want to live life into the life they experience.
Through the directory, WU Featured Blog, SoulTreat wellness retreat, Self-Care Books, group well-being programs, and online learning center, The Lounge, The Wellness Universe provides many avenues to support whole health, mind, body, spirit and planet.
Join us today! Wellness Professional or Seeker of Your Best Life