Lammas – The Ancient Midsummer Harvest Celebration
It's pretty hot and steamy where I am right now so it's a little hard to look ahead to "harvest time"! But in fact, August 2nd marks the spoke on the seasonal Wheel of the Year when cultures all over the world celebrated the harvest of the first grains. Known in early Europe as Lammas, it is the only one of the ancient cross-quarter days (which fall halfway between the Equinoxes and Solstices) no longer acknowledged in modern times; the other three are May Day, Halloween, and Groundhog's Day.
Lammas was celebrated as the Feast of Bread by the Saxons and Lugh Mass by the Celts, in honor of Mother Earth's son, Lugh. At this time, corn was harvested and offered to the Grain Mother in gratitude for Her abundance and to ensure Her blessing on the second and third harvests later in the Fall.
For any of you who are modern-day Earth-Mother lovers like me, Lammas offers us a chance to honor not only our sacred connection to the Earth but also to our own individual creative, life-giving force. As women, we manifest that force literally when we choose to pro-create and produce offspring, when we nurse, protect, and counsel our daughters and sons into adulthood.
But remember — you don't have to be a biological mother, or even female, to know the excitement of giving birth… to books, businesses, ideas, artistic creations, you name it. We're all "mothers" in one way or another – what's yours? Who or what have you supported, encouraged, counseled, and nurtured to fullness? Are there projects you've begun that are now beginning to bear fruit? Have you ever "midwifed" an idea of your own or someone else's, from the first spark, through its "pregnancy", to its exciting culmination?
Now is the time to embrace that energy, supported by the lushness of Mother Nature at Her most exuberant. If you've been stuck in the process of "labor", allow yourself to draw on the magical, productive power of the Mother during this fruitful mid-summertime.
Create your own simple Lammas ritual
Here's a very basic ritual structure to help you release any fears and step fully into your full creative power. And you can watch one of my old Lammas YouTube videos to get even more background and ideas.
Collect the "tools" you'll need for your ritual work– an egg (not hard-boiled), marker, ear of corn in its husk. Perhaps symbols of the four directions – fire (a candle), water (shell), air (feather), and Earth (crystal) that you can use if you want to create sacred space by invoking the four directions. If you have a drum, you might drum for a little bit to get in synch with the "heartbeat" of Mother Earth.
Release any fears that have held you back. Take some time to reflect on the fears created by self-limiting beliefs or painful memories that have prevented you from manifesting your heart's desires. With your marker, write those fears on the egg you've brought into your space, then smash the egg into the Earth to be transformed and available to fertilize your harvest. Use as many eggs as you need… both the raw egg and the shells really are terrific fertilizers!
Declare your "harvest intention" for the next 6 weeks until the Fall Equinox. Go back into your meditative state and reflect on what hopes, dreams, and wishes do you wish to bring to fruition? Rip a large piece of corn husk off your ear of corn and write your harvest intention on the husk. Then pick as many corn kernels as you need to represent the talents and skills you already have to bring that intention to fruition.
Wrap the kernels up in the husk and tie the resulting husk roll with a piece of string or raffia. As you tie each knot, declare what you need to ask for or what action(s) you must take to manifest your intention.
Make an offering to Mother Earth to support you in birthing your intention. Find a place outside (if you're not already) where you can sit quietly and lay your corn husk intention on the earth as an offering, asking, and receiving support from the Earth Mother. Touch your own navel, your omphalos, to recharge your connection to Her and give birth to yourself!
And here's a beautiful invocation I wrote years ago to the Roman Earth-mother goddess, Ceres. You can read it at the beginning of your ritual, or adapt it to use for your offering at the end:
Lammas Goddess Invocation
I welcome and honor Ceres, Goddess of the Harvest, All-nurturing Mother!
Fill me with your nourishing presence,
            Providing sustenance on the journey to self-awareness and revelation.
Protect me as your own daughter Persephone,
            That I may confidently forge my sacred path to transformation.
After any ritual, it's important to ground yourself, so give yourself a few minutes to breathe and revel in your connection with Mother Earth. Then go cook up the rest of your corn and eat it – literally embodying the powerful, creative energy you've raised!
Connect with Deborah on The Wellness Universe.
---
All information, content, and material are for informational purposes only and are not intended to serve as a substitute for the consultation, diagnosis, and/or medical treatment of a qualified physician or healthcare provider. The information supplied through or on this page, or by any representative or agent of The Wellness Universe, is for informational purposes only and does not constitute medical, legal, or other professional advice. Health-related information provided through this website is not a substitute for medical advice and should not be used to diagnose or treat health problems or to prescribe any medical devices or other remedies. The Wellness Universe reserves the right to remove, edit, move, or close any content item for any reason, including, but not limited to, comments that are in violation of the laws and regulations formed pursuant to the Federal Food, Drug, and Cosmetic Act. None of the posts and articles on The Wellness Universe page may be reprinted without express written permission.
---
Relax, unwind, and heal with sound in Food for Your Soul. The Wellness Universe invites you to join Sharon Carne, Director of Training and Program Development at the Sound Wellness Institute for this immersive monthly experience.
Catch the recorded session(s) and be sure to join the next LIVE class! 
Register today: https://bit.ly/FoodforYourSoul
---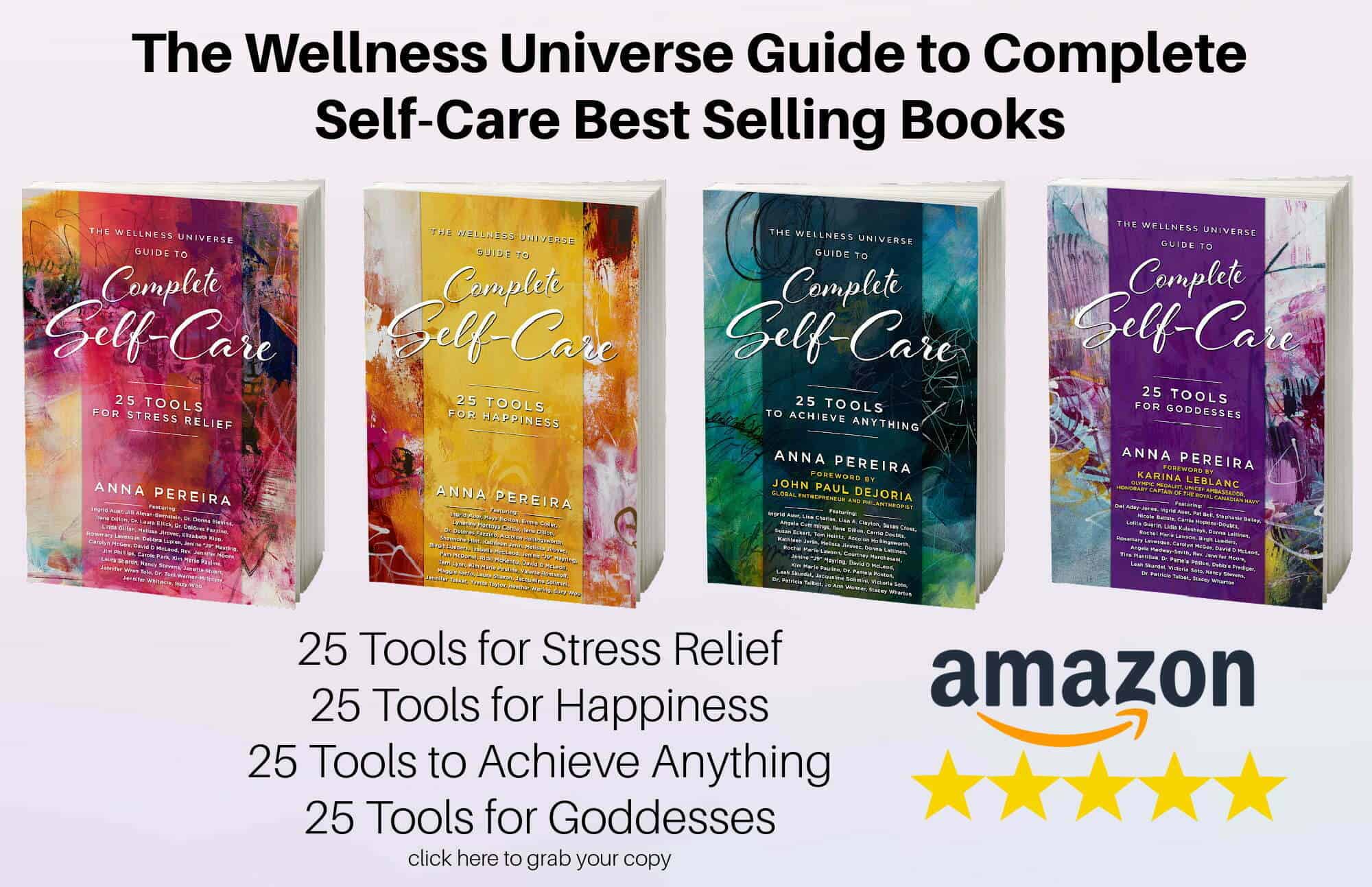 With over 250 independent reviews see how our self-care books are helping thousands of people around the world. Digital and paperback books are available now.
---

Connect to the people that help you live your best life: The Wellness Universe
Life & Relationship Coach, Deborah Roth, MA is also a Counseling Astrologer, and Interfaith Minister. She leads women's New Moon Circles and Full Moon TeleMeditations every month and loves designing creative, meaningful rituals for individuals and couples to energize their lives and relationships.