If you've clicked on this article, you're probably no stranger to looking for solutions when it comes to alleviating pain and inflammation in your body. Having chronic pain is incredibly frustrating and at times can feel like nothing is helping.
However, you do have options and there are things you can try that are natural remedies for pain and inflammation. Everybody is different so that means that every body is as well. Effective remedies vary from person to person, but that doesn't mean they won't work for you.
You should always talk to your doctor before making any changes that may affect any medication you are on, but once you have the green light, there are natural remedies that can help you.
Here Are 5 Natural Remedies for Pain and Inflammation:
Epsom Salt
This is an inorganic salt – not for eating – that breaks down into magnesium and sulfate when put into water. It's best used when you're taking a warm bath to help you relax and your muscles release tension.
It can help loosen stiff joints and is a natural home remedy for things like arthritis pain, swelling, bruises, fibromyalgia, insomnia, sore muscles, sunburns, and more. Not only will your body thank you for taking a nice, warm bath, but the Epsom salt works well to treat body aches.
The Mineral Iron
Sometimes the body can experience more pain and inflammation from an imbalance of nutrients or lack of vitamins. The best way to counteract this is through eating nutrient-rich foods, and in this case, you'll want to focus on normalizing your iron levels. Things like leafy greens such as chard, spinach, kale collard greens, arugula, radish greens, parsley, and cilantro will all help.
Iron is responsible for helping with vital body functions, including general energy and your immune system. When you're low in this mineral, it can lead to your tissues and muscles not receiving enough oxygen to work at their best and that can be a contributing factor to pain and inflammation.
Gut Inflammation
If your pain and inflammation are more gut-based, you may want to look into how to better support your gut health through natural remedies. There are a variety of foods that can help counteract inflammation in the body, especially when consumed consistently as a regular part of the diet.
The nutrients your body receives directly affect how it runs. But sometimes, the gut is unable to process a certain kind of food or is lacking the right environment so it will create symptoms of inflammation. One way to combat this is to utilize the superpower of celery as it's being juiced. In the morning, and on an empty stomach, juice a head of celery – with the stalks separated – and drink the full 16 ounces. Think of it like the ultimate wellness shot. The goal here is to reset your body and cleanse of it any toxins that may be causing you pain and inflammation. Try it for a minimum of 30 days for the full effect and best results.
Ginger
You've probably had ginger at some point in your life, either in your coffee, holiday cookies, or a favorite family dinner recipe. For this context, ginger is one of those superfoods that just doesn't get enough props for how awesome it really is.
It helps because it has antispasmodic properties. What does this mean? Basically, it helps the organs and muscles relax, telling them that they can let go and everything is in control. Stress releases lactic acid throughout the body which directly affects how much tension and pain we feel. Ginger's properties help with that and can be a godsend when switching from the "go-mode" we experience in our days and into the recovery, relax mode we need to feel truly rested and sleep well.
Cat's Claw
This is one of those natural remedies that most people aren't too familiar with, it's an herb that can help with inflammation and boost the immune system. The best way to bring this into your life is to get access to the herb itself and brew it into a tea.
You can drink it in the morning, at night, or both, to help protect your immunity and reduce inflammation. The simplest recipe is to boil water – just like you would for regular tea – and add in 1 teaspoon of cat's claw per serving of tea with some lemon slices and honey if you like the taste.
When it comes to finding natural remedies for pain and inflammation, there are thousands to choose from. If you're curious about trying something, do your research and connect with someone who has the training and knowledge in the field and can help you better understand how it works and what the best next step for you could be.
Did you know you can find help here? From personal to professional well-being, connect with someone who can guide you to a happier, healthier, and whole life! Become a WU Friend today!
If you provide support or products that make the world a better place and help humanity live in health, happiness, and wholeness, join us as a WU World-Changer.
– The Wellness Universe
*Originally published on June 16, 2020.
---
All information, content, and material are for informational purposes only and are not intended to serve as a substitute for the consultation, diagnosis, and/or medical treatment of a qualified physician or healthcare provider. The information supplied through or on this page, or by any representative or agent of The Wellness Universe, is for informational purposes only and does not constitute medical, legal, or other professional advice. Health-related information provided through this website is not a substitute for medical advice and should not be used to diagnose or treat health problems or to prescribe any medical devices or other remedies. The Wellness Universe reserves the right to remove, edit, move, or close any content item for any reason, including, but not limited to, comments that are in violation of the laws and regulations formed pursuant to the Federal Food, Drug, and Cosmetic Act. None of the posts and articles on The Wellness Universe page may be reprinted without express written permission.
---
The Wellness Universe presents Janette Stuart our Angelic Practitioner Expert Guide. Monthly, Janette invites you to escape to the Secret Garden of Joy.
The Secret Garden of Joy:
Every first Saturday of the month, come escape to the Secret Garden of Joy for an hour as you leave the world behind, delight your heart, nurture yourself and fill your cup
Catch the recorded session(s) and be sure to join the next LIVE class! 
Register today: https://bit.ly/SecretGardenofJoy
---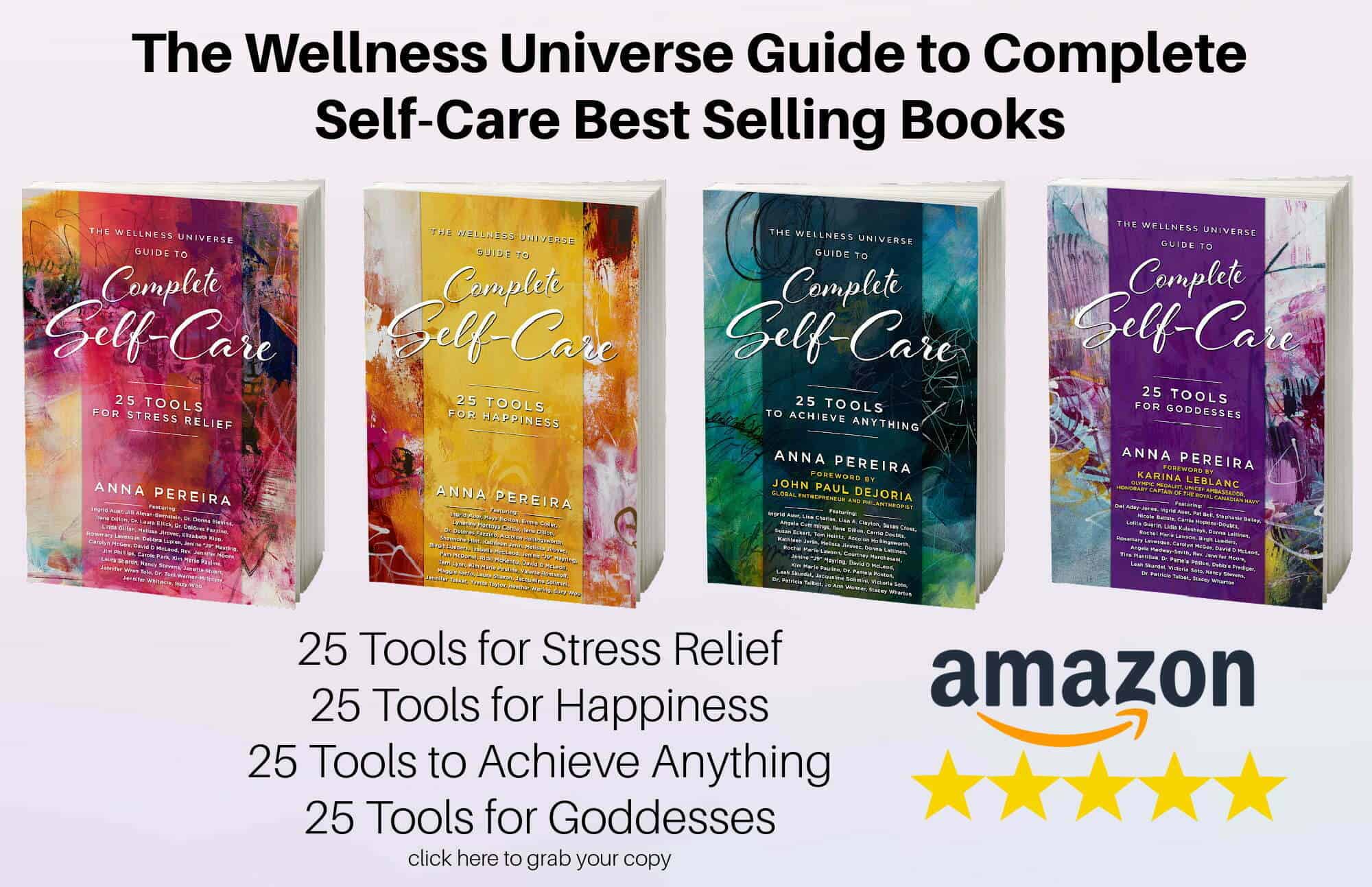 With over 250 independent reviews see how our self-care books are helping thousands of people around the world. Digital and paperback books are available now.
---

Connect to the people that help you live your best life: The Wellness Universe
The Wellness Universe is your resource for health, wellness, well-being, and transformation. We serve and support professionals who make the world a better place and individuals and groups who seek their best life.
A woman owned company; having the vision in 2013, Anna Pereira launched the first directory in 2015 bringing together a community of members making the world a better place to be found by those seeking their best life. The Wellness Universe has grown since then to be a one-stop shop for total wellness support! We are a vetted community, online directory, book publisher, resource center, event producer, content platform, and so much more, supporting whole-health and well-being on a global scale.
The Wellness Universe is a home that connects industry professionals in the health, wellness, and well-being fields to seekers of total well-being. WU provides our WU World-Changer members with peer support, Wellness Universe produced events (live and online), projects, visibility, business mentoring, and community. Through The Wellness Universe our WU World-Changer members serve WU Friends, seekers of health, wellness and transformation, with coaching, workshops, content and more.
The Wellness Universe provides individuals and groups seeking their best lives with access to our members, wellness content, educational resources, and guidance in all areas of wellness to transform visions of how they want to live life into the life they experience.
Through the directory, WU Featured Blog, SoulTreat wellness retreat, Self-Care Books, group well-being programs, and online learning center, The Lounge, The Wellness Universe provides many avenues to support whole health, mind, body, spirit and planet.
Join us today! Wellness Professional or Seeker of Your Best Life