Did you know that the largest group suffering from urinary incontinence (UI) in the US is women over 50?
I was at the pharmacy the other day and happened to run through the underwear protection aisle (I lump all pad products, whether they be for menstrual blood or urine, together as underwear protection). Since my hysterectomy 30 years ago, I haven't really noticed that aisle, so I was shocked at the number of new products geared to adults, particularly women, with urinary incontinence.
I mean, there were more adult diaper products than menstrual pads.
My takeaway? More adults are accidentally peeing their pants now than they were 20 years ago. Since I have had horrible pelvic floor issues, this concerns me! Are we all just destined to lose control?
Luckily, there are some non-invasive things that you can do to help your pelvic floor, even through the hormonal changes of menopause.
Your Pelvic Floor Is Part of Your Powerhouse
Joseph Pilates never used the term "core," but he did discuss the Powerhouse. The Pilates Powerhouse consists of all the muscles from your shoulders to your mid-thigh, including your pelvic floor muscles. The pelvic floor muscles work along with your inner thighs, glutes, abs, back muscles, and diaphragm to help hold everything together.
These muscles form a web of strength at the bottom of your pelvis, and they need to be able to lengthen and shorten as needed. They help us control elimination, among other things.
Not All Exercises or Programs Are Good for Your Pelvic Floor
There is the rub! If you bear down too much doing any exercise, including ab work, you will be straining and overstretching your pelvic floor muscles, not strengthening them. This includes sit-ups, planks, and bridges, as well as yoga and Pilates exercises.
And heavy weight training, CrossFit or Olympic-style, almost always causes pelvic floor strain from inhaling and bearing down. Peeing while lifting, in some circles, is actually considered a badge of honor (not in my circles!).
Doing proper breathing and Powerhouse strengthening alongside any other program will help keep those muscles working better for you.
Having A Baby & Menopause Weaken Your Pelvic Floor
Why won't ob/gyns discuss this? Even a perfectly healthy and easy vaginal birth will affect your pelvic floor, and a more difficult birth or very heavy baby can leave you overstretched and out of control. This is normal, for a short time.
But if you are still leaking urine a year later, that is a problem. Proper breathing and engagement of the pelvic floor in specific exercises will help.
And, if you continue to leak, it will only get worse with the hormonal changes from menopause.
A Final Note…
Peeing your pants is really not OK for grownups who are otherwise healthy. It really isn't!
While Kegels are always useful, it's also important to work your pelvic floor while moving in varied positions, so you can learn to hold it in when you sneeze, run, pick up something heavy (including a child), and stand up.
You ultimately need to work supine, prone, on your sides, sitting, and standing to increase functional pelvic floor strength.
Need help with this? Contact me here at The Wellness Universe!
---
All information, content, and material are for informational purposes only and are not intended to serve as a substitute for the consultation, diagnosis, and/or medical treatment of a qualified physician or healthcare provider. The information supplied through or on this page, or by any representative or agent of The Wellness Universe, is for informational purposes only and does not constitute medical, legal, or other professional advice. Health-related information provided through this website is not a substitute for medical advice and should not be used to diagnose or treat health problems or to prescribe any medical devices or other remedies. The Wellness Universe reserves the right to remove, edit, move or close any content item for any reason, including, but not limited to, comments that are in violation of the laws and regulations formed pursuant to the Federal Food, Drug, and Cosmetic Act. None of the posts and articles on The Wellness Universe page may be reprinted without express written permission.
---
The Wellness Universe presents Hema Vyas our Heart-Set Prosperity Expert guiding you through a 12-month program that will transform your life.
Catch the recorded session(s) and be sure to join the next LIVE class! Register today https://bit.ly/HeartSetProsperity
---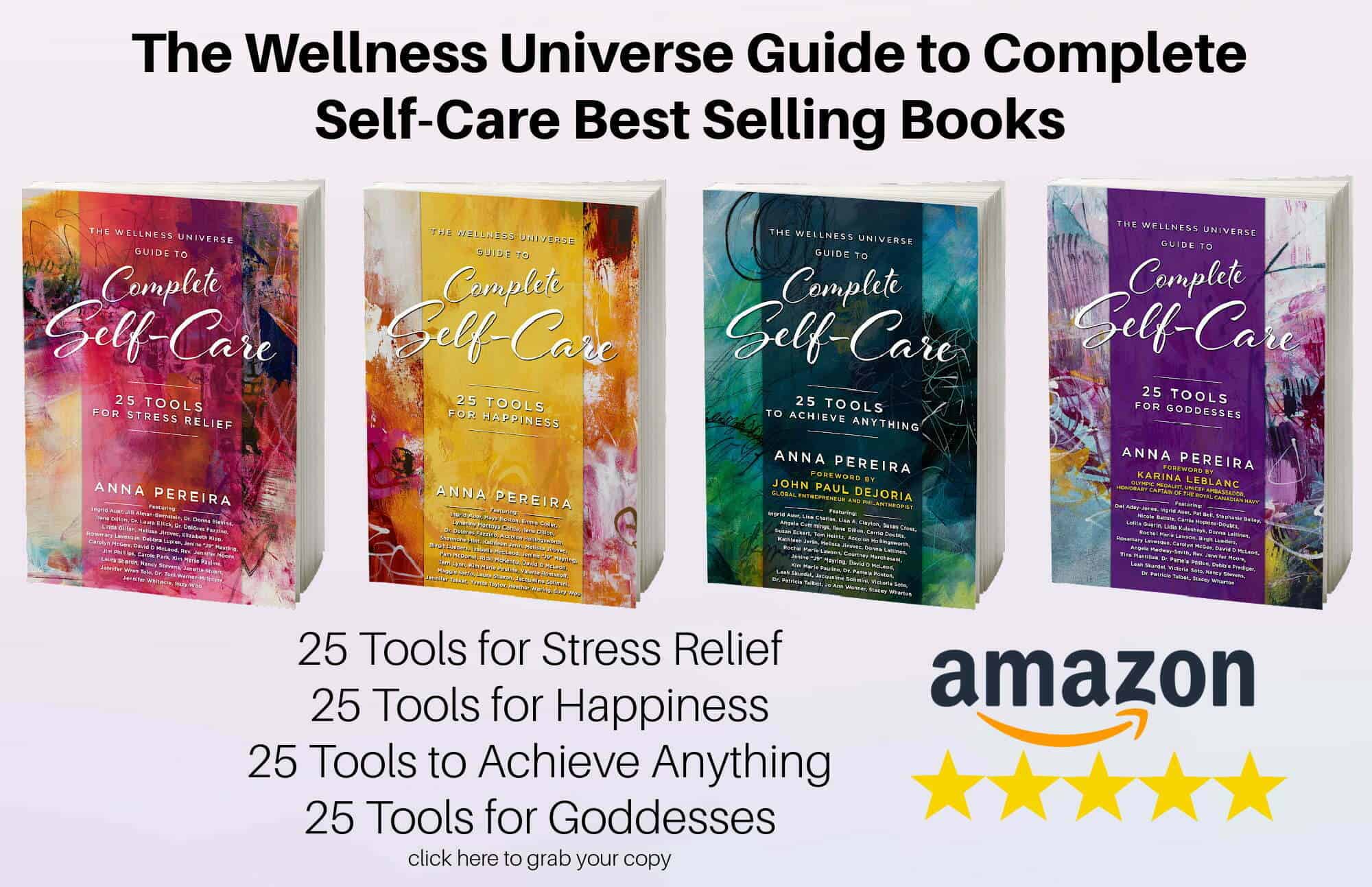 With over 250 independent reviews see how our self-care books are helping thousands of people around the world. Digital and paperback books are available now.
---
Self-development, self-care, and inspirational classes and sessions by Wellness Universe World Changer instructors who support your total well-being.
 Visit The Wellness Universe Lounge today!
---
The Wellness Universe is here to serve your best well-being. If you are experiencing anxiety, grief, overwhelm, guilt, anger, or seeking ways to cope and get help for stress, relationships, parenting, or any other issue during this challenging time, we have wonderful resources for you to connect with. Our WU Best Help members are offering reduced rates, sliding scale payment options, and even pro-bono sessions. WU Best Help
For over 33 years, Lynda Lippin's clients (including Donna Karan, Laurie Anderson, and Joe Walsh) have trusted her to help them get stronger and function better, with less pain. In fact, former Financial Times travel editor Rahul Jacob says that Lynda is the best Pilates teacher and personal trainer he's ever worked with. Currently, Lynda is the CEO of 
Lynda Lippin Pilates
, LLC, where she helps women over 50 increase their bone density, and eliminate chronic pain through her online 
Strong Bones program
, 
Strong Bones classes
, and private sessions. She also serves Pilates Teachers through the 
Pilates Teacher Mastermind®
, a business accelerator and continuing education program.