Joseph Pilates defined exercise as movements done in a specific way in order to make the rest of life easier and more enjoyable. This is the definition of functional fitness! Since exercise is ordered and specific, it can be more difficult and more focused than what we do in the rest of our lives.
Women generally begin a new exercise program in order to look better, feel better, get stronger, become more flexible, perform better, or relieve pain. In order to accomplish any of these goals, you will need to work hard and smart!
It's important to focus on moving well instead of just straining.
Moving Well Can a Challenge
While many of us like to do other things when we work out, I believe in at least some focused exercise time. The hard work in Pilates exercises is in the focus that it takes to move well and correctly, not because the movements themselves are particularly hard or complex. The same can be said for suspension training, kettlebells, CrossFit, yoga, and dance aerobics.
Exercises don't have to look challenging to be challenging. In fact, many people look at the basic Pilates mat exercises such as the roll-up or the hundreds and assume that they must be easy to do because the movements appear to be simple.
The Pilates Principles
Joseph Pilates laid out the Principles of Contrology (what Mr. Pilates called his method) in his book, Return to Life Through Contrology. I counsel my clients to remember the six basic Pilates principles whenever they are exercising, no matter what activity, as these principles help with any type of exercise.
Centering
Pilates exercises focus on the Powerhouse of the torso – the abdominals, back, butt, inner thigh, and shoulder muscles. All of your movements should start with this stable, strong center core. This is your natural corset, your natural support belt!
I find this principle to come in handy when I have to stand in line for a long time. I remind myself to pull up with all my muscles, and not slump or lean. My back always thanks me!
Concentration
We live in a multi-tasking society where it's difficult to focus on one thing for any length of time. This is why many people would prefer to hop on an exercise bike with their cell phone, magazine, television, and iPad.
When doing Pilates, or any exercise, you'll find that the more you focus on your body and concentrate on what you are doing, the more effective the exercises will be.
Let your exercise time be me-time. Notice how what you do makes you feel.
Control
Being in control of your body is a skill. In Pilates, we move with control, and we learn how to stabilize and move properly. This can mean that you move slowly at the beginning, but ultimately you can speed up with control.
The same is true for any workout. Learn to move properly with control and you will stay safer through more advanced CrossFit WODs, some new yoga variations, and any cardio.
Precision
Joe Pilates believed that movements should be precise in order to be effective. So in leg circles, for example, we do not just let the hips and shoulder roll all over the place as we circle the leg. Instead, we look for a strong stable torso with a nice precise circle of the leg – harder to accomplish but much more useful in the long run.
Precision is important in weightlifting, yoga, and cardio…. Well, just about everything.
Breath
Breathing is the key to life (really, you will die quickly without breathing) and it is the Powerhouse torso muscles that assist in breathing. The abdominals and back muscles work together with the diaphragm and pelvic floor muscles to help move the air in and out. Different breathing patterns can help or hinder movement in the body.
In Pilates, we learn how to breathe and move at the same time, in the most efficient ways for the exercises. This is, or should be, true of any exercise. For example, if you do Olympic weight training with improper breathing patterns that don't help stabilize your torso, you can really hurt yourself.
Flow
Pilates exercises are flowing movements, and a Pilates workout flows from one exercise to the next with a minimum of extra movement. In this way, we gain grace and quality of movement along with strength and flexibility.
A well-thought-out weight training session can be as flowing as a good yoga or Pilates session. I don't know of any sports or exercises that require jerky, uncontrolled movement from an unstable base.
So, let's get moving!
Join me in Wellness for All, Exercise for Bone Health, Strength, and Mobility
---
All information, content, and material are for informational purposes only and are not intended to serve as a substitute for the consultation, diagnosis, and/or medical treatment of a qualified physician or healthcare provider. The information supplied through or on this page, or by any representative or agent of The Wellness Universe, is for informational purposes only and does not constitute medical, legal, or other professional advice. Health-related information provided through this website is not a substitute for medical advice and should not be used to diagnose or treat health problems or to prescribe any medical devices or other remedies. The Wellness Universe reserves the right to remove, edit, move or close any content item for any reason, including, but not limited to, comments that are in violation of the laws and regulations formed pursuant to the Federal Food, Drug, and Cosmetic Act. None of the posts and articles on The Wellness Universe page may be reprinted without express written permission.
---
The Wellness Universe presents Janette Stuart our Angelic Practitioner Expert Guide. Monthly, Janette invites you to escape to the Secret Garden of Joy.
The Secret Garden of Joy:
Every first Saturday of the month, come escape to the Secret Garden of Joy for an hour as you leave the world behind, delight your heart, nurture yourself and fill your cup
Catch the recorded session(s) and be sure to join the next LIVE class! 
Register today: https://bit.ly/SecretGardenofJoy
---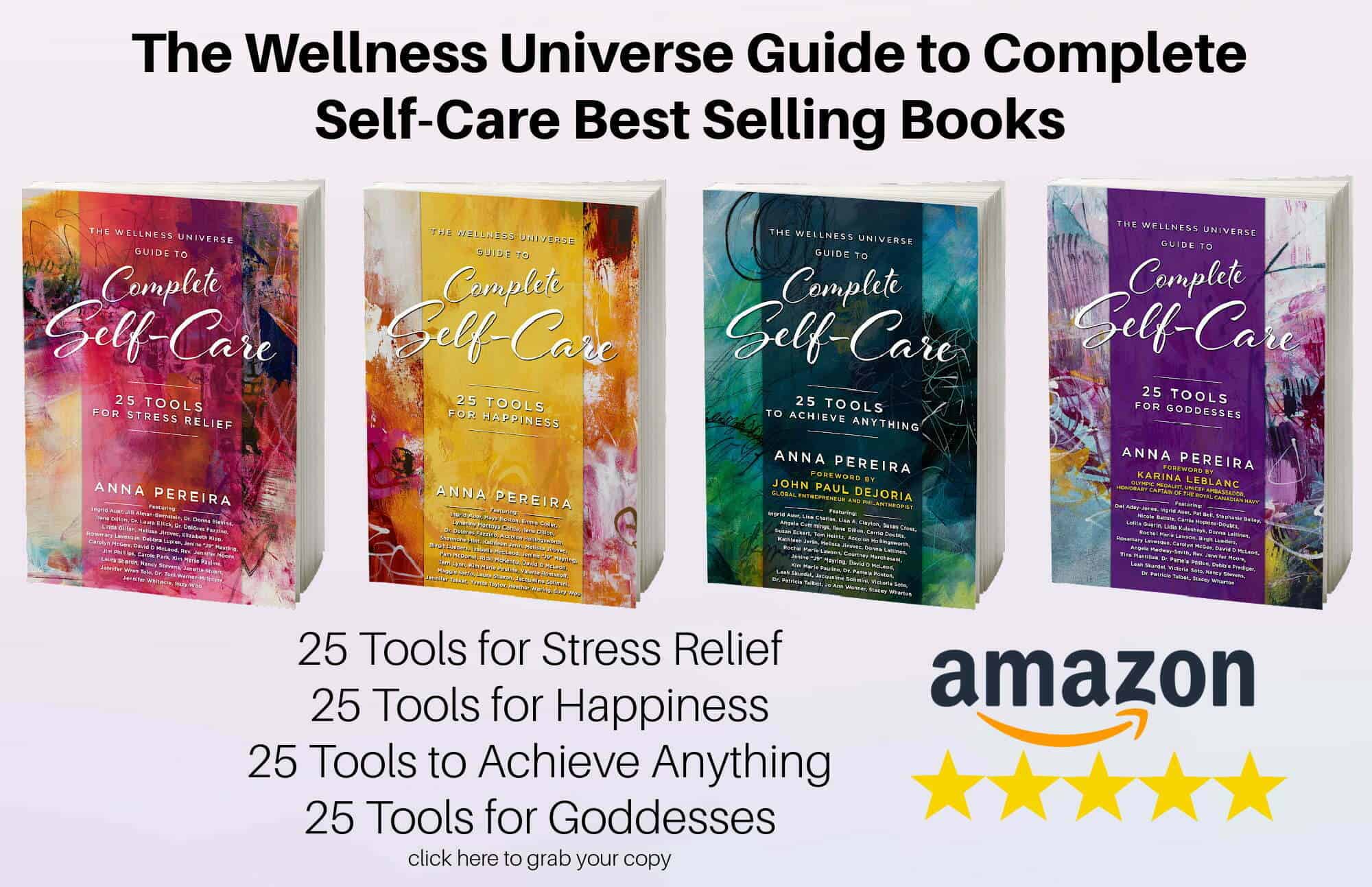 With over 250 independent reviews see how our self-care books are helping thousands of people around the world. Digital and paperback books are available now.
---
Self-development, self-care, and inspirational classes and sessions by Wellness Universe World Changer instructors who support your total well-being.
 Visit The Wellness Universe Lounge today!
---
The Wellness Universe is here to serve your best well-being. If you are experiencing anxiety, grief, overwhelm, guilt, anger, or seeking ways to cope and get help for stress, relationships, parenting, or any other issue during this challenging time, we have wonderful resources for you to connect with. Our WU Best Help members are offering reduced rates, sliding scale payment options, and even pro-bono sessions. WU Best Help
For over 33 years, Lynda Lippin's clients (including Donna Karan, Laurie Anderson, and Joe Walsh) have trusted her to help them get stronger and function better, with less pain. In fact, former Financial Times travel editor Rahul Jacob says that Lynda is the best Pilates teacher and personal trainer he's ever worked with. Currently, Lynda is the CEO of 
Lynda Lippin Pilates
, LLC, where she helps women over 50 increase their bone density, and eliminate chronic pain through her online 
Strong Bones program
, 
Strong Bones classes
, and private sessions. She also serves Pilates Teachers through the 
Pilates Teacher Mastermind®
, a business accelerator and continuing education program.