"Hot Fun in the Summertime…" you couldn't find a better anthem for the Leo New Moon than that 1969 classic by Sly and the Family Stone! Listen to it and you'll get the essence of summery Leo New Moon energy.
New Moons in general are great times to plant seeds for the ideas, plans, and actions we want to grow over the coming weeks as the Moon itself waxes towards full again. And what perfect timing that the New Moon in Leo always happens in the middle of summer – this year on July 28 – when we might even have a little more downtime to create some playful lunar magic.
Leo New Moon qualities
Let's begin by taking a closer look at exactly what Leo's energy feels like – yes, there's certainly a playful, fun side, but it's also all about passion, generosity, optimism, and loyalty. Leo's symbol is the Lion — the King (or Queen) of the Jungle — and you can draw on that majestic, courageous, magnetic vibe as well during the Leo cycle.
And did I mention that Leo is ruled by the Sun in astrology? That would definitely account for the Leo urge to be the center of attention, to literally shine… when the Moon is in Leo, you may feel more dramatic, confident, and expressive. How can you not capitalize on this perfect storm of Sun-Lion(ess) Lunar Magic at the height of the summer?
Assembling your magical Leo toolkit
The next step is to look at all the fun associations for Leo energy – here are some to get you started:
Elemental energy – Fire
Colors – orange, yellow, gold
Gemstones – ruby, carnelian, tiger's eye
Flowers – sunflower, gerbera, marigold
Essential Oils – rosemary, lemon, ginger, garlic (yes, those last two are really essential oils, too!)
Music – brass, jig/reel dances
Food/Drink – flavorful, expensive!
And if you really want to pack your toolkit to the brim, you could also research Leo-themed movies, books, clothes, animals, and places in nature… the list is endless, depending on what you're drawn to explore.
Where to set up your Leo New Moon ritual
Your sacred ritual space could be anywhere, depending on what you plan to do there. To really tap into that fiery Sun-ruled Leo energy — literally and figuratively — find a place outside in the sun. You can spread a blanket in the backyard or a sunny meadow, or head to the beach with a picnic basket.
Or you can climb into the "majestic" energy and design your very own Leo New Moon throne room!
Start with a comfy chair that will serve as your throne, maybe draped with a lush, gold, or red-toned blanket or sheet. Light a red or gold candle and place some sunflowers and marigolds in a beautiful vase. Then, since Leo loves "eating like a king (or queen)," be sure to have some expensive, elegant food and drink nearby (champagne and truffles or red caviar?) to tingle your taste buds.
New Moon in Leo ritual to reconnect with your inner Queen (or King)
Now that you've set your magical stage, what symbolic actions will you take to anchor your New Moon commitment to reconnect with your inner Queen… what does that even mean?? Basically, it means giving yourself permission to celebrate yourself, to practice self-love, to "brag on" yourself, to own all that's fabulous, regal, and sensational about YOU!
Here are some fun ways to do that… and they take on even more power when done in sacred space!
1) Create a paper plate crown Decorate it with sequins, colored markers, glitter, and stick-on gems. Or if you're particularly creative, you can go the Fairy-Queen route and make yourself a flower crown. Remember, with the Leo New Moon, you really have permission to play, so make believe you're back in art class and have fun with it. In fact, go ahead and play dress-up, too, and find some robes or flowy clothes that make you feel like a magnificent monarch!
2) Proclaim your Queenly nature! What qualities do you appreciate most about yourself? What accomplishments are you most proud of? What skills or areas of expertise do you want to feel even more confident about or want to expand? If you have a paper crown, you can write all of those declarations or intentions right on the crown itself. Or, if you've made a flower crown, you can create a formal proclamation – write them all down on a long, legal-size piece of paper, roll it up and tie it with a beautiful ribbon.
3) Party with your inner Queen. Ready to infuse your crown and/or proclamation with royal energy? Of course, dancing is one of the best ways to build energy and "charge" your New Moon work. You can be really literal and channel your Inner Queen with Abba's 1976 hit, Dancing Queen… watching the original video is half the fun. Some other great ones with a strong Leo message are Lady Gaga's Born this Way and Roar by Katy Perry.
4) Hang your crown in a prominent place. So, after you flop back down on your throne, now what? In order to keep your Leo New Moon magical work alive in your life, you want to keep that crown nearby so you can remember to tap into that powerful energy when you need it most. When you're feeling low, if you've been overlooked or put down, if you need to remember what's special about yourself.
That's the power of symbols, created in sacred space with intention – long after you leave your throne room, they still carry the power to shift your psyche on the deepest level. And may actually remind you to return to your throne and re-connect with your royal self for a little confidence booster.
Connect with Deborah on The Wellness Universe.
---
All information, content, and material are for informational purposes only and are not intended to serve as a substitute for the consultation, diagnosis, and/or medical treatment of a qualified physician or healthcare provider. The information supplied through or on this page, or by any representative or agent of The Wellness Universe, is for informational purposes only and does not constitute medical, legal, or other professional advice. Health-related information provided through this website is not a substitute for medical advice and should not be used to diagnose or treat health problems or to prescribe any medical devices or other remedies. The Wellness Universe reserves the right to remove, edit, move or close any content item for any reason, including, but not limited to, comments that are in violation of the laws and regulations formed pursuant to the Federal Food, Drug, and Cosmetic Act. None of the posts and articles on The Wellness Universe page may be reprinted without express written permission.
---
The Wellness Universe partners with strategic powerhouse Debbie Prediger in this Wellness for All masterclass series that feeds your success journey: Business Momentum and Strategy. Join WU Business Momentum Guide, Debbie Prediger, Empowerment Coach and Strategist, as she hosts each session live, empowering you, heart-led, business-minded entrepreneur twice a month! 
Catch the recorded session(s) and be sure to join the next LIVE class! 
Register today: ​​https://bit.ly/BusinessMomentum
---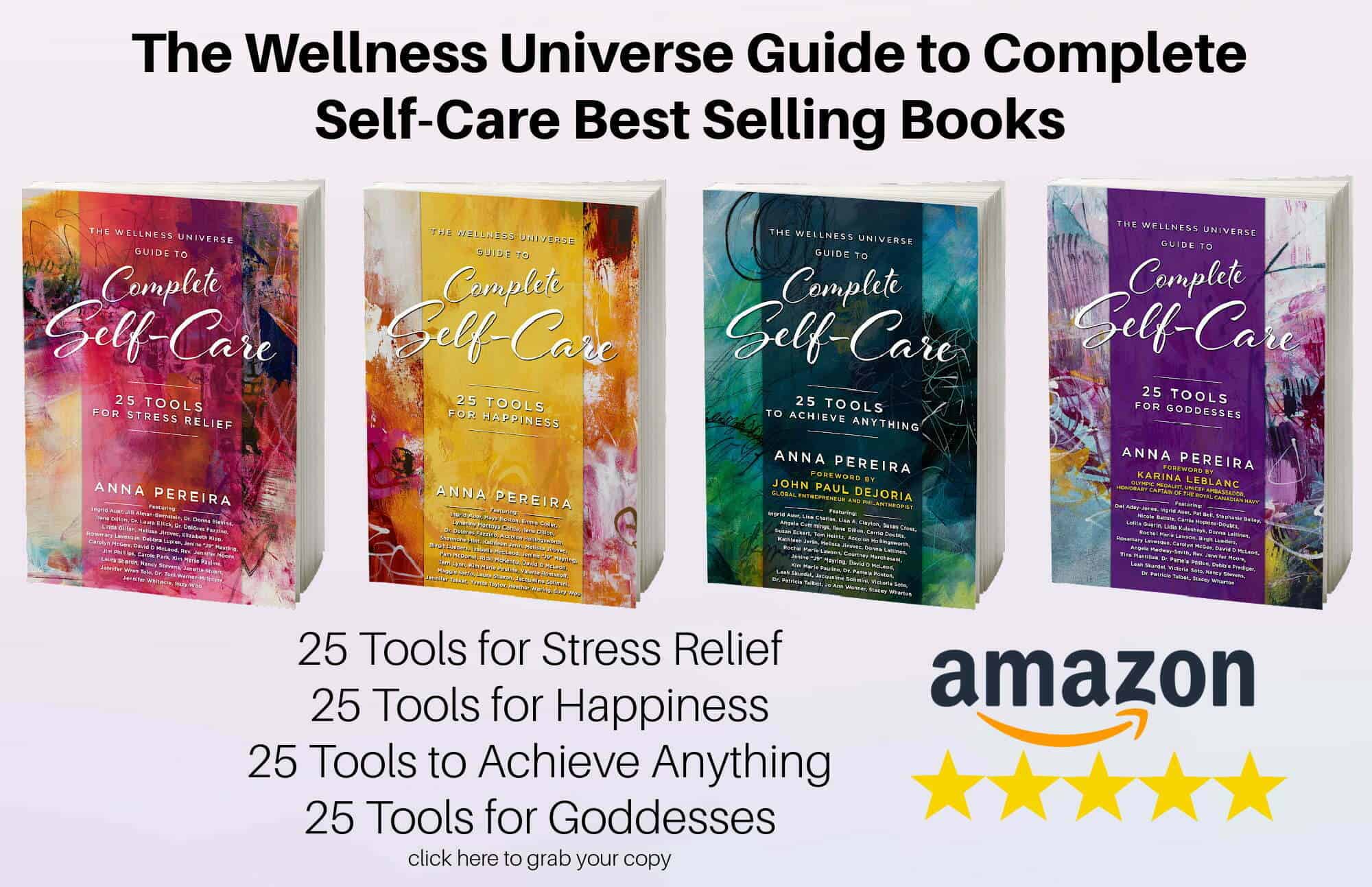 With over 250 independent reviews see how our self-care books are helping thousands of people around the world. Digital and paperback books are available now.
---
Self-development, self-care, and inspirational classes and sessions by Wellness Universe World Changer instructors who support your total well-being.
 Visit The Wellness Universe Lounge today!
---
The Wellness Universe is here to serve your best well-being. If you are experiencing anxiety, grief, overwhelm, guilt, anger, or seeking ways to cope and get help for stress, relationships, parenting, or any other issue during this challenging time, we have wonderful resources for you to connect with. Our WU Best Help members are offering reduced rates, sliding scale payment options, and even pro-bono sessions. WU Best Help
Life & Relationship Coach, Deborah Roth, MA is also a Counseling Astrologer, and Interfaith Minister. She leads women's New Moon Circles and Full Moon TeleMeditations every month and loves designing creative, meaningful rituals for individuals and couples to energize their lives and relationships.