Attending a barbecue as a vegan can sometimes feel like a culinary challenge. However, with a little creativity and planning, you can enjoy a tasty and satisfying meal while everyone else indulges in their favorite grilled meats. In this article, we'll share three mouthwatering vegan recipes that will make you the star of the barbecue. Get ready to fire up the grill and impress both vegans and non-vegans alike!
Grilled Veggie Skewers with Tofu Satay
Ingredients
1 block of firm tofu, pressed and cut into cubes
1 red bell pepper, cut into chunks
1 zucchini, sliced
1 red onion, cut into wedges
8-10 cherry tomatoes
Wooden skewers, soaked in water for 30 minutes
1/4 cup soy sauce or tamari
2 tablespoons peanut butter
2 tablespoons lime juice
1 tablespoon maple syrup
1 clove of garlic, minced
1 teaspoon sriracha sauce (optional)
Instructions
In a bowl, whisk together soy sauce, peanut butter, lime juice, maple syrup, minced garlic, and sriracha sauce (if using) to make the satay sauce.
Preheat the grill to medium-high heat.
Thread the tofu cubes, bell pepper, zucchini, red onion, and cherry tomatoes onto the soaked skewers, alternating the ingredients.
Brush the skewers with the satay sauce, making sure to coat them evenly.
Grill the skewers for about 10-12 minutes, turning occasionally until the vegetables are tender and slightly charred.
Serve the skewers with the remaining satay sauce for dipping. Enjoy!
BBQ Jackfruit Sandwiches
Ingredients
2 cans of young green jackfruit in water or brine, drained and rinsed
1 cup barbecue sauce (vegan-friendly)
1 tablespoon olive oil
1 small onion, diced
2 cloves of garlic, minced
1/2 teaspoon smoked paprika
1/2 teaspoon cumin
Salt and pepper to taste
Burger buns or bread rolls
Coleslaw (optional)
Instructions
Heat olive oil in a large skillet over medium heat. Add the diced onion and minced garlic and sauté until translucent.
Add the jackfruit to the skillet and break it apart with a fork or your hands to resemble pulled pork.
Sprinkle smoked paprika, cumin, salt, and pepper over the jackfruit, stirring well to combine.
Pour the barbecue sauce over the jackfruit and stir until it is well coated. Reduce heat to low and let it simmer for 10-15 minutes, allowing the flavors to meld.
While the jackfruit is simmering, lightly toast the burger buns or bread rolls on the grill.
Serve the barbecue jackfruit on the toasted buns and top with coleslaw if desired. Enjoy your vegan BBQ sandwich!
Grilled Corn on the Cob with Vegan Herb Butter
Ingredients
4 ears of corn, husks removed
1/4 cup vegan butter, softened
2 tablespoons fresh herbs (such as parsley, chives, or cilantro), finely chopped
1 tablespoon lime juice
Salt and pepper to taste
Instructions
Preheat the grill to medium heat.
In a small bowl, combine the softened vegan butter, fresh herbs, lime juice, salt, and pepper. Mix well to incorporate the flavors.
Brush the corn cobs with the herb butter mixture, ensuring they are evenly coated.
Place the corn on the grill and cook for about 10-12 minutes, turning occasionally, until the kernels are tender and slightly charred.
Remove the corn from the grill and let it cool for a few minutes before serving.
Serve the grilled corn on the cob with an extra sprinkle of salt and pepper if desired. Enjoy the smoky and flavorful treat!
Being a vegan at a barbecue doesn't mean missing out on delicious food. These three recipes provide mouthwatering alternatives that will satisfy both your cravings and impress your friends and family. From the savory grilled veggie skewers with tofu satay to the hearty BBQ jackfruit sandwiches and the smoky grilled corn on the cob with vegan herb butter, these recipes are sure to make you the star of the next barbecue. Embrace the flavors of summer and show everyone that vegan food can be just as exciting and delicious!
Nutritional wellness is found here.
When the happiness and health of your organization matters, from leadership to every member and employee, we can help.
---
All information, content, and material are for informational purposes only and are not intended to serve as a substitute for the consultation, diagnosis, and/or medical treatment of a qualified physician or healthcare provider. The information supplied through or on this page, or by any representative or agent of The Wellness Universe, is for informational purposes only and does not constitute medical, legal, or other professional advice. Health-related information provided through this website is not a substitute for medical advice and should not be used to diagnose or treat health problems or to prescribe any medical devices or other remedies. The Wellness Universe reserves the right to remove, edit, move, or close any content item for any reason, including, but not limited to, comments that are in violation of the laws and regulations formed pursuant to the Federal Food, Drug, and Cosmetic Act. None of the posts and articles on The Wellness Universe page may be reprinted without express written permission.
---
Professionals who are or seek to be in the coaching industry, this is for you!
Join us for The Wellness Universe September Business Intensive Workshop:
Coaching Skills to Elevate Your Business Acumen with Laurel Elders
Use code 👉 SaveToday30 👈 to save 30%
Register TODAY Code expires September 5th
---
---
The Wellness Universe welcomes Janette Stuart, in partnership with Wellness for All programming for Self-Care Saturday
Register today: https://bit.ly/SecretGardenofJoy
---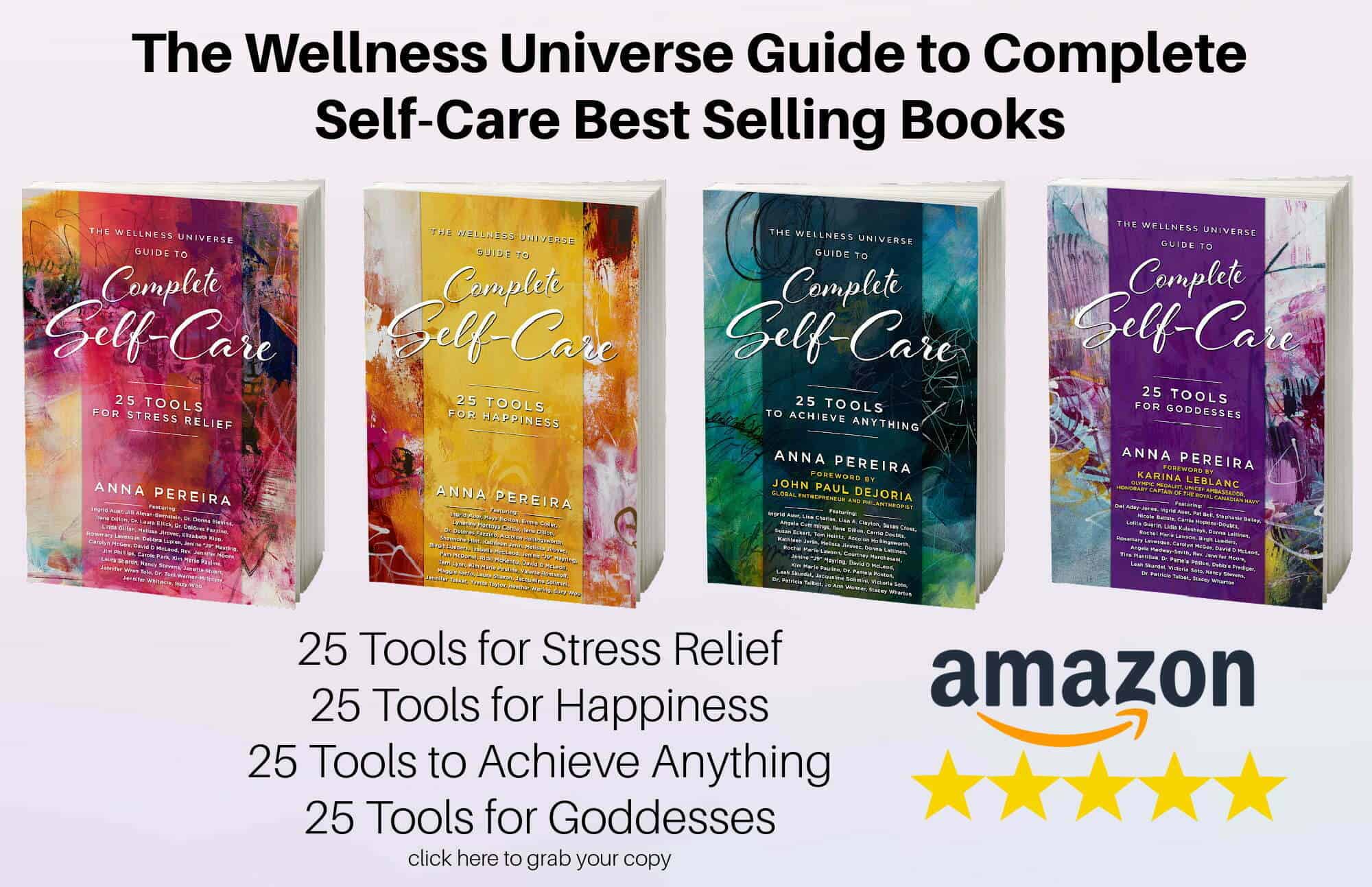 With over 250 independent reviews see how our self-care books are helping thousands of people around the world. Digital and paperback books are available now.
---

Connect to the people that help you live your best life: The Wellness Universe
The Wellness Universe is your resource for health, wellness, well-being, and transformation. We serve and support professionals who make the world a better place and individuals and groups who seek their best life.
A woman owned company; having the vision in 2013, Anna Pereira launched the first directory in 2015 bringing together a community of members making the world a better place to be found by those seeking their best life. The Wellness Universe has grown since then to be a one-stop shop for total wellness support! We are a vetted community, online directory, book publisher, resource center, event producer, content platform, and so much more, supporting whole-health and well-being on a global scale.
The Wellness Universe is a home that connects industry professionals in the health, wellness, and well-being fields to seekers of total well-being. WU provides our WU World-Changer members with peer support, Wellness Universe produced events (live and online), projects, visibility, business mentoring, and community. Through The Wellness Universe our WU World-Changer members serve WU Friends, seekers of health, wellness and transformation, with coaching, workshops, content and more.
The Wellness Universe provides individuals and groups seeking their best lives with access to our members, wellness content, educational resources, and guidance in all areas of wellness to transform visions of how they want to live life into the life they experience.
Through the directory, WU Featured Blog, SoulTreat wellness retreat, Self-Care Books, group well-being programs, and online learning center, The Lounge, The Wellness Universe provides many avenues to support whole health, mind, body, spirit and planet.
Join us today! Wellness Professional or Seeker of Your Best Life