Wellness for All programming from The Wellness Universe introduces you to wellness programs and wellness events that support your best mental wellbeing.
Introducing you to Resilience for Every Day – Tools, Tips, and Exercises for Wellbeing produced and hosted by Leah Skurdal, Resilience Event Leader, and co-hosted by Janette Stuart. The first in a quarterly series of Resilience Building events occurred on June 4, 2022.
The recording is available HERE. https://bit.ly/ResilienceforEveryday
The 90-minute program features resilience experts sharing their tools, tips, and exercises to help navigate the challenges of living in a rapidly changing world. While preparing for the event, each of the resilience leaders encountered their own stressful situations where they had to apply their best resilience strategies to their lives. In this special series of articles, we hear from each of the presenters on:
  Building Resilience Through Walking Our Talk
Today we hear from … Leah Skurdal
Leah shares her story of overcoming technology and health challenges while producing the Resilience for Everyday event.
How can I better help people reconnect to their inner resilience, I wondered?
In the past two years, I've observed people experiencing a huge range of challenges. I know we have the natural resilience within to navigate these challenges. How do we get tools into people's hands to reconnect to their power within?
In April, I saw the proposals request for The Wellness Universe's Wellness For All program launch. I was thrilled at the opportunity to reach a greater audience with my message of inner resilience! I quickly submitted two proposals: 1) Midweek Reset Meditation to reconnect to our natural state of inner wellbeing and 2) a quarterly series of resilience-building events. I suggested we host four 90-minute panels of experts talking about different aspects of resilience.
After discussing the event goals and intentions with CEO Anna Pereira, we set the first event for June 4. I recruited Jeanette Stewart as my co-host and sounding board. Her assistance in coordinating the behind-the-scenes details was invaluable. I'm a visionary big-picture person. Attending to the details of putting on an event stretches my comfort zone.
The Universe added a couple big items to make the production journey even more exciting.
At the end of April, my computer was overheating and crashing occasionally. I can't host an international, virtual event and risk my computer crashing! I started researching my computer's needs: faster processor, lots of RAM, lots of storage, ability to manage live streaming, and video editing. This is going to be expensive, I thought. I procrastinated.
My old computer crashed again while I was hosting a group gathering. I heard my inner wisdom say, "Buy the computer you need. The money will show up."
After an expensive trip to Best Buy, my new Dell 12th Gen i7, 16 gigs, and a terabyte of storage, the laptop was delivered, data transferred, and ready to go. The new PC whizzed through processing emails, posting event notices, sending personal invitations, and supporting the presenters. And the money showed up! Score!
Two weeks before the big event, I felt suddenly tired and took an uncharacteristic nap. It's good to take naps on Saturday afternoons, right? The next morning, after hiking in the woods, I was sneezing and had a runny nose. Inhaled too much pollen while smelling flowers!
Sunday night, I stayed up past midnight pushing through a deadline to finish planning and emailing the resilience event's minute-by-minute schedule to the presenters and submit five blog posts to The Wellness Universe for publication the next week.
Monday morning, my throat felt scratchy but, sometimes when I stay up late my body lets me know I need extra self-care. I swallowed a glassful of vitamin and mineral supplements writing off the continued sore throat as my annual, "Welcome, Cottonwood Tree Fluff!"
By Wednesday morning, ten days before our big June 4 Resilience for Everyday event, my throat felt the worst it had ever felt.  This is not allergies. I took a covid test and got a positive result. Oh, great!
I started my regimen of vitamin, mineral, and herbal supplements for colds and flu. I counted my uncharacteristic nap as Day 1 and by Friday, Day 7, my sore throat was better. By the eighth day, I was back to 85% health. I kept a steady focus on my inner wellbeing and the wellbeing of my family and friends.
I hated calling my 85-year-old mother to tell her our Sunday afternoon tea had exposed her to the virus. My daughter could not come home during my quarantine due to her work situation. I canceled meetings and lunch dates but since I felt pretty good, I continued online meetings. Thankfully, no one exposed to me became sick.
Decades of self-care and deep inner mental/emotional/physical/energetic healing, plus belief in my natural immunity, all paid off with my body's ability to restore health efficiently. I don't believe we can prevent everything, but we can give our bodies tools to respond to life's challenges with inner resilience.
Our June 4 Resilience for Everyday event received great positive reviews on the content and presentations! I'm looking forward to the next resilience-building event: Resilience for Harmony, Saturday, September 10, 10-11:30amET. Hope you can join us!
Leah's free gift to you is Chapter 7 of 25 Tools for Goddesses: The Art of Jazz Living: Overcoming Challenges With Grace, Ease & Joy https://mailchi.mp/8e9b09109f8c/giftbookchapter
Leah Skurdal – Intuitive Wellness Guide / Panel Moderator teaches people to access their inner resilience during life's challenges through her Jazz Living method. She guides people to up-level their stress response, improves their relationships, and expands their impact. Leah is a monthly blogger, Community Leader, and Event Leader at the Wellness Universe. She is the author of Seeking Serenity: How to Find Your Inner Calm and Joy. https://www.thewellnessuniverse.com/world-changers/leahskurdal/
Resilience for Everyday: Tools, Tips & Exercises for Well-being is a donation-based event, supported by pay-what-you-can donation upon registration anytime through the recording. It is available to all who would like to attend. You can make a donation HERE. https://bit.ly/ResilienceforEveryday
Written by Leah Skurdal
---
All information, content, and material are for informational purposes only and are not intended to serve as a substitute for the consultation, diagnosis, and/or medical treatment of a qualified physician or healthcare provider. The information supplied through or on this page, or by any representative or agent of The Wellness Universe, is for informational purposes only and does not constitute medical, legal, or other professional advice. Health-related information provided through this website is not a substitute for medical advice and should not be used to diagnose or treat health problems or to prescribe any medical devices or other remedies. The Wellness Universe reserves the right to remove, edit, move or close any content item for any reason, including, but not limited to, comments that are in violation of the laws and regulations formed pursuant to the Federal Food, Drug, and Cosmetic Act. None of the posts and articles on The Wellness Universe page may be reprinted without express written permission.
---
The Wellness Universe presents Success Expert Leader Gael Wood in partnership with Wellness for All programming supporting you to reach your goals in Reach for Your Dreams! Practical and Energetic Practices to Reach Your Goals.
Register today prior to the LIVE launch:  https://bit.ly/WUReachForYourDreams
---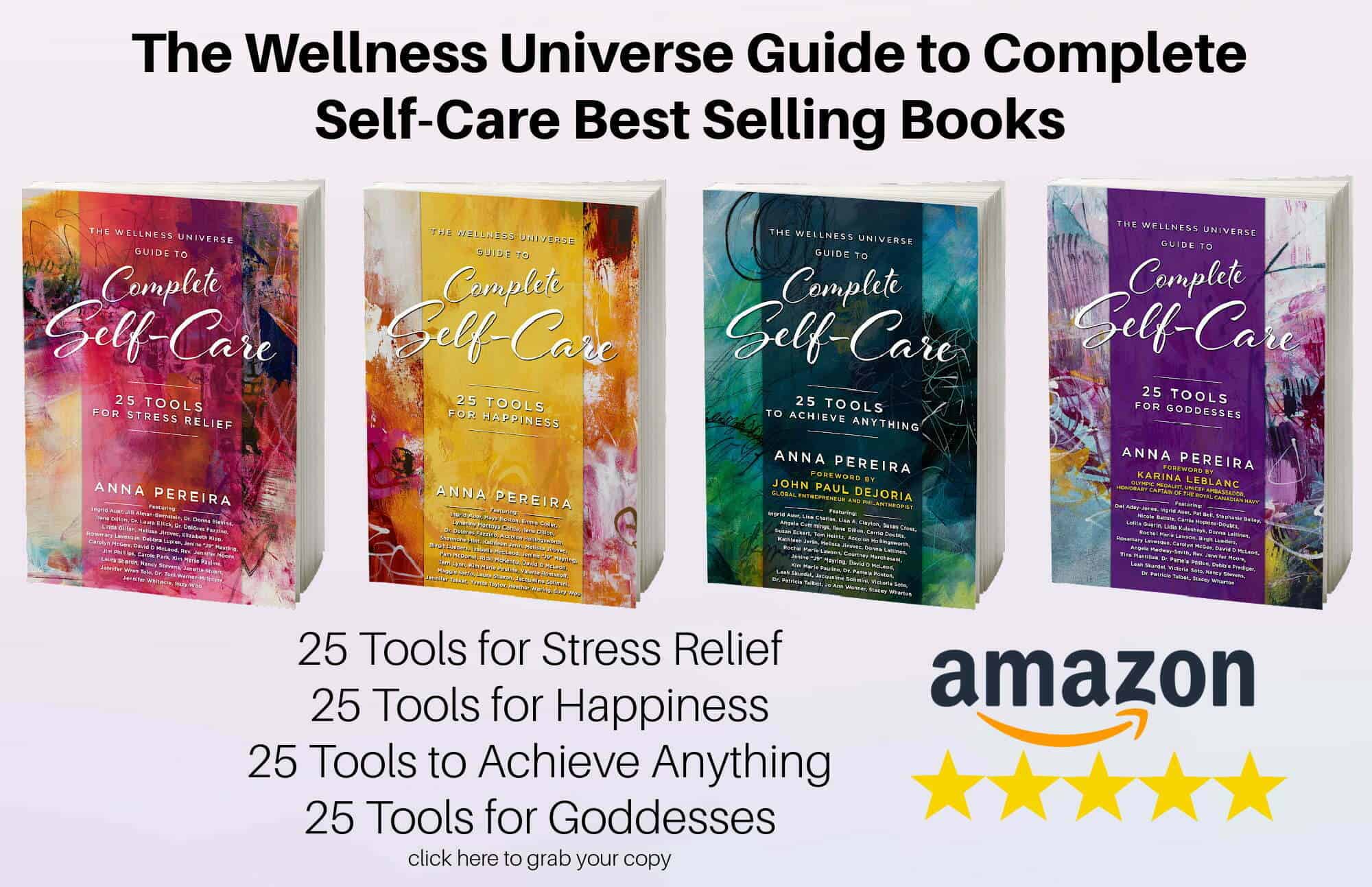 With over 250 independent reviews see how our self-care books are helping thousands of people around the world. Digital and paperback books are available now.
---
Self-development, self-care, and inspirational classes and sessions by Wellness Universe World Changer instructors who support your total well-being.
 Visit The Wellness Universe Lounge today!
---
The Wellness Universe is here to serve your best well-being. If you are experiencing anxiety, grief, overwhelm, guilt, anger, or seeking ways to cope and get help for stress, relationships, parenting, or any other issue during this challenging time, we have wonderful resources for you to connect with. Our WU Best Help members are offering reduced rates, sliding scale payment options, and even pro-bono sessions. WU Best Help
Leah Skurdal guides people to up-level their stress resilience to improve relationships. Leah shares intuitive insights in private Energy Healing to address the roots of disharmony. As an inspirational speaker and published author, Leah offers lively classes, experiential workshops, and keynotes.