Wellness for All programming from The Wellness Universe introduces you to wellness programs and wellness events that support your best mental wellbeing.
Introducing you to Resilience for Every Day, Tools, Tips, and Exercises for Wellbeing produced and hosted by Leah Skurdal, Resilience Event Leader, and co-hosted by Janette Stuart.
Now let's introduce you to ….
Featured Resilience Panel Speaker – Lisa Charles
Brain-Body Balance
Small steps can lead to big changes in your life. As little as ten minutes a day of back-to-basics fitness can ignite a new health routine that increases wellbeing.
Two of the five top fitness trends for 2021, according to the American College of Sports Medicine, include low-cost, low equipment weight-training and outdoor activities. Research shows that people who exercise regularly have better mental health and emotional wellbeing, and lower rates of mental illness—which enhances workplace wellness.
That's the message of fitness coach, Lisa Charles. "Start where you are and move your body."
Lisa teaches people about brain-body-belief alignment. Researchers at Johns Hopkins are studying the second brain located in the lining of the gut called the enteric nervous system (ENS). The ENS is two thin layers of more than 100 million nerve cells lining your gastrointestinal tract from the esophagus to the rectum, which control nutrients' assimilation and elimination. Gut-brain researchers are finding evidence that digestion affects mental and emotional health by sending signals of gut irritation to the central nervous system and triggering mood changes.
Lisa shares "When employees feel physically in sync with their brain-body balance, they can more readily tap into their inner resilience and become more productive, healthier, and happier humans—in the workplace and at home." 
To that end, the Resilience series, live panel events will be a quarterly series on resilience for the workplace and for life. Mark your calendars!
Resilience for Everyday: Tools, Tips & Exercises for Well-being June 4, 2022. 
Resilience for Harmony: Tools, Tips & Exercises for Well-being September 10, 2022
Resilience for the Holidays: Tools, Tips & Exercises for Well-being December 10, 2022
Resilience for Transition: Tools, Tips & Exercises for Well-being March 11, 2023
We are thrilled to have Fitness Coach, Lisa Charles as a guest speaker for our first event Resilience for Everyday: Tools, Tips & Exercises for Well-being.
Lisa educates clients about The 4 Pillars of Transformational Health. Where burnout poses a national crisis, Lisa's 4 Pillars of True Health helps women release crazy stress levels; bring restorative sleep; conquer aging phobias; and ignite internal energy sources—while harmonizing the brain, body, and belief balance and connection. 
Lisa Charles is a federal prosecutor turned singer/actress, wellness expert, certified health coach/consultant, and speaker. She served as the Fitness/Wellness Research Coordinator for the Rutgers University Aging & Brain Health Alliance, is the CEO of Embrace Your Fitness, LLC, and is the author of Yes! Commit. Do. Live. She successfully directed her struggle with temporary vocal loss into personal growth by shedding 77 pounds without dieting. This ignited her zeal for fitness, cemented her understanding of the brain-body connection, and prompted her to delve into the process of creating a life based on passion.
Today, as a Brain, Body, and Belief Alignment Specialist, Lisa empowers individuals to let go of their limiting beliefs, embrace who they truly are, and breakthrough any age-limiting barriers, by allowing them to experience wellness from her top/down, inside/out approach. Her strategies center on transformational techniques within and outside the Fitness industry that produces tangible, lasting results. You can connect with Coach Lisa through her Wellness Universe profile. 
Join us and be enriched by the strategies and conversations during our 90-minute special event, Resilience for Everyday: Tools, Tips & Exercises for Wellbeing. You will have the opportunity to participate in self-care and resilience-building exercises in our interactive and workshop-style event, Saturday, June 4, 10-11:30am ET/7-9:30am PT. 
This donation-based event is supported by pay-what-you-can donation upon registration, during the live event, or anytime as this will be available as a recording. Available to all who would like to attend.
 Written by: Leah Skurdal
Sources:
https://www.hopkinsmedicine.org/health/wellness-and-prevention/the-brain-gut-connection
https://time.com/5944077/exercise-without-gym-covid-19/
https://www.betterhealth.vic.gov.au/health/healthyliving/exercise-and-mental-health
---
All information, content, and material are for informational purposes only and are not intended to serve as a substitute for the consultation, diagnosis, and/or medical treatment of a qualified physician or healthcare provider. The information supplied through or on this page, or by any representative or agent of The Wellness Universe, is for informational purposes only and does not constitute medical, legal, or other professional advice. Health-related information provided through this website is not a substitute for medical advice and should not be used to diagnose or treat health problems or to prescribe any medical devices or other remedies. The Wellness Universe reserves the right to remove, edit, move or close any content item for any reason, including, but not limited to, comments that are in violation of the laws and regulations formed pursuant to the Federal Food, Drug, and Cosmetic Act. None of the posts and articles on The Wellness Universe page may be reprinted without express written permission.
---
The Wellness Universe presents Vibrant Wellbeing, Uplifting Your Wellness hosted by Nancy Stevens, Wellbeing Coach, founder of Uplift Clean Beauty, #1 International Best-Selling Author, Speaker, and educator on wellbeing.
Register today: https://bit.ly/VibrantWellbeing
June 12th Introduction to Nancy Stevens – Get to know your host, Nancy!
Why Vibrant Wellbeing Matters
---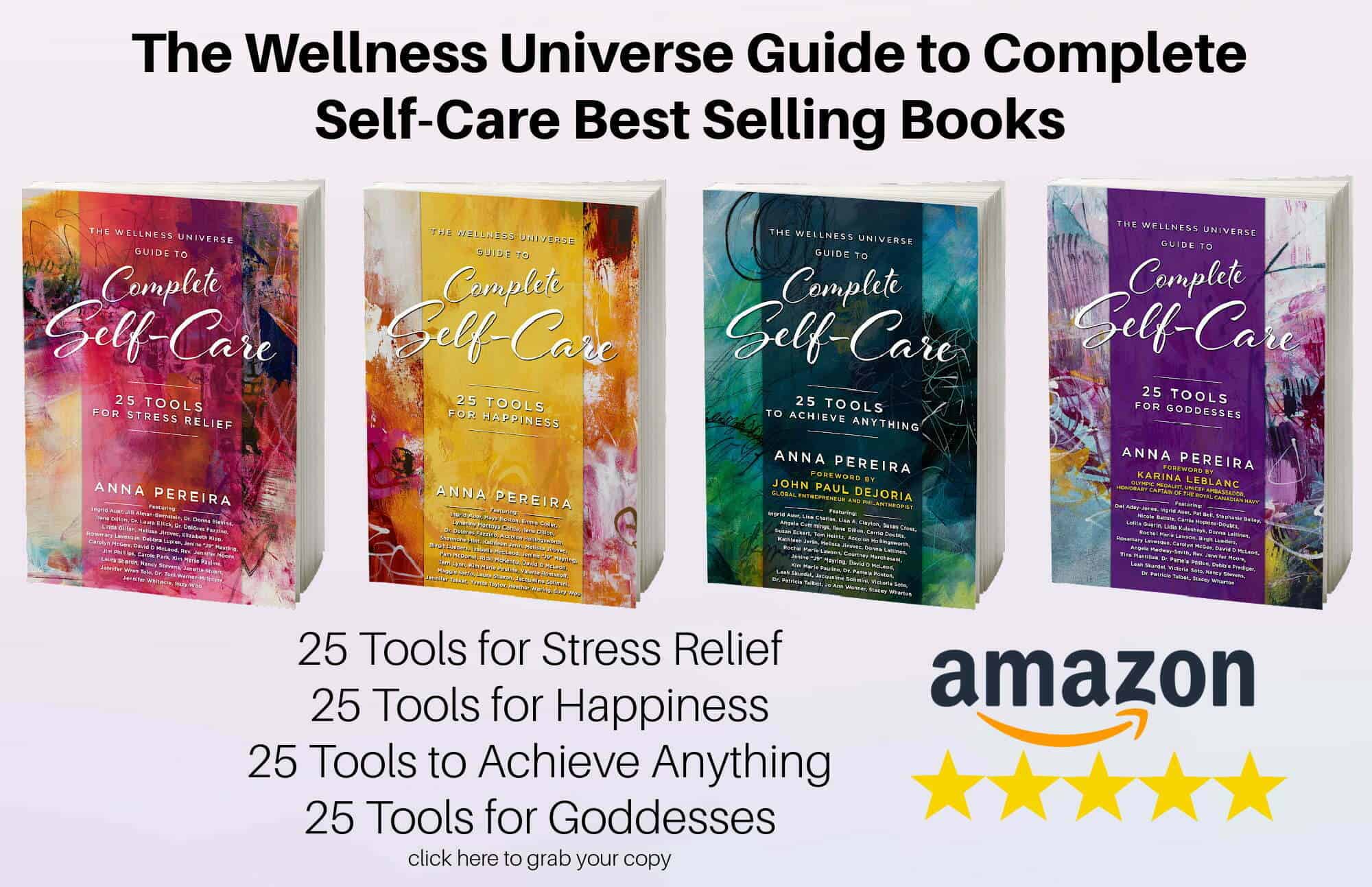 With over 250 independent reviews see how our self-care books are helping thousands of people around the world. Digital and paperback books are available now.
---
Self-development, self-care, and inspirational classes and sessions by Wellness Universe World Changer instructors who support your total well-being.
 Visit The Wellness Universe Lounge today!
---
The Wellness Universe is here to serve your best well-being. If you are experiencing anxiety, grief, overwhelm, guilt, anger, or seeking ways to cope and get help for stress, relationships, parenting, or any other issue during this challenging time, we have wonderful resources for you to connect with. Our WU Best Help members are offering reduced rates, sliding scale payment options, and even pro-bono sessions. WU Best Help
The Wellness Universe is your resource for health, wellness, well-being, and transformation. We serve and support professionals who make the world a better place and individuals and groups who seek their best life.
A woman owned company; having the vision in 2013, Anna Pereira launched the first directory in 2015 bringing together a community of members making the world a better place to be found by those seeking their best life. The Wellness Universe has grown since then to be a one-stop shop for total wellness support! We are a vetted community, online directory, book publisher, resource center, event producer, content platform, and so much more, supporting whole-health and well-being on a global scale.
The Wellness Universe is a home that connects industry professionals in the health, wellness, and well-being fields to seekers of total well-being. WU provides our WU World-Changer members with peer support, Wellness Universe produced events (live and online), projects, visibility, business mentoring, and community. Through The Wellness Universe our WU World-Changer members serve WU Friends, seekers of health, wellness and transformation, with coaching, workshops, content and more.
The Wellness Universe provides individuals and groups seeking their best lives with access to our members, wellness content, educational resources, and guidance in all areas of wellness to transform visions of how they want to live life into the life they experience.
Through the directory, WU Featured Blog, SoulTreat wellness retreat, Self-Care Books, group well-being programs, and online learning center, The Lounge, The Wellness Universe provides many avenues to support whole health, mind, body, spirit and planet.
Join us today! Wellness Professional or Seeker of Your Best Life