Wellness for All programming from The Wellness Universe introduces you to wellness programs and wellness events that support your best mental wellbeing.
Introducing you to Resilience for Everyday Tools, Tips, and Exercises for Well-being, produced and hosted by Leah Skurdal, Resilience Event Leader, and co-hosted by Janette Stuart.
Now let's introduce you to …. Featured Resilience Panel Speaker: Elizabeth Kipp
Resilient Work Culture
Massive changes in workplace expectations necessitate agility and adaptability to promote and maintain employee resilience. Investing in employee wellbeing is a strategy more business leaders are embracing.   In a study of engagement and resilience in the workplace, researchers in a 2020 Global Workforce Study at ADPRI, observed that four countries demonstrated higher Workplace Engagement than Workplace Resilience: The United States, The United Kingdom, Israel, and Sweden.  "This pattern suggests that although workers might well be set up for productivity today, they are more vulnerable should further setbacks occur in the future. Workers who are Fully Engaged but not Highly Resilient are more reactive, and more sensitive to challenges or threats — any disruption may derail them. They are operating at a high level — but they're walking a tightrope. If they fall, they may fall a long way."Learning and Development leaders are naming resilience as the #1 or #2 skill for employees to cultivate in the workplace. Luckily, employees might be up for the challenge.
Opportunities to Learn and Grow shot up from #9 in 2019 to #1 by the end of 2020 as a top driver of workforce culture. Glint reported in a May 2021 Employee Wellbeing report that employee happiness levels had stabilized during the first quarter of 2021 as organizations provided resources for employees to bring their best selves into the workplace. [1] To address wellbeing in the workplace, The Wellness Universe in partnership with Leah Skurdal is hosting a free/by donation, quarterly event featuring a panel of resilience experts to shed light on different aspects of resilience with a self-care exercise to practice building your resilience.
Register for our event:  Resilience for Everyday: Tools, Tips & Exercises for Wellbeing, 
Expert speaker, Elizabeth Kipp, is the author of The Way Through Chronic Pain: Tools to Reclaim Your Healing Power. She is a Chronic Pain Management Specialist, Addiction Recovery Coach, and Ancestral Clearing Practitioner. She has also contributed a chapter to the #1 Best-Selling book, The Wellness Universe Guide to Complete Self-Care, 25 Tools for Stress Relief. In her talk, Resilience: What Is It and How Do We Nurture It, Elizabeth highlights what scientific research is observing about resilience through The Predictive 6 Factor Resilience Assessment Scale. She will share insights on identifying and cultivating resilience in your life. She speaks from the experience of healing from forty years of her own chronic pain. A significant part of Elizabeth's healing journey involved building her resilience after many years of living with a nervous system wracked with stress. She learned the skills necessary to develop her capacity to be resilient and now teaches others to do the same.   Elizabeth says, "Resilience doesn't remove your problems in life, but resilience allows you to see past them and better handle stress. Our capacity for resilience can be modified, learned, and enhanced just like any other skill. Realize that you hold the ability to impact your own life. If you aren't as resilient as you'd like to be, you can develop skills to become more resilient." If you'd like to create more resilience, Elizabeth offers a number of tools to help you nurture and sustain your capacity to be resilient.
Connect with Elizabeth Kipp on The Wellness Universe and walk away feeling better!
Written by: Leah Skurdal
Sources:
[1] Glint, Inc. Employee Wellbeing Report https://www.glintinc.com/wp-content/uploads/2021/05/Glint-May-2021-Employee-Well-Being-Report.pdf
---
All information, content, and material are for informational purposes only and are not intended to serve as a substitute for the consultation, diagnosis, and/or medical treatment of a qualified physician or healthcare provider. The information supplied through or on this page, or by any representative or agent of The Wellness Universe, is for informational purposes only and does not constitute medical, legal, or other professional advice. Health-related information provided through this website is not a substitute for medical advice and should not be used to diagnose or treat health problems or to prescribe any medical devices or other remedies. The Wellness Universe reserves the right to remove, edit, move or close any content item for any reason, including, but not limited to, comments that are in violation of the laws and regulations formed pursuant to the Federal Food, Drug, and Cosmetic Act. None of the posts and articles on The Wellness Universe page may be reprinted without express written permission.
---
The Wellness Universe presents Lisa Jendza Health and Lifestyle Coach, guiding you through Freedom Kitchen – Food freedom and solutions to food challenges. Lisa's 6-month program helps you to be well informed empowering you to make better decisions about your food and what it means to Catch the recorded session(s) and be sure to join the next LIVE class!  Register today: https://bit.ly/WUFreedomKitchen
---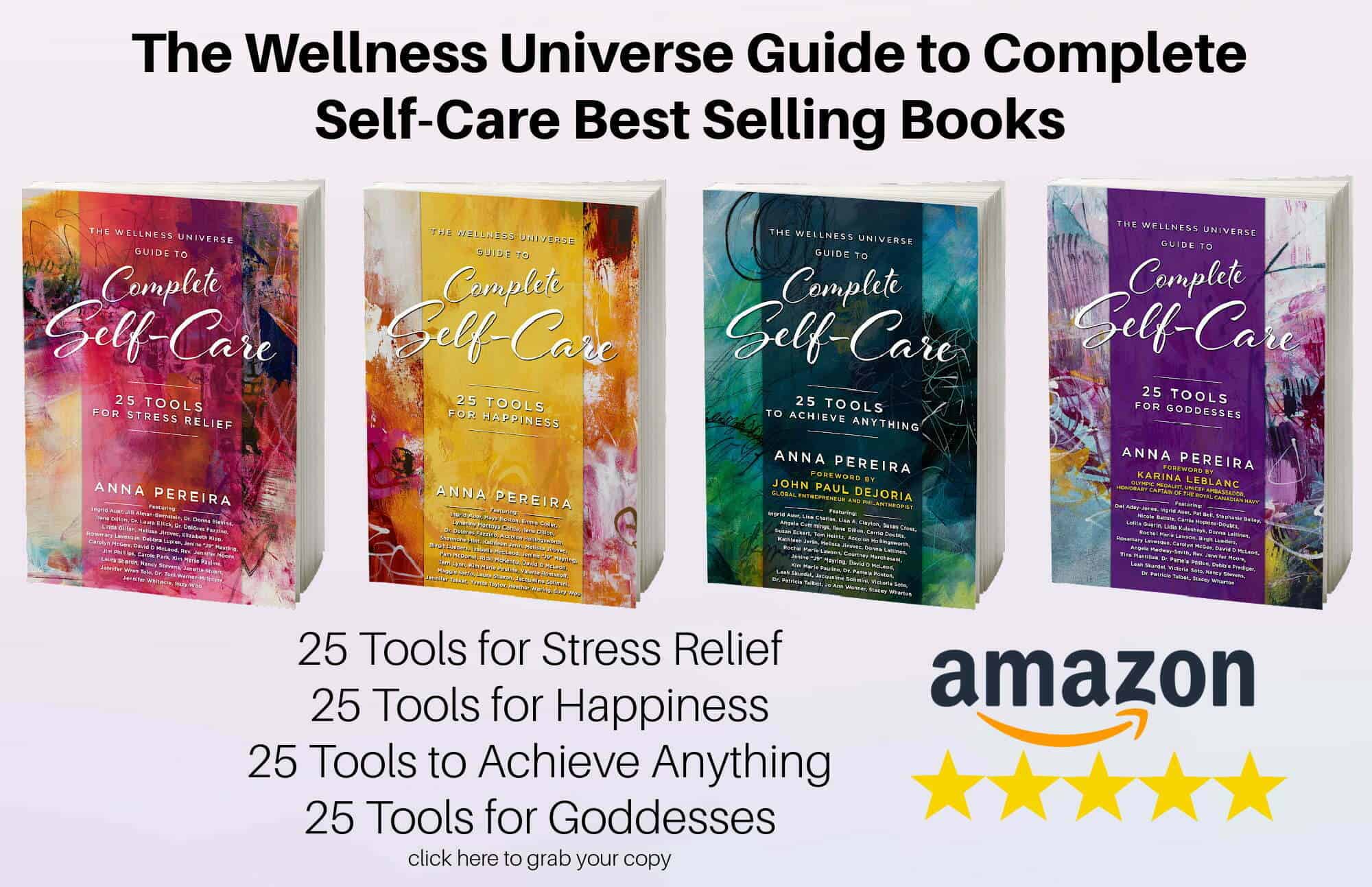 With over 250 independent reviews see how our self-care books are helping thousands of people around the world. Digital and paperback books are available now.
---
Self-development, self-care, and inspirational classes and sessions by Wellness Universe World Changer instructors who support your total well-being.
 Visit The Wellness Universe Lounge today!
---
The Wellness Universe is here to serve your best well-being. If you are experiencing anxiety, grief, overwhelm, guilt, anger, or seeking ways to cope and get help for stress, relationships, parenting, or any other issue during this challenging time, we have wonderful resources for you to connect with. Our WU Best Help members are offering reduced rates, sliding scale payment options, and even pro-bono sessions. WU Best Help
The Wellness Universe is your resource for health, wellness, well-being, and transformation. We serve and support professionals who make the world a better place and individuals and groups who seek their best life.
A woman owned company; having the vision in 2013, Anna Pereira launched the first directory in 2015 bringing together a community of members making the world a better place to be found by those seeking their best life. The Wellness Universe has grown since then to be a one-stop shop for total wellness support! We are a vetted community, online directory, book publisher, resource center, event producer, content platform, and so much more, supporting whole-health and well-being on a global scale.
The Wellness Universe is a home that connects industry professionals in the health, wellness, and well-being fields to seekers of total well-being. WU provides our WU World-Changer members with peer support, Wellness Universe produced events (live and online), projects, visibility, business mentoring, and community. Through The Wellness Universe our WU World-Changer members serve WU Friends, seekers of health, wellness and transformation, with coaching, workshops, content and more.
The Wellness Universe provides individuals and groups seeking their best lives with access to our members, wellness content, educational resources, and guidance in all areas of wellness to transform visions of how they want to live life into the life they experience.
Through the directory, WU Featured Blog, SoulTreat wellness retreat, Self-Care Books, group well-being programs, and online learning center, The Lounge, The Wellness Universe provides many avenues to support whole health, mind, body, spirit and planet.
Join us today! Wellness Professional or Seeker of Your Best Life