You may know that plastics in food packaging can affect our health, but did you know there is plastic in your clothes, furniture, and flooring, too?
It's one of the key pieces of info that helped me recover from my long list of illnesses.
One of the significant ways we can reduce inflammation and heal from chronic illness is to detox our homes and our bodies.
How Does Detoxing Our Home Improve Health?
Our bodies are made of 100 trillion cells! When we experience inflammation and chronic illness it means these cells are overloaded with toxins.
One of the most significant sources of toxins is chemicals from the things in our homes. This is a broad statement, I know. I'll explain how it works first, then we can look at which items may be causing problems.
Inflammation Process
Step 1: Chemicals are swallowed, inhaled, or absorbed into the body.
Step 2: The chemicals damage our cells.
Step 3: Our damaged cells inflame. Then, they create free radicals.
Step 4: The free radicals damage other cells.
Step 5: Repeat. This is snowball effect #1.
Step 6: Due to damaged cells and inflammation, our detoxification process doesn't work correctly. This creates even more free radicals.
Step 7: More free radicals damage the detox process even more. Snowball effect #2.
This creates quite a pickle for our bodies. Our organs, which are made of cells, can't function correctly and chronic illness develops.
Sometimes it's in the form of bad allergies and autoimmune disorders. Sometimes it's in the form of liver failure or cancer. Sometimes it's in the form of thyroid disease or depression. Or something in between.
While it shows up differently in each person, there are common solutions.
Getting to the root of the problem, the root of inflammation, and fixing that allows our bodies to work properly and begin to heal.
What Things in Our Homes Can Cause Inflammation and Chronic Illness?
Wildly, there are many things in our homes that can cause inflammation and chronic illness. Plastics, for example, off-gas volatile organic compounds (VOCs) into the air. It's easy to know when a food storage container is made of plastic. However, it's not that cut and dry throughout the rest of our homes.
Clothing, mattresses, furniture, flooring, drapes, and more are also made of plastic. I know it sounds weird. When I first read about this, I thought how can that be?
Here's the short version
Clothing
Polyester, nylon, acrylic, and other types of materials are made of synthetic fibers. That means the fibers are made in a laboratory with petroleum and different chemicals until it forms a type of plastic that can be spun into thread, and made into fabric.
Thought question: Have you seen sweatshirts made with recycled plastic bottles?
Mattresses
Coverings and fillers in mattresses are often made with polyester, nylon, or synthetic rubber. Each of these contains petroleum and different chemicals.
Thought questions: What material was used to make your bed?
Furniture
Composite woods (MDF, OSB, particleboard, etc.) are made of several materials, that's why they're called composite.
The exact ingredients vary depending on the manufacturer and the exact type of composite wood. However, they all have two types of ingredients in common. They're made of:
Wood dust or wood particles; and
Glues, adhesives, or resins. Resins are often made of plastic and adhesives.
Thought question: What are your dressers and nightstands made of?
Flooring
Carpeting is most often made of synthetic materials like polyester and nylon.
Click flooring is often made of composite wood.
Vinyl flooring is made of polyvinyl chloride, which is the most toxic type of plastic.
Thought question: How many rooms in your home have carpet, click or vinyl flooring?
Making Changes
Transforming your home into an organic, chemical-free home is overwhelming, even when you know exactly what to buy and where. There's a lot to consider.
It can be a big learning curve to make sure you're not replacing toxic stuff with other toxic stuff, but rather are buying things that make your home a fully healthy home.
The key? Do it one step at a time.
The stuff in your house was bought one piece at a time, right? Those one-time buys are now a houseful of items.
It's the exact same process when we transform our homes into organic, chemical-free households. It's amazing how easily we can acquire non-toxic things!
In order to narrow your focus, consider these questions:
What feels fun to buy right now?
What is worn and needs to be replaced?
What have we run out of that could be bought non-toxic this time around?
What does my instinct tell me about replacing it?
Pick whatever answer you're drawn to and start there. There is no right answer, only what's right for you.
How Do I Choose Non-Toxic Items?
Our blog page has free tips and resources that tell you how to find non-toxic products. Read as many as you'd like! https://organicchemicalfree.com/category/blog/
The Wellness Universe Guide to Complete Self-Care, 25 Tools for Achieving Anything! includes a chapter, Detoxing Your Home, that focuses on buying fully non-toxic clothing.
Our free downloadable, 4 Steps for Choosing Non-toxic Wood Furniture, can be accessed by going to https://www.thewellnessuniverse.com/world-changers/angelacummings/.
You're Amazing
Know that you're an amazing soul for taking on this project and for making your home a healthy home!
While we 100% aim to minimize the decision fatigue and overwhelm and keep things simple and clear, it's completely understandable that your transition to an organic, chemical-free home still may be overwhelming.
Be kind to yourself throughout the process.
There is a lot to learn, especially if you're new to the topic. That's why we're here to help.
*Originally published on May 30, 2021.
---
All information, content, and material are for informational purposes only and are not intended to serve as a substitute for the consultation, diagnosis, and/or medical treatment of a qualified physician or healthcare provider. The information supplied through or on this page, or by any representative or agent of The Wellness Universe, is for informational purposes only and does not constitute medical, legal, or other professional advice. Health-related information provided through this website is not a substitute for medical advice and should not be used to diagnose or treat health problems or to prescribe any medical devices or other remedies. The Wellness Universe reserves the right to remove, edit, move, or close any content item for any reason, including, but not limited to, comments that are in violation of the laws and regulations formed pursuant to the Federal Food, Drug, and Cosmetic Act. None of the posts and articles on The Wellness Universe page may be reprinted without express written permission.
---
The Wellness Universe presents Vibrant Wellbeing, Uplifting Your Wellness hosted by Nancy Stevens, Wellbeing Coach, founder of Uplift Clean Beauty, #1 International Best-Selling Author, Speaker, and Educator on wellbeing, part of Wellness for All programming.
Catch the recorded session(s) and be sure to join the next LIVE class! 
Register today  https://bit.ly/VibrantWellbeing
---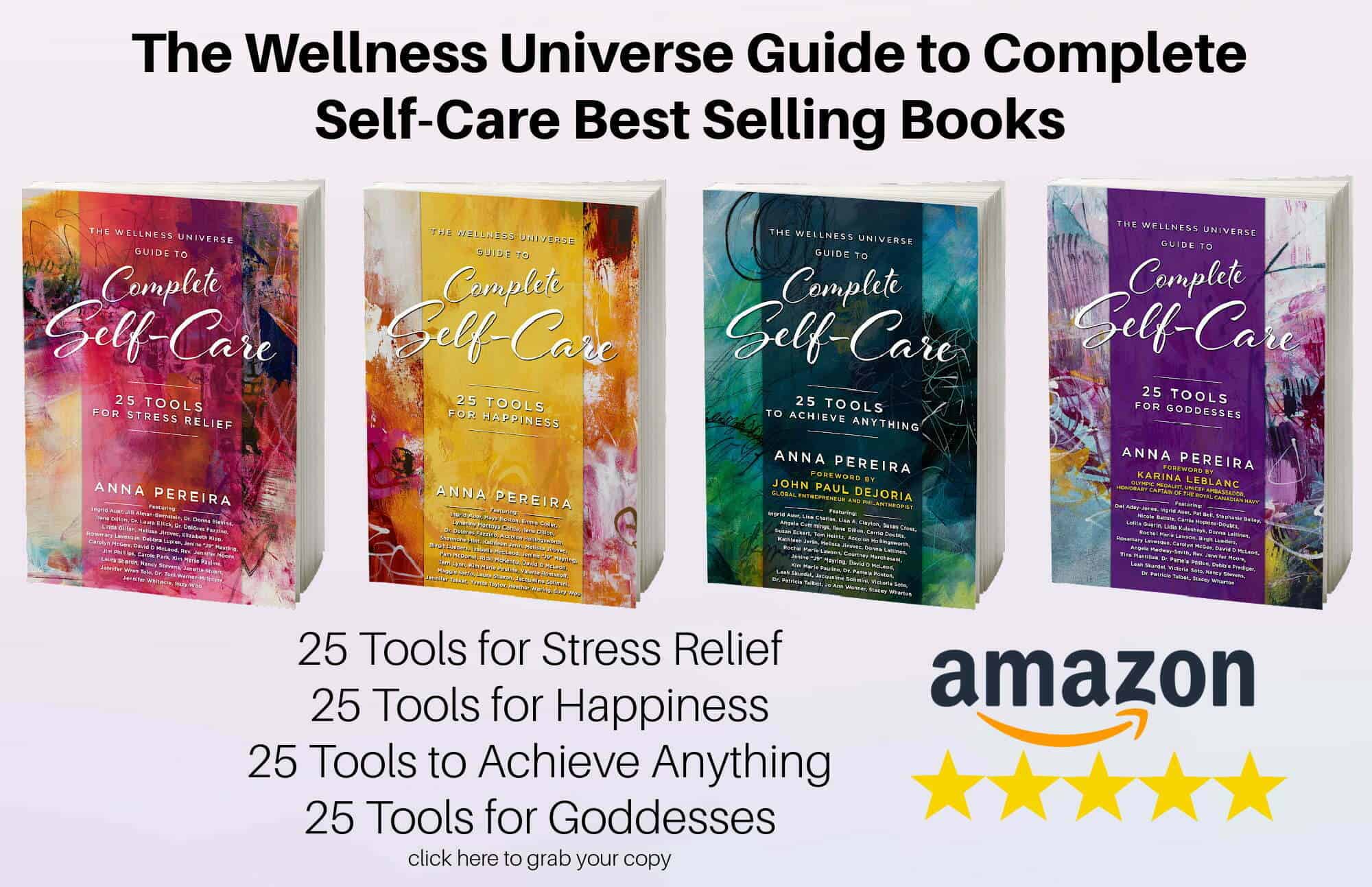 With over 250 independent reviews see how our self-care books are helping thousands of people around the world. Digital and paperback books are available now.
---

Connect to the people that help you live your best life: The Wellness Universe
The Wellness Universe is your resource for health, wellness, well-being, and transformation. We serve and support professionals who make the world a better place and individuals and groups who seek their best life.
A woman owned company; having the vision in 2013, Anna Pereira launched the first directory in 2015 bringing together a community of members making the world a better place to be found by those seeking their best life. The Wellness Universe has grown since then to be a one-stop shop for total wellness support! We are a vetted community, online directory, book publisher, resource center, event producer, content platform, and so much more, supporting whole-health and well-being on a global scale.
The Wellness Universe is a home that connects industry professionals in the health, wellness, and well-being fields to seekers of total well-being. WU provides our WU World-Changer members with peer support, Wellness Universe produced events (live and online), projects, visibility, business mentoring, and community. Through The Wellness Universe our WU World-Changer members serve WU Friends, seekers of health, wellness and transformation, with coaching, workshops, content and more.
The Wellness Universe provides individuals and groups seeking their best lives with access to our members, wellness content, educational resources, and guidance in all areas of wellness to transform visions of how they want to live life into the life they experience.
Through the directory, WU Featured Blog, SoulTreat wellness retreat, Self-Care Books, group well-being programs, and online learning center, The Lounge, The Wellness Universe provides many avenues to support whole health, mind, body, spirit and planet.
Join us today! Wellness Professional or Seeker of Your Best Life