The Wellness Universe is offering Business Intensive Workshops where each month we'll partner with one of our experts to support you in your business ventures.
Shari Alyse, TV Host & Media Consultant is the founder of Joy Media – Elevating Your Brand Through Television.
Shari shares her story and explains how business owners can gain more credibility and visibility through the television media platform.
Introducing Wellness Universe World-Changer Shari Alyse!
The Wellness Universe (TWU): How do you define yourself?
Shari Alyse (SA): I am the host of the TV show Good Morning Joy, media personality, 2x TEDx Speaker, and #1 bestselling author and regular guest expert on ABC, CBS, FOX and NBC. I'm a TV media consultant with a passion for helping business owners, heart-centered entrepreneurs, coaches, and speakers succeed in the world of television media. With a background in acting, speaking and TV hosting, I've leveraged my own experiences in the entertainment industry to become a sought-after expert in media strategy.
TWU: What do you do?
SA: My primary role is equipping my clients with knowledge on how to effectively navigate the TV media landscape. I provide guidance on securing television appearances, crafting compelling narratives, and mastering on-camera presence. I work closely with my clients to develop tailored media strategies that elevate their brands and businesses. I teach them everything from how to write a TV pitch, how to find and connect with the decision makers, to on-camera interview tips and techniques.
TWU: What led you to do this work?
SA: My journey into the world of TV media consulting began in 2020, during a pivotal moment in my career. I was actively seeking an alternative strategy to gain more visibility for my brand and business. It was during this time that I decided to dive head first into the intricate world of TV media, determined to learn the ins and outs of the industry.
Over the next couple of years something something extraordinary happened. I managed to secure over 100 television appearances, a feat that catapulted my business and solidified my reputation as a Joy Expert in the media world. As my own brand flourished, I began receiving numerous inquiries from people eager to know how I achieved this level of success. That's when I started to offer one-on-one consulting sessions, sharing my knowledge and experience with others.
What truly drives me in this work is the immense joy I find in helping individuals, business owners, entrepreneurs, coaches, and speakers build their businesses and amplify their messages through the power of TV media. It's incredibly fulfilling to see others achieve their goals and share their passions with a broader audience, and I'm glad to play a part in their journey to success.
TWU: What will you be teaching our audience and why should they care?
SA: I'll be teaching attendees how to position themselves in the TV media world so they can gain more credibility and visibility and set themselves on a path toward becoming a recognized authority in their field. I'll also share with them how to leverage those media appearances to further build their brand. In today's competitive landscape, it's essential for business owners to stand out and create their own areas of expertise. Getting into the mainstream TV world helps you do just that.
TWU: Why is what you do different from other publicists who help people book TV spots?
SA: I actually teach individuals the secrets, strategies, and skills to become their own publicists so they can learn to pitch themselves and their business on repeat.
TWU: Is there anything else you would like to share with us?
SA: I'm really excited to help people grow their media presence and become the go-to expert in their area of expertise.
Connect with Shari on The Wellness Universe.
---
All information, content, and material are for informational purposes only and are not intended to serve as a substitute for the consultation, diagnosis, and/or medical treatment of a qualified physician or healthcare provider. The information supplied through or on this page, or by any representative or agent of The Wellness Universe, is for informational purposes only and does not constitute medical, legal, or other professional advice. Health-related information provided through this website is not a substitute for medical advice and should not be used to diagnose or treat health problems or to prescribe any medical devices or other remedies. The Wellness Universe reserves the right to remove, edit, move, or close any content item for any reason, including, but not limited to, comments that are in violation of the laws and regulations formed pursuant to the Federal Food, Drug, and Cosmetic Act. None of the posts and articles on The Wellness Universe page may be reprinted without express written permission.
---
The Wellness Universe welcomes Janette Stuart, in partnership with Wellness for All programming for Self-Care Saturday
Catch the recorded session(s) and be sure to join the next LIVE class!
Register today: https://bit.ly/SecretGardenofJoy
---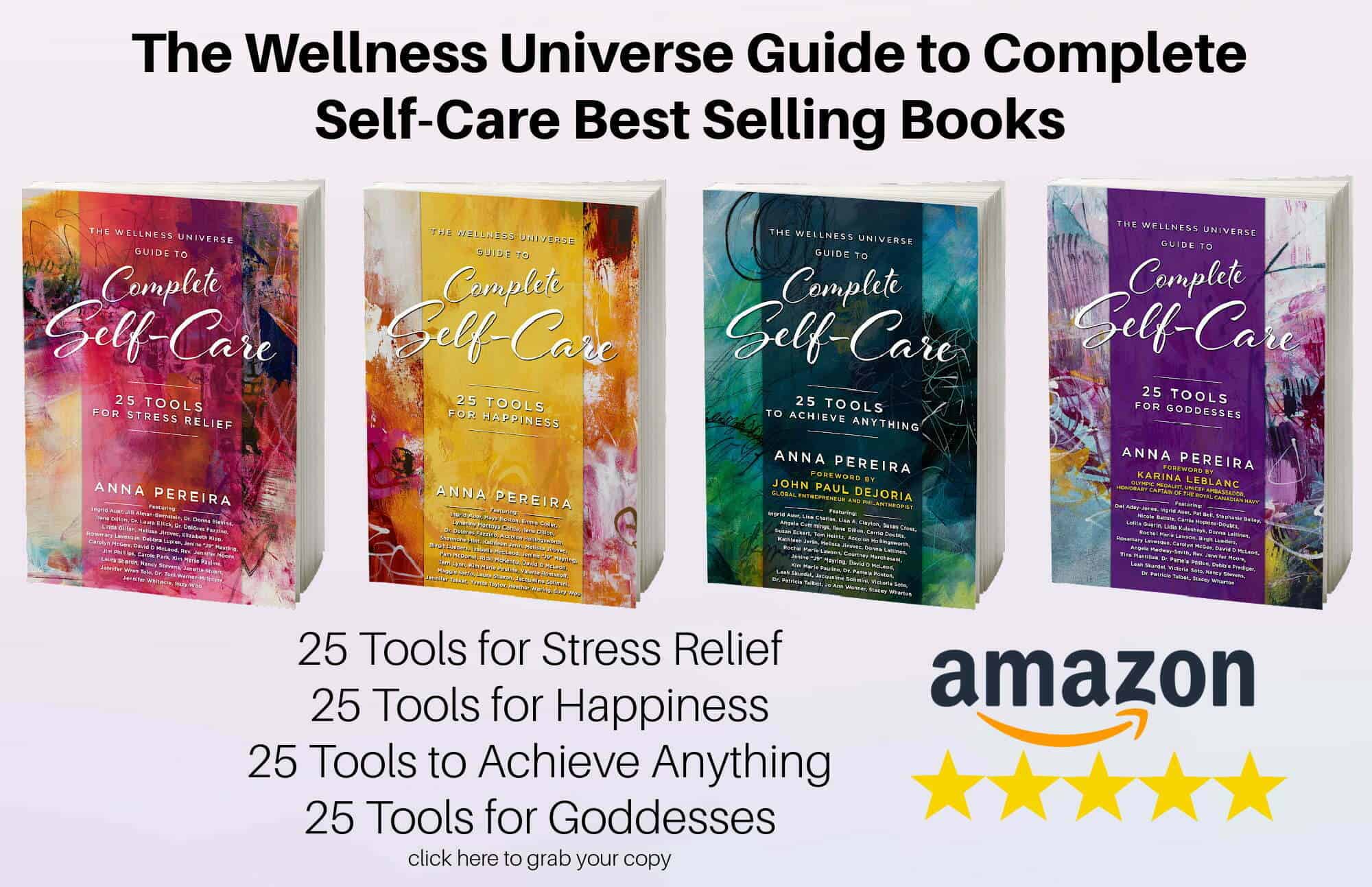 With over 250 independent reviews see how our self-care books are helping thousands of people around the world. Digital and paperback books are available now.
---

Connect to the people that help you live your best life: The Wellness Universe
The Wellness Universe is your resource for health, wellness, well-being, and transformation. We serve and support professionals who make the world a better place and individuals and groups who seek their best life.
A woman owned company; having the vision in 2013, Anna Pereira launched the first directory in 2015 bringing together a community of members making the world a better place to be found by those seeking their best life. The Wellness Universe has grown since then to be a one-stop shop for total wellness support! We are a vetted community, online directory, book publisher, resource center, event producer, content platform, and so much more, supporting whole-health and well-being on a global scale.
The Wellness Universe is a home that connects industry professionals in the health, wellness, and well-being fields to seekers of total well-being. WU provides our WU World-Changer members with peer support, Wellness Universe produced events (live and online), projects, visibility, business mentoring, and community. Through The Wellness Universe our WU World-Changer members serve WU Friends, seekers of health, wellness and transformation, with coaching, workshops, content and more.
The Wellness Universe provides individuals and groups seeking their best lives with access to our members, wellness content, educational resources, and guidance in all areas of wellness to transform visions of how they want to live life into the life they experience.
Through the directory, WU Featured Blog, SoulTreat wellness retreat, Self-Care Books, group well-being programs, and online learning center, The Lounge, The Wellness Universe provides many avenues to support whole health, mind, body, spirit and planet.
Join us today! Wellness Professional or Seeker of Your Best Life