We've spent a lot of time describing what I call "Lifestyle Manipulators." But what are adults like when they end their manipulative behaviors?
"Welcome to the world of non-manipulation. It is populated with mature, assertive people. Let's talk about and experience within yourself and others. Let's look at what you can expect to experience within yourself and from others…."
"Mature people do not need an agent to help them conduct their life. Instead, they take responsibility for their own energy and life, including asking for and creating what they want. Being a responsible co-creator of our own life is harmonious with the way things are set up for us in this Giant School we call earth."
"Are you intrigued to be a fully mature person? I have gathered a list of characteristics that you will likely exhibit as part of your new way of living. You may not manifest all of them from the beginning, but this list….appreciate and continue with your changes."
What You Will Experience in Non-Manipulative People
"These are the qualities of non-manipulative people:
Responsible for their own lives and actions
Loving
Communicative
Non-controlling
Free of manipulative ploys or tricks (clear about where they stand with others)
Only do what they want to do (operate based on wants, not needs)
Decision makers
Action takers
Enjoy "alone time" and "together time"
Live by principle and integrity
Truthful
Do not fear being alone
Not attached to an outcome
Feel strong and powerful
Emotionally balanced
Keep their own counsel yet do not hesitate to ask for help
Self-directed (decide how and when to use or share energy)
See all experiences as opportunities to learn
High self-esteem
Reliable, not frantic, usually calm
Flexible and open
Creative
Empathetic and compassionate"
Personal Responsibility
"The mature person knows taking responsibility is the real path to freedom—of choice, action, and emotions. When we are responsible, we are "at choice." Being fully responsible means taking responsibility for choices, actions, mistakes, experiments, missteps, and outcomes. And it means taking responsibility for our physical, financial, spiritual, emotional, and relationship lives. Doing this harmonizes our lives with spiritual principles…. Our part in responsibly co-creating our life is following our beliefs, making choices, working with emotions, and taking specific action."
"Life is a continual string of choices. No choice is any better or worse than any other…."
"On the freeway, I can obey the speed limit or exceed it. If I obey the speed limit, I will get to where I am going more slowly, will not be given a speeding ticket, and may travel more safely overall. If, on the other hand, I choose to speed, the possible consequences include arriving where I am going more quickly, getting a speeding ticket, and traveling less safely overall. Society says choosing to follow the speed limit is "good" and the correct choice to make. Every day we get to choose the "good" or the "not good" way. No judgment."
"When the consequences for speeding arrive, the Lifestyle Manipulator says, "'That patrol car was hiding behind the billboard. That is sneaky….'"
"The mature individual says: 'I was exceeding the speed limit and the police caught me. Now I will have to pay the fine. I made a decision which is making my trip take a lot more of my time (and money) than if I had decided to travel more slowly.'"
I went on a day trip not long ago. At one point the driver was talking and not paying attention to his speed. When he was going at least 25 miles over the speed limit, a highway patrolman pulled him over. 'You're right to stop me, Officer!' this man began when the patrolman stepped up to the car. 'I didn't realize I was going so fast. I was certainly over the limit. I apologize.'
The officer asked for the man's driver's license. He had only a paper copy with him because of an administrative issue, which he explained to the patrolman. So far, this man had been caught speeding and he didn't have a valid driver's license with him. 
The patrolman took the paper and then sat in his car for a long time. The driver was holding his breath, calculating how many hundreds of dollars this stop was liable to cost him. When the patrolman returned, he had determined that our driver did have a valid driver's license, even though he didn't have it with him (a requirement of that state).    
Handing the paper back to the driver, the patrolman told him the steps he needed to take to get a replacement license, handed him the order for a replacement license, and told him he would have to pay a $25 fee to get the new license. He started to walk away from the car.
'Is that it?' asked the driver. 'Yes,' replied the patrolman. 'But I know I was not driving correctly…. Are you sure?' Our driver was astounded. 'You get that license replaced,' reminded the patrolman. 'And slow down. There are way too many accidents on this part of the freeway. I don't want you to be one of them.'
The driver leaned over, shook the patrolman's hand, looked him in the eye, and said, 'Thank you.'"
"One of the most difficult things for people to accept is that each person is the architect of his or her own life…. As we have noted, each of us constantly creates our life for the present and into the future through two main activities:
1) the choices we make
2) what we focus our attention on."
"This is one of the best stories I know that illustrates what can happen when we focus on taking full responsibility, including for our mistakes! …. Most people do not step up and take full responsibility like this man did. Taking responsibility creates this type of outcome more often than not!"
Only one more blog on Ending Manipulation! We'll end by discussing ways to powerfully work with our own energy!
Connect with Ilene on The Wellness Universe.
---
 All information, content, and material are for informational purposes only and are not intended to serve as a substitute for the consultation, diagnosis, and/or medical treatment of a qualified physician or healthcare provider. The information supplied through or on this page, or by any representative or agent of The Wellness Universe, is for informational purposes only and does not constitute medical, legal, or other professional advice. Health-related information provided through this website is not a substitute for medical advice and should not be used to diagnose or treat health problems or to prescribe any medical devices or other remedies. The Wellness Universe reserves the right to remove, edit, move or close any content item for any reason, including, but not limited to, comments that are in violation of the laws and regulations formed pursuant to the Federal Food, Drug, and Cosmetic Act. None of the posts and articles on The Wellness Universe page may be reprinted without express written permission.
---
The Wellness Universe presents Soul Language Expert Lisa Dadd, Consultant & Soul Language Certified Sales Trainer guiding you through a 12-month program for heart-centered, business-minded wellness-preneurs.
Catch the recorded session(s) and be sure to join the next LIVE class!

Register today prior to the LIVE launch: https://bit.ly/SoulSales
---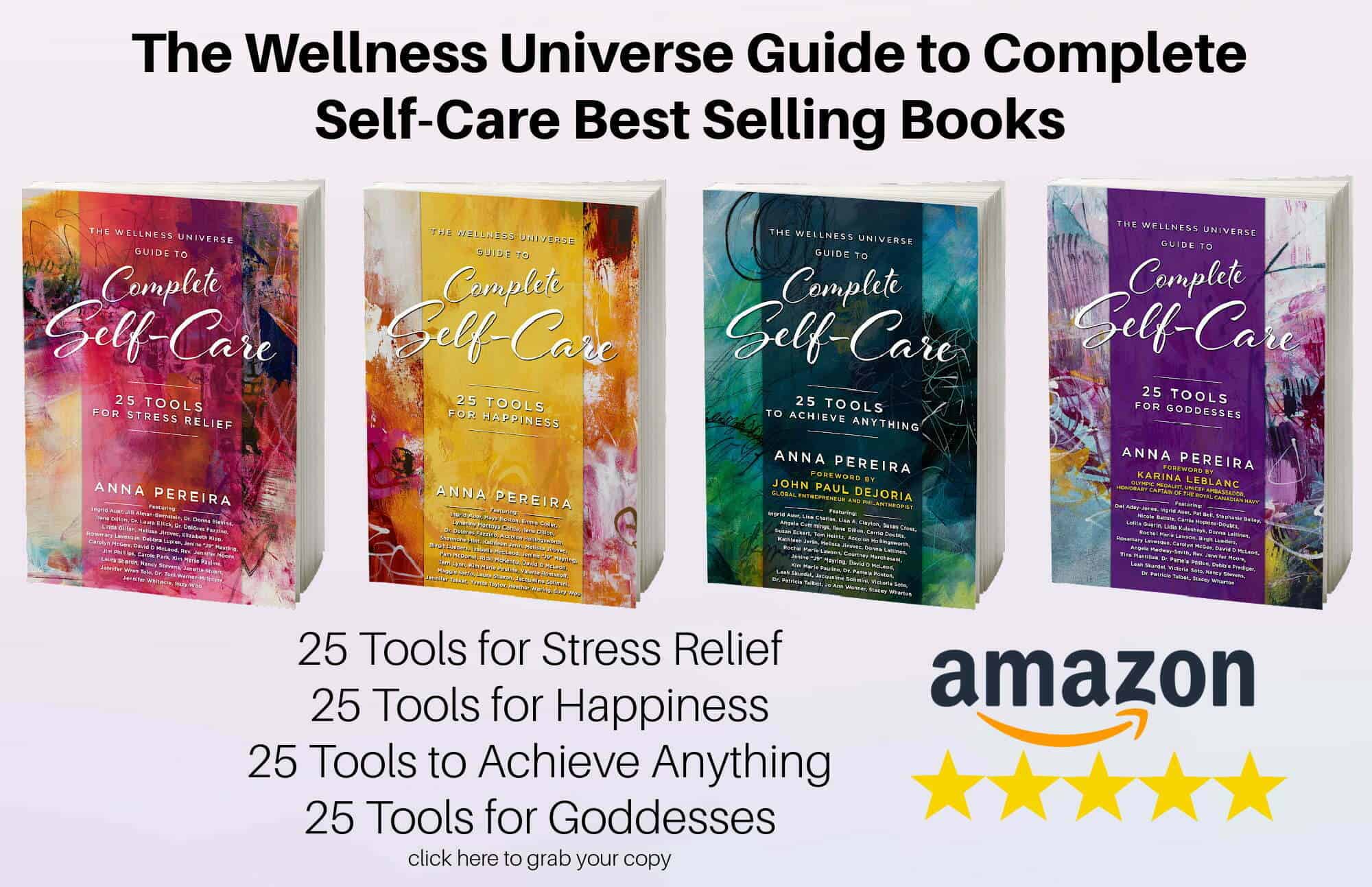 With over 250 independent reviews see how our self-care books are helping thousands of people around the world. Digital and paperback books are available now.
---
Self-development, self-care, and inspirational classes and sessions by Wellness Universe World Changer instructors who support your total well-being.
 Visit The Wellness Universe Lounge today!
---
The Wellness Universe is here to serve your best well-being. If you are experiencing anxiety, grief, overwhelm, guilt, anger, or seeking ways to cope and get help for stress, relationships, parenting, or any other issue during this challenging time, we have wonderful resources for you to connect with. Our WU Best Help members are offering reduced rates, sliding scale payment options, and even pro-bono sessions. WU Best Help
Ilene Dillon, MSW, has dedicated her life to helping people resolve personal challenges once and for all, then design life to be what they want it to be. A Transformation Specialist, she has worked 50 years as a psychotherapist and 15 years as a coach. She is a global speaker, Amazon International Best-selling author (The Wellness Universe Guide to Complete Self-Care, Volumes 1 and 2), podcast guest, and plans to give her first TEDx speech (on Anger) later this year. Ilene is also the author of Emotions in Motion: Mastering Life's Built-in Navigation System and End Manipulation: Stop Being Jerked Around by Toxic, Energy-draining People. With her little dog, Pi, Ilene lives and travels full-time throughout North America in her RV, writing, teaching, and speaking along the way.