September 11th, a date etched in history, serves as a solemn reminder of a pivotal moment that shaped our world. In this interactive blog, we embark on a journey to the heart of the 9/11 Memorial, where we'll uncover its lessons, stories, and resources. Join us as we unravel the events, honor the heroes, and learn about the enduring impacts of September 11th.
Understanding 9/11: A Timeline of Courage
Step into the past with our interactive timelines, meticulously crafted to chronicle the events of September 11, 2001. These timelines weave together images, audio, video, and personal accounts from the 9/11 Memorial Museum's permanent collection. Witness the nine-month recovery effort at Ground Zero and gain insights into the 1993 World Trade Center bombing. While some content may be sensitive, these timelines provide a comprehensive view of the events that unfolded.
Lesson Plans: Illuminating the History
For educators and young learners alike, the 9/11 Memorial & Museum offers captivating lesson plans that delve into the significance of September 11th. Let's explore one such plan, "What Happened on 9/11?, Part I," designed for students in grades 6 to 12. This engaging lesson aims to answer the essential question: "What happened on 9/11?" Through this immersive experience, students will:
Assess their prior knowledge of the 9/11 attacks.
Examine a timeline of key events on the morning of 9/11.
Analyze primary source materials related to the attacks.
Understand the power of first-person accounts and multiple perspectives.
Interactive activities, such as creating a T-chart to categorize their knowledge and analyzing a short film, empower students to learn and reflect.
Heroes Among Us: Exploring "Local Heroes"
Highlighting the spirit of heroism, our featured lesson plan, "Local Heroes," invites students in grades 3 to 5 to explore the concept of heroism within their communities. Through this lesson, students ponder the essential question: "What is a hero, and how can people show gratitude to those who act heroically?" This theme resonates deeply, offering young minds a chance to reflect on the heroes in their lives and express gratitude.
Reflecting and Remembering: The Power of Oral Histories
The 9/11 Memorial Museum's oral history collection immortalizes the stories of September 11th through recorded interviews from diverse perspectives. These narratives provide a unique insight into the moments that unfolded on that fateful day, capturing emotions, experiences, and resilience that are beyond the reach of written sources. Listen to the voices that narrate history and gain a deeper appreciation for the human spirit.
Taking Action: Shaping a Brighter Future
As we explore the 9/11 Memorial and learn about its lessons, let's remember that each of us has the power to shape a better world. Engage in the following activities to make a positive impact:
Create a Tribute: Design a tribute to honor the heroes and victims of 9/11. Share it with friends and family to spread awareness and promote unity.
Write a Reflection: Pen down your thoughts about the significance of remembering 9/11. How can we ensure that history is never forgotten?
Acts of Kindness: Perform small acts of kindness in your community, embodying the spirit of heroism that emerged on 9/11.
Spread Awareness: Share this blog with your friends, classmates, and teachers to inspire collective reflection and action.
As we commemorate September 11th, let's stand united in our commitment to remember, learn, and shape a brighter future for generations to come.
Works Cited
Lesson Plans | National September 11 Memorial & Museum. (n.d.). https://www.911memorial.org/learn/students-and-teachers/lesson-plans
What Happened on 9/11?, Part I. (n.d.). https://www.911memorial.org/learn/students-and-teachers/lesson-plans/what-happened-911-part-i
Resources | National September 11 Memorial & Museum. (n.d.). https://www.911memorial.org/learn/resources
---
All information, content, and material are for informational purposes only and are not intended to serve as a substitute for the consultation, diagnosis, and/or medical treatment of a qualified physician or healthcare provider. The information supplied through or on this page, or by any representative or agent of The Wellness Universe, is for informational purposes only and does not constitute medical, legal, or other professional advice. Health-related information provided through this website is not a substitute for medical advice and should not be used to diagnose or treat health problems or to prescribe any medical devices or other remedies. The Wellness Universe reserves the right to remove, edit, move, or close any content item for any reason, including, but not limited to, comments that are in violation of the laws and regulations formed pursuant to the Federal Food, Drug, and Cosmetic Act. None of the posts and articles on The Wellness Universe page may be reprinted without express written permission.
---
---
Healing. Here. Now. Mindfulness, Trauma, and Recovery is a course for self-care and healing brought to you in partnership with Elizabeth Kipp, Founder of Elizabeth Kipp Stress Management, LLC and Wellness Universe Trauma Expert Leader exclusively for Wellness for All programming.
Catch the recorded session(s) and be sure to join the next LIVE class!
Register today:https://bit.ly/HealingHereNow
---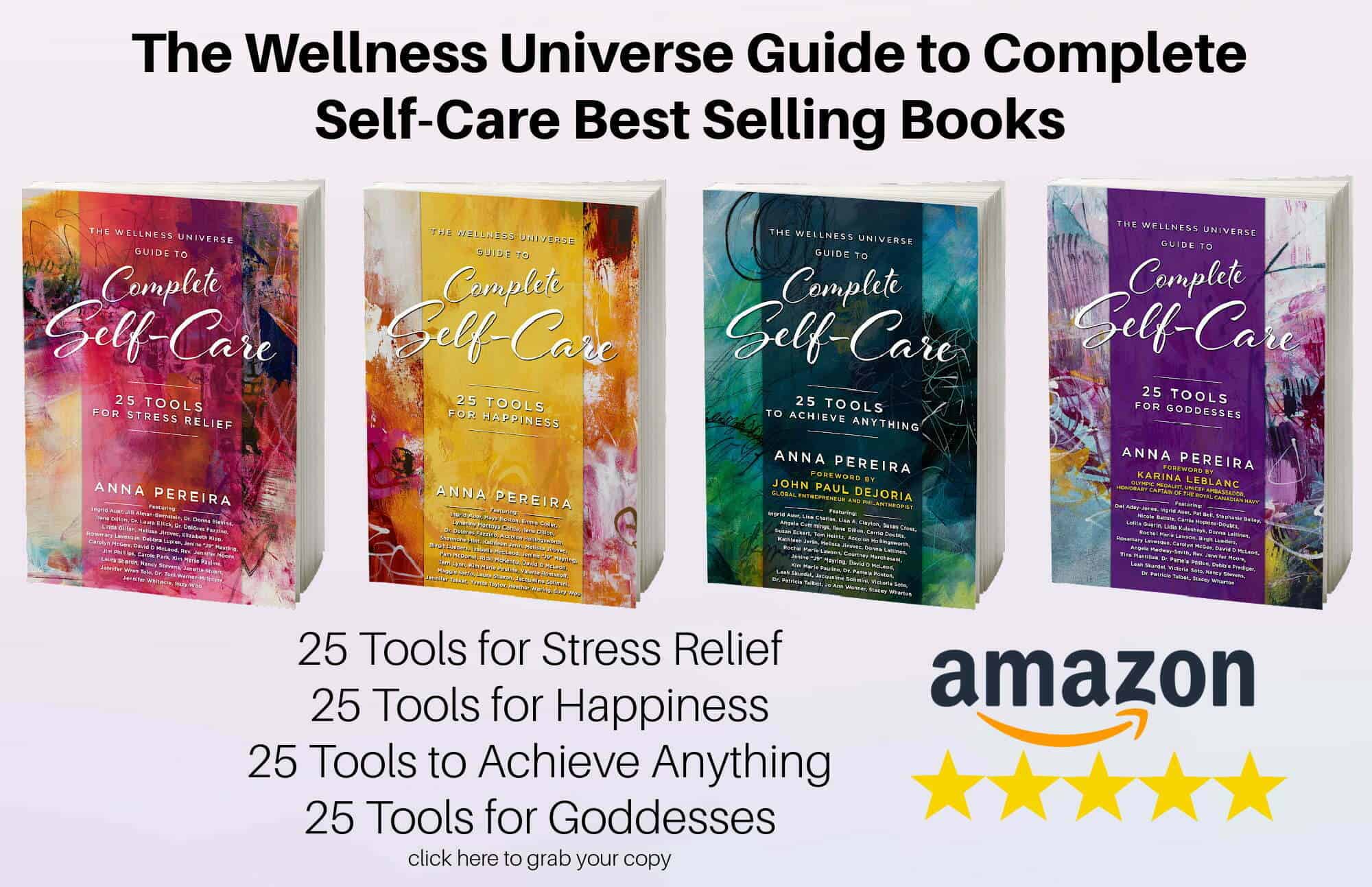 With over 250 independent reviews see how our self-care books are helping thousands of people around the world. Digital and paperback books are available now.
---

Connect to the people that help you live your best life: The Wellness Universe
The Wellness Universe is your resource for health, wellness, well-being, and transformation. We serve and support professionals who make the world a better place and individuals and groups who seek their best life.
A woman owned company; having the vision in 2013, Anna Pereira launched the first directory in 2015 bringing together a community of members making the world a better place to be found by those seeking their best life. The Wellness Universe has grown since then to be a one-stop shop for total wellness support! We are a vetted community, online directory, book publisher, resource center, event producer, content platform, and so much more, supporting whole-health and well-being on a global scale.
The Wellness Universe is a home that connects industry professionals in the health, wellness, and well-being fields to seekers of total well-being. WU provides our WU World-Changer members with peer support, Wellness Universe produced events (live and online), projects, visibility, business mentoring, and community. Through The Wellness Universe our WU World-Changer members serve WU Friends, seekers of health, wellness and transformation, with coaching, workshops, content and more.
The Wellness Universe provides individuals and groups seeking their best lives with access to our members, wellness content, educational resources, and guidance in all areas of wellness to transform visions of how they want to live life into the life they experience.
Through the directory, WU Featured Blog, SoulTreat wellness retreat, Self-Care Books, group well-being programs, and online learning center, The Lounge, The Wellness Universe provides many avenues to support whole health, mind, body, spirit and planet.
Join us today! Wellness Professional or Seeker of Your Best Life