It's taking all my skills to stay in the flow this week. Sometimes I forget to use my tools and my energy management skills. Does that happen to you?
I get in the flow and wobble back out. It's intense out there! A lot is happening. Personal mastery is not that you never fall out of the flow. We all do. But how quickly can you get back in the flow on the upward spiral and feel like yourself again?   That's how we build resilience.
Tools I used to get back in the flow this week:
Extra meditation
Essential oils
Somatic movement
Listening to the fan
Toning, chanting, singing
Yoga, weightlifting
Walking around the block
Watering the garden
Hugging a tree
What are your favorite energy management tools to get centered and back in the flow?
Practice energy management skills to develop your resilience vibration.
Energy and Vibration
Everything in the universe is energy and has a vibration. We often think of energy as electricity. EKGs and MRIs measure the body's electromagnetic energy field. A National Institute of Health PubMed article refers to the heart producing a significant electromagnetic field that extends outside the body.  A Psychology Today article reports the heart's electromagnetic energy field is 5000 times greater than the brain's. We are heart-sensing beings more than we are thinking beings.
We are familiar with the sound vibration of music, chanting, and singing. Tibetan singing bowls used in sound healing help raise the vibration of the body/mind/spirit. Sound vibrations can be heard and felt physically, emotionally, and spiritually to enhance wellbeing.
We see, hear, and feel vibrations.
We can see dense physical vibrations. For example, clothes washing has a vibration. The washing machine, clothes, water, electricity, drain hose, and soap all have a physical vibration.
The clothes-washing process also has a vibration that we don't see specifically. We see the effect. The soap and water neutralize and lift off the dirt and oil. The agitation rotates the clothes. The spin and rinse cycle replaces dirty water with fresh water. These are processes with an energetic vibration that we can sense and see the effect they create.
The feeling someone's words evoke in you has a vibration. For example, the feeling of dishonesty, or the feeling of trust.
Resilience has a vibration we can feel.
Feeling Subtle Vibrations
In our culture, we don't often talk about feeling vibrations through the subtle senses beyond the five senses. Most of us have had the experience of feeling someone walk into a room before we see or hear them. You know people who make you feel light and joyful. And people who leave you feeling drained and depleted.
I don't know of a method to measure how we feel vibrations. But I know vibrations when I feel them. Some of my clients and I are predominantly kinesthetic beings. We feel energy and vibrations deeply. Some sensitive people are constantly aware of vibrations and can feel overloaded by other peoples' energy.
On some days, I feel intense waves of energy passing through. My clients call when their boats are getting swamped by subtle, intense energy vibrations from their families, work, or the world events.
We all pick up and interpret these subtle vibrations through our intuition. Sensitive people pick up vibrations easily. Sensitive people can get overwhelmed by too much vibration to interpret. Julie was experiencing a difficult family situation. She came to see me regularly to help develop her energy management skills and a resilient body/mind.  She learned tools to get back in the flow during difficult times.
 A Great Energy Management Process
One excellent process to stay in the flow is setting up the energy first. Sit quietly with a calm, clear mind, and an open heart. Picture the day or an event as you would like it to work out. See people coming together for a good result. Imagine the highest and best outcome emerging, better than you expected. I want to use this tool more efficiently and more often! Thanks for the reminder, Gayle Nowak!
Transformational Visibility Breakthrough Coach Gayle Nowak will be my guest on High Vibration Living: Leaders Bridging Inner & Outer Peace, Wednesday, June 28, 9:30-10:30amET. Gayle and I will be talking about Energy First: Doing the Inner Work. Align your energy before creating and implementing a strategy to set yourself up for success.

High Vibration Living: Leaders Bridging Inner & Outer Peace
Wednesday, June 28, 9:30-10:30amET
A vibrant gathering of heart-led leaders and influencers of youth.
Recordings are available. Donation based.
https://bit.ly/HighVibrationLiving
Join us live and share your favorite tool for developing your resilience vibration. Click the link to register in advance.
Reach out and let's connect! I would love to hear about your journey with managing your energy and vibration.
Be well!
Leah
Resources
Cardiac torsion and electromagnetic fields: the cardiac bioinformation hypothesis. Katharine O Burleson, Gary E Schwartz. NIH National Library of Medicine https://pubmed.ncbi.nlm.nih.gov/15823696/
The Heart's Electromagnetic Field is Your Superpower. By Jessica I. Morales CHt./EFT, Psychology Today blog. November 29, 2020. https://www.psychologytoday.com/us/blog/building-the-habit-of-hero/202011/the-hearts-electromagnetic-field-is-your-superpower
We choose the vibration of alignment with the highest good.
Plugging in to Source.
Connect with Leah on The Wellness Universe.
---
All information, content, and material are for informational purposes only and are not intended to serve as a substitute for the consultation, diagnosis, and/or medical treatment of a qualified physician or healthcare provider. The information supplied through or on this page, or by any representative or agent of The Wellness Universe, is for informational purposes only and does not constitute medical, legal, or other professional advice. Health-related information provided through this website is not a substitute for medical advice and should not be used to diagnose or treat health problems or to prescribe any medical devices or other remedies. The Wellness Universe reserves the right to remove, edit, move, or close any content item for any reason, including, but not limited to, comments that are in violation of the laws and regulations formed pursuant to the Federal Food, Drug, and Cosmetic Act. None of the posts and articles on The Wellness Universe page may be reprinted without express written permission.
---
The Wellness Universe welcomes Linda Dieffenbach, Healing Arts Practitioner & Coach, in partnership with Wellness for All programming for her 12-session course, "Your Transformational Healing Journey: Heal Your Chakras. Heal Your Life." 
Catch the recorded session(s) and be sure to join the next LIVE class! 
Register today https://bit.ly/HealYourChakraswLindaD
---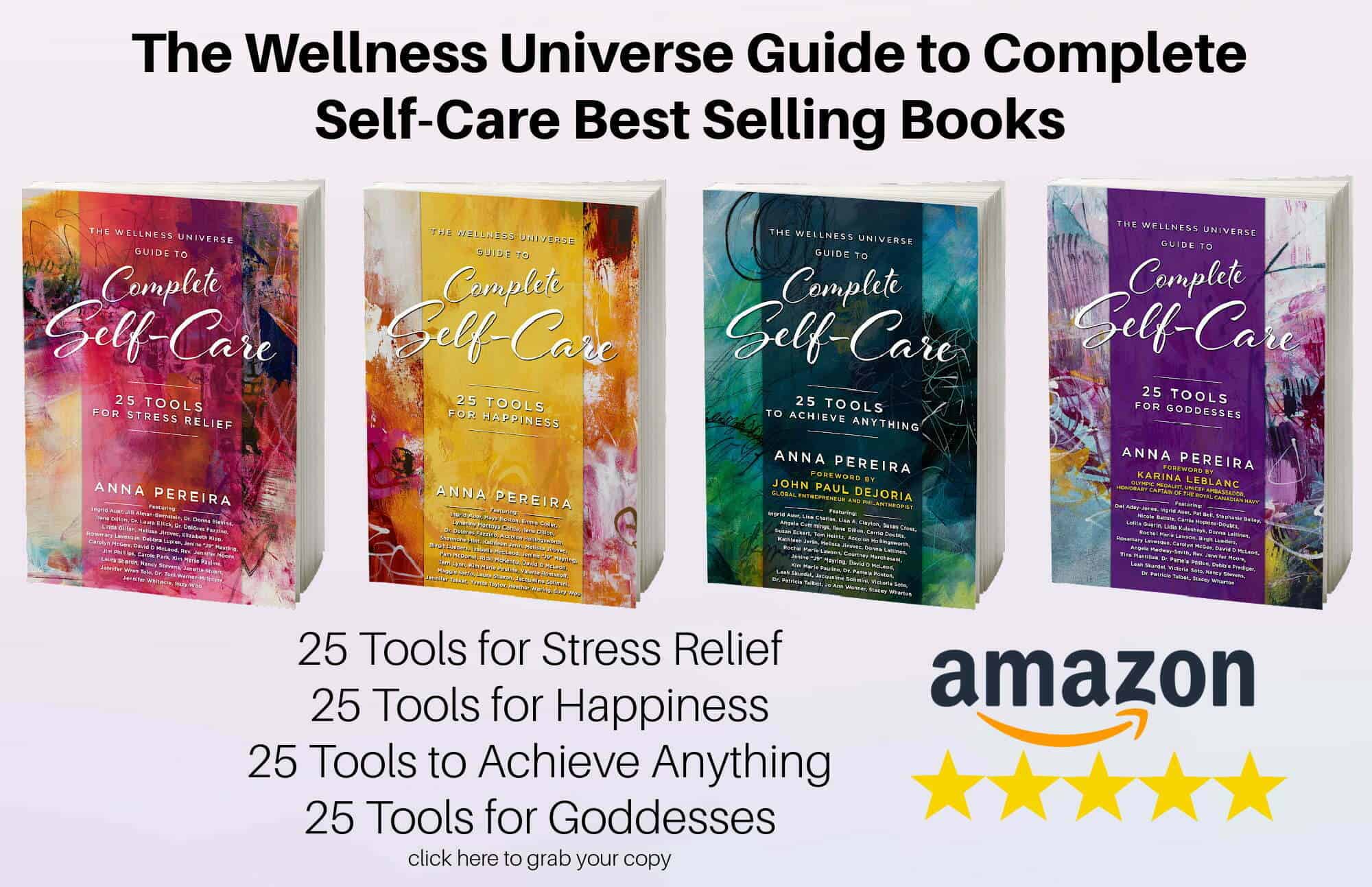 With over 250 independent reviews see how our self-care books are helping thousands of people around the world. Digital and paperback books are available now.
---

Connect to the people that help you live your best life: The Wellness Universe
Leah Skurdal guides people to up-level their stress resilience to improve relationships. Leah shares intuitive insights in private Energy Healing to address the roots of disharmony. As an inspirational speaker and published author, Leah offers lively classes, experiential workshops, and keynotes.