Responding gracefully to the unexpected takes practice. Being the bridge between inner and outer peace requires radical self-acceptance. How do you respond to the unexpected?
In last month's blog, we focused on the inner journey to be the bridge between inner and outer peace. How has your journey of inner peace gone this past month?
This month, we focus on applying inner work to the outer world. Pivoting with agility uplifts your vibration so you can resonate wellbeing with those around you. Have you noticed that you feel more uplifted around some people? That's the kind of leader we want to be around and that we want to become.
Today, I got to practice what I preach and pivot with agility. When I found out five minutes before going live that the wrong link had gone out to the class registrants, I could have created conflict within myself about my mistake. But that would have rippled out to the audience. Instead, I practiced radical self-acceptance and a simple QiGong movement that helps digest the energy of what is. Although I'm no QiGong master, I practice moving energy through my body to help process emotional patterns.
I encourage you to practice Yes/And! YES, you see what is, AND you choose your response. The skill of finding flow within change is a practice to develop into a habit for stress relief. I especially enjoy the somatic body awareness practice of noticing how my body wants to unwind the day's energy patterns. Get present in your body, observe where you're holding tension, and allow your body to move it through – improv style. Sometimes my movement looks like a slow, graceful QiGong practice; other times my body unwinds patterns with its own unique inner rhythm.
Today, I paused to find my inner rhythm and reconnect to my inner wellbeing. I listened with the ears of my heart for the next right action and shared my voice. Then, I could step back and listen to my guest speaker Marisa Ferrera as we collaborated on creating a powerful conversation about conflict.
I call that process the Art of Jazz Living.
To practice Jazz Living when confronted with an unexpected situation:
find your rhythm
reconnect to inner wellbeing
listen for the groove
share your voice
collaborate
Aligning body, mind, emotions, and spirit,
allows a higher vibration to emerge,
better than the individual can summon on their own.
~ Leah Skurdal
As High Vibration Leaders practicing Jazz Living, we intentionally reconnect to our inner peace to raise our inner vibration.
Share Your Voice
From that foundation of inner peace, you can Share Your Voice with intention.
Ask what want to express uniquely through you. Share your truth with inner spiritual authority. When we're reconnected to our inner wellbeing for inspiration and aligned with the groove of well-being emerging through us, the music of our lives takes on magical qualities. Take a risk and improvise to make something new and generative in the moment. What are the notes that only you can play?
Collaborate
As a High Vibration Leader practicing Jazz Living, step back and collaborate.
If you're someone who shares easily and often first in a conversation, pause and listen with an open heart. Encourage others to share first. Then, take your turn. If you're someone who usually doesn't speak up, take some space and be heard. The song of life isn't complete without your voice being heard.
Listen with the ears of your heart and create something new from what someone else is offering. Get curious. Ask questions.
In my monthly program, High Vibration Living: Leaders Bridging Inner & Outer Peace, we're learning to practice the wisdom we embrace.
In February, we had a bonus session with Carol Pilkington, a Transformational Spiritual Counselor. We talked about The Trauma of Being Human and how to digest the energy of what is and get to acceptance so we can find our power of choice. The recording is posted in the private Facebook group Leah Skurdal's High Vibration Living Gathering.
In our regular fourth Wednesday of the month gathering this February, Women's Empowerment Coach & Mentor Marisa Ferrera, and I discussed Conflict as a Catalyst: Transforming Conflict Into Deeper Connections. We shared insights on how to embrace conflict as a natural part of life and find solutions to problems that honor all those involved.
"While conflict is an inevitable part of life," said Marisa, "it needn't be a destructive force that pits people against each other." By practicing Jazz Living in the face of unexpected change and conflict, we can accept, honor, and share our own truth. From the foundation of our inner connection, we can listen to another person's unmet needs that are contributing to a conflict situation. "The conflict can become a catalyst for greater understanding, cooperation, and enhanced relationships," Marisa assures us.
You are invited to join our monthly gathering of High Vibration Living: Leaders Bridging Inner & Outer Peace on the fourth Wednesday of the month, 9:30-10:30amET. We're practicing the art of Jazz Living in real-time to raise our vibration and bring our best selves into all our interactions. Register free HERE –  https://bit.ly/HighVibrationLiving
Our upcoming gathering on March 22 features Brain-Body Belief Alignment Specialist, Lisa Charles. We will go deeper into the alignment of body, emotions, mind, and spirit in a conversation on The Beauty in Brokenness: Finding Life's Possibilities in the Fog of Pain.
I'm looking forward to another juicy, vibrant gathering. If the timing doesn't work for you, you can catch the replay. However, when you're live in the room, you have the benefit of asking your questions, and contributing your insights from the transformative, interactive activity and reflective journaling exercise.
I hope you can join us! Connect with me on my WU profile. I'd love to hear from you!
Leah
---
All information, content, and material are for informational purposes only and are not intended to serve as a substitute for the consultation, diagnosis, and/or medical treatment of a qualified physician or healthcare provider. The information supplied through or on this page, or by any representative or agent of The Wellness Universe, is for informational purposes only and does not constitute medical, legal, or other professional advice. Health-related information provided through this website is not a substitute for medical advice and should not be used to diagnose or treat health problems or to prescribe any medical devices or other remedies. The Wellness Universe reserves the right to remove, edit, move, or close any content item for any reason, including, but not limited to, comments that are in violation of the laws and regulations formed pursuant to the Federal Food, Drug, and Cosmetic Act. None of the posts and articles on The Wellness Universe page may be reprinted without express written permission.
---
The Wellness Universe presents Lynda Lippin, Bone Health Expert Leader, CEO, and Pilates Goddess at Lynda Lippin Pilates, LLC, guiding you through Exercise for Bone Health, Strength, & Mobility a 6-month program that will help you to enjoy better health, mobility, vitality, and overall wellbeing.
Register today prior to the LIVE launch: https://bit.ly/LyndaLippinCourse
---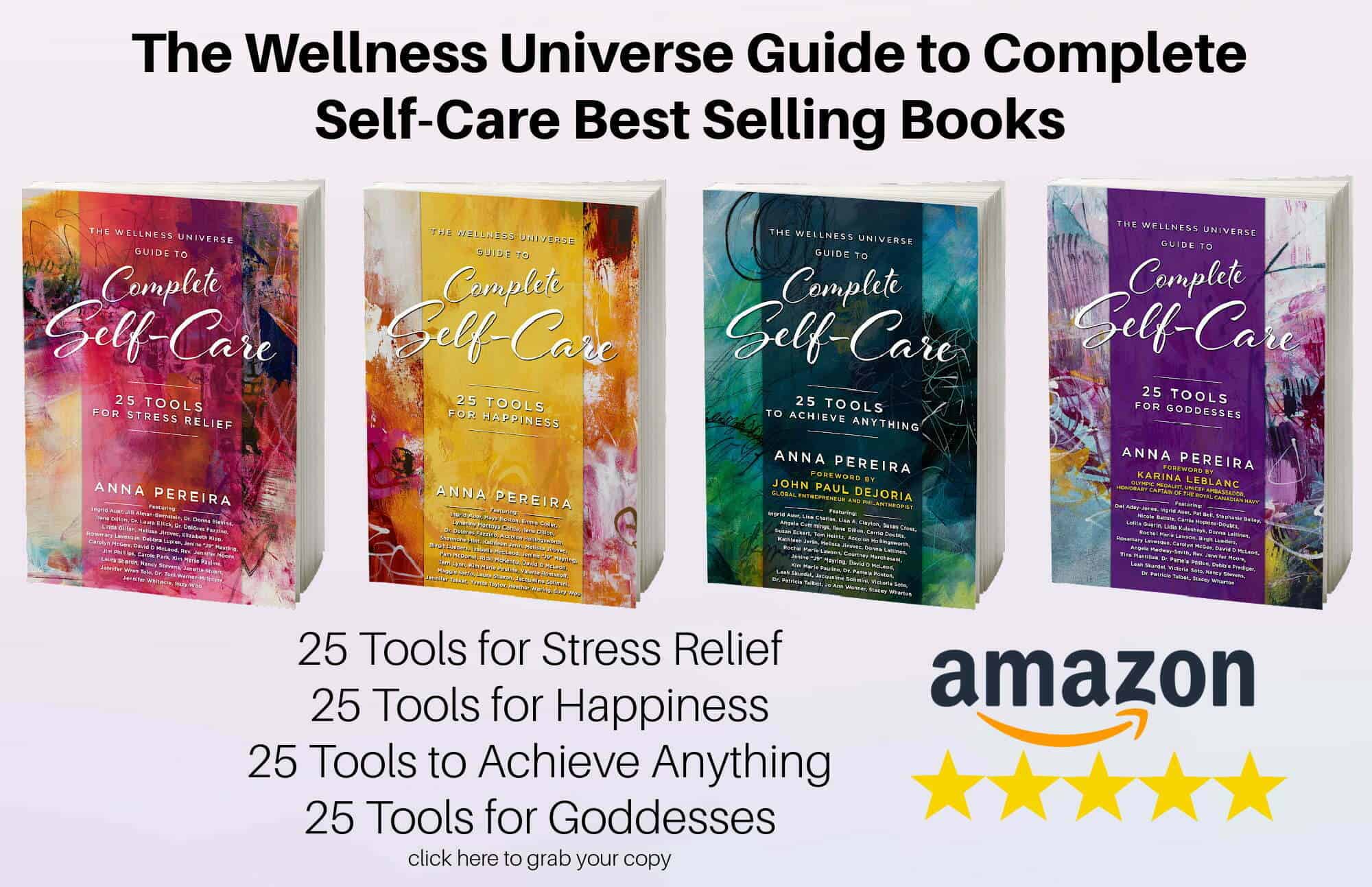 With over 250 independent reviews see how our self-care books are helping thousands of people around the world. Digital and paperback books are available now.
---

Connect to the people that help you live your best life: The Wellness Universe
Leah Skurdal guides people to up-level their stress resilience to improve relationships. Leah shares intuitive insights in private Energy Healing to address the roots of disharmony. As an inspirational speaker and published author, Leah offers lively classes, experiential workshops, and keynotes.