The rate of change in our fast-paced world can trigger a rollercoaster of emotions. It takes skill to manage kids, grandkids, aging parents, fur babies, paid and volunteer work, personal health, and self-care. Managing your energy effectively is essential. Especially for those of us who are the wise owls on the family tree. We cherish the well-being of our families, children, and future generations. It's time to embrace the art of energy management.
Understanding Your Energy
Your energy is something you can manage to improve your overall well-being. HeartMath pioneered the concept of "mapping emotions" to increase emotional fitness. Individuals can learn how their emotions impact their energy levels.
HeartMath's "Mapping Emotions"
Have you noticed how feeling frustrated or stressed can drain you faster than a teenager drains a smartphone battery? HeartMath's research has shown that emotions have distinct patterns of energy that can be mapped. Negative emotions, such as stress, anxiety, and anger, deplete your energy reserves, leaving you feeling drained and unbalanced. On the other hand, positive emotions like love, gratitude, and joy recharge and uplift your energy. You can tap into your reservoir of inner wellbeing to recharge your energy level before you feel depleted.
Understanding this concept allows you to become more aware of how your emotions affect your energy levels. It empowers you to consciously choose emotions that promote well-being and vitality.
Meditation for Emotional Fitness
One of the most effective ways to manage your energy and cultivate emotional fitness is through meditation. Meditation is a practice that not only helps you connect with your inner wisdom but also allows you to regulate your emotions. Meditation gives you the mental spa day you deserve.
Here's how meditation can level up your emotional fitness:
Emotional Awareness: In meditation, you observe your emotions without getting caught up in their drama.
Stress Reduction: Meditation is your "stress-be-gone" button. It keeps stress at arm's length, allowing you to stay cool under pressure.
Enhanced Resilience: It's like a workout for your resilience muscles. You bounce back from setbacks like a champ.
Increased Positivity: Meditation helps you cultivate positivity. Gratitude and compassion become your superpowers, boosting your energy and well-being.
Practical Tips for Managing Your Energy
Now, let's get practical:
Daily Practice
Find your Inner Rhythm. Set aside ten minutes a day and allow your mind to rest. Sit quietly in meditation observing your breath. Or allow your body to unwind while your mind observes the movement without judgment. Start small and work your way up.
Emotional Check-Ins
Throughout the day, ask your emotions, "How are you doing?" If they're acting up, take a mental breather. Set aside five minutes to acknowledge your emotions and listen to what they're trying to tell you. Then move on.
HeartMath Techniques
Check out HeartMath's tools for managing emotions and boosting your energy. It's like having an emotional Swiss Army knife in your back pocket. HeartMath Trainer Kathy Jerin will share emotional fitness tools as my guest on this month's program of High Vibration Living. See the link below.
Self-Care
Prioritize self-care activities that make you happy. What nurtures you? A walk in nature, an artistic project, a dance session in your living room, or a sweet-smelling bubble bath. These moments recharge your batteries.
Mastering your energy isn't just about surviving in this unpredictable world—it's about thriving. Understand your emotions, practice meditation, and add a dose of humor to life's mix. These tools can enhance your emotional fitness and lead to a more balanced and fulfilling life.
Join Emotional Fitness Guide and HeartMath Trainer Kathy Jerin and me for a conversation about Mapping Emotions.
High Vibration Living: Leaders Bridging Inner & Outer Peace
October 25, 2023, 9:30am ET / 6:30am PT
https://bit.ly/HighVibrationLiving
We're all masterpieces in progress. Invest in your energy management as a gift to yourself and to the world. Future generations could use a bit of wisdom (and laughter) from us.
Connect with me on my WU profile. I would love to chat about your life journey.
---
All information, content, and material are for informational purposes only and are not intended to serve as a substitute for the consultation, diagnosis, and/or medical treatment of a qualified physician or healthcare provider. The information supplied through or on this page, or by any representative or agent of The Wellness Universe, is for informational purposes only and does not constitute medical, legal, or other professional advice. Health-related information provided through this website is not a substitute for medical advice and should not be used to diagnose or treat health problems or to prescribe any medical devices or other remedies. The Wellness Universe reserves the right to remove, edit, move, or close any content item for any reason, including, but not limited to, comments that are in violation of the laws and regulations formed pursuant to the Federal Food, Drug, and Cosmetic Act. None of the posts and articles on The Wellness Universe page may be reprinted without express written permission.
---
The Wellness Universe welcomes Linda Dieffenbach, Healing Arts Practitioner & Coach, in partnership with Wellness for All programming for her 12-session course, "Your Transformational Healing Journey: Heal Your Chakras. Heal Your Life."
Catch the recorded session(s) and be sure to join the next LIVE class!
Register today https://bit.ly/HealYourChakraswLindaD
---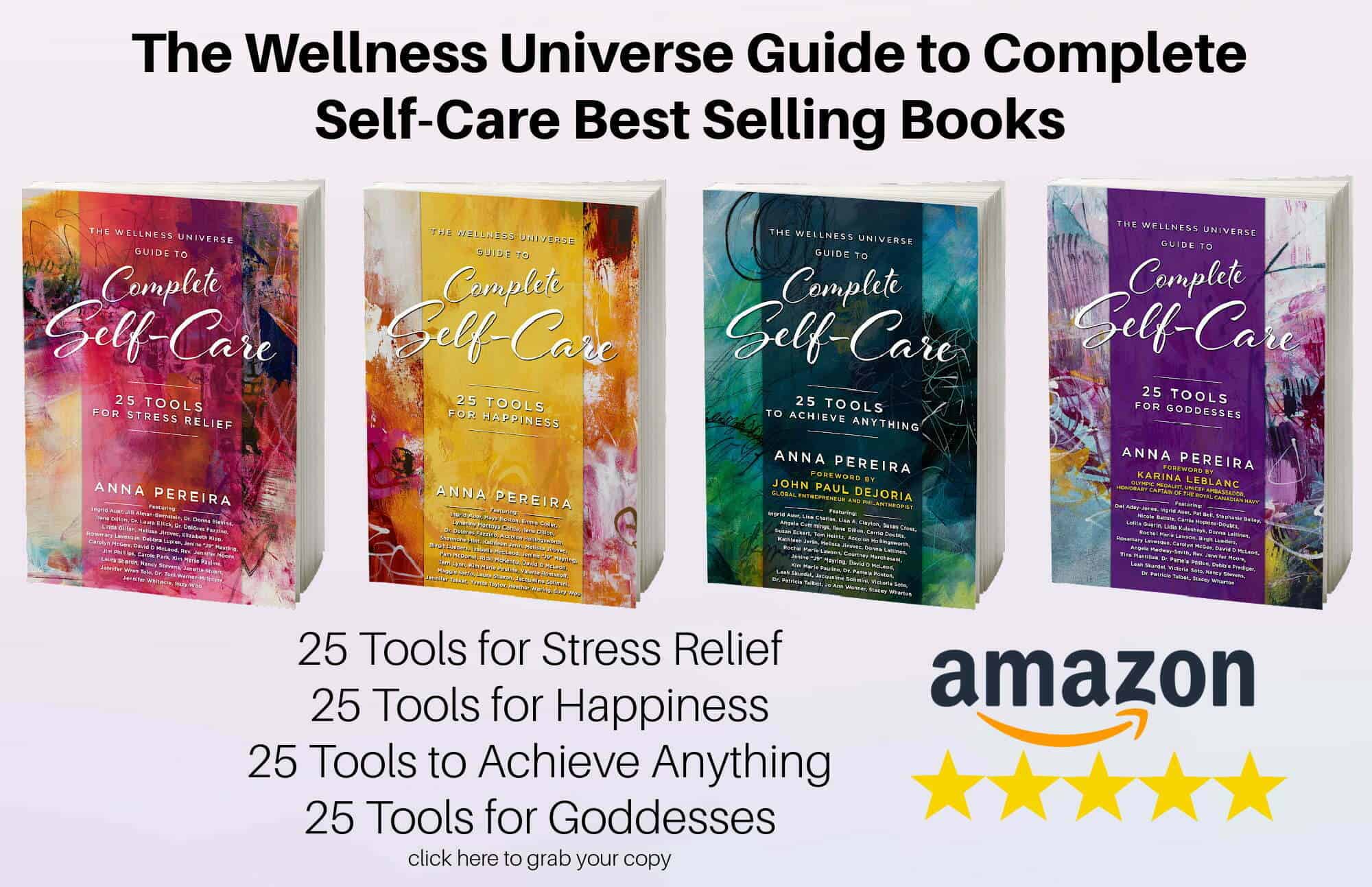 With over 250 independent reviews see how our self-care books are helping thousands of people around the world. Digital and paperback books are available now.
---

Connect to the people that help you live your best life: The Wellness Universe
Leah Skurdal guides people to up-level their stress resilience to improve relationships. Leah shares intuitive insights in private Energy Healing to address the roots of disharmony. As an inspirational speaker and published author, Leah offers lively classes, experiential workshops, and keynotes.