Lolita Guarin reads Chapter 10: Let Go of The Hot Coal, Learn How to Forgive Yourself and Others with Ease from the #1 best-selling book in several categories on Amazon, The Wellness Universe Guide to Complete Self-Care, 25 Tools for Goddesses. Listen and watch the video below as she reads!
Lolita opens her chapter with a recollection from her childhood that has never left her.
Here is an excerpt:
"I could hear a commotion outside the door, my dog excited, jumping up and down, wagging his tail, barking impatiently, hurrying someone up to come in. The door should be open by now, but all I hear is the key looking for the lock, circling around, and scratching the door.
I looked at the clock, and my heart jumped. The time of day my dad came home would predict what kind of state he was in. If he came home at 3 pm, that meant he was sober. If he came around 7 pm, he was too drunk to argue and went right to bed. If he didn't show up by 9 pm, that meant he wouldn't be coming home at all that night.
But it's 4 pm, which means you'll have no idea what state he's in. I knew for sure that he wouldn't be drunk enough to go to bed. That meant, depending on his mood, he could be very happy, making jokes, talking for two hours, or just annoyed with me, yelling, banging the table with his fist, and violent.
I don't wait until he finds the lock; I rush to the door to open it for him.
He stumbles in, and my dog is so excited to see him. I serve him dinner. He eats slowly, murmuring some story that I must listen to. Most of the time, I have no idea what he's talking about, but I can't leave the kitchen or he will get angry that nobody is listening to him. He pauses as he chews and looks through the window into the distance like he's thinking about something very important, then agrees with himself nodding his head. I watch him eat. And if I am lucky that day, he'll go to sleep before my mom comes back home from work. If not, I will need to hear them arguing about him being drunk again, but then at least I can leave the kitchen and listen to them from my room until my dog escorts my dad to bed.
Having an alcoholic father was not a novelty in Lithuania, where I'm from. Many people's fathers and mothers drink often. It was not easy to survive in the Soviet Union, but we all did the best we could."
Watch and listen to the video below to experience Lolita's entire chapter.
Lolita is an expert in stress management. Her self-care tool helps you forgive yourself and others and will change your life.  Her tool will help you release the anger that keeps on burning inside your heart, keeping you away from peace and freedom.
About this book:
25 dedicated Wellness Universe experts come together to help you live a life of well-being, confidence, balance, and betterment in this powerful collaboration.
The collective wisdom, expertise, and passion contained in the pages of the book is beyond what you can imagine. With the power of their authentic stories and the master teaching of their tools, what you have in your hands supports you to live in your unique Goddess energy from a foundational, whole-person approach.
Pick up your copy on Amazon.
Connect with Lolita on The Wellness Universe.
*Originally published on February 24, 2022.
---
All information, content, and material are for informational purposes only and are not intended to serve as a substitute for the consultation, diagnosis, and/or medical treatment of a qualified physician or healthcare provider. The information supplied through or on this page, or by any representative or agent of The Wellness Universe, is for informational purposes only and does not constitute medical, legal, or other professional advice. Health-related information provided through this website is not a substitute for medical advice and should not be used to diagnose or treat health problems or to prescribe any medical devices or other remedies. The Wellness Universe reserves the right to remove, edit, move or close any content item for any reason, including, but not limited to, comments that are in violation of the laws and regulations formed pursuant to the Federal Food, Drug, and Cosmetic Act. None of the posts and articles on The Wellness Universe page may be reprinted without express written permission.
---
The Wellness Universe welcomes Marisa Ferrera, Women's Empowerment Coach & Mentor/Connection Practice Certified Coach and Trainer in partnership with Wellness for All programming with her 12-session course, based on her book of the same name, Magnify Your Magnificence, Your Pathway to the Life & Relationships You Truly Desire.
Register today prior to the LIVE launch: https://bit.ly/MagnifyYourMagnificence
---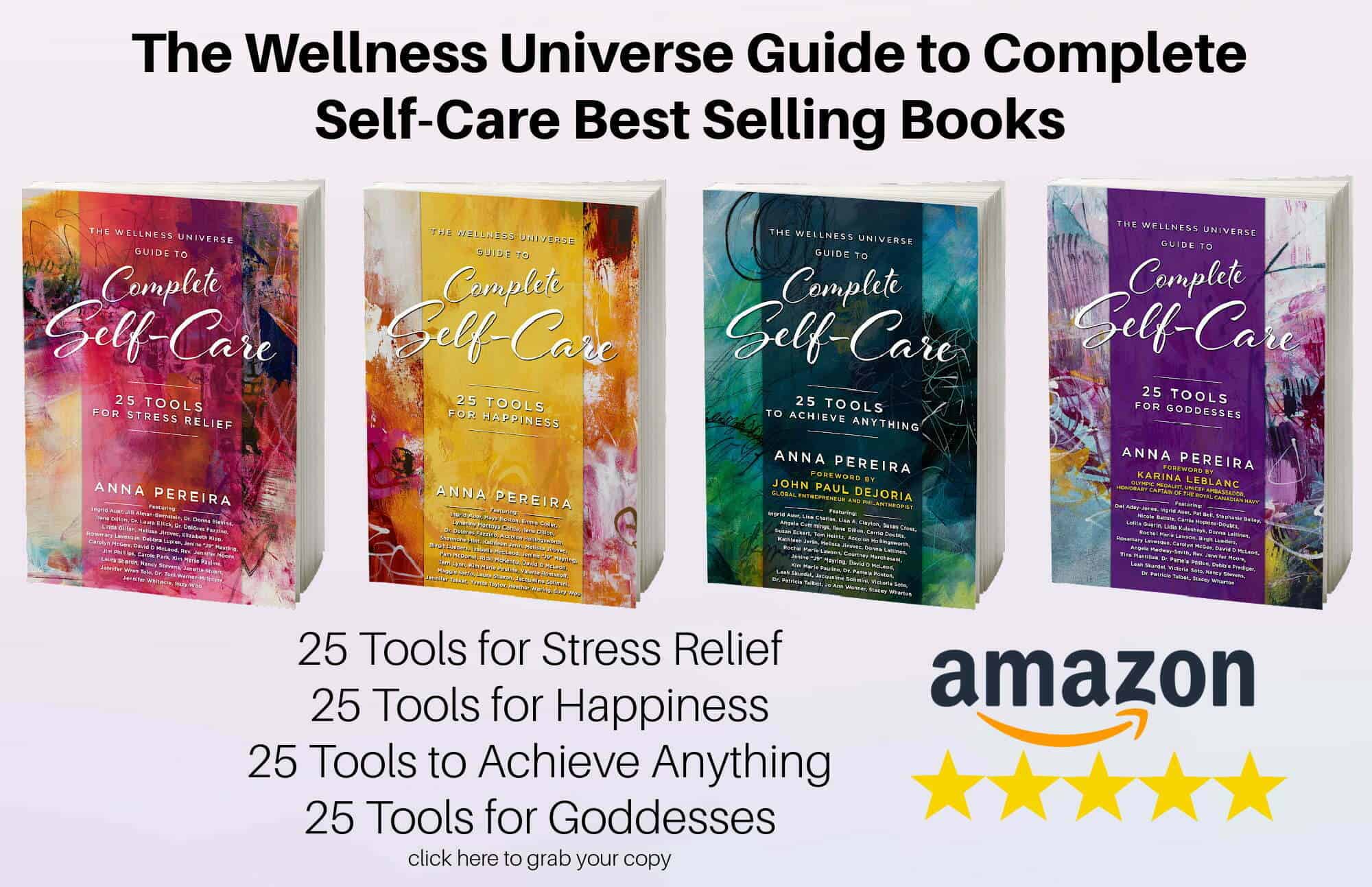 With over 250 independent reviews see how our self-care books are helping thousands of people around the world. Digital and paperback books are available now.
---

Connect to the people that help you live your best life: The Wellness Universe
The Wellness Universe is your resource for health, wellness, well-being, and transformation. We serve and support professionals who make the world a better place and individuals and groups who seek their best life.
A woman owned company; having the vision in 2013, Anna Pereira launched the first directory in 2015 bringing together a community of members making the world a better place to be found by those seeking their best life. The Wellness Universe has grown since then to be a one-stop shop for total wellness support! We are a vetted community, online directory, book publisher, resource center, event producer, content platform, and so much more, supporting whole-health and well-being on a global scale.
The Wellness Universe is a home that connects industry professionals in the health, wellness, and well-being fields to seekers of total well-being. WU provides our WU World-Changer members with peer support, Wellness Universe produced events (live and online), projects, visibility, business mentoring, and community. Through The Wellness Universe our WU World-Changer members serve WU Friends, seekers of health, wellness and transformation, with coaching, workshops, content and more.
The Wellness Universe provides individuals and groups seeking their best lives with access to our members, wellness content, educational resources, and guidance in all areas of wellness to transform visions of how they want to live life into the life they experience.
Through the directory, WU Featured Blog, SoulTreat wellness retreat, Self-Care Books, group well-being programs, and online learning center, The Lounge, The Wellness Universe provides many avenues to support whole health, mind, body, spirit and planet.
Join us today! Wellness Professional or Seeker of Your Best Life