Summer is so close you can almost taste it… the last of the frost is behind us, trees and flowers are bursting out all over, and finally, the beach vacation you planned for August doesn't seem so far away!
Whether you're looking forward to relaxing by the ocean or just sitting in the park on those lovely, light-filled evenings, summer is definitely a time to slow down, mellow out, and just play more. How perfect that the sociable, fun-loving Gemini cycle kicked in on May 20th and lasts until June 21st, laying the groundwork for planning those barbeques, beach parties, and weekend getaways with friends.
And the New Moon in Gemini on May 30th gives us an extra cosmic bump to set our intentions to bring those plans, ideas, and actions to fruition.
Qualities of the New Moon in Gemini
Let's begin by taking a closer look at exactly what Gemini energy feels like. First, it's an Air sign which is all about the mind and our powers of perception. It's ruled by the planet Mercury (in Greek mythology he was the messenger of the gods) and that really highlights its connection to communication of all kinds – speaking, writing, teaching, you name it. Some other Gemini traits are quick-witted, curious, versatile, and flighty.
When the Moon is in Gemini, you may feel compelled to EXPRESS yourself about everything, the good, the bad, and the ugly. That makes it a particularly powerful time to really communicate with the people closest to you about what's most important in your relationship with them – what you appreciate about each other, what you'd like more or less of, and what new commitments you want to make going forward to deepen your connection.
Or you can use the energy of the Gemini New Moon to tap into your own favorite form of creative self-expression. Even if you don't consider yourself to be a poet, a writer, or an orator, now is the time to create a little ritual to activate your Inner Muse!
Assembling your magical Gemini toolkit
The first step is to create a sacred ritual space, collecting all the different "props" associated with Gemini energy – here are some to get you started:
Elemental energy – Air
Colors – yellow, green
Gemstones – agate, emerald
Flowers – lily of the valley, lavender
Essential Oils – rosemary and basil to stimulate the mind, bergamot, and peppermint to enhance communication.
Music – flutes, woodwinds… you can find some beautiful woodwind pieces on Spotify or YouTube.
Food/Drink – fresh fruits and veggies; sparkling cider or wine; "brain food", like blueberries, avocados, or dark chocolate (love that one!)
The basic elements of your Gemini New Moon ritual
Whenever I teach or speak about the power of ritual in our lives (the subject of my Masters' thesis many years ago), I talk about the four basic elements that must be present to ensure that it's truly transformative:
1) declare a clear intention – that's our theme, reconnecting with your Inner Muse
2) activate all your senses – those associations in your toolkit will help here
3) surround yourself with meaningful symbols – also in your toolkit
4) create sacred space and time – be sure to find a private space where you won't be interrupted and make sure you have all of your tools from your toolkit — music, food, flowers, etc. — before you start.
Activating your Inner Muse
In addition to all those goodies from your Gemini toolkit, you'll always want to be sure to bring paper and something to write with into your sacred space. You could bring your laptop, but I find putting pen to paper to be a more visceral, kinesthetic way to trigger your creativity. Take your pick.
Then, settle in and reflect on what area of your life you'd like to express yourself more fully and creatively.
Some possibilities might be:
Write a love letter to your sweetie! In this digital age, I guarantee that a handwritten note to that special someone will make you both feel warm and fuzzy.
Pick a theme that you're passionate about and write a poem. It could just be free-form, or you can research the many poetry forms out there and experiment. I've got a whole list of them if you want to reach out.
Start the first chapter, or at least an outline, for that book that's been mulling over! Remember, Gemini is an air sign which triggers our ability to strategize and focus our minds… take advantage of it.
Design a course or workshop you want to teach, or at least get it started. The mental energy of Gemini propels us to teach AND learn, so pick a topic that jazzes you and that engages your Inner Muse.
Of course, you can try any of these ideas any time, but I can tell you from experience that those projects we bring into sacred ritual space and apply the intention-setting energy of the New Moon seem to magically take form more concretely. It definitely takes some preparation (I always talk about the "schlep" factor when I'm preparing for rituals), but it's totally worth the effort. Can see why I call it "sacred play"?
Connect with Deborah on The Wellness Universe.
---
All information, content, and material are for informational purposes only and are not intended to serve as a substitute for the consultation, diagnosis, and/or medical treatment of a qualified physician or healthcare provider. The information supplied through or on this page, or by any representative or agent of The Wellness Universe, is for informational purposes only and does not constitute medical, legal, or other professional advice. Health-related information provided through this website is not a substitute for medical advice and should not be used to diagnose or treat health problems or to prescribe any medical devices or other remedies. The Wellness Universe reserves the right to remove, edit, move or close any content item for any reason, including, but not limited to, comments that are in violation of the laws and regulations formed pursuant to the Federal Food, Drug, and Cosmetic Act. None of the posts and articles on The Wellness Universe page may be reprinted without express written permission.
---
The Wellness Universe presents Sharon Carne, Director of Training and Program Development guiding you through A Beginner's Guide to Sound Healing 6-month program that will help you to heal with sound, frequency, and vibration.
Catch the recorded session(s) and be sure to join the next LIVE class!
---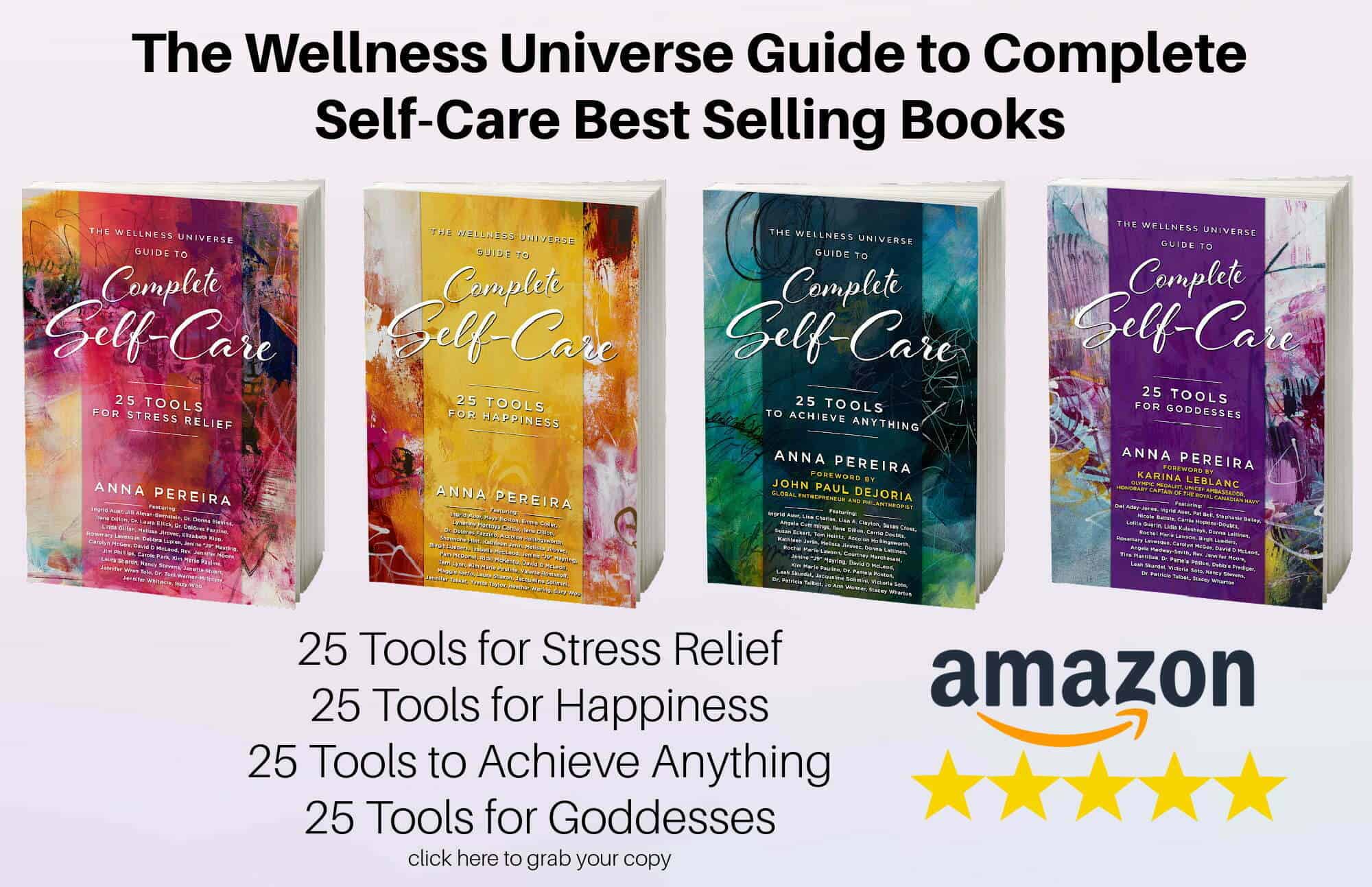 With over 250 independent reviews see how our self-care books are helping thousands of people around the world. Digital and paperback books are available now.
---
Self-development, self-care, and inspirational classes and sessions by Wellness Universe World Changer instructors who support your total well-being.
 Visit The Wellness Universe Lounge today!
---
The Wellness Universe is here to serve your best well-being. If you are experiencing anxiety, grief, overwhelm, guilt, anger, or seeking ways to cope and get help for stress, relationships, parenting, or any other issue during this challenging time, we have wonderful resources for you to connect with. Our WU Best Help members are offering reduced rates, sliding scale payment options, and even pro-bono sessions.
WU Best Help
Life & Relationship Coach, Deborah Roth, MA is also a Counseling Astrologer, and Interfaith Minister. She leads women's New Moon Circles and Full Moon TeleMeditations every month and loves designing creative, meaningful rituals for individuals and couples to energize their lives and relationships.