New Moons in general are a great time to reflect on what's working (and what's not) in your life and relationships, and to set intentions for how you want to move forward.
But the Libra New Moon on September 25th packs an extra punch because in astrology, it's ruled by that Roman goddess of love and beauty, Venus. How can you not call on her to create some New Moon magic this month?
Libra New Moon qualities
With Venus as its ruler, you know Libra is all about peace and partnership. Libra energy is charming, sociable, and accommodating, but she's no wimp either. Libra's symbol – the scales – captures her passionate commitment to justice and balance. Yes, Libras can be great diplomats, but if you offend their sense of fairness, you'll hear about it!
One of my astrology teachers years ago described Libra as the "fist beneath the silk handkerchief" – she's friendly to all and wants to make everyone happy but isn't shy about defending those principles and people she holds dear.
Venus also infuses a love of beauty into Libra's energy. During the Libra season (which runs from September 22nd to October 23rd this year), you may be drawn to more artistic activities, to re-decorate your home, or simply enjoy some fine wine in a sophisticated setting. In other words, you've got permission to be a little more elegant and refined, as long as you maintain that charming Libra vibe, too – no snootiness allowed here.
So how can you bring all of these peaceful, powerful qualities together to create a little Libra New Moon magic?
 The first step is to look at some of the elements associated with Libra energy:
Elemental energy – Air (honoring the intellect and communication)
Colors – pastel pink and blue
Gemstones – diamonds, quartz
Flowers – pastel-colored roses; hydrangeas
Essential Oils – basil, bergamot, frankincense
Music – wind instruments; mellow love songs
Food/Drink – fine wine, chocolate/sweets
If you want to tap into the airy, mental energy of this New Moon, you could do some additional research to explore Libra-themed movies, books, clothes, animals, places in nature… the list is endless, depending on what you and your partner are drawn to explore.
How to set up your Libra New Moon ritual
Your sacred ritual space could be anywhere, but since we're looking to bring peace and balance to different areas of your life, set it up wherever you need that the most. It could be your living room, your office, or even your bedroom if you want to particularly tap into the Venus love energy.
Spread out a pastel blue and/or pink cloth wherever you've chosen – that becomes your altar cloth. Surround yourself with candles in those same Libran colors, along with hydrangeas or pastel roses (or pictures of them!).
Libra loves dress-up, so find a flowy pastel-colored outfit, or even just a scarf, and put on those diamond studs you've been waiting to wear. While you're getting ready, you can burn some basil or bergamot oil in your aromatherapy lamp, and play some relaxing flute music. Then be sure to have some elegant, tasty food nearby to ground yourself at the end!
Setting powerful intentions for creating balance on the Libra New Moon
Libra is an air sign which focuses on our minds and encourages us to express what we're thinking, even speaking or writing. So be sure to have several sheets of paper and something to write with.
Once you've created your sacred ritual space, allow yourself some time to reflect on anything that feels out of balance in your home, work, or relationships. Listen to some of that flute music as you meditate!
Home – look around and see what needs sprucing up, especially if you did some serious de-cluttering last month on the Virgo New Moon (and even if you didn't). Commit to adding some interesting artwork, a snazzy window treatment, maybe even a paint job, or new furniture.
Work – there isn't a better time to re-visit your work-life balance than the Libra New Moon. Are you allowing work issues to interfere with your family time? Do you even have a personal life outside of the office? Think about how you might create better boundaries or reach out to friends who have drifted away.
Relationships – if you're in an intimate relationship, now is your chance to reflect on ways that your partnership may have gotten out of whack. Where can you find middle ground? How can you communicate your concerns with humor and affection?
Once you've settled on some commitments for any or all of these areas, now you get to engage in some sacred play!
Take three or more pieces of the paper you've brought with you into your ritual space and cut each one into a heart (Venus loves hearts!). Label each of them with the areas of your life that you've identified as ones that you want to bring more peace and harmony to.
Then, with crayons, markers, or colored pencils (an old-fashioned pen will do, too), write or draw the commitments that you came up with in your meditation for each area.
Place them on your altar or desk, carry them in your purse, or just arrange them wherever they'll remind you to take concrete actions around your commitments.
If you want to tap into this energy even more, definitely check out the video I created for The Wellness Universe last year for the Libra New Moon.
Have fun with it all… and I'd love to hear what you come up with!
Connect with Deborah on The Wellness Universe.
---
All information, content, and material are for informational purposes only and are not intended to serve as a substitute for the consultation, diagnosis, and/or medical treatment of a qualified physician or healthcare provider. The information supplied through or on this page, or by any representative or agent of The Wellness Universe, is for informational purposes only and does not constitute medical, legal, or other professional advice. Health-related information provided through this website is not a substitute for medical advice and should not be used to diagnose or treat health problems or to prescribe any medical devices or other remedies. The Wellness Universe reserves the right to remove, edit, move or close any content item for any reason, including, but not limited to, comments that are in violation of the laws and regulations formed pursuant to the Federal Food, Drug, and Cosmetic Act. None of the posts and articles on The Wellness Universe page may be reprinted without express written permission.
---
The Wellness Universe presents Soul Language Expert Lisa Dadd, Consultant & Soul Language Certified Sales Trainer guiding you through a 12-month program for heart-centered, business-minded wellness-preneurs.
Catch the recorded session(s) and be sure to join the next LIVE class!

Register today prior to the LIVE launch: https://bit.ly/SoulSales
---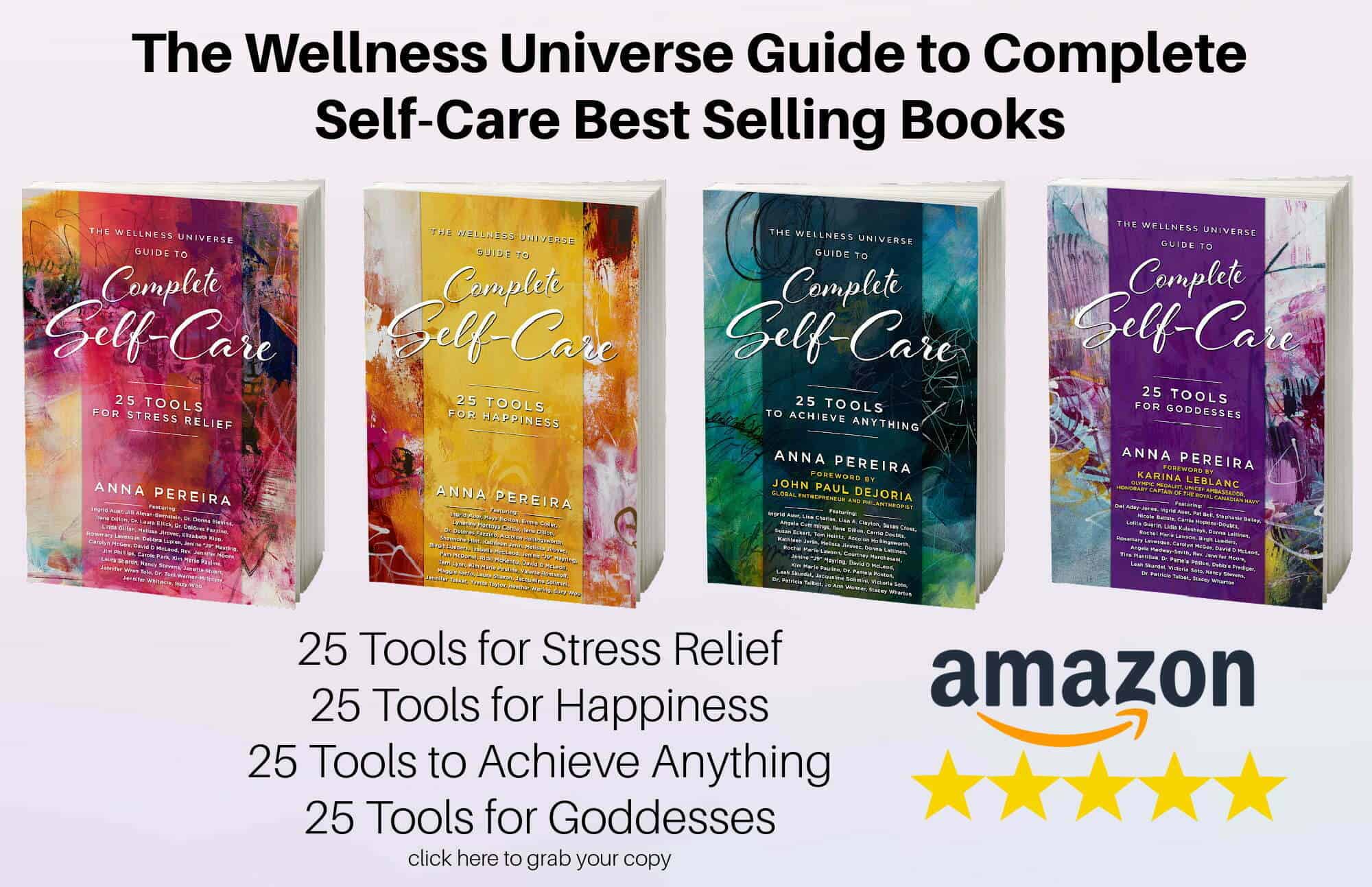 With over 250 independent reviews see how our self-care books are helping thousands of people around the world. Digital and paperback books are available now.
---
Self-development, self-care, and inspirational classes and sessions by Wellness Universe World Changer instructors who support your total well-being.
 Visit The Wellness Universe Lounge today!
---
The Wellness Universe is here to serve your best well-being. If you are experiencing anxiety, grief, overwhelm, guilt, anger, or seeking ways to cope and get help for stress, relationships, parenting, or any other issue during this challenging time, we have wonderful resources for you to connect with. Our WU Best Help members are offering reduced rates, sliding scale payment options, and even pro-bono sessions. WU Best Help
Life & Relationship Coach, Deborah Roth, MA is also a Counseling Astrologer, and Interfaith Minister. She leads women's New Moon Circles and Full Moon TeleMeditations every month and loves designing creative, meaningful rituals for individuals and couples to energize their lives and relationships.