Since ancient times, some version of what we know today as May Day has been celebrated in cultures all over the world. Known as Floralia in ancient Rome, Walpurgisnacht by the Teutons, Beltane by the Celts, and Lei Day in Hawaii, it embodies the bawdy, exuberant, exhilarating energy of spring fever.
Did you ever dance around a Maypole or create a flower-filled May basket, then leave it on someone's doorstep as their secret admirer? Or maybe you participated in crowning the May Queen and King? Probably not. And it's too bad since all of these traditions really do capture the original meaning of May Day: love, lust, flowers, and frolicking in the meadows. Couldn't you use a big dose of that right about now?
In early Celtic folklore, it was considered the time when the "Sun Child" born at the winter solstice has reached puberty and hooks up with the Goddess in her maiden form. He becomes her consort, known as the" Green Man" or the horned god.
The fertility of their "Sacred Marriage" was symbolized pretty graphically when the May Pole, the ultimate phallic symbol, was placed into a hole in Mother Earth, into her womb. Young men and women wove their ribbons around it in their magical back-and-forth dance, bringing them closer and closer together until they were all snuggled up against the pole. Then they just ran off into the woods and fields and coupled freely, fertilizing the Earth and each other!
That's pretty potent seasonal magic, isn't it?
So, what are some rite-minded ways that you might tap into that lusty, expansive energy? Here are a few ideas to create some May Day traditions of your own:
Make a May basket, then deliver it to someone you love
You'll need a piece of paper (feel free to decorate it any way you want), some glue, and a bunch of real or DIY flowers. Roll the paper so that it forms a cone, staple or glue it together, and you can add a handle, too.
If you're lucky enough to have a garden, pick your own flowers, but if not, you can make them from tissue paper. Or, if all else fails, just draw some beautiful ones with markers or crayons, cut them out, and attach them to a few chopsticks!
Fill your cone basket with your flowers, and leave them on someone's doorstep, or just outside their bedroom door. Whether it's a surprise or not, it's bound to brighten both of your days.
Decorate a May Bush
While it'd be fun to make your own Maypole, even a mini-one, it's a little tricky getting all the ribbons wrapped around it unless you've got lots of people to help you.
So, instead, you can embrace the Irish tradition of a May Bush which is definitely easier to re-create. Technically, you'd use the branch of a hawthorn tree, but really any bush or small tree in your backyard or home will do in a pinch. The idea is to adorn it with colorful ribbons, rags, pictures and even eggshells, representing your wishes from now until the Summer Solstice. Like the May basket, it's a fun project for children of all ages!
Crown yourselves as May Queen and/or King
In the ancient May Day rituals, the May Queen and King represented the Goddess and her consort, the Green Man. They led villagers through town to the Maypole where everyone danced and sang in a joyful celebration of Spring and the blooming energy of Mother Earth.
Have fun making crowns with whatever crafts you have on hand – construction paper, flowers, paper plates, markers, stickers, and glitter – get creative. If you're with your family, you can all make crowns and declare everyone Queens and Kings. Or if you're by yourself, have your own personal coronation ceremony, honoring your gifts and declaring what a fabulous monarch you'll be!
You may not have a Maypole, but you can certainly march to your May Bush to decorate it, then afterward, enjoy an evening of music, dancing, or just a good romantic movie.
Write a letter to a loved one
All the fun rituals and traditions associated with May Day make this a great seasonal family holiday, like Halloween (also celebrated around the world by various names) in the second half of the year.
But remember, the original meaning of this ancient Earth holy-day is all about celebrating the fertility of the Earth as it bursts out of winter, and how we humans can mirror that energy with our own lusty behavior. So, take some time during the day to write a beautiful (maybe even a little race-y) love letter to your sweetie. Then, that evening, after you've finished whatever other May Day traditions you've embraced, read your letters to each other and cap it off with some fabulous, exuberant sex!
And if you're single, it's also a powerful time to re-ignite your relationship with your deepest self and renew your practice of self-love. Explore the concept of "self-marriage" and create your own special ceremony.
As with any seasonal ritual, remember that you can deepen the experience if you're intentional about creating sacred space by lighting candles and playing some fun music (maybe an Irish jig?). Then, cap it all off by sharing some traditional May Day food. For the Celts, that meant dairy products (since Beltane occurs during "calving" time) and maybe oatmeal cookies since oats were thought to be an aphrodisiac and the grain of the gods. A perfect holiday to "sow your wild oats"!
Connect with Deborah on The Wellness Universe.
---
All information, content, and material are for informational purposes only and are not intended to serve as a substitute for the consultation, diagnosis, and/or medical treatment of a qualified physician or healthcare provider. The information supplied through or on this page, or by any representative or agent of The Wellness Universe, is for informational purposes only and does not constitute medical, legal, or other professional advice. Health-related information provided through this website is not a substitute for medical advice and should not be used to diagnose or treat health problems or to prescribe any medical devices or other remedies. The Wellness Universe reserves the right to remove, edit, move, or close any content item for any reason, including, but not limited to, comments that are in violation of the laws and regulations formed pursuant to the Federal Food, Drug, and Cosmetic Act. None of the posts and articles on The Wellness Universe page may be reprinted without express written permission.
---
Healing. Here. Now. Mindfulness, Trauma, and Recovery is a course for self-care and healing brought to you in partnership with Elizabeth Kipp, Founder of Elizabeth Kipp Stress Management, LLC and Wellness Universe Trauma Expert Leader exclusively for Wellness for All programming.
Catch the recorded session(s) and be sure to join the next LIVE class! 
Register today:https://bit.ly/HealingHereNow
---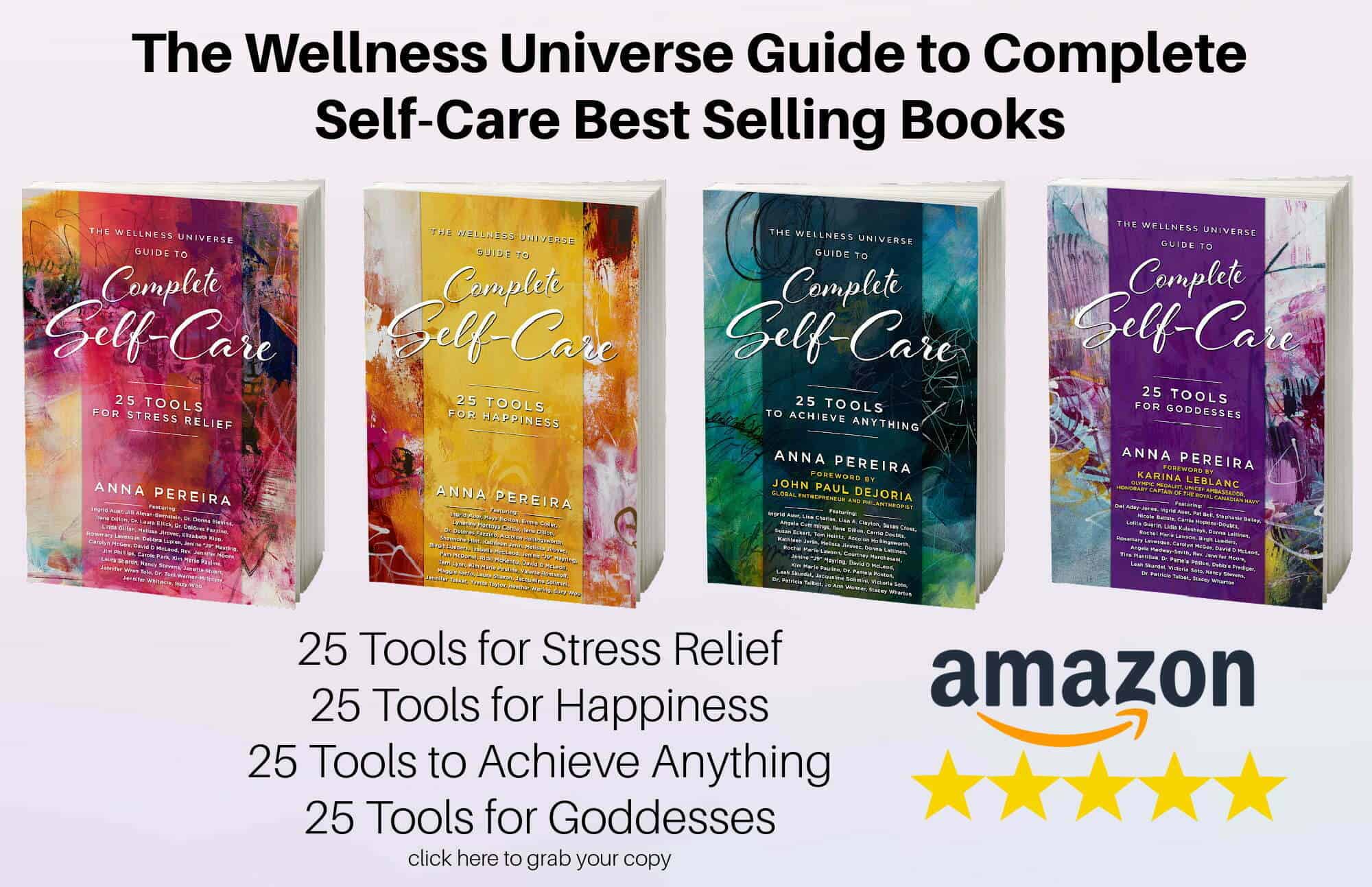 With over 250 independent reviews see how our self-care books are helping thousands of people around the world. Digital and paperback books are available now.
---

Connect to the people that help you live your best life: The Wellness Universe
Life & Relationship Coach, Deborah Roth, MA is also a Counseling Astrologer, and Interfaith Minister. She leads women's New Moon Circles and Full Moon TeleMeditations every month and loves designing creative, meaningful rituals for individuals and couples to energize their lives and relationships.