In Prevention Always Wins – Part 1, we discussed six powerful ways to prevent unwellness from manifesting in your life and body and the benefits they bring to you.
As previously mentioned, stress arises as the first sign that unwellness is developing, but it is only showing up to get your attention to care for yourself even more, not less. When practicing any of these prevention methods, you are taking a proactive approach to your well-being early on that either prevents illness or discomfort from developing any further or at all. Let's take a look at six more ways to steer yourself away from disease and toward well-being.
Here are 6 Ways to Use Prevention to Avert Unwellness:
Meditate
When in a relaxed state of meditation, you allow your awareness to rest on the now, rather than past or future. By allowing your mind to be in a peaceful, deeply relaxing theta brainwave state and surrendering to the present moment, you are able to access a higher consciousness (via your intuition), induce the healing energies of the Universe, relax your muscles, and experience pain relief, enhance problem-solving skills, heighten creativity, and become more receptive to change and new possibilities. From this healing state of the mind, many forms of stress can be dissolved and prevented. A theta brainwave can be reached through visualization with or without binaural beats during meditation.
Maintain a Positive Mindset
Consciously choosing to hold a positive mindset until it becomes an unconscious habit is another way to prevent unwellness from manifesting in your life and body. Practicing forgiveness and positive self-talk, as well as looking for solutions in your daily life, rather than problems, are ways to cultivate and maintain a more positive mindset. See the beauty in yourself, others, and the world around you. You're only going to be here for so long; might as well enjoy it and really see it for the blessing that it is. No matter where you are or who's around you, you have a choice to focus on the positive things that exist in that moment, and therefore, be unaffected by any lower energies.
Practice Gratitude
Gratitude has the ability to change your life by improving the quality and helping you to focus on what's right and well, rather than what's wrong and lacking. When looking for things to be grateful for, you automatically begin feeling better within your body. When you feel better, life gets better. Gratitude is the quickest, most direct route to relief and well-being. When you can be grateful for the hidden lessons behind any hardship or source of pain, you can instantly transform it and release it from your experience. Having gratitude for your improving health, the increased amount of love you receive from yourself and others, and all the things going right in your world will automatically prevent "negative" things from happening. They simply cannot enter your experience because gratitude only brings you more experiences to be grateful for
Laugh
Laughter is actually capable of improving your resistance to disease; what an incredibly powerful and free medicine! A good laugh relaxes the entire body for nearly an hour and can even temporarily reduce pain. It triggers the body to release those feel-good endorphins, improves your immune system, prevents cardiovascular problems, relieves stress, helps you let go of anger, sadness, or anxiety, diffuses conflict, builds relationships, recharges your energy, and re-balances your body. Is there anything laughter doesn't have a positive effect on? No. So go ahead and have your daily dose of laughter and your wellbeing will be yours.
Stop Blaming Others for Your Circumstances
If you want to prevent unwellness, you must take personal responsibility for yourself and get out of the habit of blaming anyone or anything outside of yourself for the way your life is. You are the ONLY ONE who can create your reality. The people and circumstances in your life, believe it or not, are all here to help you learn and grow into a more authentic version of yourself. Blame keeps you stuck in resistance; acknowledgment and forgiveness move you forward with greater ease. By acknowledging your current experience for what it is, you are better able to work your way through it and find the underlying lessons, solutions, and blessings just beyond the pain or discomfort. Learning to face your life without blame is an empowering way to live and most certainly helps to prevent the manifestation of worse conditions.
Visit Nature
Nature connects you to the abundant energy of the Universe, God, or Source, which then heals your body, mind, and soul. There are many noticeable, positive effects on the brain and emotions during and after a visit to nature. For instance, the nervous system is calmed, the mind is better able to focus, you can experience better sleep, and your overall mood is lifted. The healing energy of nature extends well beyond our understanding, yet it is something we ALL feel almost instantly. Taking a walk out in nature or sitting quietly to admire its beauty can help redirect your attention to something much more pleasing and beneficial to your overall health and well-being.
This list, along with the activities mentioned in part one, is a proactive way to prevent discomfort in its many forms from entering your experience and wreaking havoc in your life. Incorporating any of these tips bring peace and joy, rather than pain and struggle.
If this article was of interest to you, meet people who can do even more for you right now. From personal to professional well-being, connect with someone who can guide you to a happier, healthier, and whole life! Become a WU Friend today!
If you provide support or products that make the world a better place and help humanity live in health, happiness, and wholeness, join us as a WU World-Changer!
What prevention methods do you practice in your daily life, and how have they helped you? Please share your experiences with us in the comments section below!
– The Wellness Universe
*First published on December 21, 2018.
---
All information, content, and material are for informational purposes only and are not intended to serve as a substitute for the consultation, diagnosis, and/or medical treatment of a qualified physician or healthcare provider. The information supplied through or on this page, or by any representative or agent of The Wellness Universe, is for informational purposes only and does not constitute medical, legal, or other professional advice. Health-related information provided through this website is not a substitute for medical advice and should not be used to diagnose or treat health problems or to prescribe any medical devices or other remedies. The Wellness Universe reserves the right to remove, edit, move or close any content item for any reason, including, but not limited to, comments that are in violation of the laws and regulations formed pursuant to the Federal Food, Drug, and Cosmetic Act. None of the posts and articles on The Wellness Universe page may be reprinted without express written permission.
---
Susan Cross, Public Relations Expert Leader, PR Pro, Nature Conservationist, Best-Selling Author, and Speaker, in partnership with The Wellness Universe, Wellness for All programming teaches you how to create success with a PR plan. Susan guides you through an empowering and educational course designed to uplevel your message, deliver it with impact, and position yourself for success in the market with: Create Your Heart-Led PR Plan, for Mission-Driven Business Owners.
Catch the recorded session(s) and be sure to join the next LIVE class!
Register today:   https://bit.ly/HeartLedPRPlan
---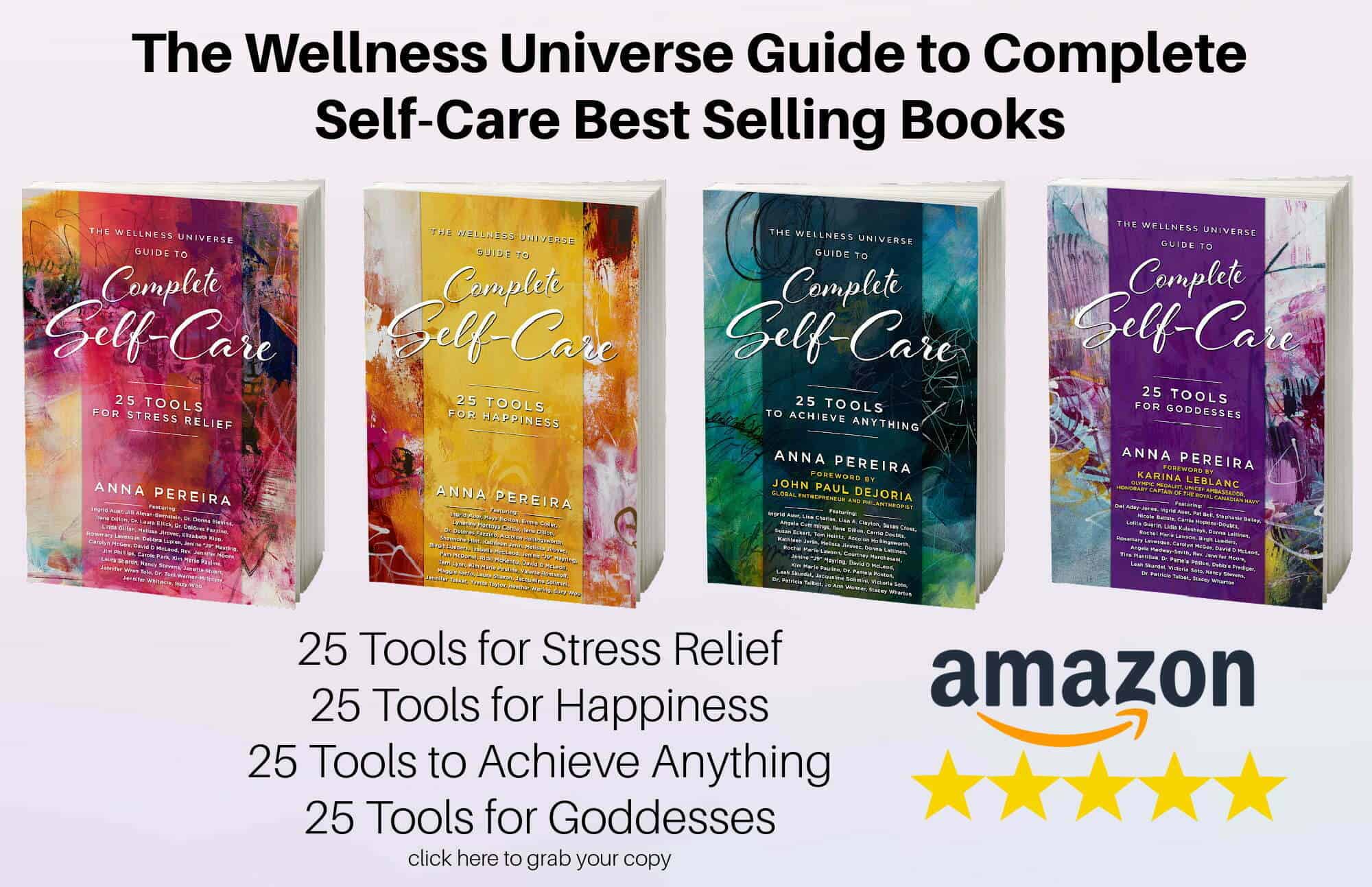 With over 250 independent reviews see how our self-care books are helping thousands of people around the world. Digital and paperback books are available now.
---
Self-development, self-care, and inspirational classes and sessions by Wellness Universe World Changer instructors who support your total well-being.
 Visit The Wellness Universe Lounge today!
---
The Wellness Universe is here to serve your best well-being. If you are experiencing anxiety, grief, overwhelm, guilt, anger, or seeking ways to cope and get help for stress, relationships, parenting, or any other issue during this challenging time, we have wonderful resources for you to connect with. Our WU Best Help members are offering reduced rates, sliding scale payment options, and even pro-bono sessions. WU Best Help
The Wellness Universe is your resource for health, wellness, well-being, and transformation. We serve and support professionals who make the world a better place and individuals and groups who seek their best life.
A woman owned company; having the vision in 2013, Anna Pereira launched the first directory in 2015 bringing together a community of members making the world a better place to be found by those seeking their best life. The Wellness Universe has grown since then to be a one-stop shop for total wellness support! We are a vetted community, online directory, book publisher, resource center, event producer, content platform, and so much more, supporting whole-health and well-being on a global scale.
The Wellness Universe is a home that connects industry professionals in the health, wellness, and well-being fields to seekers of total well-being. WU provides our WU World-Changer members with peer support, Wellness Universe produced events (live and online), projects, visibility, business mentoring, and community. Through The Wellness Universe our WU World-Changer members serve WU Friends, seekers of health, wellness and transformation, with coaching, workshops, content and more.
The Wellness Universe provides individuals and groups seeking their best lives with access to our members, wellness content, educational resources, and guidance in all areas of wellness to transform visions of how they want to live life into the life they experience.
Through the directory, WU Featured Blog, SoulTreat wellness retreat, Self-Care Books, group well-being programs, and online learning center, The Lounge, The Wellness Universe provides many avenues to support whole health, mind, body, spirit and planet.
Join us today! Wellness Professional or Seeker of Your Best Life