Selling is an art that requires a combination of skills, including communication, persuasion, and relationship-building. Whether you are selling an idea, product, or service, there are some basic principles you can follow to increase your chances of success. Following are some tips on how to sell anything effectively.
Understand Your Audience
The first step to selling anything is to understand your audience. Who are they? What are their needs and preferences? What are their pain points? By understanding your audience, you can tailor your pitch to their specific needs and interests, and you can position your product or service as the solution they are looking for.
Highlight the Benefits
One of the most effective ways to sell anything is to highlight the benefits. People are often more interested in what they will get out of something than what it actually is. So instead of just talking about the features of your product or service, focus on the benefits that your audience will receive. For example, if you are selling a fitness program, you could highlight how it will help them lose weight, gain energy, and feel better about themselves.
Create a Sense of Urgency
Creating a sense of urgency can be a powerful motivator for people to take action. By setting a deadline or a limited-time offer, you can encourage people to act quickly before they miss out on the opportunity. For example, if you are selling a product, you could offer a discount for a limited time, or if you are promoting an event, you could emphasize that tickets are selling out fast.
Build Relationships
Building relationships is an essential part of selling anything. People are more likely to buy from someone they know, like, and trust. So, take the time to build relationships with your audience, whether that means networking, providing value through content, or engaging with them on social media. By building relationships, you can create a loyal customer base who will be more likely to buy from you in the future.
Address Objections
When selling anything, you are likely to encounter objections. Objections can be anything from concerns about the price to skepticism about the effectiveness of your product or service. Instead of ignoring these objections, address them head-on. Be prepared to answer questions and provide evidence to back up your claims. By addressing objections, you can build credibility and trust with your audience.
Selling requires a combination of skills and strategies. By understanding your audience, highlighting the benefits, creating a sense of urgency, building relationships, and addressing objections, you can increase your chances of success.
Remember, selling is about building trust and providing value, so focus on those two things, and you'll be well on your way to closing more deals.
Catch the Recordings!
"Soul Sales Course with Lisa Dadd"
https://wellnessuniverse.learnitlive.com/Class/Soul-Sales-Course-with-Lisa-Dadd/20865
---
All information, content, and material are for informational purposes only and are not intended to serve as a substitute for the consultation, diagnosis, and/or medical treatment of a qualified physician or healthcare provider. The information supplied through or on this page, or by any representative or agent of The Wellness Universe, is for informational purposes only and does not constitute medical, legal, or other professional advice. Health-related information provided through this website is not a substitute for medical advice and should not be used to diagnose or treat health problems or to prescribe any medical devices or other remedies. The Wellness Universe reserves the right to remove, edit, move, or close any content item for any reason, including, but not limited to, comments that are in violation of the laws and regulations formed pursuant to the Federal Food, Drug, and Cosmetic Act. None of the posts and articles on The Wellness Universe page may be reprinted without express written permission.
---
Every first Saturday of the month, come escape to the Secret Garden of Joy for an hour as you leave the world behind, delight your heart, nurture yourself and fill your cup
Catch the recorded session(s) and be sure to join the next LIVE class! 
Register today: https://bit.ly/SecretGardenofJoy
---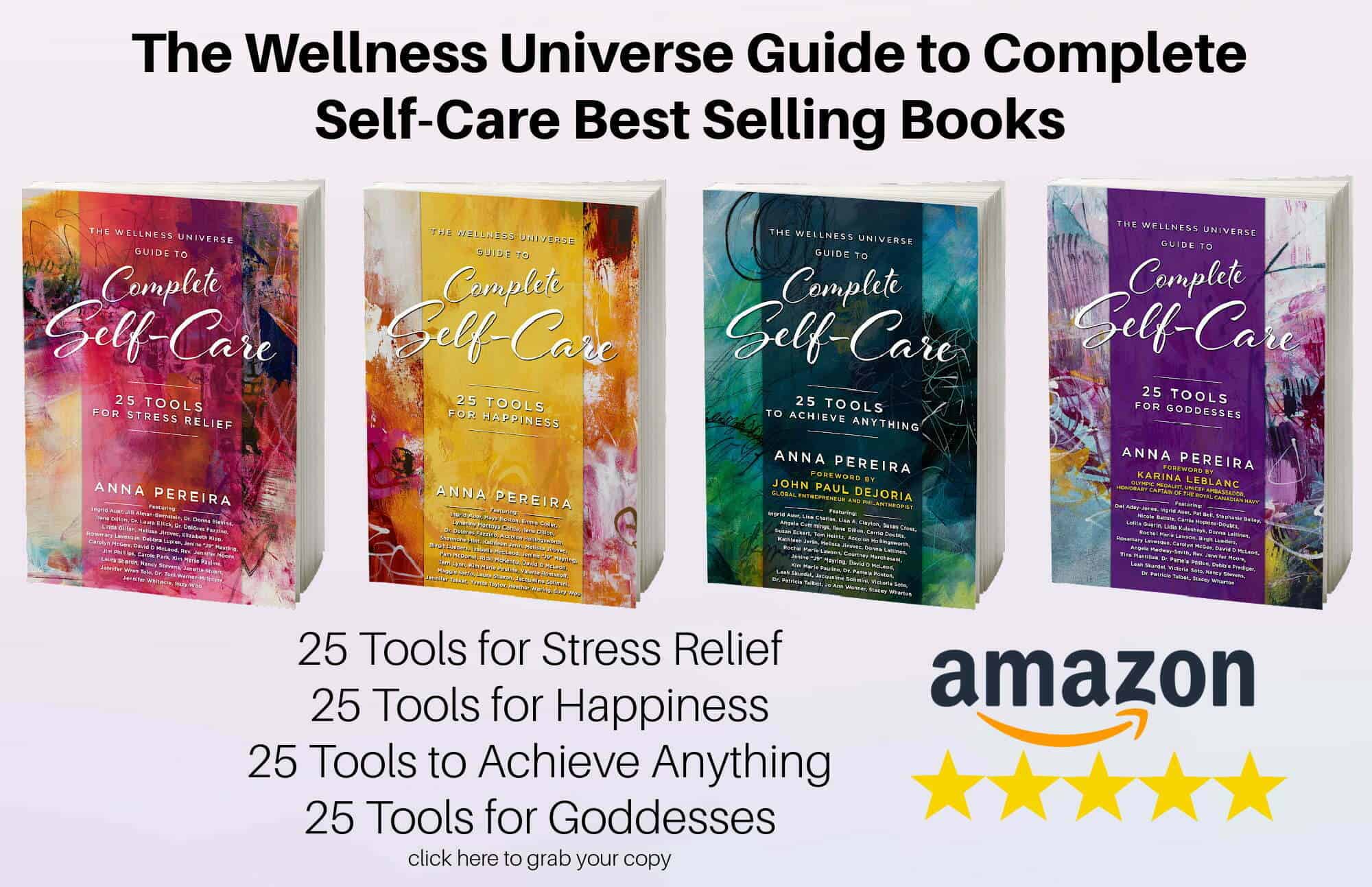 With over 250 independent reviews see how our self-care books are helping thousands of people around the world. Digital and paperback books are available now.
---

Connect to the people that help you live your best life: The Wellness Universe
The Wellness Universe is your resource for health, wellness, well-being, and transformation. We serve and support professionals who make the world a better place and individuals and groups who seek their best life.
A woman owned company; having the vision in 2013, Anna Pereira launched the first directory in 2015 bringing together a community of members making the world a better place to be found by those seeking their best life. The Wellness Universe has grown since then to be a one-stop shop for total wellness support! We are a vetted community, online directory, book publisher, resource center, event producer, content platform, and so much more, supporting whole-health and well-being on a global scale.
The Wellness Universe is a home that connects industry professionals in the health, wellness, and well-being fields to seekers of total well-being. WU provides our WU World-Changer members with peer support, Wellness Universe produced events (live and online), projects, visibility, business mentoring, and community. Through The Wellness Universe our WU World-Changer members serve WU Friends, seekers of health, wellness and transformation, with coaching, workshops, content and more.
The Wellness Universe provides individuals and groups seeking their best lives with access to our members, wellness content, educational resources, and guidance in all areas of wellness to transform visions of how they want to live life into the life they experience.
Through the directory, WU Featured Blog, SoulTreat wellness retreat, Self-Care Books, group well-being programs, and online learning center, The Lounge, The Wellness Universe provides many avenues to support whole health, mind, body, spirit and planet.
Join us today! Wellness Professional or Seeker of Your Best Life