Our minds are tricky things
And when it comes to coping with emotional situations, they don't do us any favors. On a biological level, stress causes an increase in cortisol, a hormone that's been linked to appetite. So, when you run to the freezer for that pint of ice cream after a tough day, your body may very well be telling you you're hungry but are you really? And if you are, why the ice cream instead of a granola bar or yogurt?
A 2017 study revealed that nearly 40% of Americans admit to stress-eating at least once a month. Half of those people admit to stress-eating every single week. And all of those junk foods? They're mostly made of carbs and sugar which have been shown to trigger the pleasure sensors of your brain. You can't help but feel good while eating them.
Then there are the cultural impacts. Food is celebrated around the world. We eat on date nights. We eat during the holidays. We eat fast food in the car, slow food in the park, hot food around a campfire, and cold food at the beach. Social events, family memories, and tourist attractions focus on food. We celebrate with ice cream and pizza.
How Do You Tell if You're an Emotional Eater?
True hunger comes with a few telltale signs such as a rumbling stomach, low energy, and slight irritability. If you're not experiencing these symptoms, you're probably not hungry. Paying attention to what and when you eat will tell you a lot about why you eat. Are you snacking because it's mid-morning and your breakfast bagel has worn off? Or are you snacking because you had a stressful meeting at work?
Maybe it's hard to tell. Life is stressful, after all. Work, families, politics, finances, crime rates, there is no shortage of things in this world to get emotional about. So, if we\'re all stressed all the time, how can we possibly tell the difference?
It's time to treat the problem, not hide it with food.
Time to Stop Emotional Eating
Emotional eating is a very real problem, but the root cause is not knowing how to deal with our strong emotions on an individual level. We live in a society where being angry, sad, lonely, bored, or frustrated is looked down upon. Acknowledge that your emotions are okay and take the time to deal with them as you need to.
When you find yourself reaching for that bag of Doritos, ask yourself what you could do instead.
Here are a few things to consider:
Thirst is often mistaken for hunger; drinking water might be enough to get you over the craving.
A few moments of quiet, mindful breathing may help the emotions pass.
Taking a walk can do amazing things for your emotional state.
Don't Make Bad Choices Easily Accessible
If you find yourself snacking at your desk, keep nuts or granola bars within reach instead of chips and sweets. If you find yourself snacking before bed, keep the ice cream in the far back corner of the freezer so you have to dig to get to it. While you may still find yourself eating your feelings, at least you're making healthy choices. And that's a step in the right direction.
Even better, analyze your overall health choices. Are you getting enough sleep? Are you exercising? Are your relationships positive?
Looking to first improve these aspects of your life may eliminate your emotional eating completely.
If this article interested you, meet people who can do even more for you right now. From personal to professional well-being, connect with someone who can guide you to a happier, healthier, and whole life. Become a WU Friend today!
If you provide support or products that make the world a better place and help humanity live in health, happiness, and wholeness, join us as a WU World-Changer!
– The Wellness Universe
*Originally published on March 21, 2019.
---
All information, content, and material are for informational purposes only and are not intended to serve as a substitute for the consultation, diagnosis, and/or medical treatment of a qualified physician or healthcare provider. The information supplied through or on this page, or by any representative or agent of The Wellness Universe, is for informational purposes only and does not constitute medical, legal, or other professional advice. Health-related information provided through this website is not a substitute for medical advice and should not be used to diagnose or treat health problems or to prescribe any medical devices or other remedies. The Wellness Universe reserves the right to remove, edit, move or close any content item for any reason, including, but not limited to, comments that are in violation of the laws and regulations formed pursuant to the Federal Food, Drug, and Cosmetic Act. None of the posts and articles on The Wellness Universe page may be reprinted without express written permission.
---
The Wellness Universe welcomes you to our Mid-Week Reset Meditation led by Leah Skurdal, Intuitive Wellness Guide.
Our group meditation is live every 1st and 3rd Wednesday. Sign up here: 
https://bit.ly/WUMidWeekMeditation
---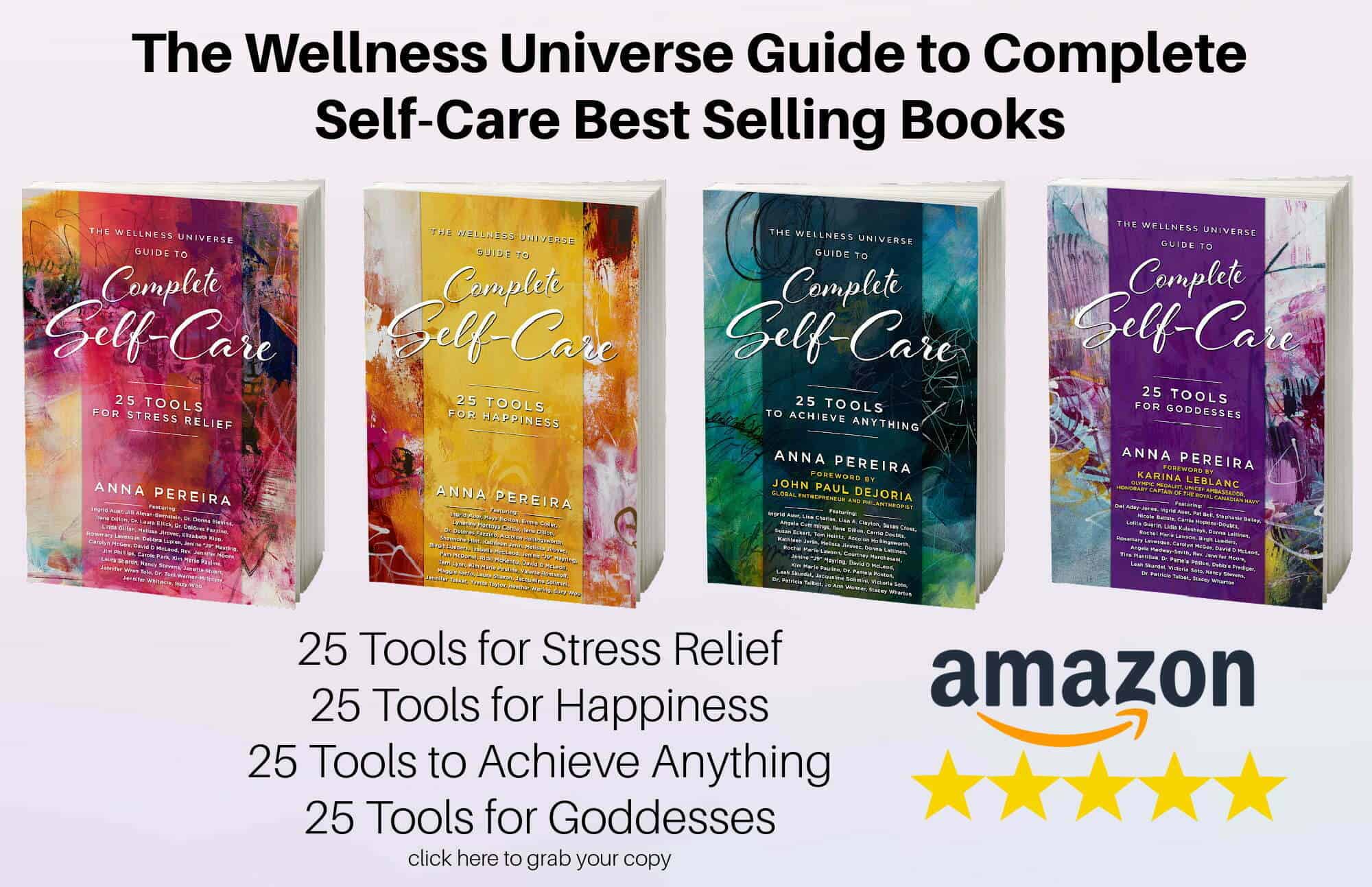 With over 250 independent reviews see how our self-care books are helping thousands of people around the world. Digital and paperback books are available now.
---
Self-development, self-care, and inspirational classes and sessions by Wellness Universe World Changer instructors who support your total well-being.
 Visit The Wellness Universe Lounge today!
---
The Wellness Universe is here to serve your best well-being. If you are experiencing anxiety, grief, overwhelm, guilt, anger, or seeking ways to cope and get help for stress, relationships, parenting, or any other issue during this challenging time, we have wonderful resources for you to connect with. Our WU Best Help members are offering reduced rates, sliding scale payment options, and even pro-bono sessions. WU Best Help
The Wellness Universe is your resource for health, wellness, well-being, and transformation. We serve and support professionals who make the world a better place and individuals and groups who seek their best life.
A woman owned company; having the vision in 2013, Anna Pereira launched the first directory in 2015 bringing together a community of members making the world a better place to be found by those seeking their best life. The Wellness Universe has grown since then to be a one-stop shop for total wellness support! We are a vetted community, online directory, book publisher, resource center, event producer, content platform, and so much more, supporting whole-health and well-being on a global scale.
The Wellness Universe is a home that connects industry professionals in the health, wellness, and well-being fields to seekers of total well-being. WU provides our WU World-Changer members with peer support, Wellness Universe produced events (live and online), projects, visibility, business mentoring, and community. Through The Wellness Universe our WU World-Changer members serve WU Friends, seekers of health, wellness and transformation, with coaching, workshops, content and more.
The Wellness Universe provides individuals and groups seeking their best lives with access to our members, wellness content, educational resources, and guidance in all areas of wellness to transform visions of how they want to live life into the life they experience.
Through the directory, WU Featured Blog, SoulTreat wellness retreat, Self-Care Books, group well-being programs, and online learning center, The Lounge, The Wellness Universe provides many avenues to support whole health, mind, body, spirit and planet.
Join us today! Wellness Professional or Seeker of Your Best Life