When we decide that we want to be more connected to our true selves – the Universe, that which is greater than we are – we can find ourselves with the unconscious expectation that it will just happen. That somehow the power of merely making the decision eradicates all that is necessary to achieve that level of connection. The Akashic Masters want us to know tuning into that life force energy is a journey that requires practice.
Practice is the key to upgrading your life
It's so much easier to believe in a magic pill, a silver bullet. One that quickly creates and anchors the changes we want in ourselves and our world. The Akashic Masters share that there is no such thing.
There is not one book, one teacher, or anything that will enable you to upgrade your life overnight. It is a process that requires consistency and patience. You wouldn't expect to go to the gym for a week and come out with a runway-ready body. Why do it with your spiritual evolution?  
Unconscious expectations
Candice was referred to me by another client, and in our first conversation, she shared how frustrated she felt that she wasn't further along her spiritual path. " I've been studying Buddhism for six months," she said. " I've really been committed to it, attending meditation services every week, and reading from books that have been recommended to me every day. And I don't feel like I've made any progress at all!"
She wanted to discover what it was that held her back from experiencing the connection she longed for. I assured her we would definitely find information that would help her, but it might not be exactly what she was expecting. "I'm game," she said. " I just want to know why I feel so blocked."
Trauma responses carried into this life
When we opened Candice's Akashic Records, we were shown a life where she had been a child in a country torn apart by war. We watched as the Akashic Masters revealed what she had experienced during her early years in this life.
From witnessing people die and listening to her town being destroyed to watching her parents panic and literally running for her life, the impact was enormous.
Glimpses into her life as an adult clearly showed the magical thinking that was a response to the trauma she had endured as a child. In one instance, although it was evident a young man she was dating was not who he appeared to be, she was stubborn in her refusal to believe the evidence others brought her.
In another, she insisted the employee caught embezzling from her husband's business was innocent. She couldn't bring herself to accept that someone she had treated as family could have betrayed them at that level. It was evident she had a difficult time accepting reality, that a part of her needed to believe if she just wished hard enough what she wanted to be true would be.
The link between past and present
Candice was silent when our time with the Akashic Records was complete. I held that quiet space for her until she was ready to talk. When she finally spoke, I was not surprised by anything she said.
"I never connected the dots," she said. "This is something my therapist and I have been working on because of my childhood in this life."
She went on to explain that her father had been an alcoholic with a terrible temper. Although he never hit Candice or her mother, the terror his rage created in her had planted the seed for her to have a difficult time accepting reality.
"This has been a problem my whole life," she admitted. "Reality is staring me in the face and I absolutely refuse to acknowledge it because it would just be too painful."
We sat in silence for a little while longer before she said, " I think my desire to become enlightened overnight was to avoid the pain of dealing with all of this."
Integrating reality takes time
When I heard from Candice several months later, she was in a completely different place. "I'm still working on it," she told me. "I've come to accept that it's a process. But I deal with things now in a way that I know reflects the strength I'm gaining from the willingness to be honest with myself."
The courage born of her desire to upgrade her life and really be more connected to her true self is inspiring. It's not always easy. But it is always worth it. Because of her willingness to understand what was blocking her spiritual path, Candice now sees her strength, which is exactly what the magical thinking kept hidden from her.
There are no shortcuts to upgrading your life. You must be willing to release beliefs and behaviors that are not even remotely connected to who you really are. This is how the Akashic Records can serve you.
Perhaps now is a good time to become familiar with your own Akashic Records. Allow yourself to benefit from the information available to you from past lives so you can live the one you really want in this lifetime.
Connect with Lisa on The Wellness Universe.
---
All information, content, and material are for informational purposes only and are not intended to serve as a substitute for the consultation, diagnosis, and/or medical treatment of a qualified physician or healthcare provider. The information supplied through or on this page, or by any representative or agent of The Wellness Universe, is for informational purposes only and does not constitute medical, legal, or other professional advice. Health-related information provided through this website is not a substitute for medical advice and should not be used to diagnose or treat health problems or to prescribe any medical devices or other remedies. The Wellness Universe reserves the right to remove, edit, move or close any content item for any reason, including, but not limited to, comments that are in violation of the laws and regulations formed pursuant to the Federal Food, Drug, and Cosmetic Act. None of the posts and articles on The Wellness Universe page may be reprinted without express written permission.
---
Monthly New Moon SisterCircles for Self-Care and Empowerment, brought to you in partnership with Deborah Roth, WomanSpirit Coach, Interfaith Minister, and Wellness Universe Group Leader exclusively for Wellness for All programming for The Wellness Universe.
Register today prior to the LIVE launch:  https://bit.ly/NewMoonSisterCircles
---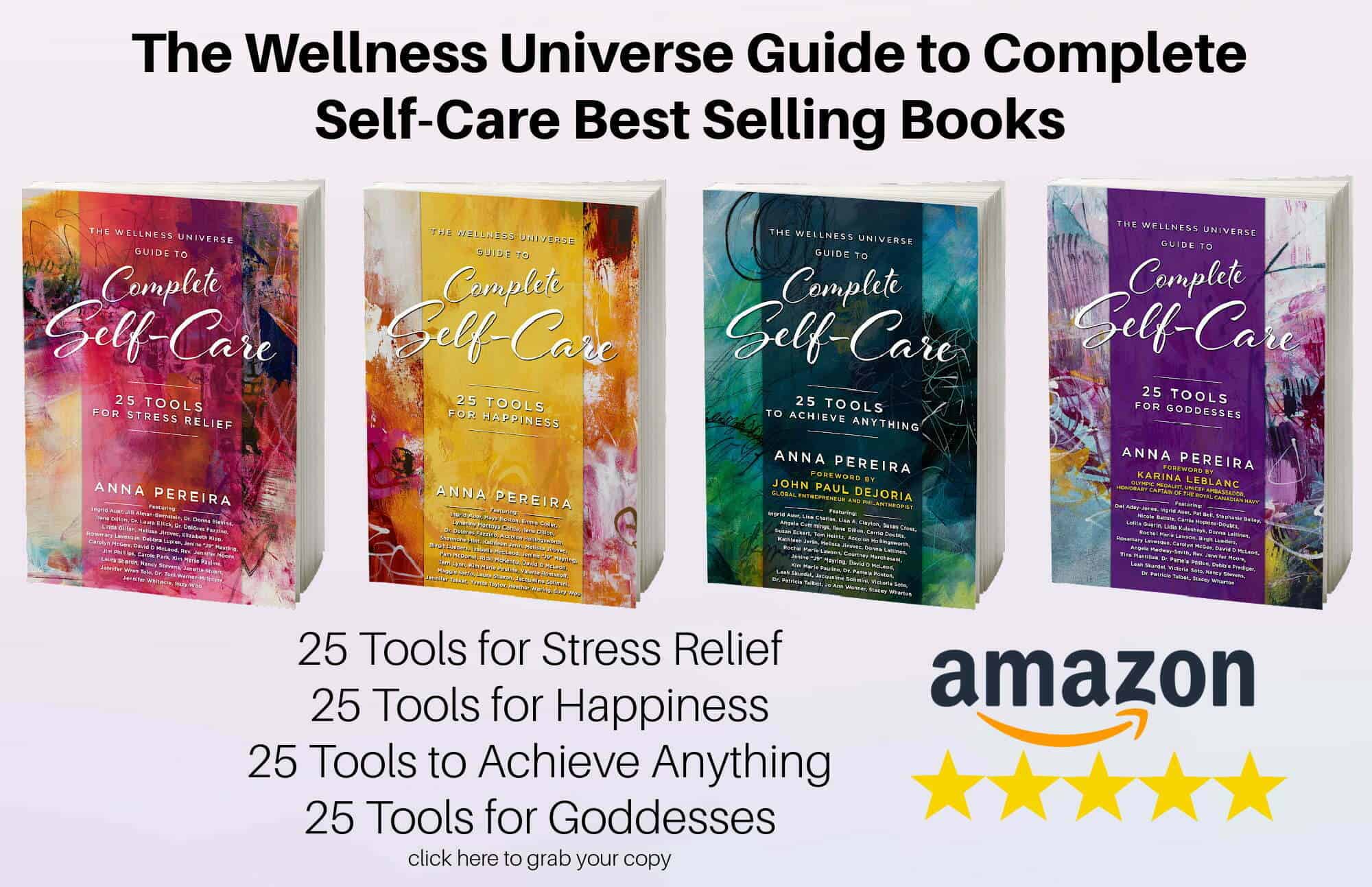 With over 250 independent reviews see how our self-care books are helping thousands of people around the world. Digital and paperback books are available now.
---
Self-development, self-care, and inspirational classes and sessions by Wellness Universe World Changer instructors who support your total well-being.
 Visit The Wellness Universe Lounge today!
---
The Wellness Universe is here to serve your best well-being. If you are experiencing anxiety, grief, overwhelm, guilt, anger, or seeking ways to cope and get help for stress, relationships, parenting, or any other issue during this challenging time, we have wonderful resources for you to connect with. Our WU Best Help members are offering reduced rates, sliding scale payment options, and even pro-bono sessions. WU Best Help
Lisa Barnett is the founder of the Akashic Knowing School of Wisdom where thousands of students across the globe have learned how to access their personal Soul wisdom and guidance. The best-selling author of From Questioning to Knowing: 73 Prayers to Transform Your Life, and The Infinite Wisdom of the Akashic Records, Lisa offers tools created from two decades of spiritual healing that will empower you to find greater fulfillment, happiness, abundance, and health. Download Lisa's Free Akashic Meditation at: www.AkashicKnowing.com and stay tuned for Lisa's Tedx talk Emotional Trauma Revisited.