The Wellness Universe features Janette Stuart, Angelic Practitioner and Emissary of Joy. As The  Wellness Universe's Angelic Practitioner Expert Guide, International Best-Selling and Multi-book Author,  and author of the book Drenched in Love: Angelic Blessings for Inspired Living.
We want to share a bit about her work in the world: Janette Stuart is a WU Featured Author, International Best Selling Author, Certified Angel Card Reader, Blogger, Military Mom, and Emissary of Joy at Angel Angles with Janette Stuart. She assists you in owning and embracing your divinity through 1:1 Angel Sessions, and online and in-person classes to live a life with more love, joy, and peace, and with less stress, worry, and anxiety. Gentleness and joy are her superpowers.
We asked Janette to share her journey in writing her book, to shine a light and the inside scoop on her inspiration, process, reader reflections, and more.
WU: What influenced you to write your book Drenched in Love?
JANETTE: I was guided to use the Angel Affirmations of May 2021, one of the most popular blogs on the Wellness Universe where I share monthly, and create a book (and a card deck too.) It was Divine Guidance, for that was the first time each Angel Affirmation began with the word May and were each a loving blessing of inspiration from the Angels.
WU: Tell us a bit about your journey. How long did it take you to write? How did writing your book change your life?
JANETTE: It was a sacred journey for me to create this beautiful book. I added a "Notes for Today" section for each daily devotion so that it would also be a journal. It invites the reader to delve deep and list their takeaways, impressions, and insights. It took me about two months to write, revealing it to the world at The Wellness Universe's Premier Retreat Experience SoulTreat 2021 in Oct. 2021. The writing of this book allowed me to receive and give divine love more easily and to embrace being Drenched in Love as a daily practice.
WU: What are your readers sharing? How has your book inspired and impacted lives?
JANETTE: I have a friend who has shared passages from the book during her Facebook Live events and has embraced the phrase "Drenched in Love" as part of her vocabulary. It makes me so happy to hear her say those precious words.
We also did a 31-day experience in March as an online deep dive into each message which was transformational for many of us, including me!
5.0 out of 5 stars Beautiful Devotional
Reviewed in the United States on October 6, 2021
I looked forward to reading each daily devotion. The words of wisdom, love, and calm are not only soothing but, cause for reflection of my daily life. The illustrations and photos are charming and beautiful. Also, appreciate having a note section for each devotion to journal my own personal thoughts and feelings. It's a devotion of love, inspiration, and hope which anyone will find uplifting! Highly recommend! Great gift idea for Birthday or upcoming Holidays!
WU: What do you aspire to achieve through your book?
JANNETTE: My goal with Drenched in Love is to remind others of their divinity and that we all came here to live a life of joy and that we are always Drenched in Love. It is accessible when we open our hearts to receive that Divine blessing.
WU: Any final words you would like to share?
JANETTE: In closing, thank you for reading this interview, and I want to remind you, dear reader, that you are worthy and deserve every goodness and grace flowing to you constantly. You are Enough. You are Precious, and you are Drenched in Love.
Thank you, Janette Stuart, for sharing. If you found this insightful and inspiring and would like to get a copy of Drenched in Love and connect with Janette, visit https://www.thewellnessuniverse.com/world-changers/janettestuart/
---
All information, content, and material are for informational purposes only and are not intended to serve as a substitute for the consultation, diagnosis, and/or medical treatment of a qualified physician or healthcare provider. The information supplied through or on this page, or by any representative or agent of The Wellness Universe, is for informational purposes only and does not constitute medical, legal, or other professional advice. Health-related information provided through this website is not a substitute for medical advice and should not be used to diagnose or treat health problems or to prescribe any medical devices or other remedies. The Wellness Universe reserves the right to remove, edit, move or close any content item for any reason, including, but not limited to, comments that are in violation of the laws and regulations formed pursuant to the Federal Food, Drug, and Cosmetic Act. None of the posts and articles on The Wellness Universe page may be reprinted without express written permission.
---
The Wellness Universe presents Maggie Sarfo, Personal Growth Expert Leader and Akashic Records Consultant guiding you through The Series, a 6-month program that will transform your life.
Catch the recorded session(s) and be sure to join the next LIVE class! 
Register today: https://bit.ly/PurposeEvolution
---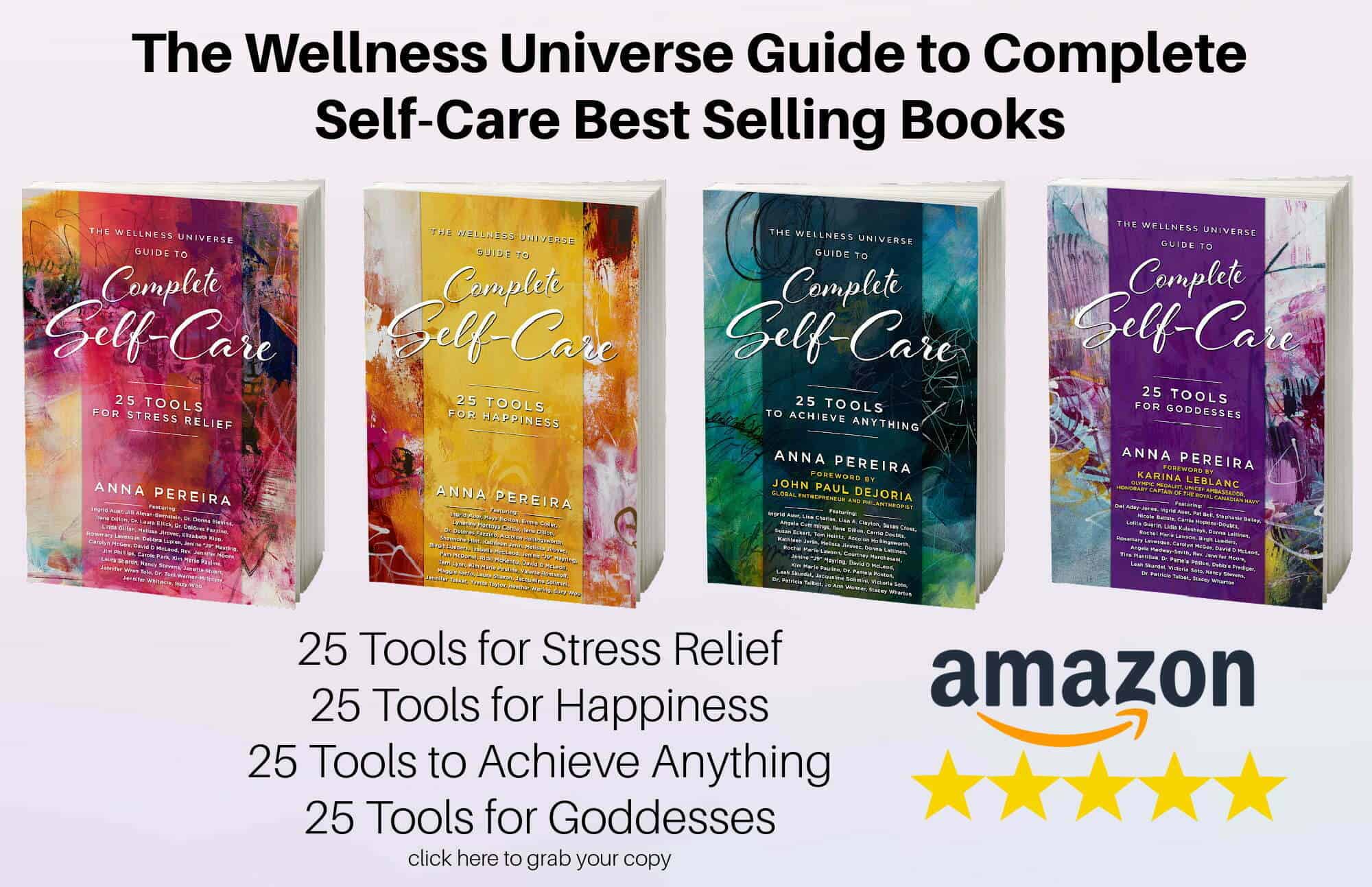 With over 250 independent reviews see how our self-care books are helping thousands of people around the world. Digital and paperback books are available now.
---
Self-development, self-care, and inspirational classes and sessions by Wellness Universe World Changer instructors who support your total well-being.
 Visit The Wellness Universe Lounge today!
---
The Wellness Universe is here to serve your best well-being. If you are experiencing anxiety, grief, overwhelm, guilt, anger, or seeking ways to cope and get help for stress, relationships, parenting, or any other issue during this challenging time, we have wonderful resources for you to connect with. Our WU Best Help members are offering reduced rates, sliding scale payment options, and even pro-bono sessions. WU Best Help
The Wellness Universe is your resource for health, wellness, well-being, and transformation. We serve and support professionals who make the world a better place and individuals and groups who seek their best life.
A woman owned company; having the vision in 2013, Anna Pereira launched the first directory in 2015 bringing together a community of members making the world a better place to be found by those seeking their best life. The Wellness Universe has grown since then to be a one-stop shop for total wellness support! We are a vetted community, online directory, book publisher, resource center, event producer, content platform, and so much more, supporting whole-health and well-being on a global scale.
The Wellness Universe is a home that connects industry professionals in the health, wellness, and well-being fields to seekers of total well-being. WU provides our WU World-Changer members with peer support, Wellness Universe produced events (live and online), projects, visibility, business mentoring, and community. Through The Wellness Universe our WU World-Changer members serve WU Friends, seekers of health, wellness and transformation, with coaching, workshops, content and more.
The Wellness Universe provides individuals and groups seeking their best lives with access to our members, wellness content, educational resources, and guidance in all areas of wellness to transform visions of how they want to live life into the life they experience.
Through the directory, WU Featured Blog, SoulTreat wellness retreat, Self-Care Books, group well-being programs, and online learning center, The Lounge, The Wellness Universe provides many avenues to support whole health, mind, body, spirit and planet.
Join us today! Wellness Professional or Seeker of Your Best Life