Choosing a therapist is something to put a good deal of thought into as you'll be investing a good amount of time, money, and effort with this person along your healing journey.
Although there are plenty of choices in your community, it's important to find a therapist who you feel comfortable being open and honest with and someone you sense is non-judgmental and accepting of you as you are. Finding a therapist to meet those needs, as well as some of the more practical requirements, will make the experience more pleasing and truly therapeutic.
Many therapists are aware of this decision-making process and often offer a complimentary 15-minute interview session to determine if you two are a good fit for one another.
You'll be able to learn about one another, ask your questions, and test out how a session may be before investing fully in one. If you leave the interview feeling better than when you entered, simply from being in his/her presence, that's a great sign! If not, allow that signal to guide you to the next one.
When it comes to the questions, we've collected some of the most important ones to ask when evaluating a therapist and considering treatment. These should help you narrow down your choices and find someone you are relieved to work with.
Here Are 5 Questions to Ask When Evaluating A Therapist:
What Experience do You Have Working with the Types of Problems I am Experiencing?
Although a therapist will always try to help a patient the best way, he/she can, having the experience of successfully helping other patients, move through the issues you're facing will surely give you more comfort and belief in your healing.
A therapist who even specializes in the area you need the most help with will be a great resource to provide you with solutions you'd never known before. They will have worked through similar issues on so many levels, with so many other personalities from a wide variety of patients, that they will have developed the awareness to help you see your situation with much greater clarity, outside the realm of what you thought was possible.
What is Your Counseling Philosophy?
You'll want to learn what their viewpoints are with regard to therapy since there are so many schools of thought. The more you can see eye to eye, the easier and more satisfying treatment will be for both of you. Is their approach to therapy along the lines of psychoanalysis and psychodynamic, behavior, cognitive, and humanistic, or do they take an integrative, holistic approach? A seasoned counselor will know their philosophy well so as you listen, take note of what you agree or disagree with.
You may even find their Philosophy of Counseling on their website. Take notes and ask questions in the interview that further clarify their approach to therapy to see how well you resonate.
What Can I Expect During and Between Sessions?
It's good to know upfront how much you'll be expected to commit to, that way there are fewer surprises along the way. Understanding the structure and allowing yourself to be guided through it will create a sense of security in your mind so you can feel safe to delve deeply into your healing journey. The more you can feel at ease along each stage of the process, the easier it will be to face whatever comes up in healing with your full attention.
If it is important for you to keep yourself engaged in between sessions to build momentum towards change, then seek out a therapist with a "homework" plan to offer or the openness to co-create a plan with you. These types of expectations could be the make-or-break factor to help you make your final decision.
What Types of Insurance and Payment Options Do You Offer?
If you have insurance, you may find it helpful to go the route of searching for a specialized provider within the network so you can skip asking about insurance. Whether you have insurance or not, it's good to find out other payment options, like financing or reduced fees, that you can take advantage of to minimize the financial load.
The point of therapy is to heal, not create additional stress about simple things like paying for treatment.
How Well Do You Feel the Therapist Understands the Issues You Are Seeking to Resolve?
Finding a compatible therapist is easier when you can identify your goals for therapy. One of the main purposes of the initial interview is to see how well they are able to help you reach such goals. When you describe your situation and the thoughts and feelings you're experiencing, do you feel like the therapist is already familiar with what you're going through? Do they appear confident in their ability to help you resolve the conflicts you're facing?
If you get a sense of relief during this part of the conversation with the prospective therapist, it's a really good sign to move forward, as the solution is there waiting for you.
Asking these five questions and any others you may be wondering about will provide you with the knowledge to choose a therapist who is likely to be quite compatible with you, which gives a greater chance for significant change.
If this article interested you, meet people who can do even more for you right now. From personal to professional well-being, connect with someone who can guide you to a happier, healthier, and whole life! Become a WU Friend today!
If you provide support or products that make the world a better place and help humanity live in health, happiness, and wholeness, join us as a WU World-Changer.
– The Wellness Universe
*Originally published on April 20, 2019.
---
All information, content, and material are for informational purposes only and are not intended to serve as a substitute for the consultation, diagnosis, and/or medical treatment of a qualified physician or healthcare provider. The information supplied through or on this page, or by any representative or agent of The Wellness Universe, is for informational purposes only and does not constitute medical, legal, or other professional advice. Health-related information provided through this website is not a substitute for medical advice and should not be used to diagnose or treat health problems or to prescribe any medical devices or other remedies. The Wellness Universe reserves the right to remove, edit, move or close any content item for any reason, including, but not limited to, comments that are in violation of the laws and regulations formed pursuant to the Federal Food, Drug, and Cosmetic Act. None of the posts and articles on The Wellness Universe page may be reprinted without express written permission.
---
 The Wellness Universe presents Carol Pilkington, a Self-development Expert Leader guiding you through Creating Joyful Relationships – Self-Development for Happier and Healthy Relationships 6-month program that will help you to enjoy fulfilling relationships.
Catch the recorded session(s) and be sure to join the next LIVE class! 
Register today:  https://bit.ly/CreatingJoyfulRelationships
---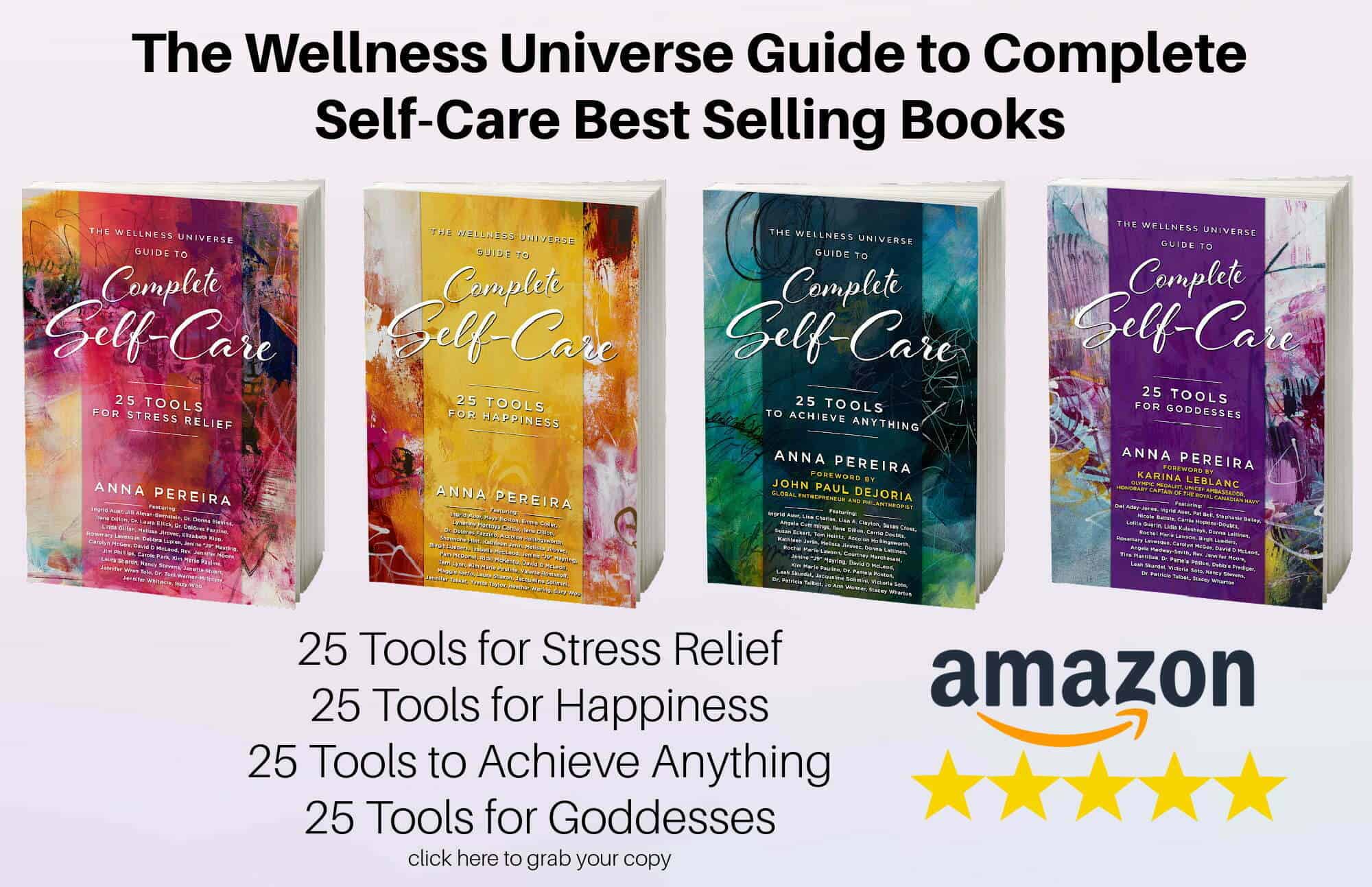 With over 250 independent reviews see how our self-care books are helping thousands of people around the world. Digital and paperback books are available now.
---
Self-development, self-care, and inspirational classes and sessions by Wellness Universe World Changer instructors who support your total well-being.
 Visit The Wellness Universe Lounge today!
---
The Wellness Universe is here to serve your best well-being. If you are experiencing anxiety, grief, overwhelm, guilt, anger, or seeking ways to cope and get help for stress, relationships, parenting, or any other issue during this challenging time, we have wonderful resources for you to connect with. Our WU Best Help members are offering reduced rates, sliding scale payment options, and even pro-bono sessions. WU Best Help
The Wellness Universe is your resource for health, wellness, well-being, and transformation. We serve and support professionals who make the world a better place and individuals and groups who seek their best life.
A woman owned company; having the vision in 2013, Anna Pereira launched the first directory in 2015 bringing together a community of members making the world a better place to be found by those seeking their best life. The Wellness Universe has grown since then to be a one-stop shop for total wellness support! We are a vetted community, online directory, book publisher, resource center, event producer, content platform, and so much more, supporting whole-health and well-being on a global scale.
The Wellness Universe is a home that connects industry professionals in the health, wellness, and well-being fields to seekers of total well-being. WU provides our WU World-Changer members with peer support, Wellness Universe produced events (live and online), projects, visibility, business mentoring, and community. Through The Wellness Universe our WU World-Changer members serve WU Friends, seekers of health, wellness and transformation, with coaching, workshops, content and more.
The Wellness Universe provides individuals and groups seeking their best lives with access to our members, wellness content, educational resources, and guidance in all areas of wellness to transform visions of how they want to live life into the life they experience.
Through the directory, WU Featured Blog, SoulTreat wellness retreat, Self-Care Books, group well-being programs, and online learning center, The Lounge, The Wellness Universe provides many avenues to support whole health, mind, body, spirit and planet.
Join us today! Wellness Professional or Seeker of Your Best Life