As a psychologist, human capital strategist, mentor, and speaker, what I have observed is that sometimes the most heart-centered leaders can have unconscious blocks when it comes to prosperity. A common, dominant intention for empathic personality types with a high degree of spiritual awareness is to heal and be of service to others. At a deeper level, money isn\'t given the same level of significance, and this can be reflected back in what becomes manifest and comes to life.
I put in a call to Anna as I believe prosperity is our birthright and would love to help this inspirational community collectively rise to greater levels of prosperity and in turn, positive impact. With some creative fire, Heart-Set Prosperity quickly took form.
It's my pleasure and privilege to facilitate these beautiful and powerful teaching and learning circles for personal development and collective evolution. I would love for you to join us on this journey.
We can solve what we own and acknowledge
With real openness and vulnerability, here are some of the truths and challenges shared by the group:
How prosperity infuses many aspects of life, except work "I\'m grateful every day for all the abundance in so many areas, except not my business. Why?"
The pain of knowing there is a message in you that will serve many yet feeling stuck and wondering "How come others get to do it?"
How frustrating it feels to be subjected to a barrage of endless marketing 'must-do' tactics that don't feel aligned – wanting to know "the right way to speak to the people who need to hear my message"
The yearning to move beyond a space where needs are met to a position of real cash flow coming in – financial independence – and the resources to make more of a positive impact and contribute to the world on a larger scale
Having made the choice to value your work more and take often hard decisions to alter business and audience models, yet feeling it's an in-between space – wanting the guidance to move further into the vibration of prosperity
How to shift with grace into more of a space of faith in times of transition
With a clear strategic vision in place, how to release energetic blocks to prosperity and work on the quantum layer
A deep and often unconscious question is, can I receive prosperity for doing the work I love?
Can you relate to any or all of these? What was wonderful about this open-hearted session was the level of group resonance. Much has been researched about the power of a collective of people coming together with shared intentions. I see this myself, in every program, every group meditation, every event…groups come together for a reason. Whether you were able to join live or catch the replay, everyone has something to bring energetically that another, or many others, need.
#Truth – You don't need to choose love or wealth, purpose, or security.
True prosperity balances needs and wants in love, health, wealth, passion, and purpose
My intentions for the course ahead are to:
Guide an exploration of any spaces and places where there may be resistance to really stepping into a prosperity consciousness
Grow levels of consciousness so that we not only serve ourselves, but we serve others around us more powerfully
Share how prosperity can become a lifestyle rather than something that we look to achieve in our lives
Show how when you further embody and radiate your purpose, you organically attract into your life what you need. As opposed to thinking about what you need to do in the world, you start thinking about who you need to be in the world, and how this way of being can become a powerful vehicle to attract the people, moments, and experiences that will pave your unique way to greater positive impact
Shift from 3d reality and into 5d reality where we don\'t have to ask for what we want and where we can clear some of the empathetic responses and resistance to fully receiving as well as giving
Strengthen your connection to your heart intelligence, an inner GPS that guides you to the unique set of actions that will allow you to evolve in yourself and support others to evolve to grow in connection with their own hearts – this is the collective prosperity we are here to co-create
Just some of the ways we will get there and our next steps
Work to clear the resonance of scarcity that can be held in the body, often this can be inherited and therefore is unseen. The beauty of Gyana yoga is that you don't need to know what specifically you are releasing in order to experience feelings of lightness and expansion
The planetary energies of this time support our growth and amplify our positive actions, the tools I will share help align heart, mind, body, and universal energies
These 12 monthly sessions will be really interactive, with plenty of space to share. The journey will be a balance of spiritual education – timeless concepts and ideas – as well as meditations, Gyana yoga mudras, and movements that allow us to fully embrace who we really are and what we are here to create
"When we are vibrating at a level where our hearts, minds, and bodies come together in alignment, we become channels for everything that is good and positive that exists in the world. And when we become channels for these qualities, we are better able to attract the levels of prosperity that we need in order to be of service – that also allow us to feel healthy, to experience and work with the creative energy of love, better able to connect with wealth through our purpose and passion. Prosperity is not just about material security or wealth. Prosperity is about all levels of your wellbeing in balance and harmony."
~ Hema Vyas
Connect with Hema on The Wellness Universe.
---
All information, content, and material are for informational purposes only and are not intended to serve as a substitute for the consultation, diagnosis, and/or medical treatment of a qualified physician or healthcare provider. The information supplied through or on this page, or by any representative or agent of The Wellness Universe, is for informational purposes only and does not constitute medical, legal, or other professional advice. Health-related information provided through this website is not a substitute for medical advice and should not be used to diagnose or treat health problems or to prescribe any medical devices or other remedies. The Wellness Universe reserves the right to remove, edit, move or close any content item for any reason, including, but not limited to, comments that are in violation of the laws and regulations formed pursuant to the Federal Food, Drug, and Cosmetic Act. None of the posts and articles on The Wellness Universe page may be reprinted without express written permission.
---
The Wellness Universe welcomes you to our Mid-Week Reset Meditation led by Leah Skurdal, Intuitive Wellness Guide.
Our group meditation is live every 1st and 3rd Wednesday. Sign up here: bit.ly/WUMidWeekMeditation
---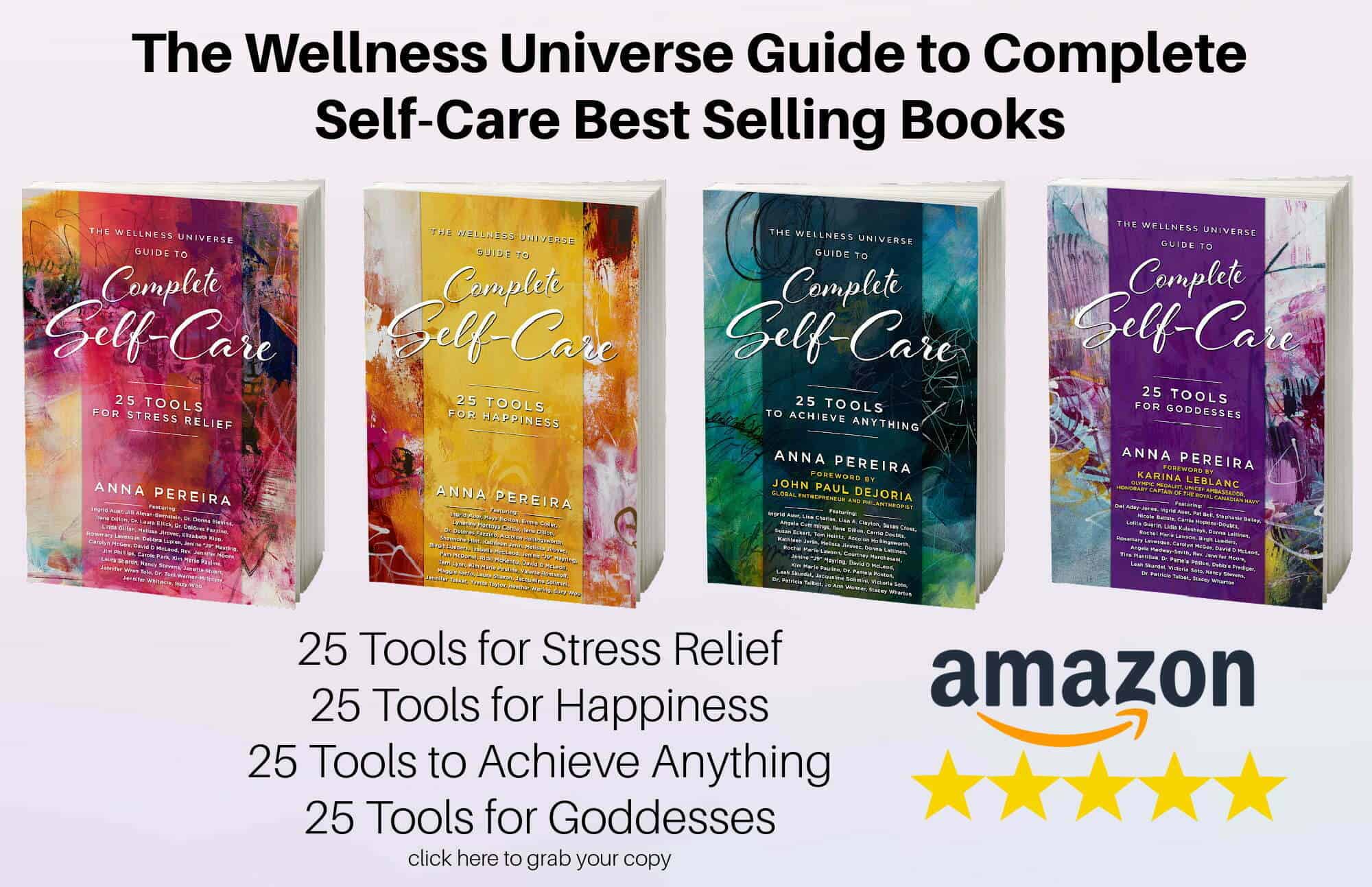 With over 250 independent reviews see how our self-care books are helping thousands of people around the world. Digital and paperback books are available now.
---
Self-development, self-care, and inspirational classes and sessions by Wellness Universe World Changer instructors who support your total well-being.
 Visit The Wellness Universe Lounge today!
---
The Wellness Universe is here to serve your best well-being. If you are experiencing anxiety, grief, overwhelm, guilt, anger, or seeking ways to cope and get help for stress, relationships, parenting, or any other issue during this challenging time, we have wonderful resources for you to connect with. Our WU Best Help members are offering reduced rates, sliding scale payment options, and even pro-bono sessions.
WU Best Help
Hema Vyas is a renowned speaker on heart wisdom, human consciousness, spirituality, health, energy medicine and the science of Ayurveda. As The Omnipreneurial Psychologist ™ speaker and mentor, she guides the path to commercial success, evolutionary and inclusive leadership, wellbeing and positive impact for independents, startups and corporates. Omnipreneurs place value on health and humanity alongside business goals seeing meaning and success as integral to one another. Hema also works with diverse global audiences to bring about an alignment in heart, mind and body intelligence for optimal creativity, critical-thinking and cohesion. Her mission is to provide a direct experience of the power of the heart and move people into what she uniquely terms a state of gold. "As nothing can tarnish or destroy the sustainable and highly valuable element of gold, so when we excavate all that is not who we really are, we become aware of our true selves."