Google has seen over 1 billion searches a day related to wellness. Self-care for mental and emotional wellness as a daily practice is needed now more than ever.
The Wellness Universe recently launched its fourth book in a series of best-selling self-care books, The Wellness Universe Guide to Complete Self-Care, 25 Tools for Goddesses. The series has created a wave of well-being.
Valentine's Day Self-care is Self-love
The Wellness Universe Guide to Complete Self-Care, 25 Tools for Goddesses by Anna Pereira
Lead best-selling author, Anna Pereira, CEO of The Wellness Universe, shares why 25 Tools for Goddesses is important, specifically as Valentine's Day is here, "Self-love, self-compassion, and self-care is a priority. We seek to genuinely improve life, not just feel good in the moment. Empowering people to pamper themselves through self-care is my mission. Our best mental and emotional well-being results from engaging in effective self-care."
Mental and emotional wellness has reached historic proportions due to the recent pandemic. Resources for wellness, self-care, and self-love are needed now more than ever.
As an advocate for women's empowerment and wellness, Pereira is dedicated to supporting total well-being.
According to Medical News Today, "Self-compassion and self-love are largely used interchangeably in specialized literature. Research shows that having more self-compassion builds resilience in the face of adversity, helping people to recover more quickly from trauma or romantic separation."
From healing a broken heart, freedom from addiction, forgiving an abuser, owning your power, and increasing emotional and mental wellness, there are many ways to practice self-love and self-compassion to heal emotional wounds and live our best life.
"Self-care and self-love are achieved via the relatability of the stories and step-by-step healing tools," Pereira continued, "It's empowering to embody and connect with our unique Goddess energy as a core component of confidence, resilience, joy, and ultimately creating the life we desire. True Goddess energy has little to do with the sexualized version. We are made up of divine masculine and divine feminine energy. Both need nourishment to be happy, healthy, and whole."
Sharon Randall, a successful woman in her 60's, shared "I've never felt that I was a Goddess. This book changed everything."
Elizabeth R. Kipp, a Stress Management Specialist, shared this on Amazon, "A definitive source for anyone yearning to step into their Goddess power for once and for all."
When asked which of Pereira's four books would be the best choice for Valentine's Day, she replied, 25 Tools for Goddesses is my first pick. All empower people to live happy, healthy, and whole through different tools and themes."
The book hit the number one best-seller in several categories on Amazon.
Foreword by Olympic Medalist and GM of the Portland Thorns FC, Karina LeBlanc, featuring 25 wellness author experts, and published by Brave Healer Productions.
Featured author experts include Stephanie Bailey, Donna Laitinen, Stacey Wharton, Patricia A. Talbot, Debbie Prediger, Leah Skurdal, Tina Plantillas, Del Adey-Jones, Lolita Guarin, Carrie Hopkins-Doubts, Pat Bell, Angela Orora Medway-Smith, Dr. Pamela Poston, Lidia Kuleshnyk, Rosemary Levesque, David D McLeod, Birgit Lueders, Nancy Stevens, Carolyn McGee, Victoria Soto, Ingrid Auer, Nicole Batiste, Jennifer Elizabeth Moore, Rochel Marie Lawson, published by Brave Healer Productions.
*Originally published on February 20, 2022.
---
All information, content, and material are for informational purposes only and are not intended to serve as a substitute for the consultation, diagnosis, and/or medical treatment of a qualified physician or healthcare provider. The information supplied through or on this page, or by any representative or agent of The Wellness Universe, is for informational purposes only and does not constitute medical, legal, or other professional advice. Health-related information provided through this website is not a substitute for medical advice. It should not be used to diagnose or treat health problems or prescribe medical devices or other remedies. The Wellness Universe reserves the right to remove, edit, move or close any content item for any reason, including, but not limited to, comments that are in violation of the laws and regulations formed pursuant to the Federal Food, Drug, and Cosmetic Act. None of the posts and articles on The Wellness Universe page may be reprinted without express written permission.
---
The Wellness Universe welcomes you to our Mid-Week Reset Meditation led by Leah Skurdal, Intuitive Wellness Guide.
Our group meditation is live every 1st and 3rd Wednesday. Sign up here: 
https://bit.ly/WUMidWeekMeditation
---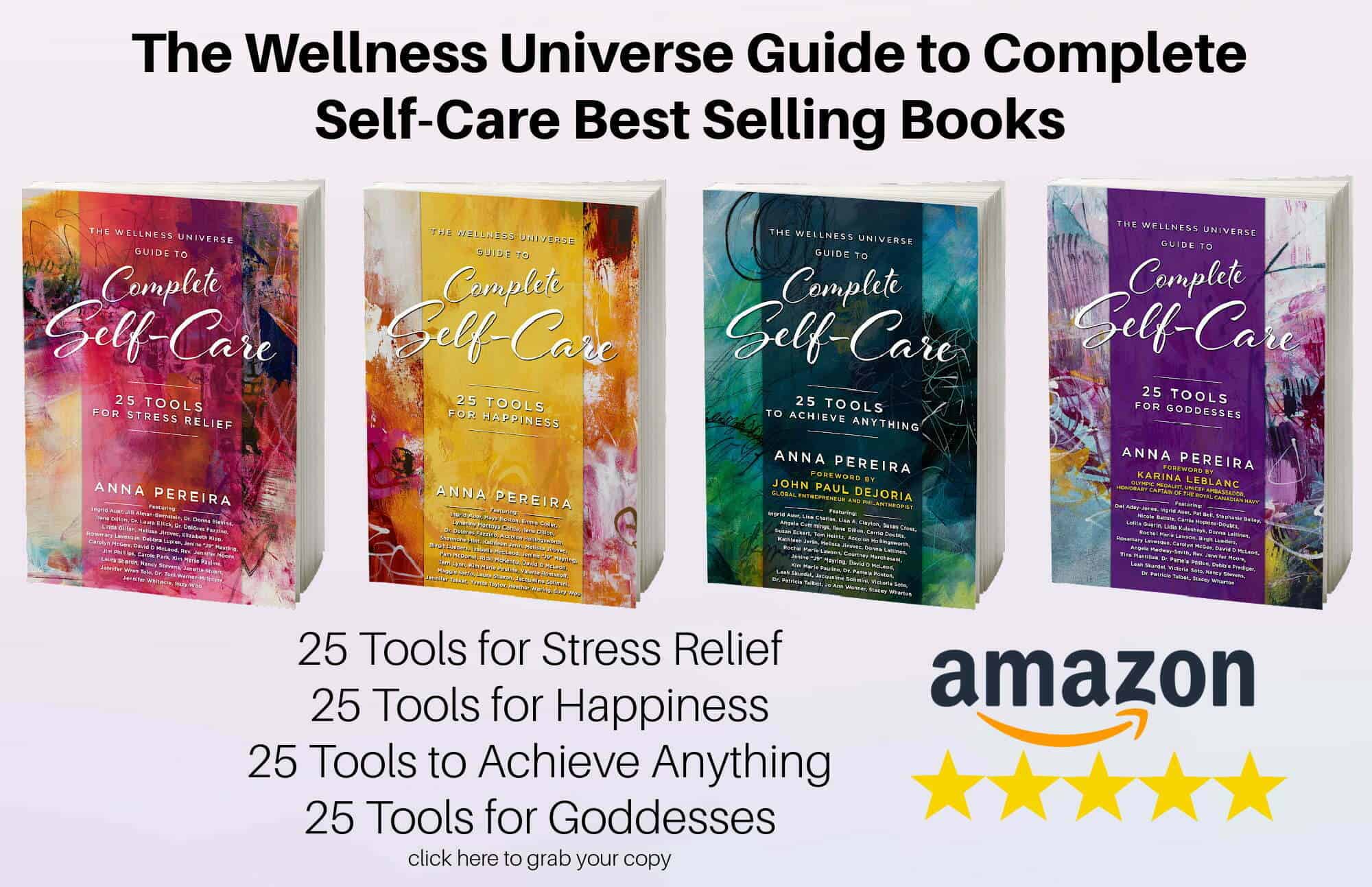 With over 250 independent reviews see how our self-care books are helping thousands of people around the world. Digital and paperback books are available now.
---

Connect to the people that help you live your best life: The Wellness Universe
The Wellness Universe is your resource for health, wellness, well-being, and transformation. We serve and support professionals who make the world a better place and individuals and groups who seek their best life.
A woman owned company; having the vision in 2013, Anna Pereira launched the first directory in 2015 bringing together a community of members making the world a better place to be found by those seeking their best life. The Wellness Universe has grown since then to be a one-stop shop for total wellness support! We are a vetted community, online directory, book publisher, resource center, event producer, content platform, and so much more, supporting whole-health and well-being on a global scale.
The Wellness Universe is a home that connects industry professionals in the health, wellness, and well-being fields to seekers of total well-being. WU provides our WU World-Changer members with peer support, Wellness Universe produced events (live and online), projects, visibility, business mentoring, and community. Through The Wellness Universe our WU World-Changer members serve WU Friends, seekers of health, wellness and transformation, with coaching, workshops, content and more.
The Wellness Universe provides individuals and groups seeking their best lives with access to our members, wellness content, educational resources, and guidance in all areas of wellness to transform visions of how they want to live life into the life they experience.
Through the directory, WU Featured Blog, SoulTreat wellness retreat, Self-Care Books, group well-being programs, and online learning center, The Lounge, The Wellness Universe provides many avenues to support whole health, mind, body, spirit and planet.
Join us today! Wellness Professional or Seeker of Your Best Life