*This article is quoted from the WHO website.
Whilst the pandemic has and continues to take its toll on our mental health, the ability to reconnect through World Mental Health Day 2022 will provide us with an opportunity to rekindle our efforts to protect and improve mental health.
Many aspects of mental health have been challenged, and already before the pandemic in 2019, an estimated one in eight people globally were living with a mental disorder. At the same time, the services, skills, and funding available for mental health remain in short supply and fall far below what is needed, especially in low and middle-income countries.
The COVID-19 pandemic has created a global crisis for mental health, fueling short- and long-term stresses and undermining the mental health of millions. Estimates put the rise in both anxiety and depressive disorders at more than 25% during the first year of the pandemic. At the same time, mental health services have been severely disrupted and the treatment gap for mental health conditions has widened.
Growing social and economic inequalities, protracted conflicts, violence, and public health emergencies affect whole populations, threatening progress towards improved well-being; a staggering 84 million people worldwide were forcibly displaced in 2021.  We must deepen the value and commitment we give to mental health as individuals, communities, and governments and match that value with more commitment, engagement, and investment by all stakeholders, across all sectors.  We must strengthen mental health care so that the full spectrum of mental health needs is met through a community-based network of accessible, affordable, and quality services and supports.
Stigma and discrimination continue to be a barrier to social inclusion and access to the right care; importantly, we can all play our part in increasing awareness about which preventive mental health interventions work, and World Mental Health Day is an opportunity to do that collectively. We envision a world in which mental health is valued, promoted, and protected; where everyone has an equal opportunity to enjoy mental health and exercise their human rights; and where everyone can access the mental health care they need.
WHO will work with partners to launch a campaign around the theme of Making Mental Health & Well-Being for All a Global Priority. This will be an opportunity for people with mental health conditions, advocates, governments, employers, employees, and other stakeholders to come together to recognize progress in this field and to be vocal about what we need to do to ensure Mental Health & Well-Being becomes a Global Priority for all.
*Article source and for more information, please visit World Health Organization.
---
All information, content, and material are for informational purposes only and are not intended to serve as a substitute for the consultation, diagnosis, and/or medical treatment of a qualified physician or healthcare provider. The information supplied through or on this page, or by any representative or agent of The Wellness Universe, is for informational purposes only and does not constitute medical, legal, or other professional advice. Health-related information provided through this website is not a substitute for medical advice and should not be used to diagnose or treat health problems or to prescribe any medical devices or other remedies. The Wellness Universe reserves the right to remove, edit, move or close any content item for any reason, including, but not limited to, comments that are in violation of the laws and regulations formed pursuant to the Federal Food, Drug, and Cosmetic Act. None of the posts and articles on The Wellness Universe page may be reprinted without express written permission.
---
Living Beyond Grief, Creating an Inspired Life After Loss. 
The Wellness Universe partners with Grief Warrior Rachel Vasquez in this Wellness for All course to transition your life from grief to hope. Join Rachel as she hosts each session live, empowering you and supporting your journey. You are not alone.
Catch the recorded session(s) and be sure to join the next LIVE class! 
Register today: https://bit.ly/WULivingBeyondGrief
---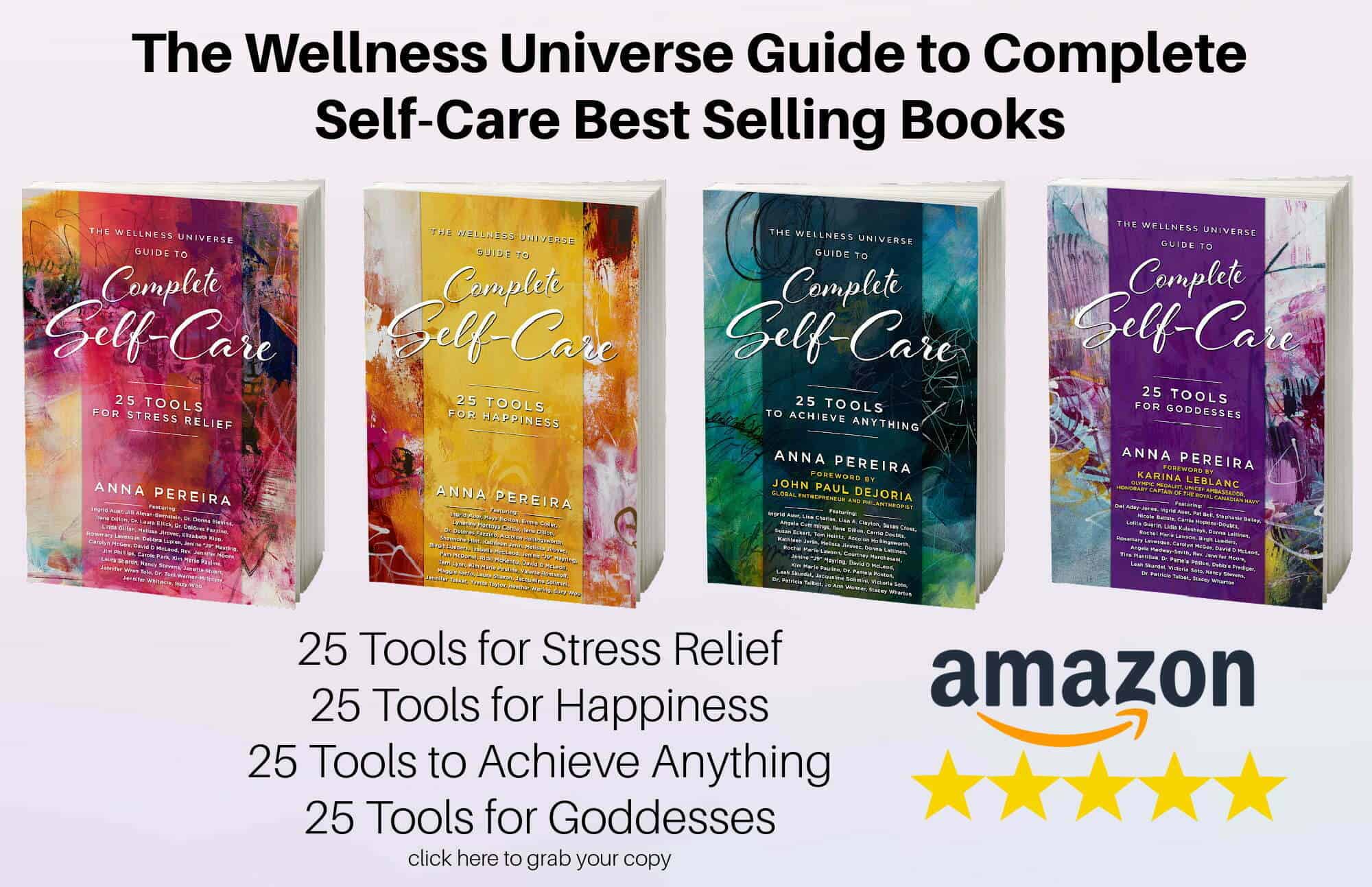 With over 250 independent reviews see how our self-care books are helping thousands of people around the world. Digital and paperback books are available now.
---
Self-development, self-care, and inspirational classes and sessions by Wellness Universe World Changer instructors who support your total well-being.
 Visit The Wellness Universe Lounge today!
---
The Wellness Universe is here to serve your best well-being. If you are experiencing anxiety, grief, overwhelm, guilt, anger, or seeking ways to cope and get help for stress, relationships, parenting, or any other issue during this challenging time, we have wonderful resources for you to connect with. Our WU Best Help members are offering reduced rates, sliding scale payment options, and even pro-bono sessions. WU Best Help
The Wellness Universe is your resource for health, wellness, well-being, and transformation. We serve and support professionals who make the world a better place and individuals and groups who seek their best life.
A woman owned company; having the vision in 2013, Anna Pereira launched the first directory in 2015 bringing together a community of members making the world a better place to be found by those seeking their best life. The Wellness Universe has grown since then to be a one-stop shop for total wellness support! We are a vetted community, online directory, book publisher, resource center, event producer, content platform, and so much more, supporting whole-health and well-being on a global scale.
The Wellness Universe is a home that connects industry professionals in the health, wellness, and well-being fields to seekers of total well-being. WU provides our WU World-Changer members with peer support, Wellness Universe produced events (live and online), projects, visibility, business mentoring, and community. Through The Wellness Universe our WU World-Changer members serve WU Friends, seekers of health, wellness and transformation, with coaching, workshops, content and more.
The Wellness Universe provides individuals and groups seeking their best lives with access to our members, wellness content, educational resources, and guidance in all areas of wellness to transform visions of how they want to live life into the life they experience.
Through the directory, WU Featured Blog, SoulTreat wellness retreat, Self-Care Books, group well-being programs, and online learning center, The Lounge, The Wellness Universe provides many avenues to support whole health, mind, body, spirit and planet.
Join us today! Wellness Professional or Seeker of Your Best Life