Getting outside has numerous benefits for our physical and emotional health.
It's been proven time and time again that fresh air boosts your immune system, relieves stress, enhances creativity and even mitigates pain. Nature provides natural aromatherapy, restores focus and improves vision. If you still need another reason to get outside this time of year, let the changing colors of the leaves fill that void for you.
As the air turns colder and many trade tank-tops and flip flops for flannels and boots, traveling to see nature's amazing artistry on the hillsides provides an unmistakable pastime for many. Late September through October provides some of the best color-watching across the United States.
Here Are 10 Places to Embrace the Art of Nature this Autumn:
The Northeastern region of the United States is known for its autumnal beauty and centers much of its tourism industry on the changing leaves, apple picking, and fall festivals.
Bar Harbor, Maine
Visit Acadia National Park before the cold sets in. Kayak the beautiful rivers and go whale-watching on the coast while enjoying the amazing colors of one of the most northern states in the US.
The Catskill Mountains, New York
The German culture, fall festivals, and stunning landscapes might captivate you enough to bring you back each October.
Stowe, Vermont
This town is nicknamed Fall's Color Capital and it's no wonder; with its mountain views and numerous outdoor activities organized this time of year.
North Conway, New Hampshire
Hop on an historic train and ride through the New Hampshire countryside in style. Leaves are at their peak in mid-October; so don't wait!
Have you found yourself in another region of the United States? Don't fret! There are hundreds of other amazing locations that focus on fall colors.
Upper Peninsula, Michigan
With acres of forest on the edge of two of The Great Lakes, it should come as no surprise that the "U.P." offers some of the most amazing colors in the country.
Columbia River Gorge, Oregon
Home to over 50 waterfalls, October and November are among the best times to visit this Northwest Pacific location.
Madison, Wisconsin
With the hills to the north, bluffs to the west, and numerous hiking and biking trails to take advantage of, you'll want to make a weekend trip to this Wisconsin capital city.
The Great Smoky Mountains
This chain of mountains is breathtaking year-round; but in the Fall, you'll find yourself completely awestruck. Eight hundred miles of roads and dozens of different types of trees bring you days of exploring options.
Aspen, Colorado
For a city named after trees, it's no wonder that the views are so stunning this time of year.
Enchanted Circle Scenic Byway, New Mexico
Looking for something a little farther south? Try this eighty-three-mile loop in New Mexico. Winding around New Mexico's highest point, you'll experience amazing southwestern color.
Whether color-watching means walking out your back door or planning a trip to the colder regions of the country, add this to your bucket list of outdoor activities each year. It's nature's chance to show off for a brief moment before winter's dormant months.
Where is your favorite place to embrace the art of nature? Please share in the comments section below!
Did you know you can find help here? From personal to professional well-being, connect with someone who can guide you to a happier, healthier, and whole life! Become a WU Friend today!
If you provide support or products that make the world a better place and help humanity live in health, happiness, and wholeness, join us as a WU World-Changer.
– The Wellness Universe
*Originally published on October 17, 2019.
---
All information, content, and material are for informational purposes only and are not intended to serve as a substitute for the consultation, diagnosis, and/or medical treatment of a qualified physician or healthcare provider. The information supplied through or on this page, or by any representative or agent of The Wellness Universe, is for informational purposes only and does not constitute medical, legal, or other professional advice. Health-related information provided through this website is not a substitute for medical advice and should not be used to diagnose or treat health problems or to prescribe any medical devices or other remedies. The Wellness Universe reserves the right to remove, edit, move or close any content item for any reason, including, but not limited to, comments that are in violation of the laws and regulations formed pursuant to the Federal Food, Drug, and Cosmetic Act. None of the posts and articles on The Wellness Universe page may be reprinted without express written permission.
---
The Wellness Universe presents Integrative Healing Expert Leader, Rosemary Levesque. She is a Licensed Spiritual Healer, Reiki Master Teacher, Certified Vibrational Sound Master Teacher, and Medicinal Aromatherapist, who will be guiding you through the Optimal Healing 12-month program that will help you to enjoy health and wellbeing through the integration of natural and alternative methods, modalities, and resources. 
Catch the recorded session(s) and be sure to join the next LIVE class! 
Register today:  https://bit.ly/OptimalHealingCourse
---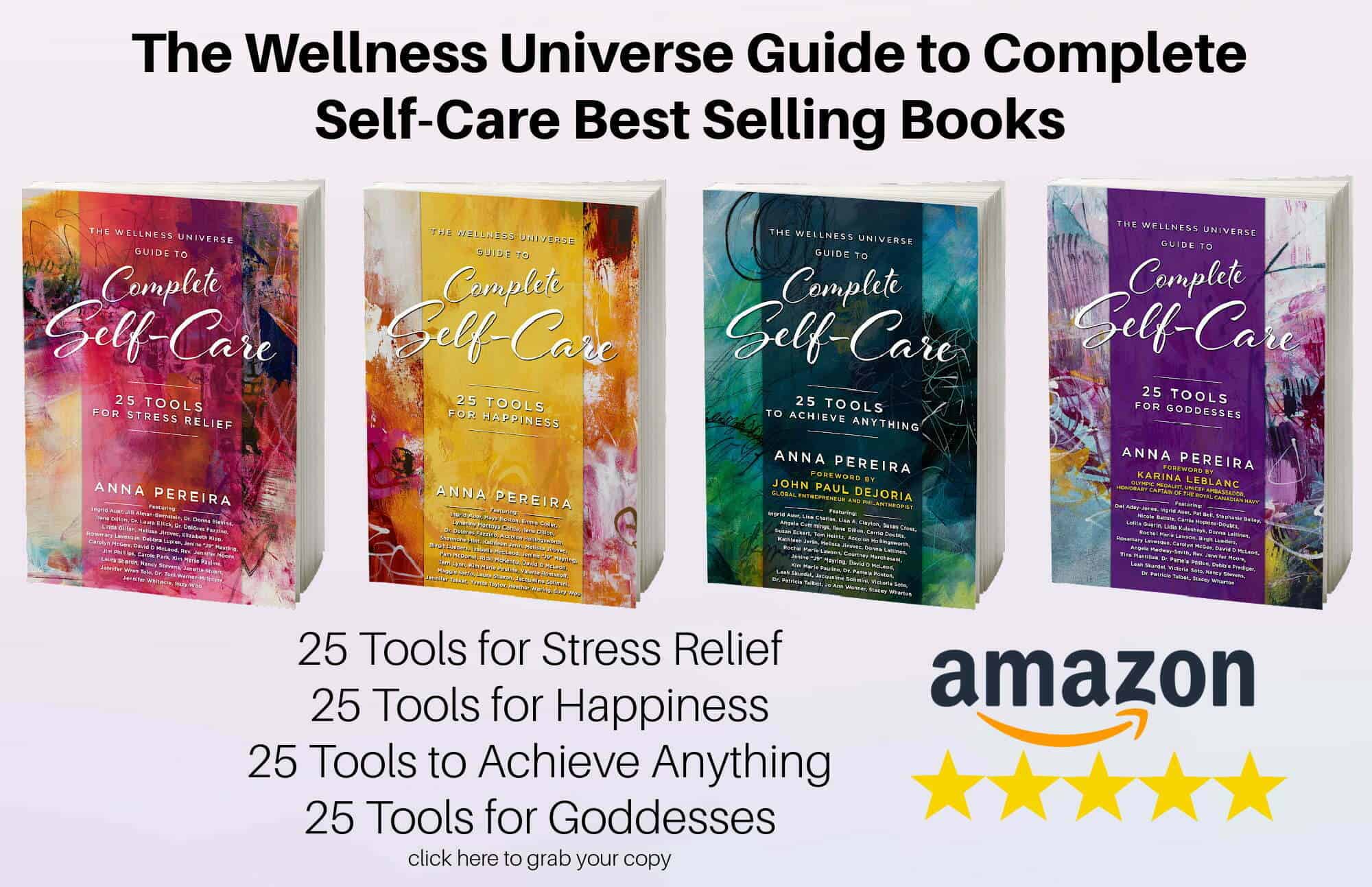 With over 250 independent reviews see how our self-care books are helping thousands of people around the world. Digital and paperback books are available now.
---
Self-development, self-care, and inspirational classes and sessions by Wellness Universe World Changer instructors who support your total well-being.
 Visit The Wellness Universe Lounge today!
---
The Wellness Universe is here to serve your best well-being. If you are experiencing anxiety, grief, overwhelm, guilt, anger, or seeking ways to cope and get help for stress, relationships, parenting, or any other issue during this challenging time, we have wonderful resources for you to connect with. Our WU Best Help members are offering reduced rates, sliding scale payment options, and even pro-bono sessions. WU Best Help
The Wellness Universe is your resource for health, wellness, well-being, and transformation. We serve and support professionals who make the world a better place and individuals and groups who seek their best life.
A woman owned company; having the vision in 2013, Anna Pereira launched the first directory in 2015 bringing together a community of members making the world a better place to be found by those seeking their best life. The Wellness Universe has grown since then to be a one-stop shop for total wellness support! We are a vetted community, online directory, book publisher, resource center, event producer, content platform, and so much more, supporting whole-health and well-being on a global scale.
The Wellness Universe is a home that connects industry professionals in the health, wellness, and well-being fields to seekers of total well-being. WU provides our WU World-Changer members with peer support, Wellness Universe produced events (live and online), projects, visibility, business mentoring, and community. Through The Wellness Universe our WU World-Changer members serve WU Friends, seekers of health, wellness and transformation, with coaching, workshops, content and more.
The Wellness Universe provides individuals and groups seeking their best lives with access to our members, wellness content, educational resources, and guidance in all areas of wellness to transform visions of how they want to live life into the life they experience.
Through the directory, WU Featured Blog, SoulTreat wellness retreat, Self-Care Books, group well-being programs, and online learning center, The Lounge, The Wellness Universe provides many avenues to support whole health, mind, body, spirit and planet.
Join us today! Wellness Professional or Seeker of Your Best Life