Emotions are building blocks giving color, clarity, and depth to life!
Winter season seems more deeply connected to "heavier" negative feelings than other seasons in part due to shorter daylight hours along with colder, darker days. During Winter for some of us, our psyches take on a "weather-related" heaviness bringing change to our moods, energy levels, and physical health.
However, this "seasonal winter psyche" does not need to completely dampen your outlook nor act as a roadblock for the entirety of the season. At its core, emotional wellness is knowing you can change and choose how you respond to things that happen to you, your thoughts, and your feelings. Use these emotional well-being lifestyle tips that are listed below as a guide for being present with this season.
10 Emotional Winter Wellness Tips
Exercise to Boost Feelings
Physical movement gets the oxygen and blood flowing and loosens up any tightness and stiffness. This opens up the feel-good hormones stimulated by physical activity! Exercising under bright lights indoors and in natural outdoor light serves as a mood improver!
Cultivate Meditation
Sitting in intentional contemplative silence calms and centers emotions associated with Winter weather. Find a comfortable quiet space that welcomes your presence.
Sleep with Intention
Studies show a good night's sleep will boost your mood! Take advantage of earlier nightfall during the Winter months as a means to get to bed earlier!  Now is a great time to create a nourishing sleep routine. Put thought into this and make it simple so you will look forward to this end-of-day closing ritual.
Eat Clean
Eating whole clean foods is deeply connected to emotional wellbeing. What we eat directs our emotional and physical energy and health. Eat a healthy mix of fruits, veggies, clean and lean meats, mono and polyunsaturated fats, nuts, legumes, and dairy. Notice what foods eaten resonate with you giving your energy.
Connect Socially
Winter's darker colder days at times create a stronghold against getting out with others which only increases loneliness and darker, heavier emotions. Connecting socially be it one-to-one or with a group increases our feel-good emotions which contributes to emotional well-being. We are meant to connect, share, and be with others!
Practice Optimism
Optimism, which is seeking out what is good and life-affirming in day to day is a foundational component of emotional wellbeing. Being optimistic allows for heavier feelings while knowing that they do not need to define you nor are these feelings permanent.
Cultivate Daily Gratitude
Making a note of what you have in life to be thankful for whether done daily or a few times during the week weighs the scales, balancing what may not feel great with the good you've brought to your attention!
Enhance Emotional Regulation
This practice involves learning how to keep your darker emotions in check. You are aware of them and allow yourself to feel them without becoming them or being directed by them. Your thoughts and feelings are the fabric of your life and you are in the driver's seat of deciding how to be with your emotions, not the other way around!
Develop Self Awareness
The more we are aware of our thoughts, feelings, and emotions, the more we can take charge of them and the less control they have over us in our day today!
Accept Feelings
At any given moment we handle a depth of feelings about ourselves and the components of our lives. These run the range from joy to frustration and everything in between.  Give yourself permission to accept and own your emotions. In this place, give yourself permission to lead and direct how you will be/live with your noted emotions versus being led, defined, and directed by them.
Which of these tips did you find helpful? Do you have any Winter emotional wellness tips that did not get mentioned above? If so, please share them with us in the comments section below!
Did you know you can find help here? From personal to professional well-being, connect with someone who can guide you to a happier, healthier, and whole life! Become a WU Friend today!
If you provide support or products that make the world a better place and help humanity live in health, happiness, and wholeness, join us as a WU World-Changer!
– The Wellness Universe
*Originally published on January 15, 2019.
---
All information, content, and material are for informational purposes only and are not intended to serve as a substitute for the consultation, diagnosis, and/or medical treatment of a qualified physician or healthcare provider. The information supplied through or on this page, or by any representative or agent of The Wellness Universe, is for informational purposes only and does not constitute medical, legal, or other professional advice. Health-related information provided through this website is not a substitute for medical advice and should not be used to diagnose or treat health problems or to prescribe any medical devices or other remedies. The Wellness Universe reserves the right to remove, edit, move or close any content item for any reason, including, but not limited to, comments that are in violation of the laws and regulations formed pursuant to the Federal Food, Drug, and Cosmetic Act. None of the posts and articles on The Wellness Universe page may be reprinted without express written permission.
---
The Wellness Universe introduces you to Gayle Nowak Visibility Sage and Soul Session Guide in partnership with Wellness for All programming bringing you Unmask Your Magic, Soul Sessions: Healing and Clearing to Achieve Success.
Catch the recorded session(s) and be sure to join the next LIVE class! 
Register today: https://bit.ly/UnmaskYourMagic
---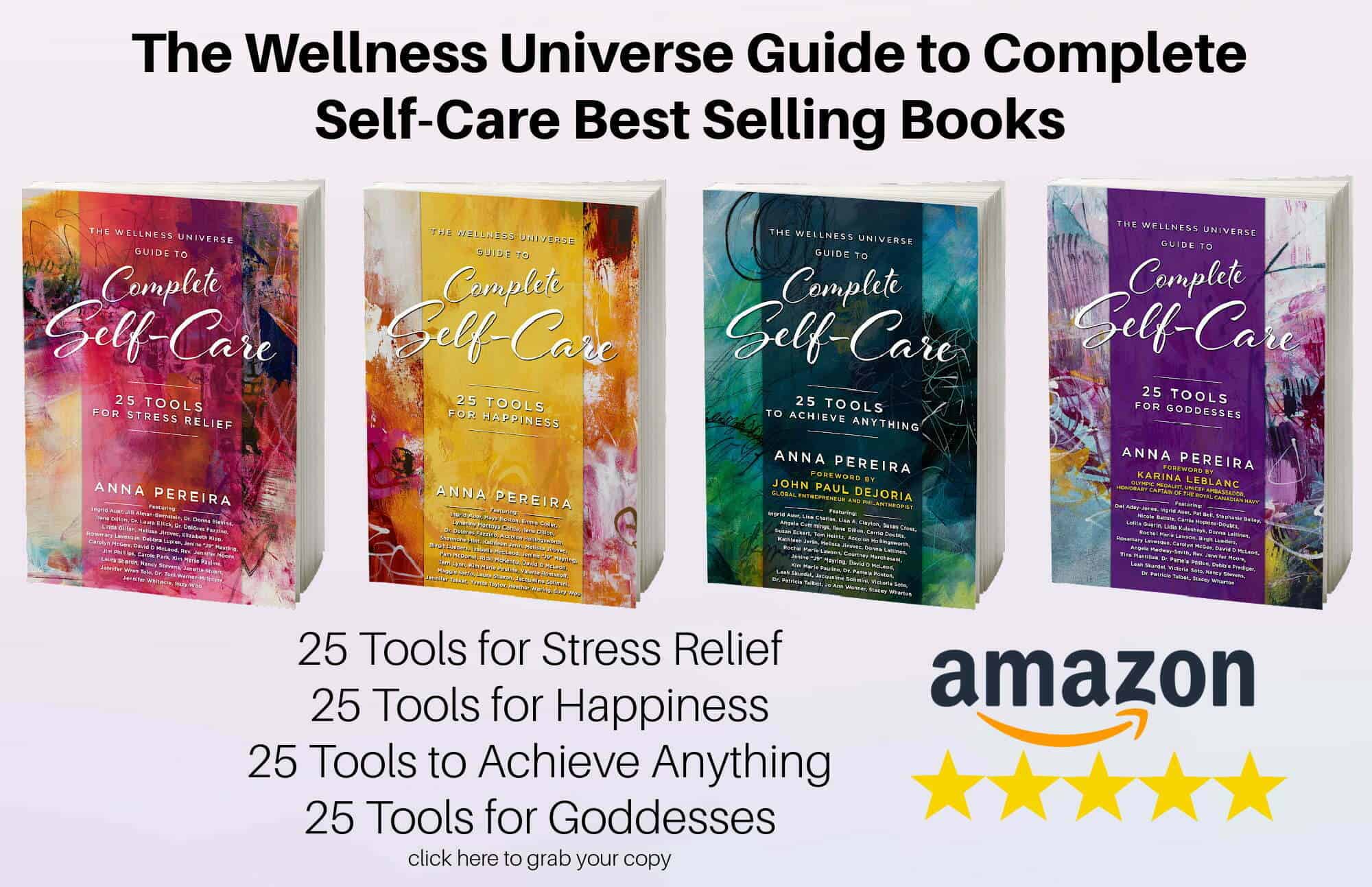 With over 250 independent reviews see how our self-care books are helping thousands of people around the world. Digital and paperback books are available now.
---

 Connect to the people that help you live your best life: The Wellness Universe
The Wellness Universe is your resource for health, wellness, well-being, and transformation. We serve and support professionals who make the world a better place and individuals and groups who seek their best life.
A woman owned company; having the vision in 2013, Anna Pereira launched the first directory in 2015 bringing together a community of members making the world a better place to be found by those seeking their best life. The Wellness Universe has grown since then to be a one-stop shop for total wellness support! We are a vetted community, online directory, book publisher, resource center, event producer, content platform, and so much more, supporting whole-health and well-being on a global scale.
The Wellness Universe is a home that connects industry professionals in the health, wellness, and well-being fields to seekers of total well-being. WU provides our WU World-Changer members with peer support, Wellness Universe produced events (live and online), projects, visibility, business mentoring, and community. Through The Wellness Universe our WU World-Changer members serve WU Friends, seekers of health, wellness and transformation, with coaching, workshops, content and more.
The Wellness Universe provides individuals and groups seeking their best lives with access to our members, wellness content, educational resources, and guidance in all areas of wellness to transform visions of how they want to live life into the life they experience.
Through the directory, WU Featured Blog, SoulTreat wellness retreat, Self-Care Books, group well-being programs, and online learning center, The Lounge, The Wellness Universe provides many avenues to support whole health, mind, body, spirit and planet.
Join us today! Wellness Professional or Seeker of Your Best Life