We all experience highs and lows, but if you feel a disconnection to your essence, wonder what your purpose is, or feel that you are just not satisfied with life, here are the last five reasons and suggestions that may help you create a more positive outlook, increase your life satisfaction and love your life.
Feeling Dissatisfied With Your Physicality
Getting healthy and fit is a challenge for many of us. We don't dedicate the time or make the best health choices. It doesn't have to be so difficult. Start where you are and make small changes. Can you eliminate a toxin from your diet? Toxins are more responsible than you may be aware of contributing to overeating, retaining weight and feeling sluggish, and much more. Educate yourself on making healthy choices about what you are consuming. What is it? Where is it sourced? Can you incorporate more exercise? Do something you love to do! Play with your pets, go for a nature walk, attend a class and meet new people while you are getting fit.
Feeling Like You Are Never Enough
You are. You were since you were born. Know this. You are a miracle and know that. Implementing actions that reinforce self-love and gratitude rituals will help you to ease into your role of feeling grateful, loved, and enough.
Feeling Overwhelmed
Overwhelm can come from internal as well as external factors like overpromising, perfectionism, and clutter (mentally and in your home). What can you release? What no longer (and maybe never did) serves a purpose? People, thoughts, and objects, all of it, release what doesn't serve you. Organizational specialists and Emotional therapists can help if you don't know where to begin. You will see, that changing your environment and thoughts will release the feeling of being overwhelmed, and more often than not, these go hand in hand.
Feeling Like There Is Never Time For You
When we don't give ourselves time for ourselves, we can end up feeling lonely, lost, and depressed. Sounds contradictory? Isn't being alone or me time lonely? It is so important to get your me time in as it\'s your self-love time. Get some good healing and pampering in by going within for your me time with meditation or prayer. Re-connect to your heart and spirit through self-expression like creating something, art, cooking, or spreading time out in nature. Spiritual experiences as well as a bit of pampering, like a massage, are great ways to spend me time. Wake up early, create a routine or schedule, and most of all, promise yourself you will make time for yourself.
Feeling A Lack Of Purpose
"Researchers believe that adults begin to feel a diminished sense of purposeful pursuit and experience due to the gradual changes in social roles that accompany increasing age." Source: https://www.psychologytoday.com/blog/making-sense-chaos/201404/the-pernicious-decline-in-purpose-in-life-old-age To remedy the feeling of lack of purpose, take action. What can you do, daily or at least often enough that makes you feel great? Getting up and moving, volunteering your services, writing, getting a part-time job that gives back, etc. These are just a few suggestions along with defining what you wish to achieve or give to the world and creating a personal affirmation or mantra from those desires. For example "I am Love and Kindness and share it freely."
We hope you have enjoyed this 2-part article and found some suggestions to easily implement and inspire you, today. This article was inspired by the great transformational and wellness work found via our WU World-Changers.
Total wellness requires a holistic approach to your well-being. Allowing yourself to discover new ways to increase your health and wellness and incorporating them into your lifestyle will help change your life. WU World-Changers can help facilitate your transition to total well-being.
The Wellness Universe believes if each person is happy, healthy, and whole, they contribute those attributes to the world, ultimately creating world peace.
If every person incorporated practices into their lives that supported their personal well-being, allowing for a more balanced, health-filled life, we believe we can achieve world peace.
The Wellness Universe supports total well-being by bringing together the most eclectic, robust, and supportive community of wellness practitioners supporting those who seek total well-being in 7 areas of wellness as described on www.TheWellnessUniverse.com.
*Adapted from an original post published on December 17, 2017.
---
All information, content, and material are for informational purposes only and are not intended to serve as a substitute for the consultation, diagnosis, and/or medical treatment of a qualified physician or healthcare provider. The information supplied through or on this page, or by any representative or agent of The Wellness Universe, is for informational purposes only and does not constitute medical, legal, or other professional advice. Health-related information provided through this website is not a substitute for medical advice and should not be used to diagnose or treat health problems or to prescribe any medical devices or other remedies. The Wellness Universe reserves the right to remove, edit, move or close any content item for any reason, including, but not limited to, comments that are in violation of the laws and regulations formed pursuant to the Federal Food, Drug, and Cosmetic Act. None of the posts and articles on The Wellness Universe page may be reprinted without express written permission.
---
The Wellness Universe presents Success Expert Leader Gael Wood in partnership with Wellness for All programming supporting you to reach your goals in Reach for Your Dreams! Practical and Energetic Practices to Reach Your Goals.
Register today prior to the LIVE launch:  https://bit.ly/WUReachForYourDreams
---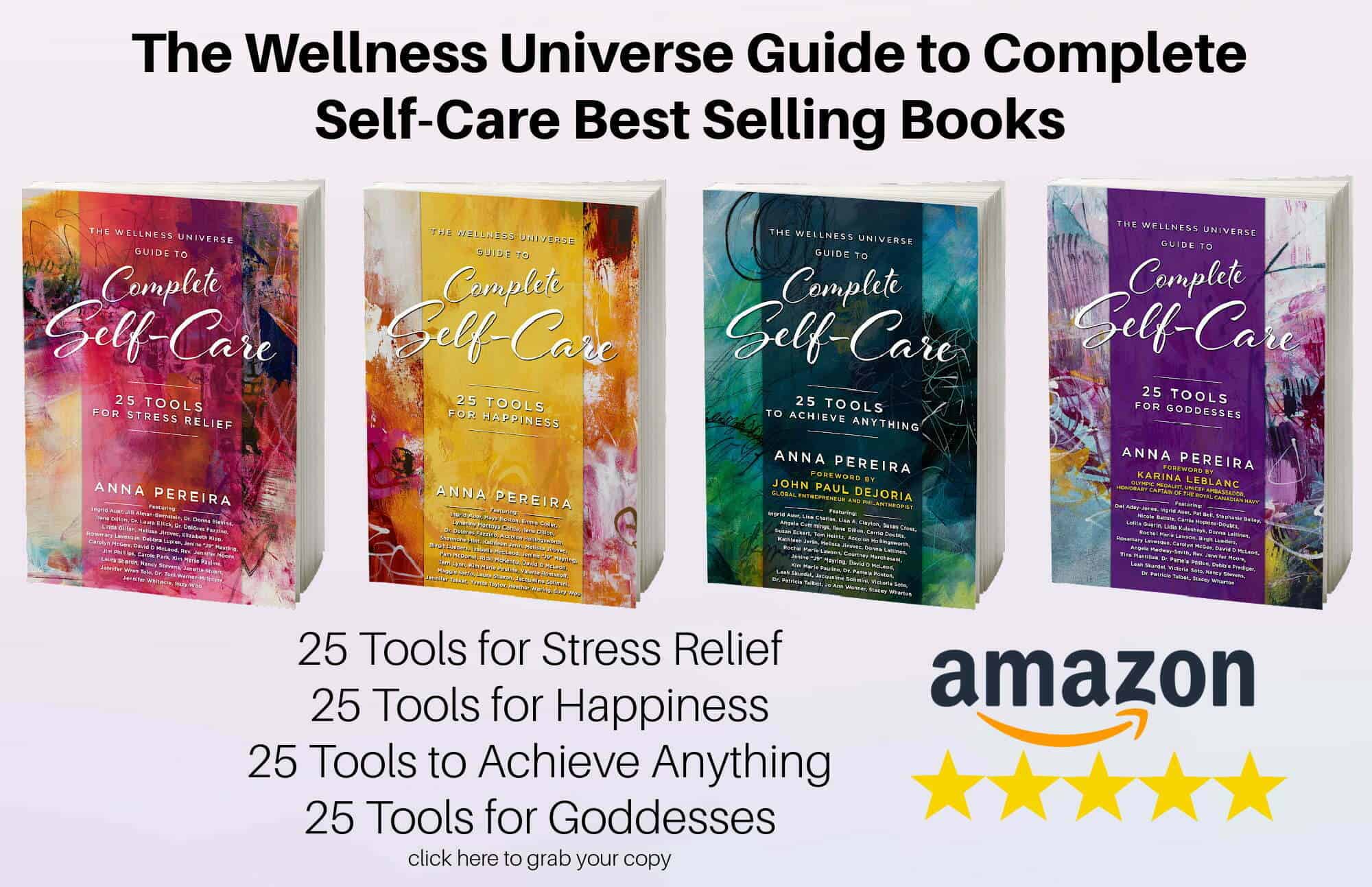 With over 250 independent reviews see how our self-care books are helping thousands of people around the world. Digital and paperback books are available now.
---
Self-development, self-care, and inspirational classes and sessions by Wellness Universe World Changer instructors who support your total well-being.
 Visit The Wellness Universe Lounge today!
---
The Wellness Universe is here to serve your best well-being. If you are experiencing anxiety, grief, overwhelm, guilt, anger, or seeking ways to cope and get help for stress, relationships, parenting, or any other issue during this challenging time, we have wonderful resources for you to connect with. Our WU Best Help members are offering reduced rates, sliding scale payment options, and even pro-bono sessions. WU Best Help
The Wellness Universe is your resource for health, wellness, well-being, and transformation. We serve and support professionals who make the world a better place and individuals and groups who seek their best life.
A woman owned company; having the vision in 2013, Anna Pereira launched the first directory in 2015 bringing together a community of members making the world a better place to be found by those seeking their best life. The Wellness Universe has grown since then to be a one-stop shop for total wellness support! We are a vetted community, online directory, book publisher, resource center, event producer, content platform, and so much more, supporting whole-health and well-being on a global scale.
The Wellness Universe is a home that connects industry professionals in the health, wellness, and well-being fields to seekers of total well-being. WU provides our WU World-Changer members with peer support, Wellness Universe produced events (live and online), projects, visibility, business mentoring, and community. Through The Wellness Universe our WU World-Changer members serve WU Friends, seekers of health, wellness and transformation, with coaching, workshops, content and more.
The Wellness Universe provides individuals and groups seeking their best lives with access to our members, wellness content, educational resources, and guidance in all areas of wellness to transform visions of how they want to live life into the life they experience.
Through the directory, WU Featured Blog, SoulTreat wellness retreat, Self-Care Books, group well-being programs, and online learning center, The Lounge, The Wellness Universe provides many avenues to support whole health, mind, body, spirit and planet.
Join us today! Wellness Professional or Seeker of Your Best Life